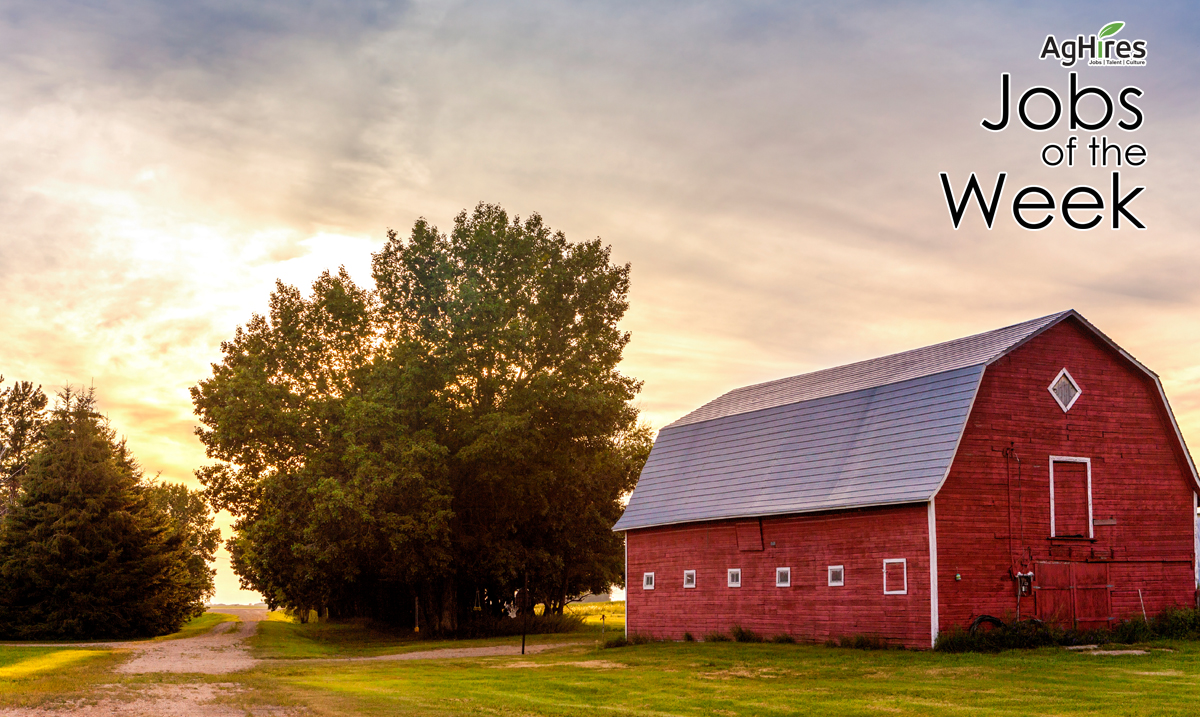 Top Agriculture Jobs of the Week
For the week of 8-15-22
AgHires works hard to be the number one resource for top jobs in agriculture. The agriculture industry provides a variety of job opportunities that range far and wide. Take a moment to search through the thousands of current job openings on AgHires.com, and check out this week's top Agriculture Jobs of the Week below.
A little about the business: At Bayer we're visionaries, driven to solve the world's toughest challenges and striving for a world where, Health for all, Hunger for none' is no longer a dream, but a real possibility. We're doing it with energy, curiosity, and sheer dedication, always learning from unique perspectives of those around us, expanding our thinking, growing our capabilities, and redefining 'impossible'. There are so many reasons to join us. If you're hungry to build a varied and meaningful career in a community of brilliant and diverse minds to make a real difference, there's only one choice.

What you would be doing:
Evaluate forecasts and ensure Purchase Orders are issued to Third-party Logistics ( 3PL) suppliers.
Perform weekly, monthly and other planned reporting to measure KPIs, identify trends, recommend solutions, and show confidence in his/her business.
Support the Conversion Operations team to provide strategic thinking and tactical solutions for delighting our customers.
Collaborate, lead and facilitate meetings with both internal and external teams;
Act as a liaison within Bayer functions to ensure a highly effective product supply organization.
Support materials manager by providing reporting and risk assessment for Monthly obsolete inventory evaluation.
Support master data maintenance and Bill of Materials ( BOM) creation as needed.
Qualifications:
Bachelor's degree with minimum 5 years of relevant experience.
Proven operational Planning and Forecasting experience.
Extensive knowledge of supply chain and logistics processes and supporting systems.
Prior experience in production planning and scheduling function.
Knowledge of forecasting processes and tools computer skills/ability to work with various software packages e.g., Microsoft Excel (Pivot Table, Data Management) and PowerPoint.
Experience with SAP is a plus.
Fluent in English, strong interpersonal skills, dispute management skills, problem solving skills, and effective communication skills.
Search more Energy Jobs on AgHires now.
---
A little about the business: Triple S Farms is a progressive farm and dairy with 500 acres and 300 cows. We are family-owned and operated and located in the Belgrade, MN area about 40 miles west of St. Cloud. We are passionate about agriculture, our crops, dedicated to the care of our animals, and value the relationships we have with our employees.
What you would be doing:
Work with all areas of the dairy herd management including calving, health issues, computer records, robot maintenance and upkeep, youngstock care, feed calves, etc.

Perform maintenance and repairs of dairy and farm equipment.

Cautiously operate farm equipment such as tractors and skid loaders.

Perform preventative maintenance on equipment.
Qualifications:
Experience in agriculture, farming, on a dairy farm or with livestock.

Ability to work with computers, dairy animals and troubleshoot robot issues, and mechanical equipment issues to keep the operation running smoothly.

Strong operating and mechanical experience in farming and especially in dairy farming.
Offers a competitive wage dependent upon experience and skills.
Search more Livestock Jobs on AgHires now.
---
A little about the business: Central Valley Ag - CVA is a member-owned farmers' cooperative headquartered in York, NE with locations throughout Nebraska, Kansas and Iowa. Established in 2003, CVA has over 900 employees and is an innovative leader providing products and services in grain, agronomy, feed, and energy. You can find more information about Central Valley Ag by visiting www.cvacoop.com.
What you would be doing:
Understands and efficiently oversees liquid and dry fertilizer plants, chemical containment buildings, NH3 plants and grain elevators.
Understand and efficiently oversees all rolling equipment including tender truck, application equipment and semis.
Collaborate with agronomy procurement to manage inventory, price and quantity needs, and delivery timing.
Learn & understand contracts, work orders, logistics, dispatching and other related functions.
Communicates and promotes agronomic products, services, and programs that meet customer's needs.
Operates facility under EPA, OSHA, and Department of Agriculture laws, regulations, and guidelines.
Maintain and understand records of chemical repackaging agreements and shuttle record keeping
Oversee rail operations.

Directly supervises 4 to 6 employees.
Qualifications:
High School or GED diploma.
Minimum of five years' experience in an agronomy role required.
Proven history of delivery of results required.
Takes responsibility for the way money and resourcesare used and managed.
We believe in a culture of constant improvement.
Makes good, sound decisions based on reason, facts, analytics and observation.
Browse more Grain Jobs on AgHires now.
---
A little about the business: CHS Inc. is a leading global agribusiness owned by farmers, ranchers and cooperatives across the United States that provides grain, food and energy resources to businesses and consumers around the world. We serve agriculture customers and consumers across the United States and around the world. Most of our 10,000 employees are in the United States, but today we have employees in 19 countries. At CHS, we are creating connections to empower agriculture.
What you would be doing:
Sell Agriculture insurance to producers and ranchers to include: Crop Insurance, Farm / Ranch insurance, Home Owners, Auto, and Cattle insurance.
Build and maintain relationships with producers and ranchers.
Work directly with current and potential customers making presentations.
Identify potential risks, provide counsel, make recommendations, and provide solutions to producers and ranchers through sales techniques.
Develop marketing plans to grow insurance business.
Qualifications:
Experience cold calling to potential customers.
Current Property & Casualty license for the State of Minnesota.
Insurance or Agriculture Insurance sales experience.
Bachelor's degree.
Current book of business.
Current Life and Health license in MN.
CHS offers a competitive total compensation package.
Search more Sales Jobs on AgHires now.
---
A little about the business: Welcome to AgHires! We are a leader in recruiting and job advertising within the agriculture, agribusiness, food production and horticulture industries. We pride ourselves on deep partnerships, open communication, integrity, and selectivity to deliver top talent to our clients. We are based in SE Michigan recruit across the US and Canada. Our culture is entrepreneurial and is built with a team of high-drive, continuous learners who love to win together.
What you would be doing:
Collaborate with recruiters to get a deep understanding of the roles and types of candidate backgrounds, skills and abilities to target.
Use various systems and tools to connect with potential candidates including job boards, online network platforms and our own candidate database.
Research company names and create potential candidate lists.
Work with recruiters on sourcing strategies and techniques.
Develop and create compelling, individualized messages to candidates.
Manage candidate's information accurately in our applicant tracking system (ATS).
Qualifications:
Bachelor's degree required.
Proven attention to detail and a naturally fast-paced worker.
Ability to prioritize and multi-task.
Ability to successfully work from home.
Search more Administrative Jobs on AgHires now.
---
The job opportunities within the agriculture industry are endless. Whether you are looking to start your journey or take the next step in your agriculture career, there is a place for you. Go to AgHires.com to search thousands of current job openings, ranging from agronomy jobs to marketing jobs to service technician jobs. New jobs are uploaded to our website daily.
Follow us on Facebook and Twitter to see more featured jobs.