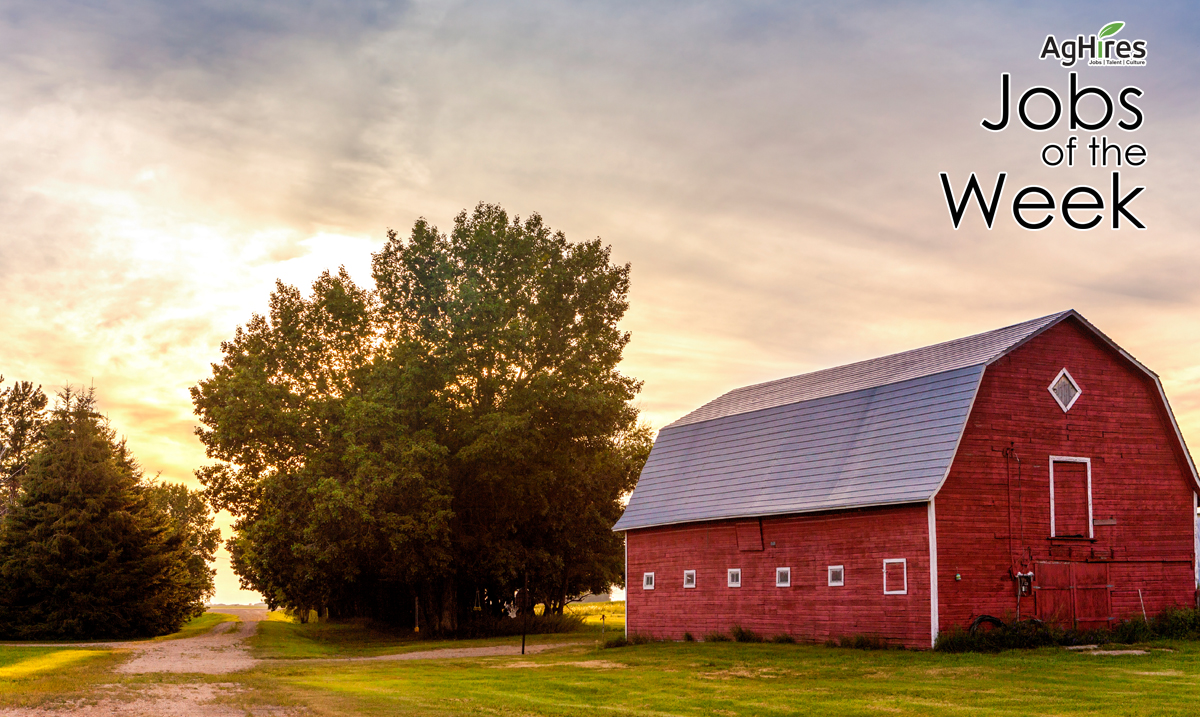 Top Agriculture Jobs of the Week
For the week of 12-19-22
AgHires works hard to be the number one resource for top jobs in agriculture. The agriculture industry provides a variety of job opportunities that range far and wide. Take a moment to search through the thousands of current job openings on AgHires.com, and check out this week's top Agriculture Jobs of the Week below.
A little about the business: Cogdill Farm Supply, Inc. is a family-owned agribusiness headquartered in Dunlap, Iowa. We have six western Iowa locations in Dunlap, Dow City, Panama, Logan, Soldier, and Jacksonville. Our business operations include grain merchandising, feed, seed, fertilizer, propane and farm supply sales, and custom fertilizer and chemical application.

What you would be doing:
Oversee and maintain a documented system of accounting policies and procedures.
Implement and maintain the accounting and financial system of controls over transactions to ensure the accuracy of data and financial information.
Prepare timely and accurate monthly financial statements and other information for review by the CFO, and presentation to management
Monitor cash and debt levels, along with compliance with debt covenants.
Calculate and issue financial and operating metrics, provide financial analyses and benchmarking as needed, and coordinate information to be provided to external auditors.
Qualifications:
A Bachelor's degree with an emphasis in accounting and finance.
Preference will be given to candidates with significant agribusiness experience, a CPA, and/or CMA designations.
Excellent organizational skills, communication skills, the ability to multi-task, and most importantly, the ability to work well in a team.
Proficient in Microsoft Office Word and Excel, and a general understanding of various accounting software.
We offer competitive compensation agreements based on experience, education and ability to perform the tasks assigned. The company has a generous benefits package including Health, Dental, and Vision Insurance Plans, Paid Time Off/Paid Holidays, 401K with company match, and Company paid life insurance.
Search more Accounting Jobs on AgHires now.
---
What you would be doing:
Develop and maintain a classroom environment conducive to effective learning.
Employ a variety of instructional techniques and instructional media consistent with the needs and capabilities of the individuals or student groups involved.
Strive to implement by instruction and action the district's philosophy of education and instructional goals and objectives.
Serve as the FFA sponsor and support students in the annual FFA state-wide competition.
Lead the AgriScience pathway by recruiting students into the pathway, attending training and state-wide meetings, and advocating for the program's needs.
Manage the budget provided by Career Technical Education federal and state funding and local fundraisers and donations.
Qualifications:
Ability to perform essential job duties.
Candidate may have industry experience in the field of construction trades, plant science, or food science or hold teacher certification as outlined below.
Teacher Certification: Hold or be eligible for a valid Delaware Agri-Science Teacher Standard Certificate in accordance with 14 Del. C. § 1550.
OR
Industry Experience:

As established by the Delaware Department of Education hold or be eligible for certification for Skilled and Technical Sciences (STS). For STS candidates see (Regulation 1559) for all requirements. http://regulations.delaware.gov/AdminCode/title14/1500/1559.pdf
Salary and Benefits: Salary range and benefits are commensurate with qualifications and experience in accordance with the Board of Education Policy.
Search more Education Jobs on AgHires now.
---
A little about the business: Welcome to Tom Farms a multi-generation, family-owned, progressive seed corn, commercial corn, and soybean producer. We are firmly planted in the fertile prairies of North Indiana; located in Leesburg, Indiana, 1 hour from Fort Wayne or South Bend and 2 short hours from Chicago. Tom Farms has evolved into a global crop production, sales, and service company and industry leader. Today we are one of the leading suppliers to the DEKALB seed production supply chain.
What you would be doing:
Performs custom application of fertilizers, herbicides, and insecticides with dry and liquid machines.
Responsible for upkeep and repairs of the application equipment they operate.
Understands and complies with safety and governmental regulations.
Maintains levels at liquid and dry plants.
Collects soil samples as needed.
Helps in the operations of the liquid and dry plants.
Provides support in monitoring inventories of bulk tanks.
Assists in the physical inventories of agronomy products.
Helps with sales efforts.
We offer a competitive wage based on experience and qualifications, group health, dental and vision insurance, health savings plan, 401k retirement plan, life insurance, paid holidays, bonus plan, and uniform shirts.
Browse more Farming Jobs on AgHires now.
---
A little about the business: CHS Inc. is a leading global agribusiness owned by farmers, ranchers and cooperatives across the United States that provides grain, food and energy resources to businesses and consumers around the world. We serve agriculture customers and consumers across the United States and around the world. Most of our 10,000 employees are in the United States, but today we have employees in 19 countries. At CHS, we are creating connections to empower agriculture.
What you would be doing:
Ensure compliance with all quality control requirements, and environmental permits and regulations for the terminal operations.
Maintain a consistent product supply and product quality.
Deliver daily inventory balance analysis and reporting.
Ensure compliance of terminal personnel, contractors, and truck drivers with applicable safety regulations.
Qualifications:
1+ years of experience in Operations and/or Pipeline Production Operations
Previous work experience in an asphalt terminal or the petroleum industry
Strong written and verbal communication skills
CHS offers a competitive total compensation package. Benefits include Health, Dental, Vision, Hearing, Life Insurance, Health and Day Care Savings Accounts, Paid Vacation, 401K, Company Funded Pension, Profit Sharing, Long and Short Term Disability, Tuition reimbursement, and Adoption assistance.
Search more Agronomy Jobs on AgHires now.
---
A little about the business: Are you looking for a better opportunity? Lynch Family Companies is growing! We offer, competitive pay and benefits, paid holidays, and time off that starts accruing immediately. Our locations promote a welcoming, family-centered atmosphere and offer many opportunities for promotion within the organization. At Lynch Family Companies, you are truly treated like family.
What you would be doing:
Order feed and forage on a timely basis
Repair fencing and equipment
Ensure that the feedlot is clean and well maintained
Work closely with the veterinarian in treating the herd
Treat minor cattle injuries
Monitor behavior of each member of the herd
Search more Livestock Jobs on AgHires now.
---
The job opportunities within the agriculture industry are endless. Whether you are looking to start your journey or take the next step in your agriculture career, there is a place for you. Go to AgHires.com to search thousands of current job openings, ranging from agronomy jobs to marketing jobs to service technician jobs. New jobs are uploaded to our website daily.
Follow us on Facebook and Twitter to see more featured jobs.