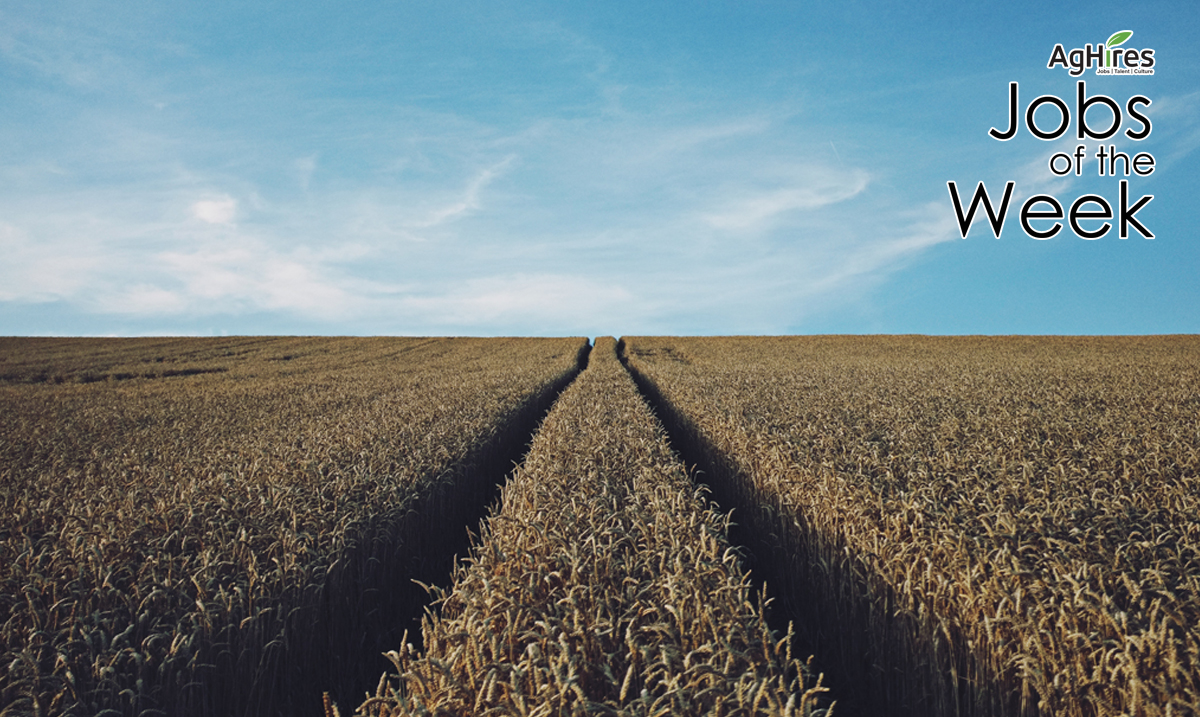 Top Agriculture Jobs of the Week
For the week of 9-27-21
AgHires works hard to be the number one resource for top jobs in agriculture. The agriculture industry provides a variety of job opportunities that range far and wide. Take a moment to search through the thousands of current job openings on AgHires.com, and check out this week's top Agriculture Jobs of the Week below.
A little about the business: CHS Inc. is a leading global agribusiness owned by farmers, ranchers and cooperatives across the United States that provides grain, food and energy resources to businesses and consumers around the world. We serve agriculture customers and consumers across the United States and around the world. Most of our 10,000 employees are in the United States, but today we have employees in 19 countries. At CHS, we are creating connections to empower agriculture.

What you would be doing:
Provide strategic and operational support, consulting and coaching to leaders and employees at the McPherson refinery.
Provide HR thought leadership, coaching and guidance in support of key people processes to include (but not limited to) union labor relations, contract negotiations, employee relations, talent acquisition, performance management, succession planning, learning and development, and compensation.
Serve as the primary HR partner to the refinery management to ensure consistent labor contract administration.
Lead and/or participate in various HR project work in support of business (functional) initiatives and in partnership with the corporate HR team and HR Centers of Excellence (COE) partners.
Build and cultivate solid relationships, working effectively with executive leaders, front line managers, employees, and peers to include the HR Business Partner and COE teams, in support of shared goals.
Partner with HR COE partners to meet the priorities and goals of assigned divisions/client groups.
Qualifications:
10+ years of progressive HR business partner/ and or human resource manager experience.

Prior direct work experience with contract negotiations, union labor relations and employment law.
Prior direct work experience with HR Systems to include SAP, Oracle, Lawson, or similar.
Direct work experience with a large matrixed environment.
Proficient with Microsoft Word, PowerPoint and Excel.
Search more Human Resources Jobs on AgHires now.
---
A little about the business: Central Valley Ag - CVA is a member-owned farmers' cooperative headquartered in York, NE with locations throughout Nebraska, Kansas and Iowa. Established in 2003, CVA has over 900 employees and is an innovative leader providing products and services in grain, agronomy, feed, and energy. You can find more information about Central Valley Ag by visiting www.cvacoop.com.
What you would be doing:
Diagnose, research, and repair Custom Fertilizer Application machinery using manufacturer-provided resources.
Examine and listen to equipment, read inspection reports, and confer with customers to locate and diagnose malfunctions.
Customer repair work performed at cooperative location shop as well as customer farm locations.
Test and replace electrical components and wiring, using test meters, soldering equipment, and hand tools.
Drive trucks to haul tools and equipment for on-site repair of large machinery.
Work within Company record keeping software to track repairs, to log parts and track expenses.
Greets and assists customers in a professional and courteous manner.
Maintains good housekeeping to reduce chance of fire or dust collection.

Qualifications:
General mechanical ability required.

Integrity and good judgment skills required.

Excellent customer service skills required.

Must be a quick learner and have the ability to multi-task.

Two to three years' experience in farm equipment maintenance required.
Search more Maintenance Jobs on AgHires now.
---
A little about the business: Donovan Farmers Co-op Elevator Inc. is a full-service agriculture supplier dedicated to providing high-quality products and services for the purpose of improving customer profitability. Headquartered in Donovan, IL. with 4 grain locations and Fertilizer/Agronomy location in the heart of prime agriculture farmland. Donovan Farmers Co-op Elevator Inc. employs specialists in crop, seed, custom application, grain marketing and precision farming techniques. Donovan Farmers Co-op Elevator Inc. was founded in 1908 and has a strong presence in the local community. Working relationships with Growmark, CHS, LandoLakes, Winfield, Helena and other Local suppliers.
What you would be doing:
Manage existing customer base.
Identify new key customers, understand their business, determine their needs, and develop plans and actions for sales territory growth.
Communicate with branch management the initiatives, objectives, strategies, and action plans.
Develop territory and provide strong agronomic knowledge of products.
Scout fields and develop methods for control of noxious weeds, crop diseases, and insect pests.
Qualifications:
Bachelor's degree or relevant experience in agriculture, crop & soil, agronomy, chemical, fertilizer, or agribusiness.
Certified Crop Specialists (CCS) preferred, not required.
Proven ability to be self-directed and proven ability to expand a sales territory.
Browse more Sales Jobs on AgHires now.
---
A little about the business: Green City Growers produces tasty, nutrient-rich, pesticide-free produce year-round. Capitalizing on our custom built, state-of-the art greenhouse, we produce millions of heads of lettuce and specialty greens and hundreds of thousands of pounds of herbs and micro-greens every year. We are proud to be ranked as the largest food-production greenhouse in a core urban area in the United States. Green City Growers is part of the Evergreen Cooperative Corporation, a family of firms that works to build a stronger Cleveland economy by sharing its profits with its employees.
What you would be doing:
Establish and promote the use of Standard Operating Procedures for crop care, including planting, fertilizer applications, and harvest.
Daily crop scouting for crop quality, pest and disease management.
Environmental condition monitoring.
Mentor team members on horticultural best practices to grow their skills and career.
Qualifications:
3-5+ yrs as a Head Grower, Grower Manager, Lead Grower, Grower, Assistant Grower or similar role in a controlled environment growing system.

Hydroponics experience is preferred but we're very open to teaching you our growing methods.

A degree in horticulture, crop science, botany, plant science, greenhouse production, controlled environment agriculture (CEA) or a similar horticultural field of study is a plus.
Search more Horticulture Jobs on AgHires now.
---
A little about the business: Dairy Grazing Apprenticeship (DGA) is an innovative 501c3 non-profit organization that partners with established grazing dairy farmers, universities, community based organizations, and other stakeholders to deliver high quality work-based training in managed-grazing dairy production in multiple states.
What you would be doing:
Oversee daily operations of the dairy operations and pasture.
Engage daily with owner/ operator or manager on prioritization of tasks and any herd health concerns.
Manage employee/ Apprentices as needed.
Maintain accurate record keeping for herd and crops.
Manage pastures and soils for ideal health and cattle performance according to organic standards.
Maintain herd health and productivity including giving vaccinations and managing sick cows.
Daily milking with attention to quality and procedure.
Perform heat detection and AI.
Qualifications:
Prior livestock and herd health management experience preferably in dairy or cattle.
You have an ownership mentality when it comes to working and are particular when managing the details.
You have basic maintenance and repair experience with ability to learn.
You are comfortable with working extended hours on the dairy.
Search more Dairy Jobs on AgHires now.
---
The job opportunities within the agriculture industry are endless. Whether you are looking to start your journey or take the next step in your agriculture career, there is a place for you. Go to AgHires.com to search thousands of current job openings, ranging from agronomy jobs to marketing jobs to service technician jobs. New jobs are uploaded to our website daily.
Follow us on Facebook and Twitter to see more featured jobs.