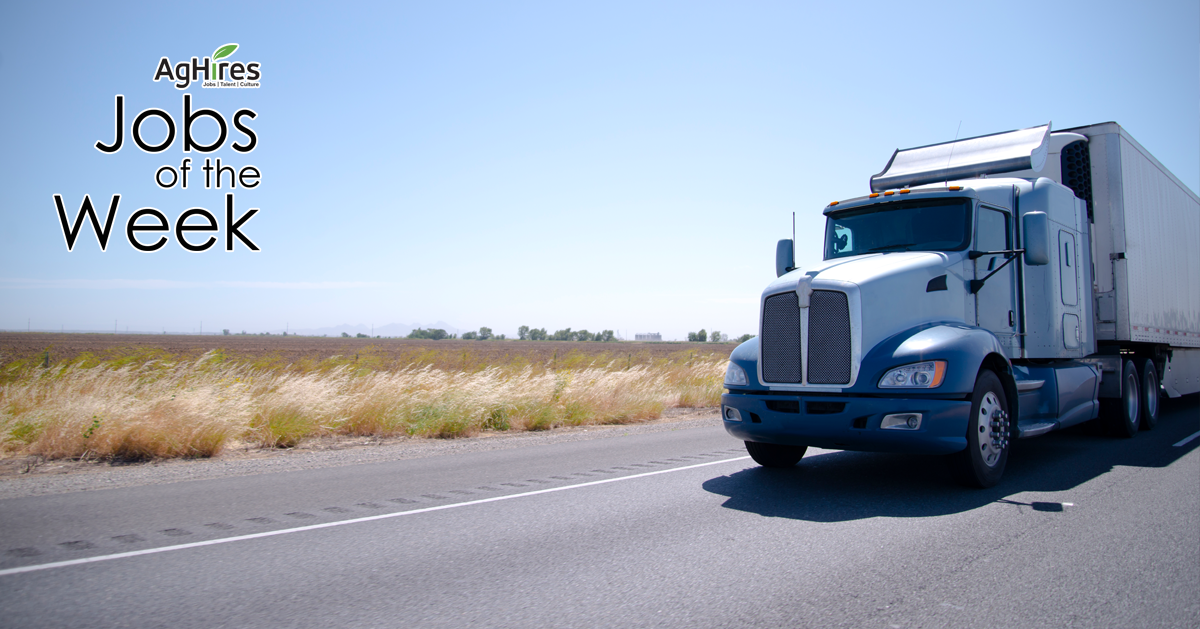 Top Agriculture Jobs of the Week
For the week of 11-22-21
AgHires works hard to be the number one resource for top jobs in agriculture. The agriculture industry provides a variety of job opportunities that range far and wide. Take a moment to search through the thousands of current job openings on AgHires.com, and check out this week's top Agriculture Jobs of the Week below.
A little about the business: Helena Agri-Enterprises, LLC is one of the nation's foremost agronomy solutions providers. We rank near the top nationally in volume and sales for crop production products, fertilizer, custom application, seed and precision agriculture, turf management, industrial weed control, forestry, aquatics, and more. As a solutions provider, we help our customers make critical decisions about soil variability, nutrient and water availability, seed selection, and pest management. We take pride in working with our growers beyond the sale, helping them in every aspect of their business.

What you would be doing:
Calls on regular or prospective customers to drive new business. Driving is required.
Demonstrates products and provides essential information (i.e. product availability, price, new developments, and market trends.)
Answers questions concerning products such as price, credit terms, and durability.
Completes sales contracts and forms to record required sales information and collects receivables in a timely manner.
Promotes products at trade shows and conferences.
Maintains a high level of technical expertise and strives to achieve the market's sales goals.
Demonstrates working knowledge of requirements of company credit policy regulating credit sales.
Other work-related duties as assigned by leader.
Qualifications:
High school diploma or equivalent is required.
Bachelor's or Master's degree is preferred.
One to two years of related experience required.
Sales experience, especially agriculture sales experience is highly preferred.
Recent college graduates with intern experience will also be considered.
Experience with apple and specialty crops is desired.
Search more Sales Jobs on AgHires now.
---
A little about the business: Burpee Gardening offers a broad range of novel and traditional vegetables, herbs, fruits, flowers, perennials, and quality gardening supplies. We know from experience that each gardener has individual goals and tastes, and no two gardens are alike. Generations of customers have trusted Burpee to deliver the highest quality products and service.
What you would be doing:
Selects new seed varieties related to the company's brands as well as recommends discontinued types. Additionally, this position works closely with all members of the New Products Committee ("NPC") to provide direction to Research & Development as well as to present new seed varietal selections (as well as new horticultural classes) for NPC approval and introduction.
Responsible for recommending the Direct Marketing Division's offering and recommends general product placement about the catalogs and websites to the Direct Marketing Team to meet the brand and financial goals as determined by senior management.
Responsible for horticultural content (includes growing information, "How-To" information, selling copy, etc.)
Works with Purchasing/Inventory Control to convey new variety/required information required for procurement on a timely basis to meet the needs of the Production Schedule.
Ensures that the retail offering price/value and varietal content align with the Direct Marketing offering and recommends changes to the Retail & Direct Marketing groups accordingly.
Works closely with R&D as well as trial personnel in reviewing and evaluating trials of new varieties, true-to-type tests, etc.

Qualifications:

10+ years in product management in top horticulture, gardening organizations.
A degree in Horticulture, Marketing, Business Management, or related field.
Proven experience with bringing structured thinking in ambiguous spaces and delivering solutions.
Extensive experience building and working with complex business models.
Ability to operate simultaneously and effectively in both tactical and strategic modes.
Search more Horticulture Jobs on AgHires now.
---
A little about the business: For more than 50 years, Friona Industries has relied on knowledgeable and dedicated employees to keep our focus on two key factors: our livestock and our customers. We built this company in the north Texas plains by understanding that consumers want quality beef products produced with the highest standards of stewardship. We answer that expectation through innovative beef production and a reputation for exceeding customer expectations. At Friona Industries, quality means a fierce attention to detail from every employee on every job.
What you would be doing:
Oversee the routine care and feeding of beef cattle kept in the feedlot Ensure profitable operations of the feedlot to optimize feeding parameters.
Manage, develop and lead staff.
Ensure compliance with OSHA/Safety procedures, rules, and regulations.
In conjunction with the Operations Manager, serve as the feedyard liaison, corporate-to-location to support and communicate new technologies, processes & procedures, health & safety, and best practices to achieve business goals and company programs.
Oversee the operations associated with mill, yard, office, feed delivery, and cattle operation for efficiency to develop and support best practices and standard operating procedures.
Qualifications:
Bachelors degree in Agriculture preferred, equivalent experience considered.
Experience in production animal settings, general farm labor.
Demonstrated leadership ability, with the ability to engage and motivate others.
Excellent communication and leadership skills.
Good reasoning, conflict-management, and analytical and problem-solving skills.
Browse more Livestock Jobs on AgHires now.
---
A little about the business: Agland Co-op and Heritage Cooperative joined forces, agreeing by a vote of their members to move forward under the Heritage Cooperative name. Heritage Cooperative, which operated primarily in western Ohio, was known as an agronomy and grain powerhouse. Agland Co-op operated in the central and eastern parts of the state, deriving fully half its revenues from energy and related services. The new cooperative is much more balanced and is divided into four main operating divisions: grain, agronomy, energy and feed, and retail.
What you would be doing:
Abide by all safety regulations to ensure safety of oneself, coworkers, and customers.
Receive inbound phone calls from customers to place orders for energy products or inquire about the pricing of energy products.
Accurately complete order entry into IRely computer program, verifying the customer name, address, phone number, and directions to their location.
Resolve customer complaints via phone by listening to customer concerns and addressing concerns or forwarding the call to the appropriate member of management.
Reports customer feedback and all customer complaints, including any sign of customer dissatisfaction, to appropriate management and/or consumer relations.
Use telephones to reach out to customers and notify them of current order status.
Qualifications:
High School Diploma or Equivalent.
3+ years experience in a customer service position or in a call center environment.
Strong oral and written communication skills.
Knowledge and experience with Microsoft Office.
Search more Customer Service Jobs on AgHires now.
---
A little about the business: Central Valley Ag - CVA is a member-owned farmers' cooperative headquartered in York, NE with locations throughout Nebraska, Kansas and Iowa. Established in 2003, CVA has over 900 employees and is an innovative leader providing products and services in grain, agronomy, feed, and energy. You can find more information about Central Valley Ag by visiting www.cvacoop.com.
What you would be doing:
Provides accurate and efficient delivery of tires and all related products.




Collects delivery instructions from appropriate sources, verifying instructions and routes.




Maintains logs of working hours or of vehicle service and repair status, following applicable state and federal regulations.




Performs routine inspections of equipment, property and reports findings to Supervisor.




Maintains equipment to be operational and cleanliness in appearance at all times.




Reports vehicle defects, accidents, traffic violations and/or damage to the vehicles.




Obtains receipts or signatures for delivered goods.
Qualifications:
High School Diploma or equivalent (GED) required.
Knowledge of DOT or DOT experience preferred.
General mechanical ability required.
Integrity and good judgment skills required.
Excellent customer service skills are required.
See Full Job Description
Search more Trucking Jobs on AgHires now.
---
The job opportunities within the agriculture industry are endless. Whether you are looking to start your journey or take the next step in your agriculture career, there is a place for you. Go to AgHires.com to search thousands of current job openings, ranging from agronomy jobs to marketing jobs to service technician jobs. New jobs are uploaded to our website daily.
Follow us on Facebook and Twitter to see more featured jobs.