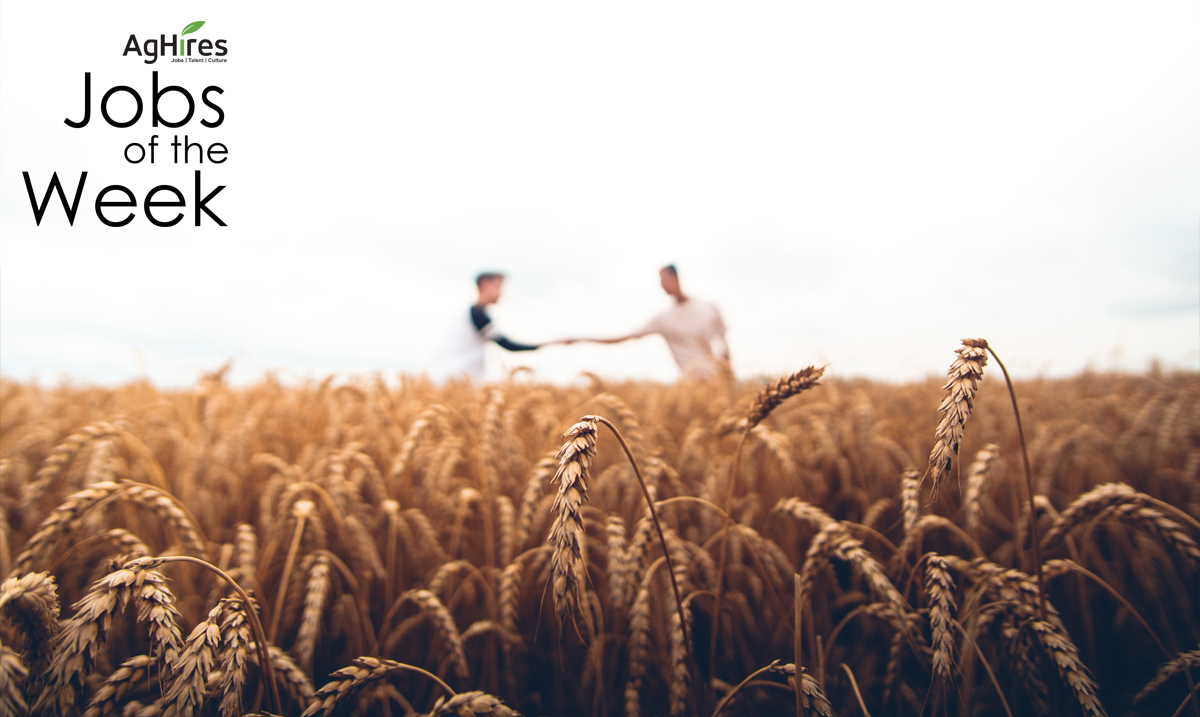 Top Agriculture Jobs of the Week
For the week of 7-26-21
AgHires works hard to be the number one resource for top jobs in agriculture. The agriculture industry provides a variety of job opportunities that range far and wide. Take a moment to search through the thousands of current job openings on AgHires.com, and check out this week's top Agriculture Jobs of the Week below.
A little about the business: Bane-Welker was established in January of 2013 when two successful Case IH dealers (Bane Equipment & North Central Agri-Power) consolidated and became one company. We combined our rich history to become an even greater dealership. Bane-Welker Equipment is committed to a very simple ideal. Provide customers with superior products and service.

Bane-Welker Equipment is proud to employ knowledgeable, friendly and experienced people who share our vision of success and who bring true value to customers by providing the best possible products and services available. We care about our customers and our employees as if they were our own family. Together, we proudly serve the agricultural communities across Indiana and beyond.
What you would be doing:
Performs repair and maintenance work on equipment, in accordance with time schedules as assigned by service manager.
Makes certain that work assignment is correct, ask for clarification if there are questions.
Maintains tools and equipment, and notify the service manager if tools need replacement, or new tools are needed.
Maintains cleanliness of the working area and presents a neat and professional appearance.
Maintains cleanliness of the customer's equipment.
Assists in expediting of parts orders to avoid wasting time.
Notifies the service manager, dispatcher, and/or service salesman if delays are expected, or if a part needs to be ordered.
Qualifications:
Mechanical skills with an aptitude for increasing these skill to expand the kinds of services performed.
Must know the detailed construction of many machines and have the knowledge and skill to make repairs.
Mechanical ability and familiarization with testing equipment and diagnostic procedures.
Valid driver's license.
Search more Equipment - Machinery Jobs on AgHires now.
---
A little about the business: Central Valley Ag - CVA is a member-owned farmers' cooperative headquartered in York, NE with locations throughout Nebraska, Kansas and Iowa. Established in 2003, CVA has over 900 employees and is an innovative leader providing products and services in grain, agronomy, feed, and energy. You can find more information about Central Valley Ag by visiting www.cvacoop.com.
What you would be doing:
Help with unloading of grain products for company owned and customer owned trucks.
Assists in delivery of agronomy products such as fertilizer, chemical and seed to customers.
Assists in the loading of agronomy products to customer trucks.
Assists in the receiving of dry/liquid fertilizer, chemicals and seed.
Provides assistance in the operations of the liquid and dry plant.
Provides assistance in the scheduling, mixing and loading of liquid/dry fertilizer and chemicals.
Helps in ensuring the accuracy of mixing chemicals and fertilizers and assists with blender operations.
Drives company owned trucks for the purpose of transferring grain.
Qualifications:
General mechanical ability required.

Integrity and good judgment skills required.

Excellent customer service skills required.

Must be a quick learner and have the ability to multi-task.
Search more General Labor Jobs on AgHires now.
---
A little about the business: Agfinity is the largest agricultural Cooperative in Colorado based in the heart of the Front Range. As a cooperative, we are distinguished from our competitors by our excellence in customer service and our people, which we consider our greatest asset. For over 115 years we are a trusted partner serving our agricultural community with agronomy, feed, seed, and energy with 11 locations, 200 employees strong. Colorado is one of the richest states in land, cattle, dairy, and crops and we have entities to serve them all.
What you would be doing:
Frequent sales calls to develop relationships and learn customer needs and offer correct solutions.
Provide sound recommendations from knowledge of crop nutrients, crop protection, seed and insect/disease management.
Collaborate with other divisions of Agfinity in an effort to generate warm leads and provide better service to growers
Create and assist in implementation of new products, new processes, and new programs intended to mutually benefit the producer, as well as Agfinity.
Maintain records of sales contacts and submit reports on a regular basis.
Performs other assignments as directed by V.P. of Agronomy or Agronomy Sales Manager.
Qualifications:
A minimum 2 years of experience in ag sales is required
Bachelor's Degree in Agronomy, Crop and Soil Science, Agribusiness or an Ag-Related field is preferred
Certified Professional Agronomist is preferred
Certified Crop Advisor is preferred
Commercial Pesticide Applicator License is preferred
Browse more Sales Jobs on AgHires now.
---
A little about the business: Redline Equipment is a team of people with a passion for farmers and their equipment. We are dedicated to serving farmers, ranchers, ag producers, construction and commercial lawn service providers to provide cutting-edge equipment, technology and parts and provide 24/7/365 service from highly qualified. Any Season. Any Reason. Any Time. Redliners take this motto very seriously and provide top performance and equipment through our twelve (12) dealer locations throughout Ohio, Michigan and Indiana.
What you would be doing:
Supervise staff to develop and sustain a high level of employee performance and morale that is highly aligned with our mission and core values
Ensures location training and safety objectives are met
Achieve annual performance targets
Responsibly for directing parts and service operations
Align and implement company Policies, Standard Operating Procedures, Bulletins and Campaigns
Qualifications:
High School Diploma/GED required, with a Bachelor's Degree or the equivalent in experience
5 years of experience in an agricultural, construction, or turf-related role with involvement in activities such as service, parts, or other related work.
Excellent management, organizational and communication skills.
Ability to use standard desktop or laptop computer and related programs, Microsoft Office platform, plus ability to effectively research and navigate the internet.
Search more Management Jobs on AgHires now.
---
A little about the business: The U.S. Department of Agriculture (USDA) is made up of 29 agencies and offices with nearly 100,000 employees who serve the American people at more than 4,500 locations across the country and abroad. We provide leadership on food, agriculture, natural resources, rural development, nutrition, and related issues based on public policy, the best available science, and effective management.
What you would be doing:
The duties described are for the full-performance level. At developmental grade levels, assignments will be of more limited scope, performed with less independence and limited complexity.

Designated contact with plant management to coordinate the grading/inspection activities.

Examine product to determine adherence with contracts, such as grade, weight, packing and quantity.

Prepares and maintains a variety of reports related to production data and grading results..
Qualifications:
Applicants must have three years of progressively responsible experience, one year of which was equivalent in level of difficulty and responsibility to the next lower level in the Federal Service (equivalent to the GS-04 level) (experience may have been obtained in private or public sectors).

Analyze problems to identify significant factors, gather pertinent data and recognize solutions

Plan and organize work

Communicate effectively orally and in writing
Search more Food Safety Jobs on AgHires now.
---
The job opportunities within the agriculture industry are endless. Whether you are looking to start your journey or take the next step in your agriculture career, there is a place for you. Go to AgHires.com to search thousands of current job openings, ranging from agronomy jobs to marketing jobs to service technician jobs. New jobs are uploaded to our website daily.
Follow us on Facebook and Twitter to see more featured jobs.