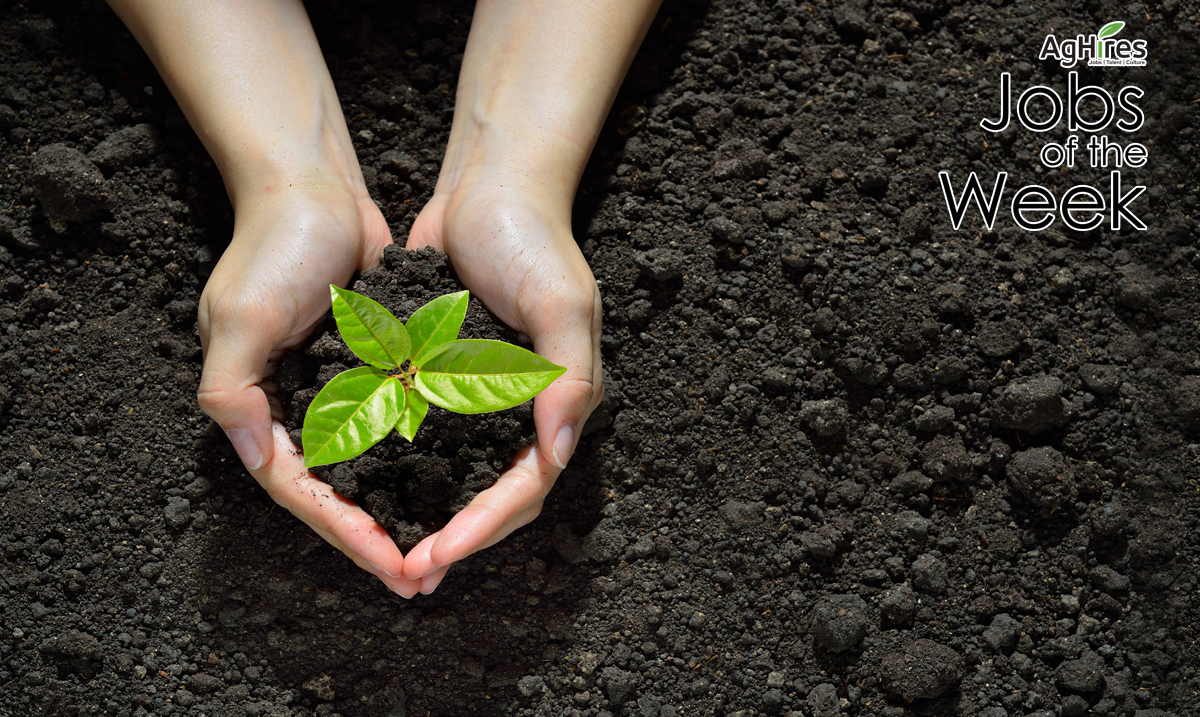 Top Agriculture Jobs of the Week
For the week of 4-4-22
AgHires works hard to be the number one resource for top jobs in agriculture. The agriculture industry provides a variety of job opportunities that range far and wide. Take a moment to search through the thousands of current job openings on AgHires.com, and check out this week's top Agriculture Jobs of the Week below.
A little about the business: Why work with American Seafoods? ASC is dedicated to sustainable fishing and feeding the world. While the work is strenuous, your hard work will pay off and will allow you the freedom and flexibility you desire. Whether you are wanting to start a career with advancement potential or help pay for school, we can help make that happen!

What you would be doing:
Sort fish by species.

Tend and operate machines.

Hand fillet whole fish.

Inspect fish products to meet American Seafoods Company's standards of quality.

Weigh, pack, label, stack and place the product into freezers.

Load and unload supplies on the vessel.

Clean factory equipment and perform other duties as assigned.
Qualifications:
Able to follow visual or written directions and specific verbal instructions in English.

Able to live in close shared quarters with others and able to climb in and out of bunk beds 50 inches high.

Good balance/equilibrium.

Able to be on-board ship for long periods, without suffering from motion sickness (that is not correctable).

Able to operate moving machinery, without need for medication that limits such activity.

Capable of working up to 16 hours per day – with no time off, during a 4+ month period.
Search more Production Jobs on AgHires now.
---
A little about the business: Ort Farms, based in Long Valley, New Jersey, is a 500-acre diverse fruit and vegetable farm. We have a retail farm market and an agritourism operation that is open annually from March-December. We are a 5 generation family business offering a unique opportunity for any motivated farmer to join our team.
What you would be doing:
Responsible for inspection/maintenance of crops and reporting status/problems to the Field Operation Manager.
Responsible for the development of resolution/continuous improvement of field problems.
Responsible for planning, cultivation, and harvesting of crops. This includes fruit, vegetables, grain, and pumpkins.
Responsible for the management and implementation of a crop protection program and creating spray schedules.
Responsible for planting/picking quantity and schedule in collaboration with the Field Operation Manager.
Responsible for the generation and distribution of daily/weekly activity lists and accomplishment reports including, but not limited to picking schedule, herbicide application, insecticide application, water use log, etc.
Qualifications:
High school diploma.
Must obtain NJ Pesticide Applicator license if not already in possession.
At least 2 years of experience on a fruit and vegetable farm is preferred.
Flexibility with schedule and ability to work at least one weekend day per week.
Search more Field Operations Jobs on AgHires now.
---
A little about the business: Morral Companies, an independently owned LLC., was founded in 1963 as a family business serving the local farm community. Since that time, our organization has grown into several business groups that offer solutions to every need. In addition to retail operations serving our country's farmers, Morral Companies offers manufacturing, packaging, and wholesale distribution of a wide range of agriculture products, and beyond. Today, Morral is one of the country's largest formulators and manufacturers of liquid fertilizers serving farmers and professionals in the agricultural and lawn/garden industries.
What you would be doing:
You will diagnose and repair issues in diesel engines
You will diagnose issues and repairs with hydraulics, breaks, transmission, steering, and other systems.
You will perform preventative maintenance on all equipment prior to the annual spring planting season.
You will perform welding or fabrication tasks on trailers and other fleet equipment as necessary.
You will prepare work orders and order appropriate truck parts to keep the fleet running at all times.
You are responsible for keeping a clean and safe workplace.
Qualifications:
Possess at least 3 - 5 years of diesel mechanic experience, preferably in the Agriculture industry.
Possess valid Class A CDL.
Diesel technician or mechanical degree preferred.
Acquires basic computer and math skills.
Expresses a 'Can-Do' attitude each day and approaches new obstacles with a positive and encouraging demeanor.
Browse more Maintenance Jobs on AgHires now.
---
A little about the business: Advanced Agrilytics is an agronomic tech company that provides farmers with actionable, customized strategies to deliver sustainable outcomes at the sub-acre level. Our independent hands-on approach combines field-specific data with agronomic research to meet farmers at the cross-section of technology and a personal agronomist. With our patented Hex-Grid system, Advanced Agrilytics provides precise recommendations that help farmers manage inputs and resources and maximize profitability in any given environment. Our recommendations, backed by our own research and proprietary data systems, provide operations prescriptions focused on return on investment and independent of product manufacturers and retailers.
What you would be doing:
Primary responsibility is to develop new prospects via existing relationships and cold calling to generate and uncover opportunities for customer acquisition.
Own and lead full sales cycle from lead generation to closing deals. Support re-contracting during end-of-year reviews for existing customers (Precision Agronomist will deliver enterprise reports evaluating past year performance and develop plans for the upcoming season).
Introduce prospective customers to Precision Agronomists to co-sell the Advanced Agrilytics platform/offering.
Consult customers along with the Precision Agronomist on agricultural issues to facilitate relationship-building and collaborate closely with local Precision Agronomists to co-sell the Advanced Agrilytics platform/offering.
Facilitate onboarding of customers and transition to Precision Agronomists for long-term servicing.
Qualifications:
Four-year bachelor's degree in Agriculture Business, Agronomy, or related field with 2 or more years of experience or Associates degree with 5 or more years of related experience.
Preferred minimum 2+ years in roles owning full sales process, preferably (but not required) in agriculture-related industry.
Willing to maintain or obtain a Certified Crop Advisor certification within 1 year of employment.
Preferred candidates have Experience selling in an early-stage environment.
Search more Sales Jobs on AgHires now.
---
A little about the business: Welcome to Weber Farms. We are a family-owned and operated farm in central Washington. We farm mostly potatoes and sweet corn, about 6000 acres a year. We pride ourselves on being a progressive family operation with the latest technologies and sound agronomic practices.
What you would be doing:
Maintain center pivots.
Diagnose malfunctioning irrigation equipment.
Inspect electrical systems, equipment, and components to identify hazards and/or defects.
Perform physically demanding tasks, such as digging trenches to lay conduit, climbing pivot towers, moving, and lifting heavy objects.
Advise management on whether continued operation of equipment could be hazardous.
Operate heavy machinery on occasion.
Maintain and repair center pivot irrigation systems.
Perform business management duties such as maintaining records and files, preparing reports, and ordering supplies and equipment.
Work from ladders to install, maintain or repair electrical wiring, equipment, and components.
Qualifications:
Prior electrical and mechanical maintenance and repair experience.
Prior farming and/or agriculture, irrigation, center pivot experience, or understanding of the industry preferred, not required.
Ability to work longer hours during peak seasons.
A valid driver's license and clean driving record.
Search more Irrigation Jobs on AgHires now.
---
The job opportunities within the agriculture industry are endless. Whether you are looking to start your journey or take the next step in your agriculture career, there is a place for you. Go to AgHires.com to search thousands of current job openings, ranging from agronomy jobs to marketing jobs to service technician jobs. New jobs are uploaded to our website daily.
Follow us on Facebook and Twitter to see more featured jobs.