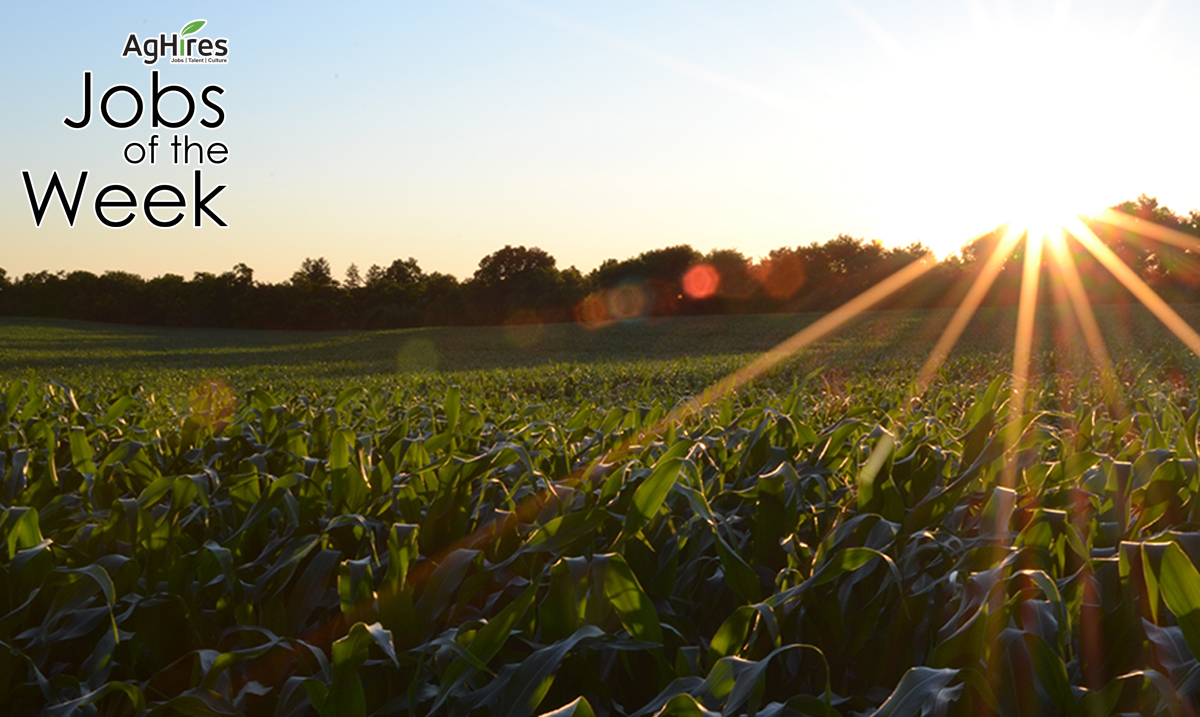 Top Agriculture Jobs of the Week
For the week of 7-19-21
AgHires works hard to be the number one resource for top jobs in agriculture. The agriculture industry provides a variety of job opportunities that range far and wide. Take a moment to search through the thousands of current job openings on AgHires.com, and check out this week's top Agriculture Jobs of the Week below.
A little about the business: BigIron is committed to providing honesty and integrity through our state-of-the-art online auction platform. We are continually focused on helping the agricultural community connect buyers and sellers. Through this commitment, we have grown to become the largest, unreserved online auction serving rural America, selling tens of thousands of items through weekly auctions to registered bidders worldwide.
What you would be doing:
Demonstrates commitment to the Company's mission, vision, and core values.

Provides administrative support to the VP of Sales, Regional Sales Managers and Inside Sales Managers.

Responsible for the recruiting life cycle including job postings, interviews, hiring and terminations in coordination with the regional and district managers.

Develops and implements a go-to-market recruiting strategy including a budget with the Marketing Department.

Implements methods of recruiting ISR's to ensure strategic support of Company sales plans and metrics, including time-to-fill metrics.

Establishes relationships with recruiting sources, including employees, community members and colleges.
Qualifications:
Bachelor's degree and 2+ Years of related experience or equivalent combination preferred.

Agricultural industry experience preferred.

Always maintains Driver's License and Auto Insurance.

Excellent analytical and project management skills.
Search more Human Resource Jobs on AgHires now.
---
A little about the business: Kregel Dairy is a family-owned and operated dairy and grain operation located in NE Iowa in Guttenberg, IA. Milking around 400 head with state-of-the-art robotic milking. The family prides itself on being a progressive farming operation.
What you would be doing:
Maintain the health and well-being of fresh cows, including individual cow treatment, vaccinations, and troubleshooting herd-level issues.

Keep and record DHIA records.

Work with Lely robots.

Maintain a stable and efficient dairy environment for animals, employees, managers and owners.

Maintain clean stalls, robot, and other areas.

Assist with genetics.
Qualifications:
Experience with livestock, dairy, or other agricultural related field.

Ability to operate a skid steer and be mechanically inclined a plus, not required.

Ability to communicate clearly with others and be a strong team-player

Valid driver's license.
Search more Animal Health Jobs on AgHires now.
---
A little about the business: Welcome to Smart Brothers Inc. We have a diversified operation that includes a cattle feedlot, cattle and grain transportation, and custom farming of hay and grain. We are located in Atwood, Colorado which is about 8 miles from Sterling, Colorado. We are always looking for ways to improve and expand our operation. Our team is made up of individuals who are dedicated to the safety and well-being of others and the livestock we care for.
What you would be doing:
Perform maintenance throughout the year on all farm equipment, trucks and facilities
Conduct and track all routine preventative maintenance of equipment
Order necessary parts and equipment; economically source parts and equipment when purchasing
Maintain an organized work area and shop along with developing practices to improve shop organization
Assist in other areas in the farm depending on the season
Qualifications:
Experience and/or training for mechanical work and desire to learn
Ability to work extended hours during peak season and as needed
Ability to lift up to 70 lbs and work on your feet throughout the day
Search more Maintenance Jobs on AgHires now.
---
A little about the business: With headquarters in Victor, New York, BioWorks has been a leader in providing environmentally responsible, safe, and effective biologically-based pest control and plant nutrition products for the horticulture, turf, and specialty agriculture markets for more than 20 years. Together, with our team of experts, our customers are enhancing conventional programs as well as developing leading edge pest control and plant health programs.
What you would be doing:
Actively participates in promoting, supporting and enhancing our Core Purpose, Core Values and Company Culture.

Maintain a positive work atmosphere by acting and communicating in a manner that promotes cooperation with customers, collaborators, vendors, co-workers and management.

Fully embraces Great Game of Business (GGOB), Scaling Up, and all strategies and activities related to financial transparency and information sharing, including timely updates to revenue goals.
Qualifications:
Bachelor's degree in Information Technology or equivalent experience in Information Technology

Minimum of 2 years of hands on experience, with experience in ERP, cloud and enterprise software desired
Good knowledge of IT operating systems
Resourcefulness and problem-solving aptitude
Knowledge of system security
Search more Information Technology Jobs on AgHires now.
---
A little about the business: Lady Moon Farms is hiring a full-time, year-round, Food Safety and Quality Specialist to execute our food safety and QA programs. We were founded in 1988 on10 acres with a dream to grow the freshest, best tasting, organic vegetables while respecting mother nature. While we've grown over the last 30+ years to farm nearly 3000 acres in FL, GA and PA our dream hasn't changed. We continue to focus on growing high-quality, nourishing food with respect for the land and our people.
What you would be doing:
Organize, track and supervise all aspects of quality control, sanitation, and food safety programs
Execute our HAACP and SQF Food Safety Program
Supervise, host or conduct all internal and external audits
Supervise and conduct regulatory mock recalls to meet compliance standards
Manage all documentation necessary for regulatory inspections, submissions and audits
Manage all internal documentation for operations compliance; vendor, receiving and shipping
Qualifications:
Ability to fluently speak, ready and write English/Spanish
Prior experience in food production/processing and/or agriculture
Proven ability to be highly detailed oriented and organized
Bachelor's degree in agribusiness, agriculture, food safety or relatable business degree
Search more Food Processing Jobs on AgHires now.
---
The job opportunities within the agriculture industry are endless. Whether you are looking to start your journey or take the next step in your agriculture career, there is a place for you. Go to AgHires.com to search thousands of current job openings, ranging from agronomy jobs to marketing jobs to service technician jobs. New jobs are uploaded to our website daily.
Follow us on Facebook and Twitter to see more featured jobs.