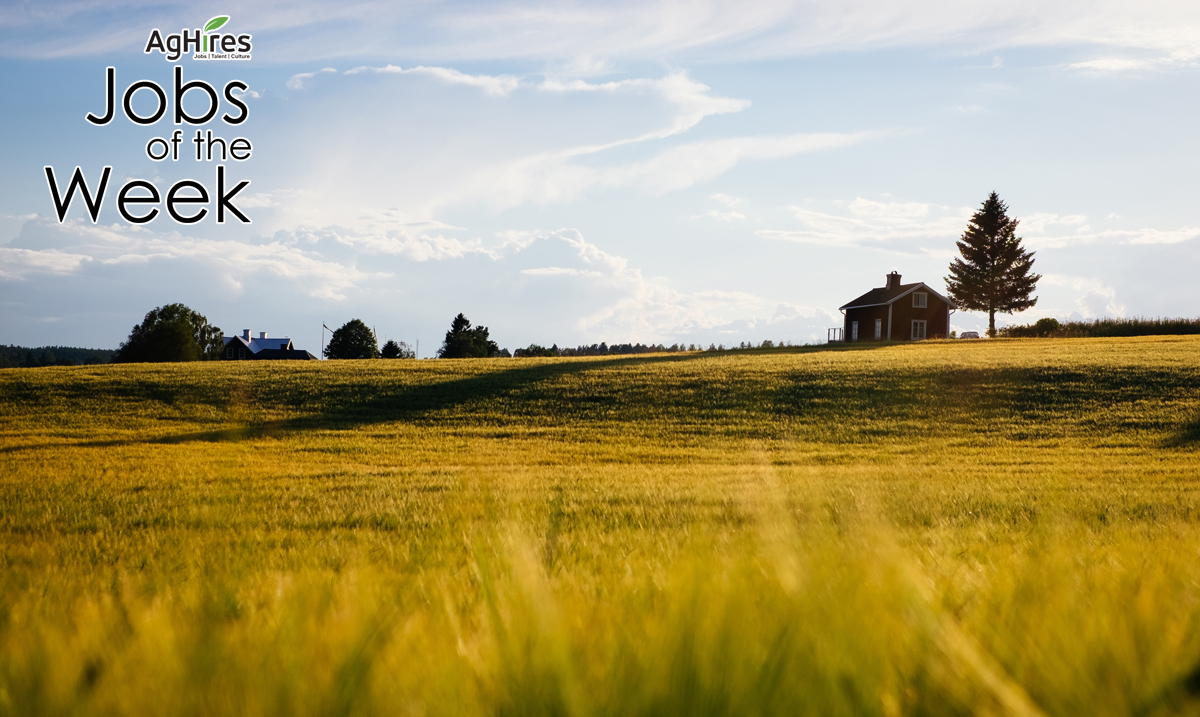 Top Agriculture Jobs of the Week
For the week of 8-8-22
AgHires works hard to be the number one resource for top jobs in agriculture. The agriculture industry provides a variety of job opportunities that range far and wide. Take a moment to search through the thousands of current job openings on AgHires.com, and check out this week's top Agriculture Jobs of the Week below.
A little about the business: eGenesis is a biotechnology company that utilizes multiplex gene editing and genome engineering platform to transform solid organ and therapeutic cell transplantation for the treatment of serious disease. The company is committed to ending the global transplant shortage and transforming the treatment of organ failure. eGenesis is bringing that vision closer to reality with lead programs in kidney and islet cell transplantation.
What you would be doing:
Leading the Animal Resources, Research Animal and Farm teams, and overseeing and coordinating daily activities pertaining to the referred teams.
Attending eGenesis Senior Leadership meetings, proposing plans and objectives for the department that will impact eGenesis's performance in an effective and innovative fashion.
Leading the eGenesis Team to create an effective and environmentally sustainable expansion of the facilities for the biosecurity animal area at eGenesis.
Spearheading the new building development plans at eGenesis.
Maintaining departmental activities in compliance with eGenesis's current standard operating procedures (SOPs), IACUC committee, and USDA regulations.
Qualifications:
Minimum bachelor's degree in an Animal Science or related field with 10+ years of experience in swine production (advanced degree preferred)
Must be service oriented and have the ability to work independently
Excellent organizational, communication, interpersonal, mentoring and teaching skills
Heavy experience with swine production (in an SPF and/or DPF bio-secure environment preferred)
Experience working on USDA and FDA regulated Animal Research Farm is preferred
Search more Swine Jobs on AgHires now.
---
A little about the business: Capay Canyon Ranch is a family-owned and operated grower and processor of almonds and grapes located on 400 acres in Esparto, California (38 miles west of Sacramento). We process almonds year-round, delivering both natural kernel and in-shell products to a diverse set of clients in 45 different countries around the world. We're a fast-paced, nimble, smaller company and we value each employee and customer as a member of our own family.
What you would be doing:
Selling our almonds (many varieties) directly to buyers.
Communicating clearly and effectively with a wide variety of customers.
Cultivating relationships with existing and new clients.
Coordinating with production and logistics teams.
Identifying new markets and new accounts for expansion.
Setting and achieving sales objectives.
Qualifications:
An outgoing personality.
A Proven track record of dependability.
5 years of sales experience, preferably within the agriculture industry, but not required.
Excellent communication and problem-solving skills.
The desire to work in a beautiful location with a great team, playing a key role to provide high-quality almonds to the world.
Good intuition/the ability to negotiate.
Search more Sales Jobs on AgHires now.
---
A little about the business: CHS Inc. is a leading global agribusiness owned by farmers, ranchers and cooperatives across the United States that provides grain, food and energy resources to businesses and consumers around the world. We serve agriculture customers and consumers across the United States and around the world. Most of our 10,000 employees are in the United States, but today we have employees in 19 countries. At CHS, we are creating connections to empower agriculture.
What you would be doing:
As directed, apply fertilizer and crop protection products. May require use of a high clearance sprayer or floater.
Work with customers in a courteous and professional manner.
Educate customers on products being applied to fields, techniques utilized, and how you can continue to support them with products and services.
Assist the sales staff in ensuring orders are correct and patron needs are met.
Perform warehouse work to including driving loader, forklift, mechanics, and maintenance.
Lift and load products, 1-2 hours per day.
Qualifications:
Knowledge of Agriculture Production, Operations, and/or Agriculture Application.
Must meet minimum age requirement.
CDL or ability to obtain within 30 days.
Ability to read, write, and communicate in English.
Ability to work additional hours to meet business demand.
High School diploma or GED preferred.
Applicator's license preferred.
Search more Equipment Jobs on AgHires now.
---
A little about the business: At ADM, we unlock the power of nature to provide access to nutrition worldwide. With industry-advancing innovations, a complete portfolio of ingredients and solutions to meet any taste, and a commitment to sustainability, we give customers an edge in solving the nutritional challenges of today and tomorrow. We're a global leader in human and animal nutrition and the world's premier agricultural origination and processing company. Our breadth, depth, insights, facilities and logistical expertise give us unparalleled capabilities to meet needs for food, beverages, health and wellness, and more. From the seed of the idea to the outcome of the solution, we enrich the quality of life the world over.
What you would be doing:
Obtain counterparty financial data and update the database of financial metrics.
Analyze and monitor customer business information, credit data and financial statements in support of establishing and maintaining trading limits.
Analyze and monitor non-customer counterparty information and financial statements in support of counterparty exposure.
Prepare counterparty margin finance credit request files.
Prepare periodic customer and non-customer counterparty credit monitoring reports.
Qualifications:
Bachelor's degree in a business related field.
7+ years of related experience.
Advanced financial data and statement analysis skillset.
Advanced technical skills including Excel, Access, VBA and SQL.
Strong organizational skills and attention to detail.
Excellent oral and written communication skills.
Search more AccountingJobs on AgHires now.
---
A little about the business: Central Valley Ag - CVA is a member-owned farmers' cooperative headquartered in York, NE with locations throughout Nebraska, Kansas and Iowa. Established in 2003, CVA has over 900 employees and is an innovative leader providing products and services in grain, agronomy, feed, and energy.
What you would be doing:
Reports to Director of Professional Ag Services.
Coordinates all CVA Innovation efforts.
Coordinates all customer & CVA employee field days at CVA Innovation and joint CVA/Answer plot sites.
Utilizes CVA Innovation and Winfield Answer plots to conduct in season agronomy training days.
Manages CVA Agronomy Training.

Responsible for CVA Radio.

Directly supervises 2 to 6 employees.

Qualifications:
Bachelor's or Associates Degree in Agronomy, Agribusiness or Agriculture Technologies or equivalent combination of education and experienced required.
Master's Degree in Agronomy, Agribusiness or Agriculture Technologies preferred.
Experience in the field of Precision Agriculture or equivalent combination of education and experience required.
Certified Crop Advisor or ability to be certified within 2 years.
Knowledge of GIS programs for data processing and equipment diagnostics.
Valid driver's license.
Search more Agronomy Jobs on AgHires now.
---
The opportunities within the agriculture industry are endless. Whether you are looking to start your journey or take the next step in your agriculture career, there is a place for you. Go to AgHires.com to search thousands of current job openings, ranging from agronomy jobs to marketing jobs to service technician jobs. New jobs are uploaded to our website daily.
Follow us on Facebook and Twitter to see more featured jobs.