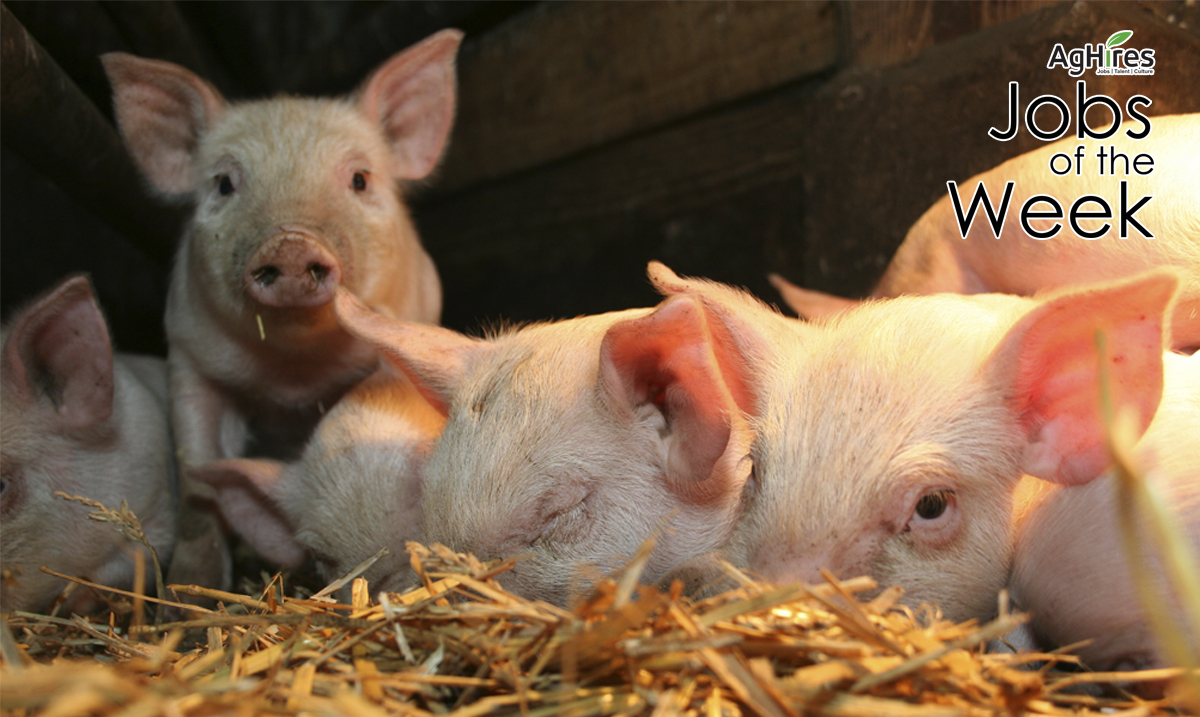 Top Agriculture Jobs of the Week
For the week of 9-13-21
AgHires works hard to be the number one resource for top jobs in agriculture. The agriculture industry provides a variety of job opportunities that range far and wide. Take a moment to search through the thousands of current job openings on AgHires.com, and check out this week's top Agriculture Jobs of the Week below.
A little about the business: Dairy One Cooperative, Inc. exists to help farms succeed. We are a not-for-profit cooperative with a core DHIA membership of approximately 3000 dairy farmer members throughout the Northeast and Mid-Atlantic region. Our primary business office and laboratory facilities are located in Ithaca, New York, about 2 miles from Cornell University. We offer a variety of tools and solutions such as agronomy services, forage laboratory, DHIA records & milk analysis, integrated farming solutions and other lab services to help farms of all types and sizes make more informed decisions.
What you would be doing:
Working independently and working with customers to set a testing schedule.
Collecting cow data and milk samples; entering data in specialized programs, printing reports & invoices, and monitoring data accuracy.
Set up/breakdown and cleaning of equipment.
Communicating with customers, co-workers, and others in the organization.
Building relationships with existing and new farms in order to maximize the data we collect and the services we provide.
Qualifications:
High School diploma, at least one year of dairy farm experience, and dependable transportation.
Are flexible and have the ability to work a varying schedule, including early mornings, nights, and occasional weekends.
Have a passion for agriculture, farming, dairy cows, and working in a barn environment.
Are self-motivated, organized, and willing to set your own schedule.
Are willing to uphold Dairy One values of Integrity, Professionalism, Commitment, Innovation, and Positivity.
Search more Dairy Jobs on AgHires now.
---
A little about the business: Farm Depot is a full line agricultural dealer with 3 locations across the southern-lower peninsula of Michigan in Caro, Ionia, and Schoolcraft. Whether our customers need a small tractor or a large self-propelled harvester or anything in-between, we have it. The main line we carry is AGCO. AGCO includes high horsepower tractors such as Fendt, Challenger and Massey, application equipment RoGator, TerraGator and Willmar as well as Sunflower tillage implements. We carry over 100 different product lines including Krone, Pottinger, Gehl, Kioti and Kubota just to name a few.
What you would be doing:
Ordering, stocking, and selling parts to customers and technicians.

Advise customers on replacement parts and recommended accompanying equipment parts.

Receive freight and manage inventory; stock and pull inventory.

Communicate with parts vendors and manufacturers.

Become familiar with warranty information.

Accurately enter orders and bills in the system.
Qualifications:
Strong mechanical, agriculture, and farm equipment knowledge. Parts counter experience preferred/not required.

Computer experience. Microsoft Office skills are helpful.

Outgoing personality and like to interact with farmers and all types of customers.

Minimum of High School diploma.

Good phone skills and able to be neat and organized.
Search more Customer Service Jobs on AgHires now.
---
A little about the business: Central Pump Company (CPC) is an Irrigation company located in the San Luis Valley. We sell, install, and repair all brands of center pivots. We also service and install all products to operate a pivot including well rehab and testing, pump installation and repair, pipeline work and electrical. CPC also services the industrial, municipal, golf and domestic market.
What you would be doing:
Maximize the billable hours
Assist in taking customer orders (including requested quotes) as required and ensure the customers' requirements are clearly defined, documented and agreed upon up-front. Prepare job estimates/quotations as required.
Prepare and process work orders for all jobs and all other required daily and weekly reports.
Investigate, analyze and identify the root causes of problems encountered in the daily operations and working together with his/her employees, take the necessary corrective and preventative actions.
Supervise the Staff under your control and ensure they have all the required inputs (clear instructions, parts, materials, tools etc) to do their jobs correctly. This includes task/job assignment, provided training, evaluation, supervision and follow up.
Qualifications:
Bachelor's degree preferred.
3-5 years related experience. Preferably 5-7 years Industry experience in Irrigation and Pumps.
Display exceptional leadership and professional management skills with proven ability to achieve superior results in a relationship management role.
Advanced computer skills.
Leadership style that encourages collaboration, cooperation, and teamwork with the ability to motivate others. Can foster collaboration through clear objectives, processes, and measurements.
Search more Irrigation Jobs on AgHires now.
---
A little about the business: CHS Inc. is a leading global agribusiness owned by farmers, ranchers and cooperatives across the United States that provides grain, food and energy resources to businesses and consumers around the world. We serve agriculture customers and consumers across the United States and around the world. Most of our 10,000 employees are in the United States, but today we have employees in 19 countries. At CHS, we are creating connections to empower agriculture.
What you would be doing:
Perform all maintenance and repairs of trucks and trailers to include oil changes, P/M inspections, DOT inspections, brake and shoe replacement, suspension repair and replacement, air and electrical trouble shooting and repair, clutch adjustments and replacement, wire feed welding and some minor fabrication, rear end and transmission replacement, minor engine repair, heating and air conditioning repair.
Work to improve equipment and maintenance to support operating departments with safe, reliable trucks, tractors and trailers that are in full compliance with all regulatory agencies and at a cost within industry standards.
Follow all policies and procedures outlined in the Shop Safety & Policies Procedures Manual.
Participate in company training for service and repair of vehicles, equipment, and facilities.
Commit to personal safety, the safety of others and safety to the environment.
Qualifications:
High School diploma or GED.
Previous experience repairing trucks and/or trailers.
Must own a full set of hand tools and a roll-away tool cabinet.
Must pass DOT physical, drug test and background check.
Must pass post offer pre-employment physical job requirements screening.
Search more Maintenance Jobs on AgHires now.
---
A little about the business: Attune Agriculture, LLC with headquarters in Boca Raton, Florida, was born from a company with over 100 years of history selling hydrocolloids into the finished foods industry. Combining deep roots in food and agriculture science, we have applied our intimate understanding of hydrocolloids, and wealth of knowledge harnessed from decades of research to the agriculture industry. Our mission is to create functionally superior crop inputs that are performance driven, but also safe for the planet and the people who use them. Please find more information about us at www.attuneag.com.
What you would be doing:
Develop and execute a sales plan which includes target accounts and contacts, planned sales activities and necessary milestones to generate sales.

Execute the sales plan and communicate progress against the plan.




Communicate the risks, assumptions and dependencies of with the sales plan to management.

Manage and progress a qualified pipeline of opportunities by prioritizing assigned accounts and contacts and advancing opportunities with a disciplined and organized approach.


Understand what's working and what's not and make necessary adjustments in the sales approach or activity levels to achieve targeted sales goals.

Submit timely forecasts and pipeline reports to management.
Qualifications:
A degree in agronomy, or other relatable field.




5+ years of sales experience in the agriculture industry.

Knowledge of the fundamental concepts, principles and practices of account management/sales.


Outstanding communication and interpersonal skills, including the ability to tailor communications appropriately to each customer.

Proven track record of successful account management/sales.

Located in Washington or Oregon.
Search more Business Development Jobs on AgHires now.
---
The opportunities within the agriculture industry are endless. Whether you are looking to start your journey or take the next step in your agriculture career, there is a place for you. Go to AgHires.com to search thousands of current job openings, ranging from agronomy jobs to marketing jobs to service technician jobs. New jobs are uploaded to our website daily.
Follow us on Facebook and Twitter to see more featured jobs.