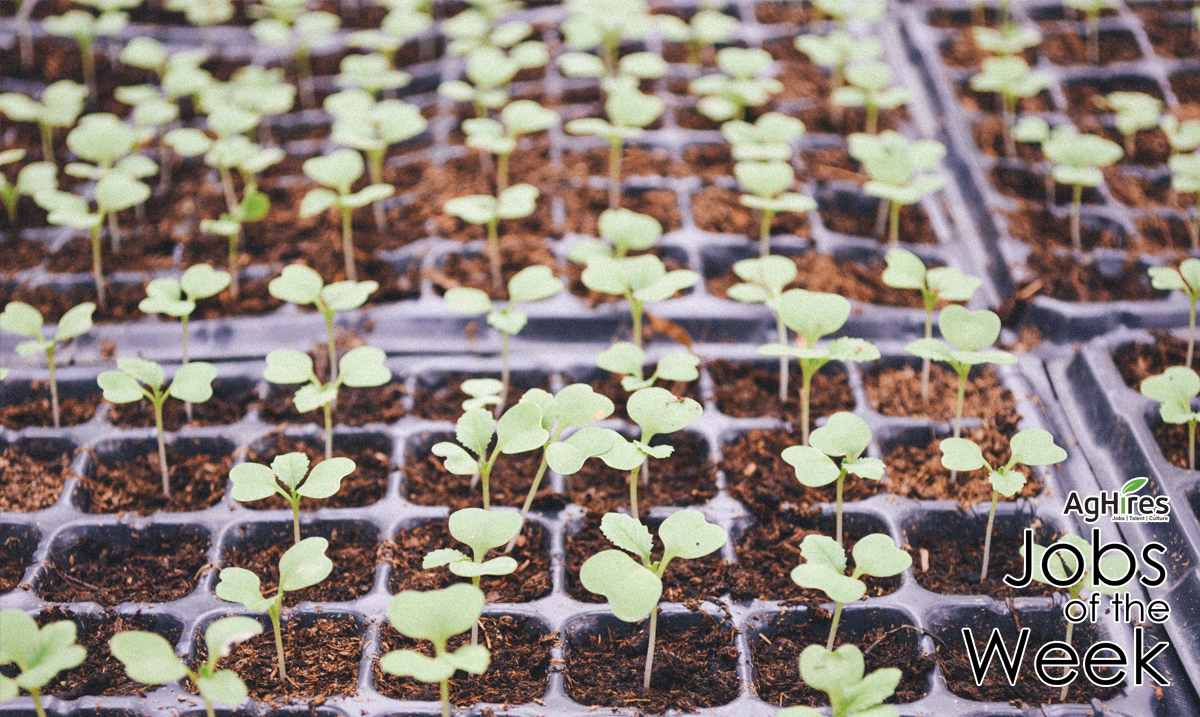 Top Agriculture Jobs of the Week
For the week of 7-12-21
AgHires works hard to be the number one resource for top jobs in agriculture. The agriculture industry provides a variety of job opportunities that range far and wide. Take a moment to search through the thousands of current job openings on AgHires.com, and check out this week's top Agriculture Jobs of the Week below.
A little about the business: Foster Farms has been a family-owned and operated company for four generations. Since our founding days back in 1939, we have always been committed to providing consumers with the highest-quality, best-tasting poultry products available. The hope is that our commitment to excellence, honesty, quality, service, and our people will shine through in everything we do.
What you would be doing:
Responsible for processing/production department(s) and for meeting department and company goals and standards on quality, yield, productivity cost and safety.
Responsible for the development and training of employees working within the guidelines of the company policies.
Responsible to superintendent on all exceptions in regards to productivity, downtime, quality, yield, cost and safety.
Responsible for monitoring standards and indexes needed to control area of responsibility.
Administer to ensure that safety orientations and safety meetings are held as required to keep frequency and severity to a minimum.
Participates at department meetings in the planning processes and to the testing and development of techniques/processes.
Qualifications:
BS or BA in or business management or equivalent work experience (five to ten years) in the food processing industry.
Demonstrated ability to communicate verbally and in writing and must have strong interpersonal skills.
Good mathematical background to be able to perform calculations on yield, productivity, reports, etc.
Able to evaluate leads and employees fairly and objectively; strong human resource skills.
Growth potential to assume more responsibility.
Search more Poultry Jobs on AgHires now.
---
A little about the business: Welcome to Crow Farm Operations! We are a family owned and operated 5,000 acre grain farm growing food-grade non-gmo corn and soybean seed. We are located in Lebanon, IN which is about 30 miles northwest Indianapolis. We take pride in the work we do and are passionate about growing quality crops.
What you would be doing:
Perform first level maintenance and repair on all ag and farm equipment.
Conduct and track all routine preventative maintenance (PM) of equipment.
Order necessary parts and equipment; economically source parts and equipment when purchasing.
Maintain an organized work area and shop along with developing practices to improve shop organization.
Assist in other areas on the farm depending on the season.
Qualifications:
Mechanical and maintenance experience, working on either farm, construction, or relatable equipment.
Experience driving a semi and/or combine a plus, but not required.
Ability to work extended hours during peak seasons.
Search more Equipment Jobs on AgHires now.
---
A little about the business: CHS Inc. is a leading global agribusiness owned by farmers, ranchers and cooperatives across the United States that provides grain, food and energy resources to businesses and consumers around the world. We serve agriculture customers and consumers across the United States and around the world. Most of our 11,000 employees are in the United States, but today we have employees in 19 countries. At CHS, we are creating connections to empower agriculture.
What you would be doing:
Pick up and deliver product to customers in a safe, timely and professional manner.
Provide excellent customer service.
Follow all CHS Inc. policies and procedures.
Prepare or adjust HazMat placards correctly for each load.
Follow all guidelines and regulations for hauling petroleum products.
Maintain electronic logs and onboard computer with each delivery and pickup.
Qualifications:
2 years or 200,000 miles of verifiable driving experience
Class B CDL license with Hazmat & Tanker endorsements
Ability to drive both manual and automatic transmission
Air break endorsement
Must pass a background check, DOT physical and drug screen and job requirements physical screening
Search more Logistics Jobs on AgHires now.
---
A little about the business: As a thriving auction company since 1960, Steffes Group has been busy selling everything from combines & tractors to tillable farm acreage, hay, and livestock. We also sell an array of assets including construction equipment, large estates, business holdings, and more! From that time forward, the company has experienced a continued growth pattern & an expansion of offered services.
What you would be doing:
Oversee all banking activity, including preparing bank deposits, writing checks, and properly recording all banking activity
Day to day general ledger accounting activities, including standard entries, adjusting entries, and accurately processing other transactions
Qualifications:
Bachelor's degree in accounting or related field and 3‐5 years of related work experience, or a combination
CPA preferred, but not required
Search more Ag Financial Jobs on AgHires now.
---
A little about the business: Farm Depot is a full line agricultural dealer with 3 locations across the southern-lower peninsula of Michigan in Caro, Ionia, and Schoolcraft. Whether our customers need a small garden tractor or a large self-propelled harvester or anything in-between, we have it. The mainline we carry is AGCO, we are an AGCO Circle of Excellence & 5 Star Dealer. AGCO includes high horsepower tractors such as Fendt, Challenger, Massey, and Sunflower tillage implements. We carry over 100 different product lines including Krone, Pottinger, Gehl, and Kubota just to name a few.
What you would be doing:
Promotes and sells products and/or services to meet customer needs
Maintains inventory of parts necessary for customers and service location
Supplies Service Technicians with parts as required
Assists with preparing and maintaining merchandise displays
Qualifications:
Basic data entry/keyboarding skills
Basic parts and machinery knowledge
Related agriculture experience or farming background
Ability to work in a team environment
Ability to lift items weighing up to 75 lbs.
Search more Sales Jobs on AgHires now.
---
The opportunities within the agriculture industry are endless. Whether you are looking to start your journey or take the next step in your agriculture career, there is a place for you. Go to AgHires.com to search thousands of current job openings, ranging from agronomy jobs to marketing jobs to service technician jobs. New jobs are uploaded to our website daily.
Follow us on Facebook and Twitter to see more featured jobs.