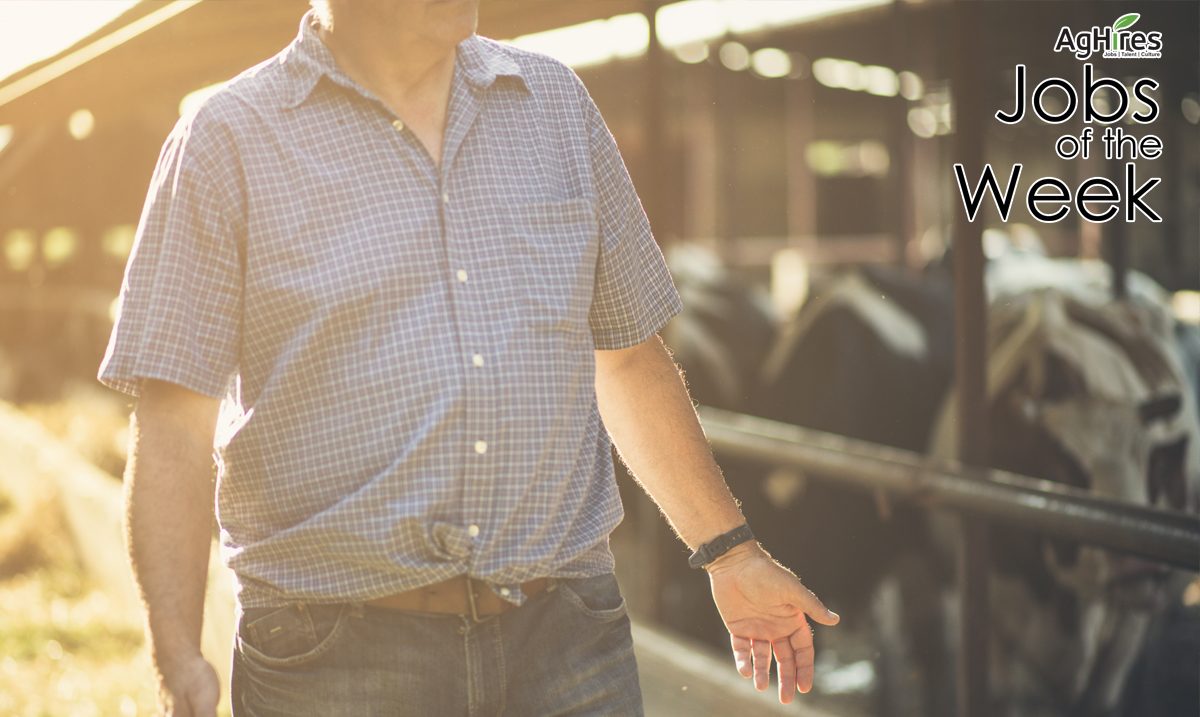 Top Agriculture Jobs of the Week
For the week of 2-27-23
AgHires works hard to be the number one resource for top jobs in agriculture. The agriculture industry provides a variety of job opportunities that range far and wide. Take a moment to search through the thousands of current job openings on AgHires.com, and check out this week's top Agriculture Jobs of the Week below.
A little about the business: Welcome to Silver Creek Feeders! We take pride in running a family business that focuses on integrity, knowledge, and stability. Our family has been feeding cattle in Western Iowa for four generation and we've built success by creating strong relationships with our customers. Our goal is to help our customers identify and capitalize on economic opportunities to maximize profit and secure long-term sustainability in this business.
What you would be doing:
Must be willing to work in a feedlot and swine confinement and have good cattle and swine handling skills.
Ability to feed cattle using a feed mixer.
Must be able to spot, diagnose, treat and care for cattle and swine of all ages.
Operate tractors, front end loaders and other various pieces of equipment.
Perform general machine maintenance.
Qualifications:
Agriculture experience is required.
Livestock experience is preferred.
Job will involve physical activity; must be able to lift 50 lbs.
Must be reliable and responsible.
Must have a valid drivers license; CDL is not a requirement.
Search more Livestock Jobs on AgHires now.
---
A little about the business: Central Valley Ag is a member-owned farmers' cooperative headquartered in York, NE with locations throughout Nebraska, Kansas, and Iowa. Established in 2003, CVA has over 900 employees and is an innovative leader providing products and services in grain, agronomy, feed, and energy. You can find more information about Central Valley Ag by visiting www.cvacoop.com.
What you would be doing:
Ensures financial results of the regions.
Ensures efficient use of personnel in regions that you oversee.
Ensures proper planning for future talent needs and development.
Oversees utilization of assets by your regions.
Manages budget process of the regions.
Oversees Cap Ex for the regions.
Qualifications:
Bachelor's degree (B.A.) from a four-year college or university or four to six years' related experience and or training or equivalent combination of education and experience required.
Proven history of delivery of results required.
Strong relationship builder and communicator with experience leading diverse work teams, developing an organization wide strategy for location excellence, engaging company partners and partnering with the senior leadership team.
Passionate about Central Valley Ag's mission and able to promote and communicate the philosophy, mission and values of Central Valley Ag to external and internal stakeholders.
Must have a broad understanding of agriculture, agronomy and grain businesses.
Search more Cooperative Jobs on AgHires now.
---
A little about the business: Kemin Crop Technologies is focused on providing innovative solutions to challenges faced in the commercial specialty agriculture and horticulture markets. Our vision is to be a valuable resource for growers as they look for innovative, environmentally friendly solutions to keep their operations healthy and profitable. As this is a growing venture, the role will evolve over time as the initiative develops, matures and the product portfolio expands. Ability to adapt and change over time with this role is therefore a critical competency for any incumbent in this role.
What you would be doing:
Achieve sales and gross margin goals as defined in yearly budget.
Maintain a high level of technical expertise to communicate product value to the customer.
Establish and grow strong relationships with key customers to promote product information, account planning and provide solution-based programs.
Establish and grow strong relationships with industry partners and university collaborators.
Provide technical support and product information to customers.
Qualifications:
Minimum of Bachelors Degree. Preferred degree in Agriculture, Horticulture or comprabable field of study or equivalent experience.
5+ years previous sales experience in the agriculture or horticulture industry.
Must have and maintain an insurable driving record.
Self-discipline and experience in achieving sales budgets.
A solid understanding of the chemical and biological sciences to prepare and present detailed technical and commercial presentations to prospective customers.
Search more Sales Jobs on AgHires now.
---
What you would be doing: eGenesis is a biotechnology company that utilizes multiplex gene editing and genome engineering platform to transform solid organ and therapeutic cell transplantation for the treatment of serious disease. The company is committed to ending the global transplant shortage and transforming the treatment of organ failure. eGenesis is bringing that vision closer to reality with lead programs in kidney and islet cell transplantation.
What you would be doing:
Be responsible for the handling of animals enrolled in cloning, in-vitro fertilization, and natural breeding studies.
Responsible for maintaining needs relative to research animal care, health, and treatment as outlined by the veterinary research team.
Feed and clean all research animals enrolled on reproductive studies:
Responsible for maintaining and keeping health and herd management records updated.
Responsible for activities related with artificial or natural breeding
Qualifications:
B.S. in Animal Science or related field
Knowledge of swine operation preferred
Working knowledge of basic farm equipment
Proficiency in MS Office (MS Excel in particular)
Excellent time management skills and the ability to prioritize work
Search more Animal Health Jobs on AgHires now.
---
A little about the business: For over 60 years, Oxbo has been the clear choice for specialty harvesting and controlled application technology through direct service, sales, and parts support. What started as a shared interest in building quality equipment to service growers in the application, forage, fruit, seed, vegetable, and root crop markets has resulted in global growth and superior customer support throughout the specialty crop industry. Join a team of passionate industry leaders as they continue that growth through the offering of state-of-the-art equipment!
What you would be doing:
Providing technical and product training to internal service staff, support channels, dealers, and customers.
Providing additional technical product support to international sales team. This support may include: customer visits, distribution of service bulletins, coordination of updates and personnel training.
Participating in product validation and verification processes. Assist in testing/coordinating tests with customers
Providing feedback from customers and field experience to Sales & Marketing staff
Assisting with product demonstrations of new equipment
Assisting with the development of parts and operators' manuals and the online product support library.
Qualifications:
Experience in diesel engine troubleshooting and maintenance is desirable.
Experience with basic welding and fabrication.
Customer service skills and the ability to assist and train end-users.
Problem-solving skills.
Experience with Word, Excel, Outlook and PowerPoint.

See Full Job Description
Search more Fruit Jobs on AgHires now.
---
The opportunities within the agriculture industry are endless. Whether you are looking to start your journey or take the next step in your agriculture career, there is a place for you. Go to AgHires.com to search thousands of current job openings, ranging from agronomy jobs to marketing jobs to service technician jobs. New jobs are uploaded to our website daily.
Follow us on Facebook and Twitter to see more featured jobs.