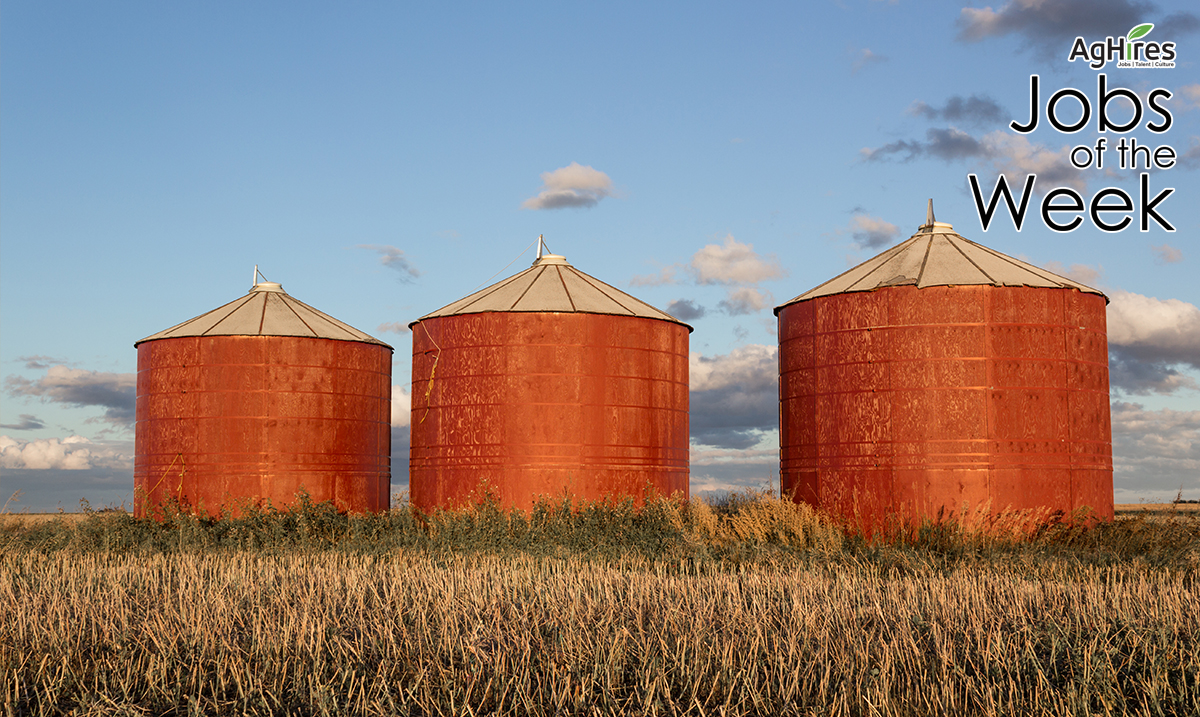 Top Agriculture Jobs of the Week
For the week of 3-28-22
AgHires works hard to be the number one resource for top jobs in agriculture. The agriculture industry provides a variety of job opportunities that range far and wide. Take a moment to search through the thousands of current job openings on AgHires.com, and check out this week's top Agriculture Jobs of the Week below.
A little about the business: Welcome to Weber Farms. We are a family-owned and operated farm in central Washington. We farm mostly potatoes and sweet corn, about 6000 acres a year. We pride ourselves on being a progressive family operation with the latest technologies and sound agronomic practices.
What you would be doing:
Maintain center pivots.
Diagnose malfunctioning irrigation equipment.
Inspect electrical systems, equipment, and components to identify hazards and/or defects.
Perform physically demanding tasks, such as digging trenches to lay conduit, climbing pivot towers, moving, and lifting heavy objects.
Advise management on whether continued operation of equipment could be hazardous.
Operate heavy machinery on occasion.
Maintain and repair center pivot irrigation systems.
Perform business management duties such as maintaining records and files, preparing reports, and ordering supplies and equipment.
Qualifications:
Prior electrical and mechanical maintenance and repair experience.
Prior farming and/or agriculture, irrigation, center pivot experience, or understanding of the industry preferred, not required.
Ability to work longer hours during peak seasons.
A valid driver's license and clean driving record.
Search more Irrigation Jobs on AgHires now.
---
A little about the business: CHS Inc. is a leading global agribusiness owned by farmers, ranchers, and cooperatives across the United States that provides grain, food, and energy resources to businesses and consumers around the world. We serve agriculture customers and consumers across the United States and around the world. Most of our 10,000 employees are in the United States, but today we have employees in 19 countries. At CHS, we are creating connections to empower agriculture.
What you would be doing:
Perform all maintenance and repairs of trucks and trailers to include oil changes, P/M inspections, DOT inspections, brake and shoe replacement, suspension repair and replacement, air and electrical troubleshooting and repair, clutch adjustments and replacement, wire feed welding, and some minor fabrication, rear end and transmission replacement, minor engine repair, heating, and air conditioning repair.
Work to improve equipment and maintenance to support operating departments with safe, reliable trucks, tractors, and trailers that are in full compliance with all regulatory agencies and at a cost within industry standards.
Follow all policies and procedures outlined in the Shop Safety & Policies Procedures Manual.
Participate in company training for service and repair of vehicles, equipment, and facilities.
Commit to personal safety, the safety of others, and the safety of the environment.
Qualifications:
High School diploma or GED.
Previous experience repairing trucks and/or trailers.
Must own a full set of hand tools and a roll-away tool cabinet.
Must pass DOT physical, drug test, and background check.
Must pass post-offer pre-employment physical job requirements screening.
Search more Maintenance Jobs on AgHires now.
---
A little about the business: Pecan Grove Farms, headquartered in Dallas, TX, is an integrated pecan ingredient company. We own and operate multiple farms throughout the state of Texas. We then process and market our premium pecan products to customers around the world. Over the past 10 yrs, we've grown to be the 6th largest pecan producer by volume. We focus on streamlined processes and quality products for our customers. We're proud of our strong company culture, with a team that thrives on innovative thinking and collaboration. Our mission- "every person counts, every tree counts, every pecan counts" is embodied in everything we do. We look for highly energetic and dedicated individuals who are comfortable constantly building and improving on past performance.
What you would be doing:
Receiving and entering orders accurately and timely.
Reviewing documents for accuracy.
Coordinate with the inventory manager to ensure up-to-date inventory information.
Following up on the status of orders and ensuring proper documentation is provided.
File maintenance and management – both paper and electronic.
Using CRM (NetSuite or others) to allow EVP of sales to maintain constant communication with customers.
Promptly communicating with customers regarding the status of their order and/or contract; particularly regarding any delays, issues, or concerns.
Handling and resolving a variety of customer concerns, complaints, and questions (may include billing inquiries, scheduling issues, and product or procedure information questions).
Qualifications:
2+ yrs experience with customer service, inside sales, sales account manager, sales operations, or similar administrative responsibility.
Experience within the food industry or working with a national or regional grocer is preferred.
Attention to detail and the ability to perform assigned tasks accurately and efficiently.
Capacity for analytical thinking.
Professional and upbeat attitude.
Search more Sales Jobs on AgHires now.
---
A little about the business: GRIP Cannabis is a full-service, multi-state cannabis company. We do business in every aspect of the industry including real estate, licensing, owning and operating facilities, product development, and sales. Our expanding organization is looking for ambitious, driven individuals who are ready to take over the cannabis world with us.
What you would be doing:
Develop short and long-term plans in alignment with the strategic plan and annual profit plan objectives to drive superior operational performance and financial results.
Establish objectives and track key performance indicators across the organization; ensure continued improvement in all balanced scorecard indicators with emphasis on Safety, Quality, Delivery, Inventory, Cost, and Culture.
Proactively champion a culture focused on Environmental, Health & Safety (EHS), driving a zero-incident culture. Empower employees and drive accountability for EHS to all levels in the organization.
Create a culture of exceeding customer expectations, ensuring that the organization is highly responsive to customer needs. Work with key stakeholders across Marketing, Sales, HR, and Operations to achieve end-to-end goals.
Establish inventory plans and proactively manage inventory to profit plan, driving improved and sustainable processes.
Drive ownership and collaboration across all stakeholder groups; generate forecasts that meet customer expectations and profit plan objectives.
Qualifications:
Bachelor's degree from an accredited institution or equivalent work experience.
Minimum 10 years of experience with progressive levels of accountability and responsibility in Operations, Manufacturing, Supply Chain, Finance, OPEX, and/or related support functions.
Minimum 5 years of experience of proven ability to build high-performance teams, lead cross-functionality, and develop employees. This may include tenure as an Operations Manager, Plant Manager, Production Manager, or similar roles.
Experience within the agriculture industry is great, but we're very open to expertise from other industries, including automotive and manufacturing. We'd be happy to teach you the cannabis business.
Search more Cannabis Jobs on AgHires now.
---
A little about the business: Welcome to Prairie Farms Partnership! We farm about 4600 acres of corn, soybeans, and vegetables (peas, sweet corn) in Hastings, Minnesota. We are looking for someone who shares our passion for farming, our team environment, and the variety of work throughout the different seasons.
What you would be doing:
Operating various farm and heavy equipment including tractors, planters, tillage, combines, and trucks.
Hauling grain.
Irrigation maintenance and repair.
Assisting with light equipment maintenance in the shop and in field.
Performing general farm labor such as building upkeep, grounds maintenance, etc.
Qualifications:
Experience in agriculture and farming operating and maintaining farm and other heavy equipment.
CDL preferred or a willingness to obtain.
Attention to detail and ability to manage multiple tasks.
Strong personal motivation along with strong moral values and work ethic.
Ability to work extended hours during the busy season.
Search more Field Operations Jobs on AgHires now.
---
The opportunities within the agriculture industry are endless. Whether you are looking to start your journey or take the next step in your agriculture career, there is a place for you. Go to AgHires.com to search thousands of current job openings, ranging from agronomy jobs to marketing jobs to service technician jobs. New jobs are uploaded to our website daily.
Follow us on Facebook and Twitter to see more featured jobs.