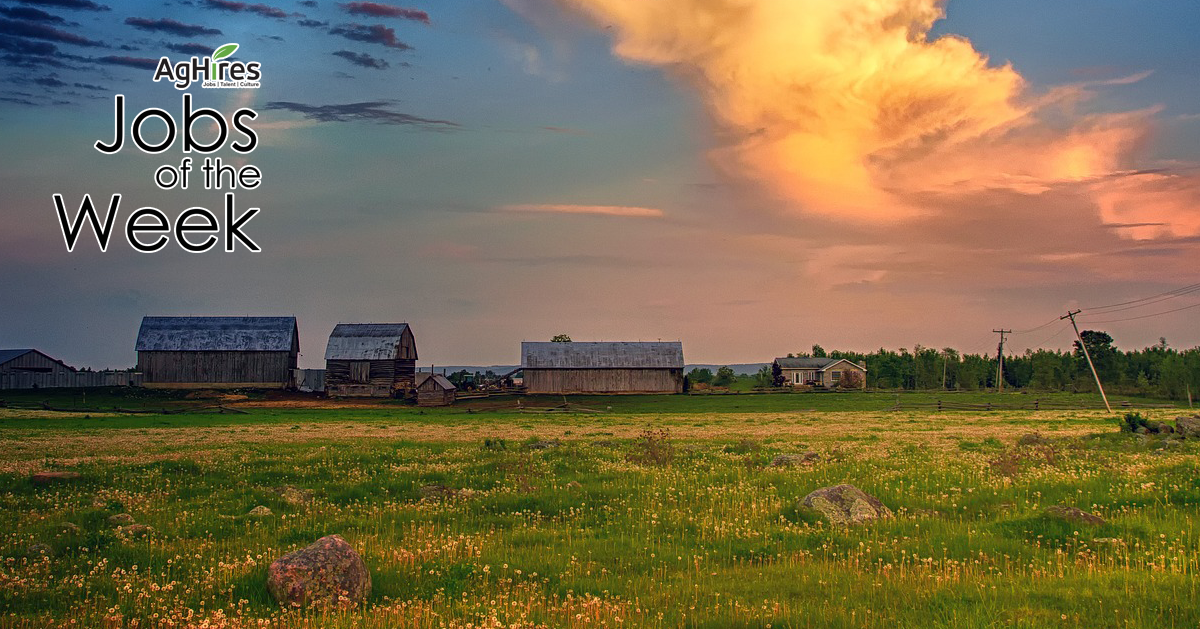 Top Agriculture Jobs of the Week
For the week of 11-15-21
AgHires works hard to be the number one resource for top jobs in agriculture. The agriculture industry provides a variety of job opportunities that range far and wide. Take a moment to search through the thousands of current job openings on AgHires.com, and check out this week's top Agriculture Jobs of the Week below.
A little about the business: In September 2017, Agland Co-op and Heritage Cooperative joined forces, agreeing by a vote of their members to move forward under the Heritage Cooperative name.
Heritage Cooperative, which operated primarily in western Ohio, was known as an agronomy and grain powerhouse. Agland Co-op operated in the central and eastern parts of the state, deriving fully half its revenues from energy and related services. The new cooperative is much more balanced and is divided into four main operating divisions: grain, agronomy, energy and feed, and retail.
What you would be doing:
Accurately complete and maintain DOT logbooks, vehicle inspection reports, and trip tickets.

Communicate and coordinate bulk feed deliveries with appropriate personnel.




Communicate customer needs and inquires to appropriate personnel for follow-up.




Conduct required pre and post-trip inspections.




Load and unload product for delivery following weight guidelines set forth by the vehicle type.




Load the bulk truck per printed invoice and follow established procedures.

Maintain equipment and facilities in a neat, clean, safe, and environmentally sound condition.
Qualifications:
Ability to frequently lift heavy objects no more than 50 pounds.




Ability to frequently stand and/or walk for extended periods of time.




Ability to frequently sit for extended periods of time.




Ability to occasionally crawl, stoop, kneel, climb, or balance.




Ability to satisfy all pre-employment screening requirements.




Ability to thrive in a fast-paced environment.
Search more Trucking Jobs on AgHires now.
---
A little about the business: Central Valley Ag - CVA is a member-owned farmers' cooperative headquartered in York, NE with locations throughout Nebraska, Kansas, and Iowa. Established in 2003, CVA has over 900 employees and is an innovative leader providing products and services in grain, agronomy, feed, and energy. You can find more information about Central Valley Ag by visiting www.cvacoop.com.
What you would be doing:
Answer Phone and Greet Customers.




Provide aid, with in-bound/out-bound scale operations for both grain, agronomy, and feed.




Ensures safety compliance and attends safety-related job trainings when they become available.




Continue to work with Gary on feed contracts. Also, continue to send Tuesday price sheet out. Also, help in any other aspects of Feed that fit into the 30% of the time allocated.




Have the ability to buy customer grain on a spot basis.




Devote 1

st

week of the month to payables – entering, filing, etc if needed




Agronomy CSS – billing, transfers, filing, inventory, etc.
Qualifications:
High School Diploma or equivalent (GED) required.
Must possess good problem-solving skills by using logic and reasoning to identify solutions to problems.
Has a good understanding of basic computer skills and the ability to learn how to use software quickly.
Possesses the ability to communicate effectively in person, over the phone, and via text.
Has the ability to work with others to resolve customer complaints.
Exhibits self-motivation, the ability to multitask and pay close attention to small details.
Exhibits the ability to prioritize tasks and complete them in a high-pressure environment.
Search more Customer Service Jobs on AgHires now.
---
A little about the business: Welcome to Smith Cattle Co. We operate a large cattle feedlot and provide cattle transportation while farming and hauling hay and grain. We are located in Lewisville, Idaho which is about 20 minutes north of Idaho Falls. We are always looking for ways to improve ourselves and our company. Our team is made up of individuals who are dedicated to the safety and well-being of others and the livestock we care for.
What you would be doing:
Work alongside Pen Riding and Cattle Processing Crews to manage cattle shipping/receiving.
Maintain accurate and timely records in Cattle inventory Computer System.
Manage cattle medicine inventories.
Occasional pen riding as needed to assure cattle health and pens are in good repair.
Perform prescribed treatments for detected illness and injury in livestock.
Arrange Cattle, Brands, and Trucking to receive and ship cattle daily.
Foster a cooperative work environment among all feedlot employees.
Create and uphold Standard Operating Procedures.
Qualifications:
Cattle management, Finish cattle, and pen riding experience.
Leadership qualities including working alongside a team, strong problem-solving skills, and a strong work ethic to lead and accomplish established goals.
Ability to understand, and use computer software.
Welding experience (preferred, not required).
Your own horse(s) (max 3) – we feed them.
Search more Livestock Jobs on AgHires now.
---
A little about the business: Michigan Milk Producers Association (MMPA), established in 1916, is a member-owned and operated dairy cooperative. MMPA serves approximately 1,600 dairy farmer members in Michigan, Indiana, Wisconsin, and Ohio. The dairy cooperative, the 10th largest in the U.S., employs approximately 320 people in four states.

MMPA markets nearly 5 billion pounds of milk annually to fluid milk customers and food ingredient manufacturers. MMPA operates two manufacturing plants in Ovid and Constantine, Michigan, and a cheese plant in Middlebury, Indiana. Products made at the Michigan plants include butter, ultra-filtered milk, powdered milk, cream, and condensed skim milk. These products are sold to a wide range of food manufacturers who make end-use products such as candy, ice cream, pudding, baked goods, cheese, and yogurt.
What you would be doing:
Duties include (but not limited to) mopping, scraping, brushing, sweeping, washing floors and walls to include sanitizing equipment and machinery as instructed.
Knowledge of the product flows pertaining to the systems, including but not limited to piping, controls, and connections for receiving and the loading out of pasteurized products.
Operate butter and powder packing equipment within specifications of packaging standards.
Hand pack cases into boxes and prepare for shipment to warehouse.
Assist with palletizing and shrink wrapping pallets to prepare for shipping.
Assist with accurate recording weights, start time, down time, pounds produced, and pallets produced.
Knowledge of CIP lines and flows.
Perform required production tests (such as % total solids etc.), to ensure the product meets specified standards.
Qualifications:
Ability to work any shift, weekends, or holidays (our plants operate 24/7). Reliable and consistent attendance required.
Must be able to pass a drug screen and background check.
High School Diploma or General Education Degree (GED) required.
Follow Good Manufacturing Practice Regulations, which require gloves, hairnets, shoe covers, and uniforms in working areas. Personal cleanliness is necessary to prevent product contamination.
Complies will all applicable food safety regulations and mandates (Safe Quality Foods, Food & Drug Admin, Pasteurized Milk Ordinance).
Ability to constantly stand/walk and to frequently bend/flex/twist/squat/carry for an 8-hour shift.
Search more Production Jobs on AgHires now.
---
A little about the business: Redline Equipment is a team of people with a passion for farmers and their equipment. We are dedicated to serving farmers, ranchers, ag producers, construction, and commercial lawn service providers to provide cutting-edge equipment, technology, and parts and provide 24/7/365 service from highly qualified. Any Season. Any Reason. Any Time. Redliners take this motto very seriously and provide top performance and equipment through our twelve dealer locations throughout Ohio, Michigan, and Indiana.

Our top brands include Case IH, Cub Cadet, Grasshopper, Kinze, Kubota, Bobcat, Woods, Yetter, Kongskilde, LandPride, Landoll, and Unverferth.
What you would be doing:
Highly align with our company's Mission and Core Values.
Interact with prospects and customers to ensure a positive experience with our dealership.
Work closely with prospects and customers to develop a relationship to ensure a complete understanding of agricultural equipment needs.
Conduct equipment demonstrations.
Analyze sales opportunities, solve customer problems, and participate in sales promotions.
Prepare all sales quotes ensuring that all proposals are complete, accurate and provide a complete description.
Maintain acceptable levels of sales volume, gross profit and attain sales unit targets.
Qualifications:
College degree preferred, with coursework in Agribusiness, finance, or related field.
Agricultural equipment sales experience or equivalent experience.
Highly self-motivated, strong interpersonal skills and communication skills required.
Excellent attention to detail.
Ability to use a standard desktop or laptop computer and related programs, Microsoft Office platform, plus ability to effectively research and navigate the internet.
Search more Business Development Jobs on AgHires now.
---
The opportunities within the agriculture industry are endless. Whether you are looking to start your journey or take the next step in your agriculture career, there is a place for you. Go to AgHires.com to search thousands of current job openings, ranging from agronomy jobs to marketing jobs to service technician jobs. New jobs are uploaded to our website daily.
Follow us on Facebook and Twitter to see more featured jobs.