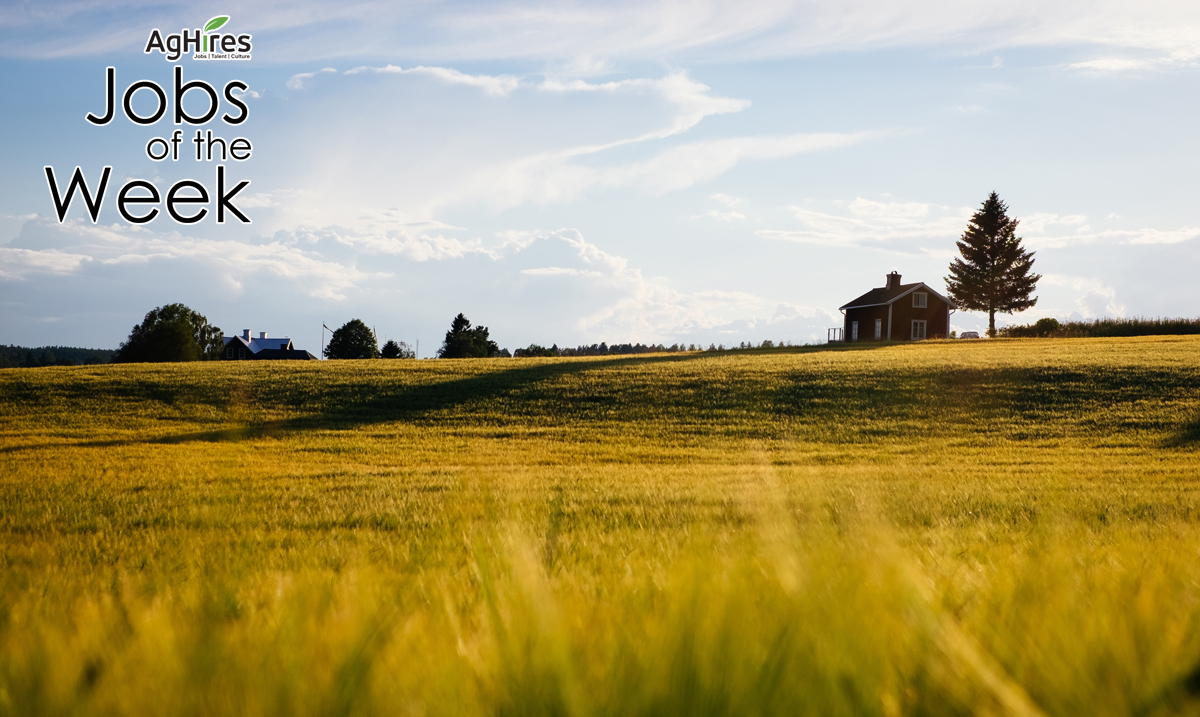 Top Agriculture Jobs of the Week
For the week of 10-10-22
AgHires works hard to be the number one resource for top jobs in agriculture. The agriculture industry provides a variety of job opportunities that range far and wide. Take a moment to search through the thousands of current job openings on AgHires.com, and check out this week's top Agriculture Jobs of the Week below.
A little about the business: Precision Ag Consultant/Technician: Established, successful, precision ag-based company is seeking a conscientious, self-motivated individual looking for a career working with precision ag equipment. This position is not your ordinary precision ag technician position; it is a unique chance to be involved in the growth of the ever-changing precision ag industry.
What you would be doing:
Assist and/or take lead in installation of precision ag equipment

Assist farmers with troubleshooting precision ag equipment

Support sales of GP Precision Ag products and services

Create a positive outlook with the use of precision ag equipment

Educate growers how precision ag technologies create a positive ROI

Educate growers with the proper use of precision ag technologies

Presenting at Planter Clinics and Operational Clinics
Qualifications:
Safety oriented

Must have a clean, safe driving record

Must have a strong Precision Ag background with practical agricultural experience.
Computer skills
Strong organizational skills with attention to detail
A High School diploma is required
Search more Precision Ag Jobs on AgHires now.
---
A little about the business: Dairy One Cooperative, Inc is a not-for-profit cooperative based in Ithaca, New York. We work primarily throughout the Northeast and mid-Atlantic region providing a full range of services to the agricultural industry including: DHI testing, milk, forage, and soil analyses, software support, on farm technology, and agronomy services.
What you would be doing:
Safety Plan Coordination
Work with department heads to develop, administer and maintain comprehensive safety programs.
Documentation
Develop, maintain, and update all cooperative safety manuals including Ithaca Center Facilities Safety Manual, Field Safety Manual, Fall Prevention and Protection Program Manual, Firefighter and Designated Searcher Manual.
Compliance
Coordinate proper disposal of all hazardous wastes according to current federal, state, and local regulations.
Qualifications:
Associate's Degree and at least 5 years of experience in a health and safety compliance role.
Familiarity with OSHA standards and regulations.
Experience with regulatory documentation/record-keeping requirements is essential.
Excellent written and verbal communication skills and the ability to work as part of a team are essential.
Search more Jobs on AgHires now.
---
A little about the business: Welcome to Country Boys Custom Farming! We are a small family-owned and operated custom manure hauling service located in Farwell, MI (about 20 miles north of Mt. Pleasant). We treat each employee as a member of our own family and enjoy our Sundays off.
What you would be doing:
Operating farm equipment such as a tractor, manure tanker, and other heavy equipment.
General light maintenance work to equipment.
Manure hauling from storage pits to fields.
Qualifications:
Previous experience operating farm equipment.
Have the ability to work long hours.
Are dependable and hard working.
Works well independently as well as in a team environment.
Respectful to clients and other team members.
Search more Farming Jobs on AgHires now.
---
What you would be doing:
Livestock Research
Observe livestock health; Diagnose common illnesses and administer medications (injections, capsules, etc.) as deemed appropriate
Research Plots and Rotational and Forage Crop Production
Operate tractors from 20 hp to 200 hp
Operate small and large crop production and research equipment during field operations such as tillage
Research Equipment and Facilities Maintenance and Repair
Set and calibrate tools to fit conditions and applications when required
General Labor and Outreach
Represent Purdue to customers, the public, government, and other external sources
Digital Ag
Operate or learn to operate GPS guidance systems
Qualifications:
High School Diploma/GED
4 years of related experience
Welding, metal fabrication, carpentry, plumbing, painting, mechanical repair and maintenance, troubleshooting and resolving technical problems, equipment operation
Basic knowledge of the operation and integration of Ag equipment and electronics and repair, maintenance, and fabrication as used for agronomic crops.
Search more General Labor Jobs on AgHires now.
---
A little about the business: The University of Arkansas Rich Mountain's main campus in Mena is situated on a pristine 40-acre campus at the foot of Arkansas' second highest peak, Rich Mountain, with satellite campuses located in Waldron and Mount Ida.
What you would be doing:
Coordinate and implement competitive team travel, and practice/ work/chore schedules

Conduct competitive and/or recruitment activities for the division

Travel to various high schools, conferences, events, and other sites for recruitment

Cultivate and develop relationships with alumni groups, business, industry, and community partners

Oversee and maintain budgets related to the livestock judging program

Lead divisional events, clubs, and teams

Oversee program website updates and the program's social media

Qualifications:
Ability to work well with a diverse population




Experience in competitive livestock judging, collegiate experience preferred




Experience with livestock herds, the livestock industry, and livestock evaluation




Computer proficiency, including the use of Microsoft Office
Search more Livestock Jobs on AgHires now.
---
The opportunities within the agriculture industry are endless. Whether you are looking to start your journey or take the next step in your agriculture career, there is a place for you. Go to AgHires.com to search thousands of current job openings, ranging from agronomy jobs to marketing jobs to service technician jobs. New jobs are uploaded to our website daily.
Follow us on Facebook and Twitter to see more featured jobs.