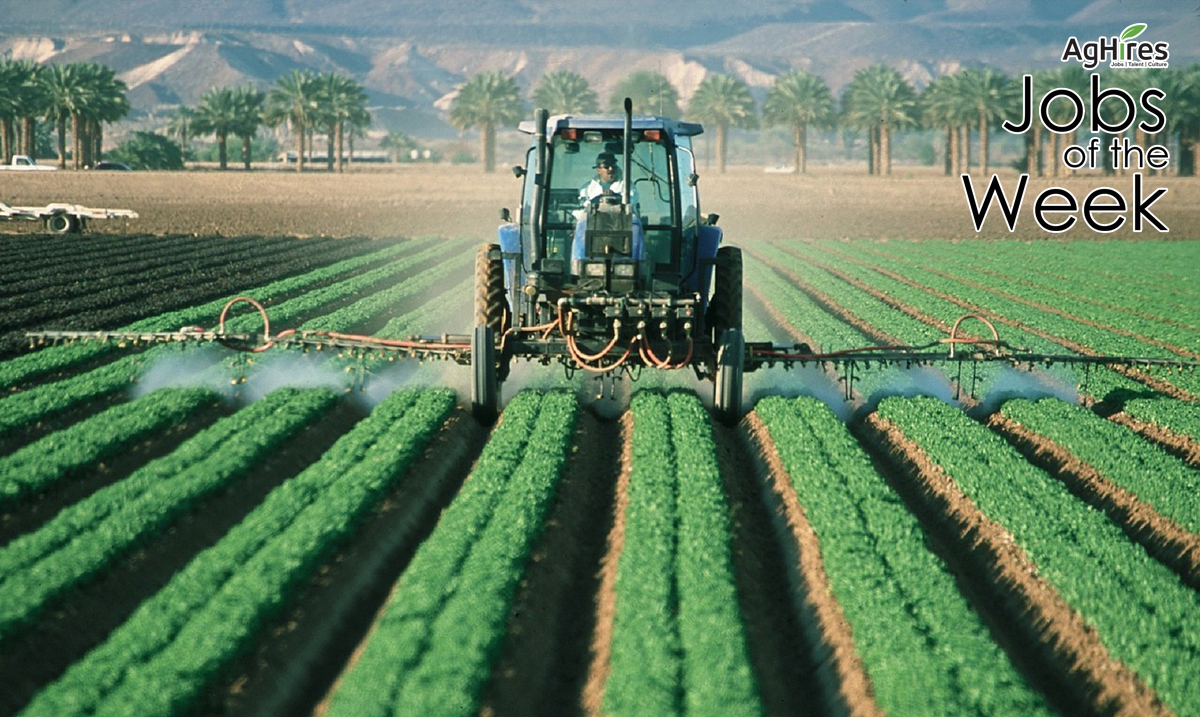 Top Agriculture Jobs of the Week
For the week of 4-5-21
AgHires works hard to be the number one resource for top jobs in agriculture. The agriculture industry provides a variety of job opportunities that range far and wide. Take a moment to search through the thousands of current job openings on AgHires.com, and check out this week's top Agriculture Jobs of the Week below.
A little about the business: Lallemand Animal Nutrition is a global leader in microbial fermentation using yeast and bacteria in animal agriculture.
Lallemand develops, produces and markets high-value yeast and bacteria products including probiotics, silage inoculants, and yeast derivatives. These innovative solutions positively impact animal nutrition and well-being, forage management and the animal environment.
Using sound science, proven results and knowledge from experience, Lallemand applies the right strains for the right applications to have the greatest impact for our customers.
What you would be doing:
Conduct research to identify market trends and target customers' preferences
Create marketing plans to increase brand awareness
Ensure strong brand presence in online and offline channels
Review packaging and positioning of products and suggest improvements
Research competition and identify opportunities for growth
Design advertising campaigns for new products/services
Qualifications:
2+ years of experience as an Associate Brand Manager, Assistant Brand Manager, Marketing Associate or similar role
Experience with product pricing, packaging, and positioning
Familiarity with distribution channels and media marketing campaigns
Knowledge of digital and social marketing tools and techniques is a plus
Ability to conduct market analysis (and the know-how to use and interpret spreadsheets and charts)
Search more Marketing Jobs on AgHires now.
A little about the business: Greenfield Global is a leading producer and supplier of high-value, mission-critical raw materials, ingredients, and additives that are vital to businesses and integral to a lower-carbon economy. From start-ups to the largest brands in the world, customers trust Greenfield's extensive portfolio of premium products, regulatory expertise, and industry-leading service to improve people's lives and the health of the planet.
What you would be doing:
Work with the teams involved in business development projects that require agronomy assistance (ISCC will be a main item) and the Federal Clean Fuel Standard. Note: here we expect to get a higher price for lower CI ethanol
Develop an agronomist and grain processing program that will lower the carbon intensity of agriculture in Ontario, targeting current and future customers of Greenfield. This will be a partnership with the growers and Greenfield. Program will be aligned with reducing greenhouse gases and reducing global warming
Agronomist will work with industry leaders across the country to understand emerging farm practices and technologies to reduce carbon intensity of agriculture
Qualifications:
Degree or Diploma in Agriculture, Agribusiness, Crop & Soil Science or a relatable field
Five or more years of crop industry and agronomy experience
Must be Bilingual (French/English)
Experience in the agri-food and/or retail industries and strong knowledge of the commodities market an asset
Knowledge of modern farming practices, various precision ag equipment and related technologies
Search more Agronomy Jobs on AgHires now.
A little about the business: Welcome to BioWorks Inc! We're a leader in providing environmentally responsible, safe, and effective biologically-based pest control and plant nutrition products for the horticulture, and specialty agriculture markets for more than 25 years. Together, with our team of experts, our customers are enhancing conventional programs as well as developing leading edge pest control and plant health programs.
What you would be doing:
Proactively make outbound sales calls to small & mid-sized customers and prospects
Provide support (technical, marketing, product detailing, etc) by email and phone to assigned customer base and makes product recommendations to growers & distributors.
Sales Process: Prospecting and Qualifying, Researching and Mining for Data
Identify new lead prospects through internet research and social media.
Qualifying opportunities, right effort on the right opportunity
Qualifications:
Education:

Bachelor's degree in agriculture, horticulture, or equivalent experience in a related field preferred,

not required.
Experience:

1-5 years of inside or field-based sales experience

Complexity of Decision Making:

A wide variety of work. Considerable judgment. Make decisions guided by policies and precedent.

Accountability:

Functions with little guidance. Direct accountability for operational, human and/or fiscal resources.
Browse more Sales Jobs on AgHires now.
A little about the business: Wildman Farms is located in Clayton, IN (just east of Indianapolis). We are a family-owned, farm operation growing corn and soybeans on 2500 acres. We are passionate about agriculture where we embrace a family-atmosphere and want you to feel part of the operation.
What you would be doing:
Operate farm machinery and construction equipment such as excavators & backhoes
Haul grain and drive semi when needed
Perform light maintenance and repairs on implements, equipment and tractors
Perform general labor on the farm such as ground maintenance and cleaning equipment
Work with precision ag equipment – GPS in all our John Deere tractors
Work additional hours during peak season
Lift up to 75lbs and be able to work on your feet throughout the day
Qualifications:
Experience on a farm or background in agriculture operating equipment.
Truck driving experience, preferred CDL or willingness to obtain
Mechanical ability to work on equipment
Driven personality, willing to do what it takes to get the job done right
Understanding of farming/agriculture knowing there are some longer days in spring and fall
Search more Equipment Operator Jobs on AgHires now.
A little about the business: Cargill Animal Nutrition is a global business that serves large-scale feed mill operators and retailers, as well as individual farmers. Our business has provided better nutrition for better lives for more than 120 years. By leading, innovating and transforming the animal nutrition & health industry, we ensure that the customers we serve, the animals we feed, and the consumers who rely on that protein, thrive.
What you would be doing:
Operating equipment throughout facility such as mixers, mills, grinders, packing, palletizers, etc.
Collecting product samples and supervising tank levels, utilizing computer systems to input and record data as necessary
Manufacturing products to ensure that they meet specifications
Interacting regularly with peers and management to pursue continuous improvement of facility operations and promote a teamwork-focused environment.
Qualifications:
Eligible to work in the United States without visa sponsorship.
Be 18 years or older
Ability to perform physical job duties which may include bending, lifting up to 50lbs., kneeling, climbing, crawling, and twisting safely, with or without reasonable accommodation
Ability to work in varied indoor and outdoor conditions which may include heat, cold, dust, loud noise, etc., with the use of personal protective equipment (PPE)
Search more General Labor Jobs on AgHires now.
The opportunities within the agriculture industry are endless. Whether you are looking to start your journey or take the next step in your agriculture career, there is a place for you. Go to AgHires.com to search thousands of current job openings, ranging from agronomy jobs to marketing jobs to service technician jobs. New jobs are uploaded to our website daily.
Follow us on Facebook and Twitter to see more featured jobs.