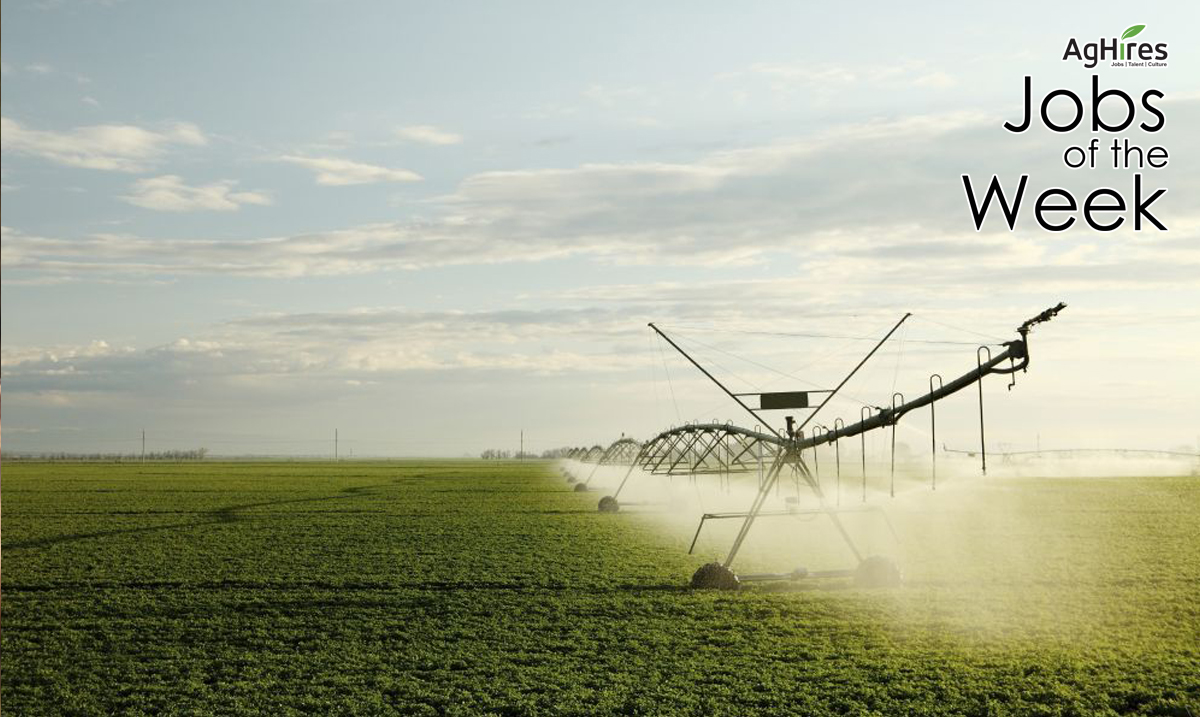 Top Agriculture Jobs of the Week
For the week of 4-19-21
AgHires works hard to be the number one resource for top jobs in agriculture. The agriculture industry provides a variety of job opportunities that range far and wide. Take a moment to search through the thousands of current job openings on AgHires.com, and check out this week's top Agriculture Jobs of the Week below.
A little about the business: MacLean-Fogg is a group of global enterprises which partner with key customers to engineer, manufacture, and distribute products for the automotive and power utility marketplaces worldwide.
What you would be doing:
Fabricate and modify parts to make or repair machine tools or maintain industrial machines, applying knowledge of mechanics, shop mathematics, metal properties, layout and machining procedures
Machine parts to specifications using machine tools such as cold nutforming machines, screw machines, tapping/deflection machines, lathes, milling machines, shapers or grinders
Measure, examine and test completed units in order to detect defects and ensure conformance to specifications
Use required gaging instruments
Read and interpret blueprints and engineering specifications
Qualifications:
Perform work under direct supervision
Handle basic issues and problems and refer more complex issues to higher-level staff
Possess beginning to working knowledge of subject matter, including basic knowledge of computer skills
Typically require a high school diploma or equivalent and 0 to 2 years of experience
Search more Manufacturing Jobs on AgHires now.
A little about the business: D&K Agri Sales, Inc, located in Plymouth, NE, is a family-owned and operated company providing complete grain storage and handling equipment installs and repairs for farms along with welding and fabrication work. Join a team that works hard together to get the work done. Enjoy working for a family business where most of the work is local within a couple of hours.
What you would be doing:
In this role, you will be working on-site or in a fab shop with grain bins and related equipment. You will be mainly repairing or working on new construction of grain legs, spouting, drag conveyors, etc. You will also work with a wide range of equipment, ranging from tractor/trailer, skid steers, forklifts, telehandlers, and tractors with attachments and any other types of equipment that our jobs would require.
Qualifications:
You will need to be a self-starter and motivated. A career with management responsibility is possible with the right mindset and work ethic.
This position requires the ability to be trained on basic millwright and/or mechanical knowledge
Must have the ability to think clearly and problem solve
Physically, this position will require you to stand, stoop, bend, kneel, climb and crawl on a regular basis.
Must be able to see, hear and effectively communicate with your fellow employees and customers
This position requires that you can communicate in the English language
This position requires you to climb ladders and work at extended heights of up to 150 feet. You must be able to regularly lift at least 50 pounds and occasionally lift 100 pounds.
Search more Maintenance - Repair Jobs on AgHires now.
A little about the business: McNamara Enterprises Incorporated (MEI) is a family farming and trucking operation that was established in 2004. We are a third-generation family farm located in SW Minnesota that farms approximately 3000 acres of land with a crop rotation of Sugar Beets, Corn, Soybeans, Navy beans and Dark Red Kidney Beans. We also grow Sweet Corn and sell at several locations.
What you would be doing:
Welcoming visitors, both in-person and by phone; answering or referring inquiries as needed.
Maintaining all files and records, including retention, protection, transfer, and disposal according to procedures.
Maintaining office efficiency by planning and implementing office systems, layouts, and equipment procurement.
Keeping management informed by reviewing and analyzing special reports, summarizing information, and identifying trends. Prepares financial reports by collecting, analyzing, and summarizing account information and trends.
Qualifications:
Minimum of 7 years of experience in an office environment, preferably in a supervisory/manager capacity
Knowledge of accounting, data and administrative management practices and procedures
Knowledge of clerical practices and procedures
Experience with Financial Software (Quickbooks, CenterPoint)
Excellent time management skills and ability to multi-task and prioritize work
Browse more Customer Service Jobs on AgHires now.
A little about the business: Tasteful Selections, LLC, located in Arvin, California, is a specialty potato company whose mission is to delight the consumer with great tasting, easy to prepare, inspirational potato products. A joint venture between RPE, Inc., CSS Farms, Inc. and Plover River Farms, Inc., the company is a vertically integrated farming operation which grows, packs, and markets baby potatoes, fingerlings and seed potatoes. More information can be found at www.TastefulSelections.com.
What you would be doing:
Lead and manage crop potato production activities at farm locations within assigned territory
Lead field operations, including tillage, planting, cultivation, harvest, and cover crop establishment
Direct agronomic activities in coordination with VP of Farm Operations, including scheduling of irrigation, fertilizer applications, and chemical applications
Oversee potato shipping activities to deliver excellent customer service and quality
Support innovation in agronomic, equipment, and storage practices
Qualifications:
Bilingual in English/Spanish is required
High School Diploma or equivalent
3 – 5 years of experience managing agricultural programs over a large geographic region
Ability to travel up to 20% of work time
Self-directed individual who leads projects to identify and implement solutions with team input
Demonstrated strategic management of irrigated crops
Search more Management Jobs on AgHires now.
A little about the business: AHW is a 16 location John Deere Dealership, selling tractors, combines, sprayers, riding mowers, commercial equipment in east central Illinois and western Indiana.
What you would be doing:
Fields internal and external customer inquiries to the Service Department

Opens work orders as directed by the Service Manager/Shop Foreman and maintains control until they are closed and invoiced

Maintains the service library with current information (for example, files bulletins, manuals, multi-media, etc.) under the direct supervision of the Service Manager

Maintains Service Department filing and records

Updates customer profiles using equipment, hours, or other information from the customer work orders
Qualifications:
Basic knowledge of accounting practices
Ability to use standard desktop load applications such as Microsoft Office and internet functions
Knowledge of office procedures
General understanding of mechanical/technical terms is preferred
Associates Degree or equivalent experience
Search more Administrative Jobs on AgHires now.
The job opportunities within the agriculture industry are endless. Whether you are looking to start your journey or take the next step in your agriculture career, there is a place for you. Go to AgHires.com to search thousands of current job openings, ranging from agronomy jobs to marketing jobs to service technician jobs. New jobs are uploaded to our website daily.
Follow us on Facebook and Twitter to see more featured jobs.