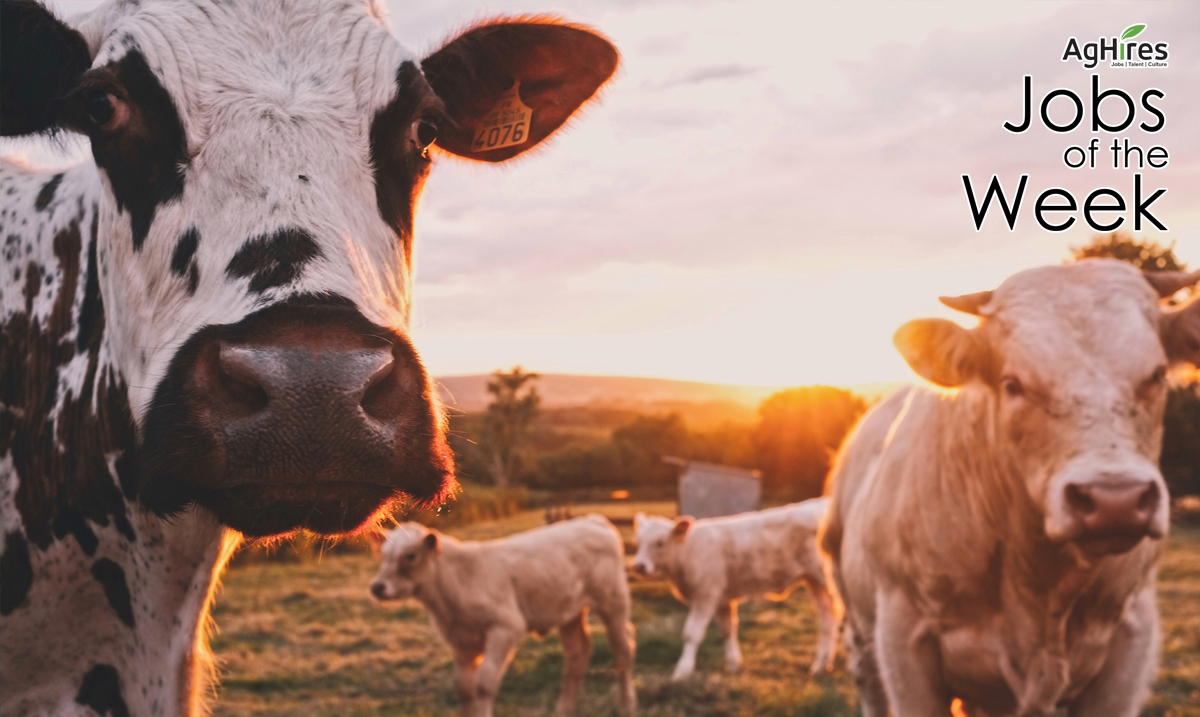 Top Agriculture Jobs of the Week
For the week of 4-12-21
AgHires works hard to be the number one resource for top jobs in agriculture. The agriculture industry provides a variety of job opportunities that range far and wide. Take a moment to search through the thousands of current job openings on AgHires.com, and check out this week's top Agriculture Jobs of the Week below.
A little about the business: At Lone Tree, we know every task contributes to our noble purpose of nourishing people around the world! We are a family-owned company deeply rooted in agriculture. Our diverse farm includes 2,000 acres of corn and soybeans and a 5,000 sow farrow-to-wean operation. Our dedicated team encompasses people from diverse backgrounds and experiences. We strive to create a supportive atmosphere with a spirit of comradery among team members as they tackle challenges together.
We offer a collaborative environment, satisfying work, and excellent benefits. Our comprehensive benefits package includes health, dental, and vision coverage, a retirement plan, flexible paid time off, and paid holidays. We also provide opportunities for personal and professional development.
What you would be doing:
Overall care and processing of pregnant/farrowing sows and their piglets
Sow and piglet feeding and nutrition management
Routine and seasonal piglet and sow vaccinations and injections
Perform breeding/insemination processes
Monitor, test, and care for pregnant sows
Animal feeding and nutrition management
General facility cleaning, maintenance, and hygiene
Qualifications:
High school diploma desired
Ability to do basic math-addition, subtraction, and multiplication
Ability to communicate clearly and effectively
Swine industry experience preferred, but not required
Regular, consistent attendance
Requires dedication, goal-oriented, motivation, positive attitude, and ability to work effectively as a team
Search more Swine Jobs on AgHires now.
A little about the business: Redline Equipment is a team of people with a passion for farmers and their equipment. We are dedicated to serving farmers, ranchers, ag producers, construction and commercial lawn service providers to provide cutting-edge equipment, technology and parts and provide 24/7/365 service from highly qualified. Any Season. Any Reason. Any Time. Redliners take this motto very seriously and provide top performance and equipment through our twelve dealer locations throughout Ohio, Michigan and Indiana.
What you would be doing:
Highly align with our company's Mission and Core Values
Interact with prospects and customers to ensure a positive experience with our dealership.
Work closely with prospects and customers to develop a relationship to ensure
Complete understanding of agricultural equipment needs.
Conduct equipment demonstrations.
Analyze sales opportunities, solve customer problems, and participate in sales promotions.
Prepare all sales quotes ensuring that all proposals are complete, accurate and provides a complete description.
Qualifications:
College degree preferred, with coursework in Agribusiness, finance, or related field.
Agricultural equipment sales experience or equivalent experience
Highly self-motivated, strong interpersonal skills and communication skills required.
Excellent attention to details.
Ability to use standard desktop or laptop computer and related programs, Microsoft Office platform, plus ability to effectively research and navigate the internet.
Search more Sales Jobs on AgHires now.
A little about the business: Pro-Ag farms is in northeast Colorado and southwest Nebraska.
What you would be doing:
Enjoy driving 'owner operator' equipment, W900L trucks and newer walking floor and belt trailers hauling a variety of agricultural commodities.

Operate loader equipment to self-load trucks.
Qualifications:
Be able to operate loader equipment to self-load trucks.

Requires a Class A CDL, a clean MVR, and at least two years of recent experience,

Subject to pre-employment and quarterly random pool drug testing.

We operate under farm plates and do not use eLogs.
Browse more Logistics Jobs on AgHires now.
A little about the business: Join Greenstone Farm Credit Services! We are one of America's largest rural lenders. Headquartered in East Lansing, Michigan, we are the country's seventh largest association in the Farm Credit System. We own and manage $11 billion in assets and serves over 27,000 members with 36 branches throughout Michigan and northeast Wisconsin.
What you would be doing:
Maintaining and growing a $40-$45 million portfolio with your main customers being farming operations.

Grow your portfolio by networking, sales calls, and developing relationships.

Enjoy developing and maintaining a significant professional presence throughout the local community in addition to making formal presentations to various local and regional groups.
Qualifications:
Bachelor's degree in agriculture, agronomy, horticulture, business administration, finance, or related field.
1+ years of experience in the agribusiness/farming industry or agricultural credit.
Knowledge of loan products and services and credit operations.
Knowledge of farm production methods and products.
A general understanding of farm business management, finance, and macroeconomics.
Proven track record of prospecting new business and enhancing existing relationships is preferred.
Search more Ag Financial Jobs on AgHires now.
A little about the business: Cargill Animal Nutrition is a global business that serves large-scale feed mill operators and retailers, as well as individual farmers. Our business has provided better nutrition for better lives for more than 120 years. By leading, innovating and transforming the animal nutrition & health industry, we ensure that the customers we serve, the animals we feed, and the consumers who rely on that protein, thrive.
What you would be doing:
Operating equipment throughout facility such as mixers, mills, grinders, packing, palletizers, etc.
Collecting product samples and supervising tank levels, utilizing computer systems to input and record data as necessary
Manufacturing products to ensure that they meet specifications
Interacting regularly with peers and management to pursue continuous improvement of facility operations and promote a teamwork-focused environment.
Operating forklifts
Qualifications:
Eligible to work in the United States without visa sponsorship.
Be 18 years or older
Ability to perform physical job duties which may include bending, lifting up to 50lbs., kneeling, climbing, crawling, and twisting safely, with or without reasonable accommodation
Ability to work in varied indoor and outdoor conditions which may include heat, cold, dust, loud noise, etc., with the use of personal protective equipment (PPE)
Basic computer skills
Search more Manufacturing Jobs on AgHires now.
The opportunities within the agriculture industry are endless. Whether you are looking to start your journey or take the next step in your agriculture career, there is a place for you. Go to AgHires.com to search thousands of current job openings, ranging from agronomy jobs to marketing jobs to service technician jobs. New jobs are uploaded to our website daily.
Follow us on Facebook and Twitter to see more featured jobs.