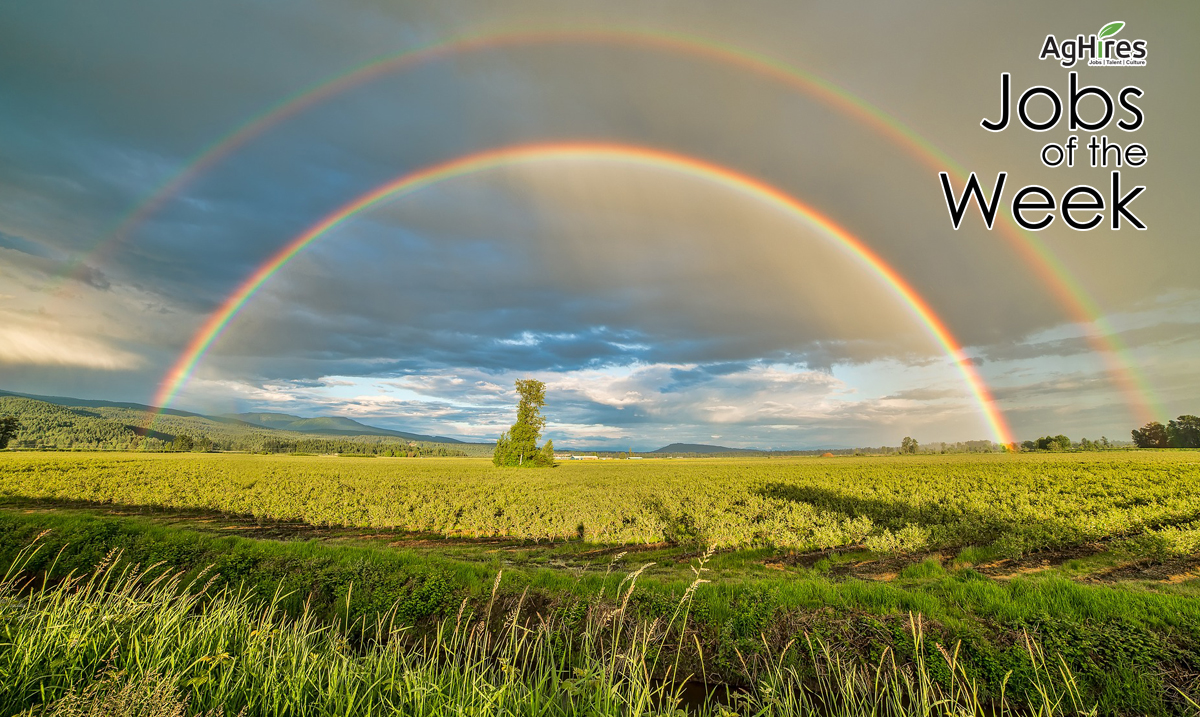 Top Agriculture Jobs of the Week
For the week of 3-21-22
AgHires works hard to be the number one resource for top jobs in agriculture. The agriculture industry provides a variety of job opportunities that range far and wide. Take a moment to search through the thousands of current job openings on AgHires.com, and check out this week's top Agriculture Jobs of the Week below.
A little about the business: GRIP Cannabis is a full-service, multi-state cannabis company. We do business in every aspect of the industry including real estate, licensing, owning and operating facilities, product development and sales. Our expanding organization is looking for ambitious, driven individuals who are ready to take over the cannabis world with us.
What you would be doing:
Develop short and long-term plans in alignment with the strategic plan and annual profit plan objectives to drive superior operational performance and financial results.
Establish objectives and track key performance indicators across the organization; ensure continued improvement in all balanced scorecard indicators with emphasis on Safety, Quality, Delivery, Inventory, Cost and Culture.
Proactively champion a culture focused on Environmental, Health & Safety (EHS), driving a zero-incident culture. Empower employees and drive accountability for EHS to all levels in the organization.
Create a culture of exceeding customer expectations, ensuring that the organization is highly responsive to customer needs. Work with key stakeholders across Marketing, Sales, HR, and Operations to achieve end-to-end goals.
Qualifications:
Bachelor's degree from an accredited institution or equivalent work experience.
Minimum 10 years of experience with progressive levels of accountability and responsibility in Operations, Manufacturing, Supply Chain, Finance, OPEX and/or related support functions.
Minimum 5 years of experience of proven ability to build high-performance teams, lead cross-functionality, and develop employees. This may include tenure as an Operations Manager, Plant Manager, Production Manager or similar roles.
Experience within the agriculture industry is great, but we're very open to expertise from other industries, including automotive and manufacturing. We'd be happy to teach you the cannabis business.
Search more Cannabis - Hemp Jobs on AgHires now.
---
A little about the business: Kitchen Pride is a leading supplier of fresh mushrooms. The Company operates from a state-of-the-art facility in Gonzales, Texas. Kitchen Pride specializes in high-quality, white, brown, sliced and other specialty mushrooms and has assembled a world-class team with decades of growing and operations experience.
What you would be doing:
The harvester is responsible for visually judging the maturity and quality of the mushrooms, picking and sorting mushrooms by size and grade into needed packaging material.
Qualifications:
No experience is required, just a good attitude and eagerness to work
Search more General Labor Jobs on AgHires now.
---
A little about the business: Wyffels Hybrids is an independently-owned seed company in an industry of multinational giants. They take our responsibilities personally. They care more, try harder and work smarter than companies you may be used to.
What you would be doing:
Primary point of contact for market, competitor, product and customer analysis.
Partner with Product Marketing Manager and Technical Product Manager to determine product insight goals and tactics. Identify and implement best practices to meet these goals and provide information that will help in product management.
Collect, aggregate and analyze market research resources and translate the information into actionable business recommendations and insights.
Manage customer and prospect information, and identify ways to make the information more effective to the sales team and leadership.
Qualifications:
Bachelor's degree in agriculture or business-related major.
At least 2 years of experience in an ag related field preferred.
Ability to communicate ideas and recommendations in clear, actionable and visual fashion.
Strong attention to detail, organization and time management skills.
High commitment to quality and integrity.
Search more Marketing Jobs on AgHires now.
---
Farm Equipment Operator for Bakko Farms
A little about the business: Bakko Farms is a family-owned 5th generation farm located near Walcott, North Dakota (about 20 minutes south of Fargo). We grow sugar beets, corn, soybeans, and wheat. We use optimal farming practices, paired with recent technology and equipment.
What you would be doing:
Operating farm and other heavy equipment.
Performing light maintenance on equipment as necessary.
Working ground, planting, spraying, and harvesting.
Driving water, grain, beet trucks.
Other general maintenance and duties around the farm as necessary.
Qualifications:
Passion and experience for agriculture and farming.
Experience operating farm and/or other heavy equipment.
Ability to work longer hours during spring planting and harvesting seasons (shorter hours during off-season).
Search more Equipment - Machinery on AgHires now.
---
A little about the business: Luckey Farmers was established in 1919 and is a grain marketing and farm supply cooperative located in northwest Ohio, in Lucas, Ottawa, Sandusky, and Wood counties.
What you would be doing:
Manages activities throughout the order fulfillment and transportation cycle to ensure established deadlines are met
Champions logistics solutions and process improvements to ensure continuous improvement
Facilitate transportation and logistics from various locations across the Luckey Farmers footprint
Manages petroleum procurement for the company's fleet, fuel stations, and home deliveries
Qualifications:
Bachelor's Degree in Supply Chain, Logistics, Operations Management or five years equivalent related experience preferred
Experience in commodity handling preferred
Knowledge about Department of Transportation (DOT) and OSHA guidelines
Strong communication skills
Proficiency in Microsoft Office Programs
Ability to multitask
Strong decision making and problem-solving skills
Internally motivated
Search more Logistics Jobs on AgHires now.
---
The opportunities within the agriculture industry are endless. Whether you are looking to start your journey or take the next step in your agriculture career, there is a place for you. Go to AgHires.com to search thousands of current job openings, ranging from agronomy jobs to marketing jobs to service technician jobs. New jobs are uploaded to our website daily.
Follow us on Facebook and Twitter to see more featured jobs.