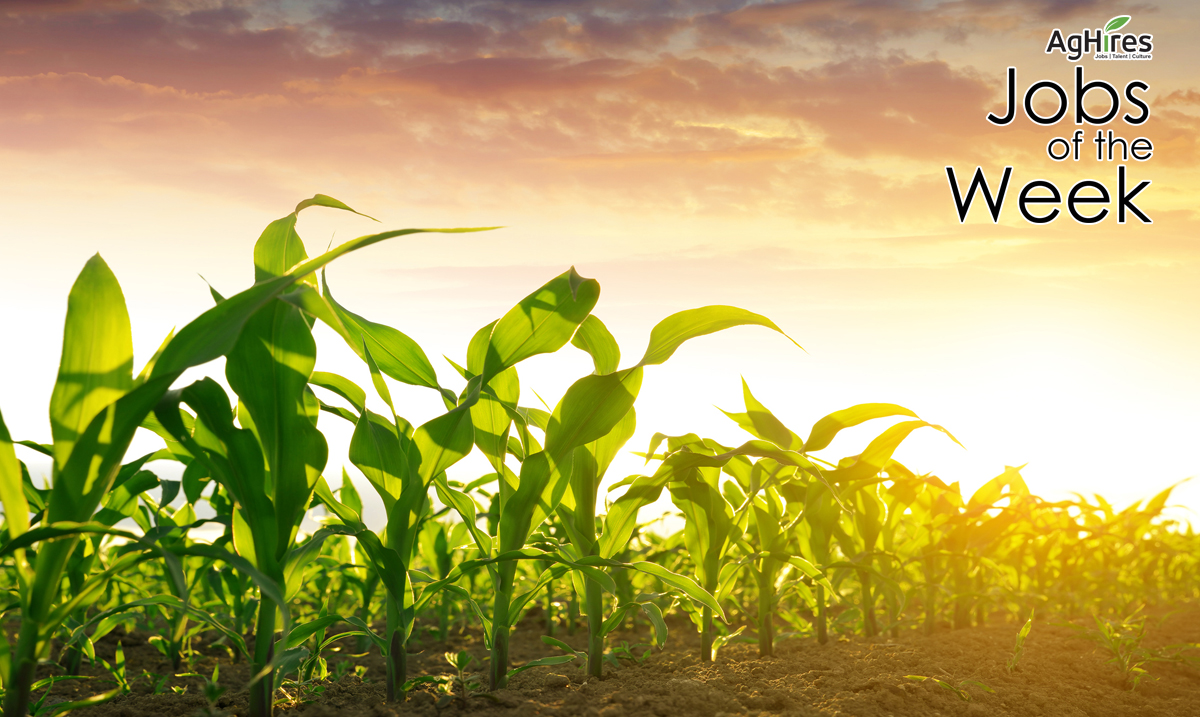 Top Agriculture Jobs of the Week
For the week of 11-8-21
AgHires works hard to be the number one resource for top jobs in agriculture. The agriculture industry provides a variety of job opportunities that range far and wide. Take a moment to search through the thousands of current job openings on AgHires.com, and check out this week's top Agriculture Jobs of the Week below.
A little about the business: Welcome to Reforestation Technologies international! We have been providing the world with advanced biological inoculants and fertilizer products for over 26 years. RTI is best known as the oldest, most renowned producer of pure arbuscular mycorrhizal fungi and the first company to produce biodegradable transplant fertilizer packs. We assist our customers with successful plant growth utilizing one of our premium brands in agriculture, landscape, home garden, and hydroponic markets.
What you would be doing:
Developing a sales plan with our team to strategically position the RTI-Ag brand as a preeminent supplier of biological products to the agricultural marketplace.
Participating in establishing and adjusting selling prices by monitoring costs, competition, and supply and demand.
Work closely with the R&D team to develop new products or identify key partners for trials as well as work with the rest of the RTI divisions on occasion to better the company as a whole.
Maintain and update customer database.
Stay in constant contact with current and prospective customers.
Travel to customer locations and represent our company in a professional manner.
Represent our company at industry shows.
Qualifications:
Sales experience in agriculture, horticulture, or relatable markets. 5+ years preferred, not required.
Ability to build and maintain relationships with customers while working with the rest of our team to enhance products and customer experience.
Bilingual in English/Spanish preferred, not required.
Ability to travel 70% of the time including overnight stays.
Search more Sales Jobs on AgHires now.
---
A little about the business: Gernaat Dairy is a family-owned, 3,000-head dairy located in Falmouth, MI (20 miles east of Cadillac, MI). We pride ourselves on operating a progressive dairy farm offering high-quality milk to our customers. Our team prides itself on working together to be a solid, efficient, positive, and well-organized team.
What you would be doing:
Responsible for scheduling all calf feeders

Hire and train new employees for calf feeding

Develop and adjust protocols for the benefit of calf health

Load calves in and out of transfer cart gently and safely.

Place all newborns in proper location.

Develop new ideas to keep the job efficient and less labor-intensive.

Responsible for leading weekly or bi-weekly meetings.

Be respectful and professional as a manager.
Qualifications:
Must be capable of setting priorities and working under pressure.

Must be able to multi-task and work productively.

Must be able to work independently and work well as a team.

Must have an open mind with a positive attitude.

Must operate equipment in a safe and productive manner.
Search more Livestock Jobs on AgHires now.
---
A little about the business: Mountain View Equipment is a long-standing Agricultural Dealership based in Southwest Idaho with stores in Meridian Idaho, Homedale Idaho, Jerome Idaho, and Sunnyside Washington. Mountain View Equipment carries New Holland, Claas, Macdon, and OxBo lines of equipment as well as numerous short-line products. Mountain View Equipment specializes in Hay and Forage and is very involved in providing equipment for the production of hay and forage for the Dairy industry.
What you would be doing:
Performs basic diagnostics and repairs on agricultural and commercial equipment and established Precision Ag products.
Maintains current knowledge of Claas, New Holland, MacDon and OxBo equipment as well as competitive products.
Maintains condition of vehicles, inventory, tools and equipment.
Travel to job site to work on equipment and perform repairs in a shop setting.
Maintains a clean work area and performs work in a neat and orderly fashion.
Follows all safety rules and regulations in performing work assignments.
Completes all reports and forms required in conjunction with work assignments.
Qualifications:
4+ years of experience performing relatable service repairs on either agricultural equipment or relatable construction, diesel or heavy equipment.
Ability to perform basic repairs and required maintenance using special tools and equipment following Technical Manual procedures.
Knowledge of mechanical, electrical and hydraulic systems.
Ability to weld and possess metal fabrication skills.
Ability to operate vehicles and equipment used for diagnostic purposes.
Search more Maintenance Jobs on AgHires now.
---
A little about the business: At Cargill, everything begins with our purpose to nourish the world in a safe, responsible, and sustainable way. Customers choose us for our world of expertise, delivered locally, quickly, and reliably in a way that creates value together for them and us. Every day, we connect customers and suppliers to the world by developing personal relationships and setting the standard high on the way we work.
What you would be doing:
Operating equipment and technology tools throughout the facility which may include mixers, batching, mills, grinders, packing, weighing, palletizers, etc.
Collecting product samples and supervising tank levels, utilizing computer systems to input and record data as necessary.
Manufacturing products to ensure that they meet specifications.
Interacting regularly with peers and management to pursue continuous improvement of facility operations and promote a teamwork-focused environment.
Operating mobile equipment such as forklifts, loaders, etc.
Understanding and adhering to all safety policies and procedures.
Maintaining a safe and clean work environment.
Qualifications:
Ability to perform physical job duties which may include bending, lifting up to 55lbs., kneeling, climbing, crawling, and twisting, with or without reasonable accommodation.
Ability to work in varied indoor and outdoor conditions which may include heat, cold, dust, loud noise, etc., with the use of personal protective equipment (PPE).
Basic computer skills.
Ability to work in elevated areas (4 feet and above).
Search more Operations Jobs on AgHires now.
---
A little about the business: Co-Alliance is a modern partnership of local agricultural and energy cooperatives with community roots established in the 1920s. We combine industry expertise, high-quality products, and leading-edge technology to deliver innovative solutions in energy, agronomy, grain marketing, and swine/animal nutrition to our customers – members and non-members.
Our headquarters are in Avon, Indiana, and we have more than 50 locations across Indiana, Michigan, Illinois, and Ohio.
What you would be doing:
Deliver propane to customer locations in an efficient, punctual, and safe manner.
During daily interaction with customers provide exceptional customer service by supplying service information and answering inquires.
Prepare and maintain records in accordance with regulations and company procedures.
Operate truck in accordance to established safety procedures.
Perform installation, removal, and service as needed.
Provide back up to Energy department as needed.
Qualifications:
High school diploma or equivalent.
Acceptable driving record and ability to obtain Class A or B CDL with Hazmat and Tanker endorsements.
Proficient computer skills.
Proficient verbal and written communication skills.
Detail-oriented and ability to prioritize.
Ability to walk 1 to 5 miles, climb steps/ladders and lift up to 75lbs.
Bending and climbing in and out of the truck.
Search more Trucking Jobs on AgHires now.
---
The opportunities within the agriculture industry are endless. Whether you are looking to start your journey or take the next step in your agriculture career, there is a place for you. Go to AgHires.com to search thousands of current job openings, ranging from agronomy jobs to marketing jobs to service technician jobs. New jobs are uploaded to our website daily.
Follow us on Facebook and Twitter to see more featured jobs.