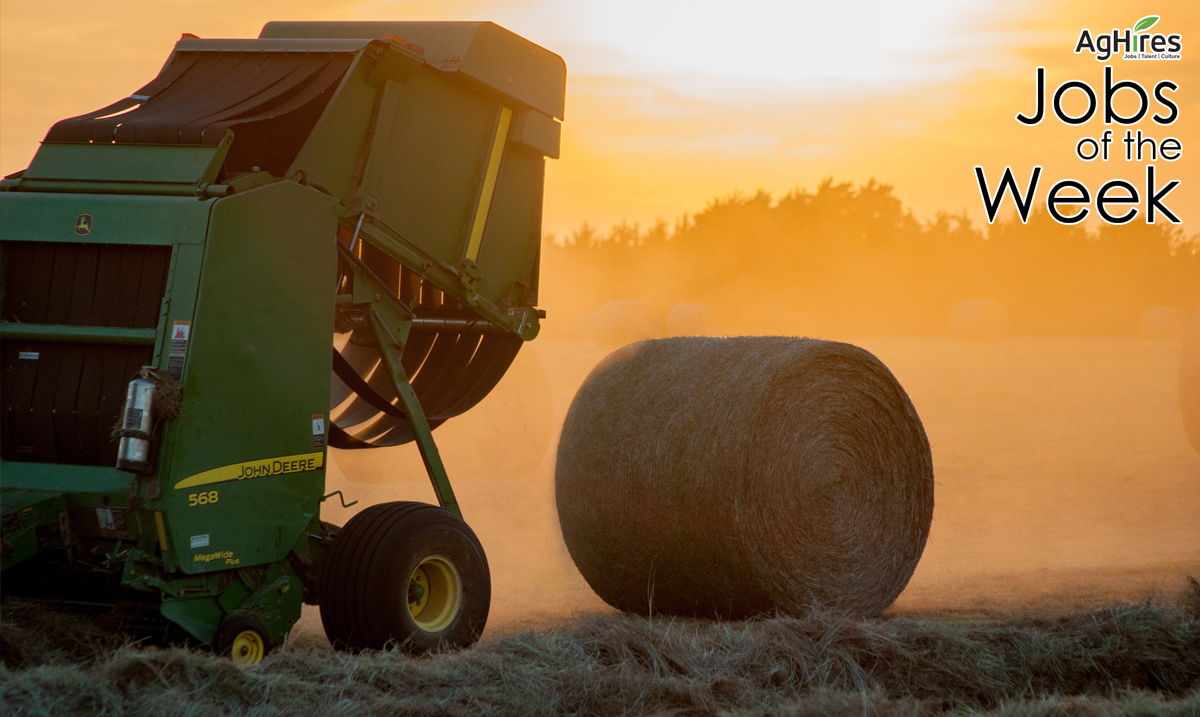 Top Agriculture Jobs of the Week
For the week of 7-5-21
AgHires works hard to be the number one resource for top jobs in agriculture. The agriculture industry provides a variety of job opportunities that range far and wide. Take a moment to search through the thousands of current job openings on AgHires.com, and check out this week's top Agriculture Jobs of the Week below.
A little about the business: Tessenderlo Kerley, Inc.(TKI), is a company of diverse businesses unified by shared values and vision. We serve the agriculture, mining, industrial, and water reclamation markets with a broad range of products and technologies, worldwide. Serving these customers well is a passion and a commitment-one that the people of TKI find rewarding, empowering, and meaningful.
What you would be doing:
Understand in-depth, the market space where the products are sold and used including customer reasons for using the product, the strengths and weaknesses of the product, understanding competitors (both in-kind and not in-kind), and market trends impacting the product, positively or negatively.
In conjunction with the Director of Development and other BU team members, identify opportunities for product innovation, product enhancements, and geographic expansion of existing products within the portfolio.

Provide product support to NovaSource sales/marketing including assisting with market analysis, opportunity enhancement, and price positioning to maximize product profitability.
Qualifications:
Bachelor of Science degree in horticulture, agronomy, or other life sciences is essential.
At least 10 years of experience in crop protection possessing, a solid technical, regulatory, and sales/marketing understanding of the business.
Self-motivated manager with strong entrepreneurial instincts.
Demonstrated ability to identify opportunities and implement actions to capitalize on the same.
Search more Agronomy Jobs on AgHires now.
---
A little about the business: Farmobile LLC is a growing AgTech startup passionate about helping farmers to collect, share and monetize their data for real-time visibility, better insights, and revenue opportunities to strengthen farm families. Farmobile brings that mission to life with a culture founded on employee empowerment, mutual respect, collaboration, and fun. Led by CEO Jason Tatge, Farmobile's team is 100% committed to organizing the industry by delivering never-before-seen technology to farmers while maintaining trust and transparency with customers. The team is full of rock stars, who work "hard and smart" to solve some of agriculture's biggest challenges. It is an amazing place to work. Join us!
What you would be doing:
Develop sales and business development plans for assigned territory and/or account targets
Promote and adhere to a strong sense of urgency for reaching objectives and key results
Lead sales business meetings, conduct presentations and act as one of Farmobile's leading evangelists
Introduce the company's story, product, and service solutions to prospective and existing accounts
Identify, structure, negotiate, and close deals
Work with the Customer Success team to maintain strong relations, renew successful partnerships and optimize subscription sales through a robust onboarding and training program
Qualifications:
Motivated, results-oriented, self-starter with 5+ years of experience in production agriculture with focuses that may include one of the following: ag technology, precision agronomy, precision agriculture, precision ag hardware, precision ag software, precision ag machinery, crop advisor (CCA), or agronomy sales
Proven track record and experience in sales, business development, and/or relationship management
A strong set of relationships and understanding of the agricultural cooperative system, precision ag/data management, large farming operations, and/or OEMs
Deep understanding of value drivers and ability to inspire others
Superior sales skills (cold calling, lead generation, business development, etc.)
Search more Precision Ag Jobs on AgHires now.
---
A little about the business: McIntosh Dairy Inc. is a 600 Head family-run Dairy Farm in Brighton, CO.
What you would be doing:
This will entail feeding dairy cows via feed truck most days, as well as tending to and feeding bottle calves on specific days.
Qualifications:
Lift 50 lbs over their head.
Work (up to) 60 hours a week.
Have experience operating dairy feed trucks and front-end loaders.
Work well within a team setting and be a team player.
Have a caring and compassionate nature towards animals.
Bonus: if you have some mechanic experience and are able to service the feed equipment.
Search more Dairy Jobs on AgHires now.
---
A little about the business: Welcome to Smith Cattle Co. We have a large cattle feedlot and provide cattle transportation while farming and hauling 1,400 acres of hay and grain. We are located in Lewisville, Idaho which is about 20 minutes north of Idaho Falls. We are always looking for ways to improve ourselves and our company. Our team is made up of individuals who are dedicated to the safety and well-being of others and the livestock we care for.
What you would be doing:
Maintenance of computerized cattle inventory; Lots/Pens, etc. into the accounting system.
Ensure accuracy of data for bi-weekly customer billing.
Maintain accurate Inventory of the Cattle Medication Room.
Weighing commodity trucks.
Entry and maintenance of feed inventory within the accounting program.
Answer telephone taking detailed messages assuring delivery as needed.
Qualifications:
Have an associate degree in Accounting or Agriculture Business (preferred but not required).
Have excellent organizational skills with great attention to detail and the ability to maintain confidential and meticulous records.
Are experienced with Microsoft Excel and Microsoft Office Suite.
Work well under pressure.
Possess strong customer service and phone skills.
Consider yourself to be a team player and have the ability to learn and grow in the position.
Search more Accounting Operator Jobs on AgHires now.
---
A little about the business: Central Valley Ag - CVA is a member-owned farmers' cooperative headquartered in York, NE with locations throughout Nebraska, Kansas, and Iowa. Established in 2003, CVA has over 900 employees and is an innovative leader providing products and services in grain, agronomy, feed, and energy. You can find more information about Central Valley Ag by visiting www.cvacoop.com.
What you would be doing:
Champion CVA's culture of quality agronomy service initiatives.
Assist and investigate all product & agronomy claims by customers.
Assist in supervising the day-to-day operations of the location.
Assist in managing employees at the individual location.
Assist in interviews, hiring, training, and motivating employees.
Assist in planning, assigning, and directing work of employees.
Learns to maintain fiscal responsibility for the individual location through margins, volumes, asset allocation, and expense control, and inventory maintenance.
Regulates the inventory at the individual location.
Manages the customer base through excellent customer service and customer relations.
Markets the location's products and services with knowledge of these products and services.
Search more Cooperative Jobs on AgHires now.
---
The opportunities within the agriculture industry are endless. Whether you are looking to start your journey or take the next step in your agriculture career, there is a place for you. Go to AgHires.com to search thousands of current job openings, ranging from agronomy jobs to marketing jobs to service technician jobs. New jobs are uploaded to our website daily.
Follow us on Facebook and Twitter to see more featured jobs.