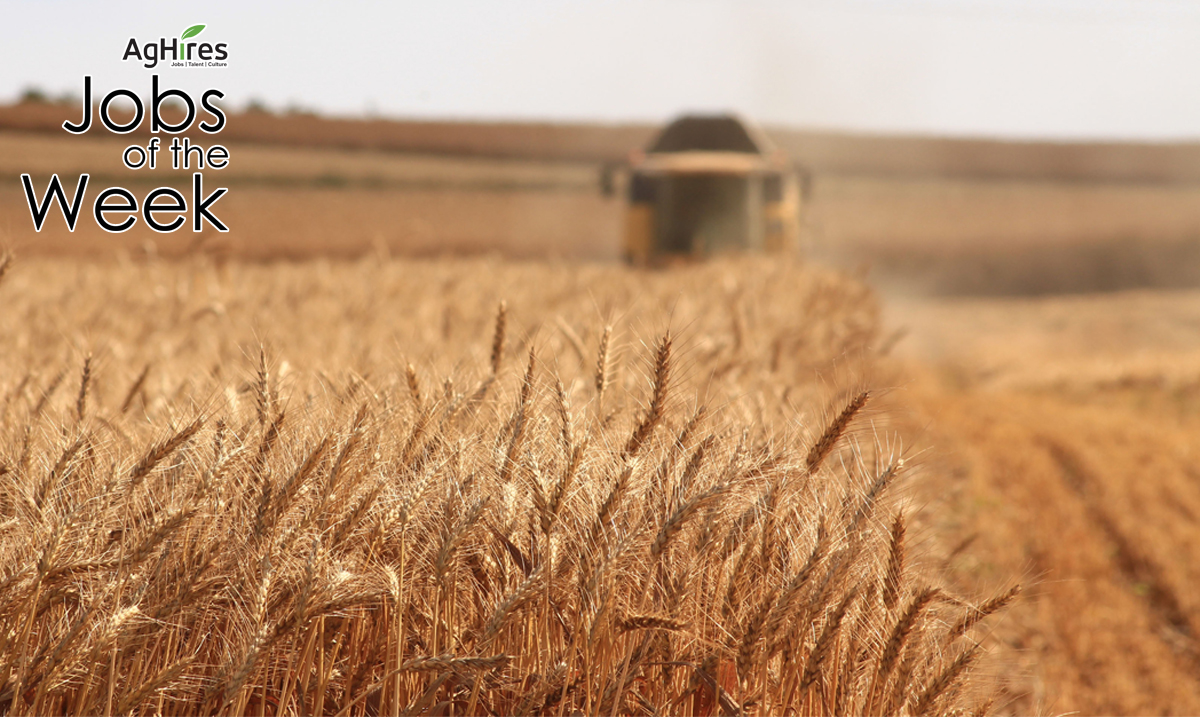 Top Agriculture Jobs of the Week
For the week of 9-6-21
AgHires works hard to be the number one resource for top jobs in agriculture. The agriculture industry provides a variety of job opportunities that range far and wide. Take a moment to search through the thousands of current job openings on AgHires.com, and check out this week's top Agriculture Jobs of the Week below.
A little about the business: With headquarters in Victor, New York, BioWorks Inc. has been a leader in providing environmentally responsible, safe, and effective biologically-based pest control and plant nutrition products for the horticulture, turf, and specialty agriculture markets for more than 20 years. Together, with our team of experts, our customers are enhancing conventional programs as well as developing leading edge pest control and plant health programs.
What you would be doing:
Growing and developing the R&D Team, in alignment with BioWorks' growth strategy, core values, and culture.

Managing safety in the R&D labs.

Responsible for the quality and productivity of the R&D Team's delivery on technical objectives.

Establishing effective professional relationships between R&D and the Technical Service, QA/QC and Manufacturing teams.

Managing external collaborations.
Qualifications:
Ph. D in an agricultural science such as Horticulture, Plant Pathology, Agronomy, Plant Physiology, Entomology, Soil Science/Microbiology, Formulation Technology, or Fermentation Science.

2+ years of management/leadership experience.

2+ years working in a research laboratory/greenhouse or academic environment.

Works from general objectives with little functional guidance. Review by supervisor focuses on achievement of the objective and not the means.

Ability to operate and train personnel in the proper use of lab equipment.

Good verbal and written communication skills.
Search more Biotech Jobs on AgHires now.
---
A little about the business: CHS Inc. is a leading global agribusiness owned by farmers, ranchers and cooperatives across the United States that provides grain, food and energy resources to businesses and consumers around the world. We serve agriculture customers and consumers across the United States and around the world. Most of our 10,000 employees are in the United States, but today we have employees in 19 countries. At CHS, we are creating connections to empower agriculture.
What you would be doing:
Manage an ongoing queue of requests for customer and vendor master data ensuring that all requests are valid, accurate and completed within service level agreements.
Lead Enterprise Information Management Master Data working group and analyze the impact of process change requests to master data definition, existing system data and alignment to the enterprise data governance strategy.
Effectively communicate with business data stewards and specialists to resolve data management conflicts and train on master data standards, definitions, processes, and tools.
Monitor and analyze metrics to ensure master data requests are completed according to service level agreements.
Collaborate with IT ERP teams on technology enhancements to improve the data governance and data quality monitoring processes and to resolve technical issues with data governance tools.
Qualifications:
Bachelor's degree in Accounting, Finance, Business, or related degree.
3+ years relevant working experience in data management, accounts payable/receivables, procurement or accounting and finance.
Knowledge and direct application of data governance or data management practices.
Experience leading continuous improvement projects and tasks.
Previous experience effectively using multiple ERP systems.
Search more Finance Jobs on AgHires now.
---
A little about the business: If there was a sweet potato capital of the world, it would be Snow Hill, North Carolina. For over 40 years, The Ham Family at Ham Farms has been committed to growing, packing, shipping and processing the finest sweet potatoes and sweet potato products on the market. Currently, Ham Farms ships locally, nationally, and even exports to more than 16 countries worldwide. No matter the destination, we take pride in delivering all our products from our family farm to your table.
What you would be doing:
Collaborate with other managers to formulate objectives and understand requirements.
Estimate costs and prepare budgets.
Organize workflow to meet specifications and deadlines.
Monitor production to resolve issues.
Supervise and evaluate performance of production personnel (quality inspectors, workers etc.)
Determine the amount of necessary resources (workforce, raw materials etc.)
Qualifications:
Proven experience as a production director.
Deep knowledge of production management.
Understanding of quality standards and health and safety regulations.
Knowledge of performance evaluation and budgeting concepts.
Experience in reporting on key production metrics.
Proficient in MS Office and ERP software.
Search more Food Processing Jobs on AgHires now.
---
Operations Employee for Central Valley AG
A little about the business: Central Valley Ag - CVA is a member-owned farmers' cooperative headquartered in York, NE with locations throughout Nebraska, Kansas and Iowa. Established in 2003, CVA has over 900 employees and is an innovative leader providing products and services in grain, agronomy, feed, and energy. You can find more information about Central Valley Ag by visiting www.cvacoop.com.
What you would be doing:
Help with unloading of grain products for company owned and customer owned trucks.
Assist in delivery of agronomy products such as fertilizer, chemical and seed to customers.
Assist in the loading of agronomy products to customer trucks.
Assist in the receiving of dry/liquid fertilizer, chemicals and seed.
Provide assistance in the operations of the liquid and dry plant.
Provide assistance in the scheduling, mixing and loading of liquid/dry fertilizer and chemicals.
Qualifications:
High School Diploma or equivalent (GED) required.
General mechanical ability required.
Integrity and good judgment skills required.
Excellent customer service skills required.
Must be a quick learner and have the ability to multi-task.
Search more Operations Jobs on AgHires now.
---
A little about the business: Mid-South Farmers Cooperative has been a pioneer in the agriculture industry in west Tennessee with its roots going back to 1935. As a technology innovator, their goal is to help their customers be successful by providing valuable and innovative products and services.
What you would be doing:
Lead and manage seed business with an emphasis on growing seed sales within the Mid-South Farmers Cooperative's geography.

Deploy, manage, and evaluate product sales training, marketing, and grower programs in support of our nine locations.
Manage seed orders, logistics, inventory management, customer financing, manufacturer reporting, and related areas for all locations.
Develop quality working relationships with seed partners and vendors
Other potential responsibilities added with time.
Qualifications:
Three to seven years of agronomy/seed experience.

Bachelor's degree in agriculture business, agronomy, business, or marketing.
Some experience or training in the seed business or other agriculture business.
Proficient in data management skills and data management software.
Extensive knowledge of agronomic, business, and sales best practices.
Search more Business Development Jobs on AgHires now.
---
The opportunities within the agriculture industry are endless. Whether you are looking to start your journey or take the next step in your agriculture career, there is a place for you. Go to AgHires.com to search thousands of current job openings, ranging from agronomy jobs to marketing jobs to service technician jobs. New jobs are uploaded to our website daily.
Follow us on Facebook and Twitter to see more featured jobs.