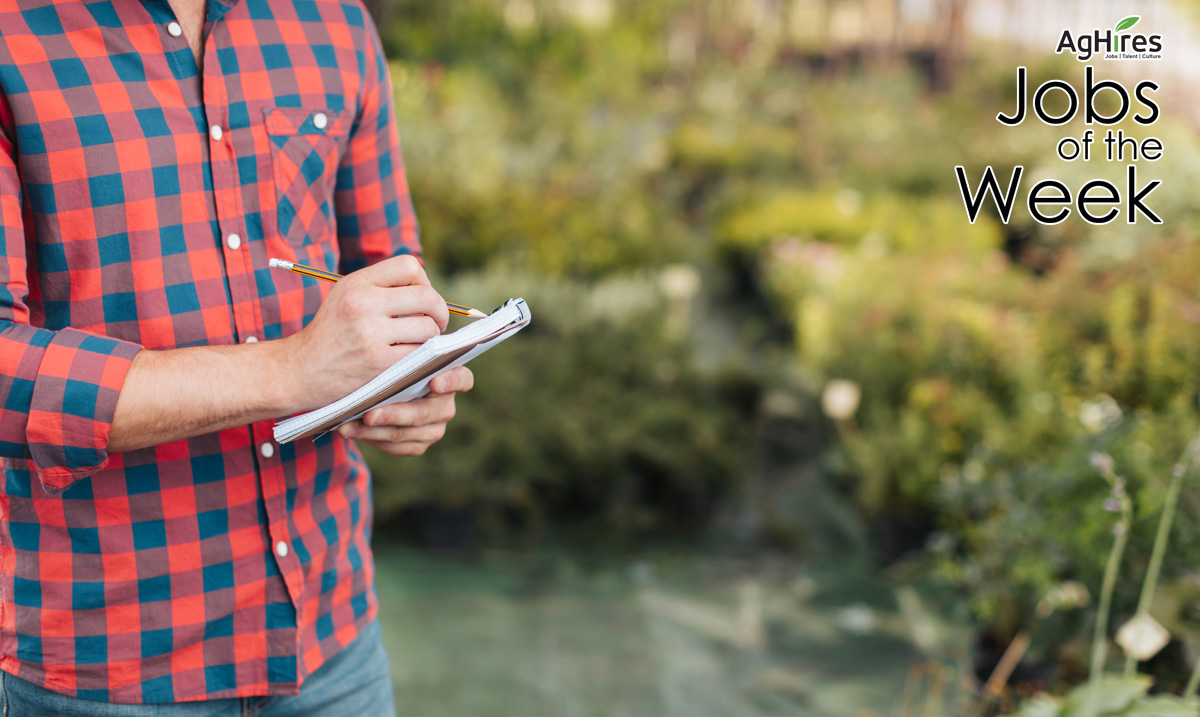 Top Agriculture Jobs of the Week
For the week of 8-1-22
AgHires works hard to be the number one resource for top jobs in agriculture. The agriculture industry provides a variety of job opportunities that range far and wide. Take a moment to search through the thousands of current job openings on AgHires.com, and check out this week's top Agriculture Jobs of the Week below.
A little about the business: Stine is the country's largest privately-owned seed company specializing in soybean and corn genetics, headquartered in Adel, Iowa. The Stine name has a proud history dating to the 1940s when Bill Stine began cleaning a public variety of soybean seed with a portable cleaner. Since then, Stine has grown and expanded, becoming one of the most recognized and respected names in the corn and soybean industry, owning more than 800 patents.
What you would be doing:
Serve as a primary ambassador of the Stine brand within the assigned territory
Develop and maintain a thorough agronomic and technical knowledge of Stine seed products and services applicable to the assigned territory
Proactively seek new and profitable grower accounts to drive business growth; continually develop relationships and track all activity through a CRM system
Understand and implement marketing initiatives while driving key products and services in key target markets
Search more Seed Jobs on AgHires now.
---
A little about the business: Hunter Nutrition, Inc. is a specialized feed manufacturer located in Brookston, IN, just north of West Lafayette. We manufacture top-quality texturized, pelleted, and mineral/premix feeds at our 58,000-sq. ft. plant. Unlike other feed manufacturers, Hunter Nutrition places an emphasis on quality rather than quantity. Our feeds are set formulas, made with the best ingredients in our modern, efficient manufacturing plant. Better feed pays our customers back with improved health and livestock performance. We have a diverse group of both large and small customers, all of which come to us for high-quality, better-fortified feeds.
What you would be doing:
Assisting with various office duties such as organization, purchasing, marketing, and customer relations.

Customer service such as answering the phone, completing, and processing customer orders, greeting walk-in customers, dealer support, and completing customer literature requests.

Assist with ad development and creating our newsletter.

Inventory tracking as well as ingredient purchasing.
Qualifications:
Experience working in an office.

Background, experience, familiarity, or degree in agriculture, farming, agribusiness, or other related field

PREFERRED, NOT REQUIRED.

Good Computer Skills.

Microsoft Office experience.

A positive attitude, good work ethic, and the ability to pay careful attention to details with accuracy.
Search more Administrative Jobs on AgHires now.
---
A little about the business: Dairy One Co-Op is a leader in providing commercial laboratory services to the agricultural industry- domestically and globally. They are hiring an Operations & Communications Coordinator, who will work across teams and play a critical role in identifying opportunities, communicating with internal and external customers, and assisting in a variety of ways to achieve the overall mission.
What you would be doing:
Have a successful track record of building and maintaining relationships across teams to solve problems, complete projects, and communicate ideas.
Have some combination of experience in communications, marketing, operations, office management, customer service, and/or business management.
Be a highly effective communicator verbally and through written materials.
Have experience editing technical material and developing communication materials specific to the agricultural industry.
Have experience maintaining a digital marketing presence across multiple platforms.
Have experience with a variety of software programs and applications.
Be driven to succeed, highly organized, and able to work independently to manage multiple projects, priorities, and team dynamics.
Qualifications:
Bachelor's Degree in marketing, communications, or related field and 2-3 years experience working in a marketing or communications position. A background in agriculture or experience working in an ag-related industry is strongly preferred
Experience with the following: MS365, Constant Contact, Adobe, Salesforce, SalesPad, CMM software.
Occasional local travel to farms, meetings, or shows
Search more Marketing Jobs on AgHires now.
---
Farm Equipment Operator for Key Cooperative
A little about the business: Key Cooperative is a member-owned, rural Iowa cooperative serving agriculture producers. With locations in 13 communities and 6 counties. Key Cooperative provides Agronomy, Energy, Feed, and Grain with a small-town, yet professional feel. Our employees take pride in our identity and they're committed to the success of our owners by delivering innovation, leadership, and performance. If you're looking for a place where you can grow and be proud of what you do each day - you can find this kind of career at Key Cooperative.
What you would be doing:
Operate sprayer equipment to accurately apply fertilizer and chemicals to customer crops.
Precisely blends and custom applies fertilizers and agricultural chemicals based on recommendations and label directions.
Loads and unloads outbound and inbound inventory.
Maintains facility and equipment so that they have a good appearance and are always in working order; performs light maintenance work on selected vehicles.
Completes all assigned tasks according to work order estimates and their daily work schedule
Keeps facility, safety, equipment, and application records as required.
Keeps the Location Manager informed of product inventory levels that could restrict application or delivery schedules, and any other operational issues that may arise.
Qualifications:
High school diploma along with experience operating farm and/or heavy equipment.
CDL, Applicator's licenses, or willingness/ability to obtain both.
Ability to work longer hours during peak seasons.
An outstanding work ethic with the ability to pay attention to the details.
Ability to always project a positive attitude to customers and employees while exhibiting good customer relations skills.
Search more Farming jobs on AgHires now.
---
A little about the business: LiveTrends Design Group is a dynamic and fast-paced company at the center of the plant and home decor industry that continues to grow and expand their brand portfolio.

The company functions like a fun startup, but with the creative and operational maturity of a much larger company. Ranked by Inc. Magazine as one of America's fastest-growing company, LiveTrends Design Group and its three North American brands (LiveTrends, Urban Jungle, BeYou) are currently available at over 16,000 stores in the US and Canada, including retailers such as Lowe's, Target, Costco, Kroger, Walmart, and Publix.
What you would be doing:
Be familiar with growing foliage- basic irrigation and fertilization requirements
Basic knowledge of irrigation clocks, spray equipment and greenhouse heating and cooling systems
Basic knowledge on scouting for insects and diseases
Ability to count and keep accurate inventory
Basic housekeeping tasks to ensure safe working environment
Possess passion for what you do and be a team player
Qualifications:
Ability to serve as a role model and uphold the LiveTrends Vision, Mission, and Values
Passion for design, fashion, and home d cor are a big plus
Creativity and solution-driven way of thinking
Bachelor's Degree in Horticulture
Work towards obtaining Restricted Florida Pesticide
Search more Greenhouse Jobs on AgHires now.
---
The opportunities within the agriculture industry are endless. Whether you are looking to start your journey or take the next step in your agriculture career, there is a place for you. Go to AgHires.com to search thousands of current job openings, ranging from agronomy jobs to marketing jobs to service technician jobs. New jobs are uploaded to our website daily.
Follow us on Facebook and Twitter to see more featured jobs.