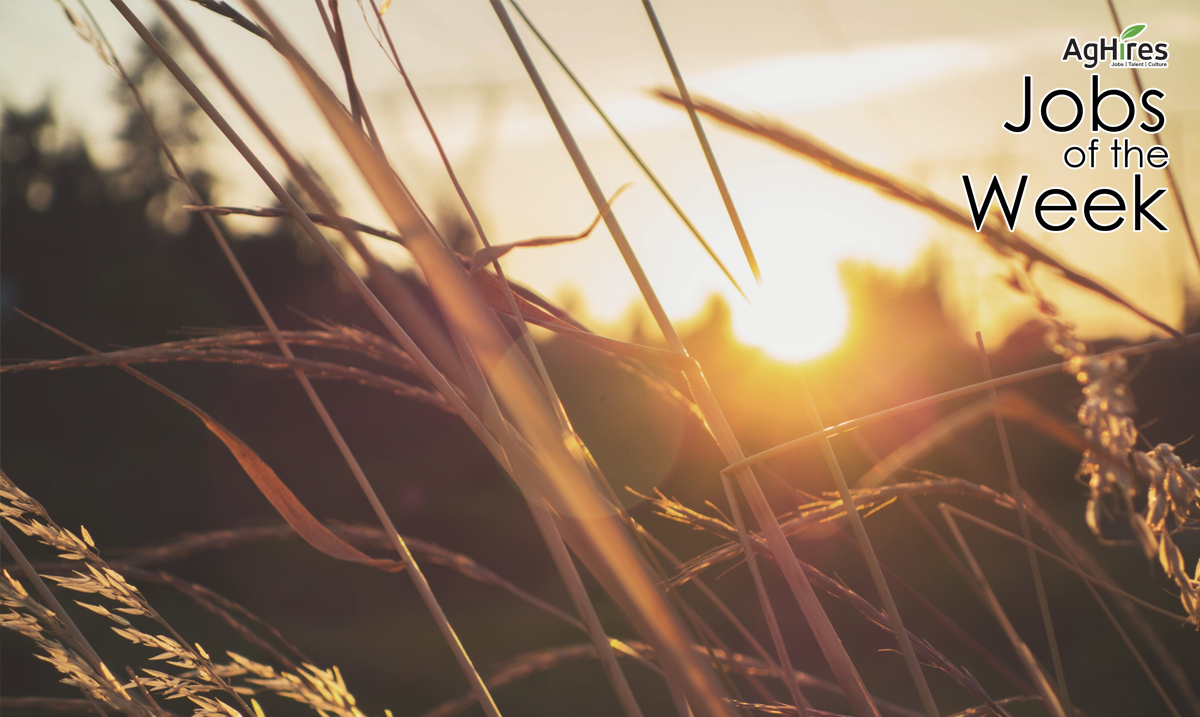 Top Agriculture Jobs of the Week
For the week of 3-29-21
AgHires works hard to be the number one resource for top jobs in agriculture. The agriculture industry provides a variety of job opportunities that range far and wide. Take a moment to search through the thousands of current job openings on AgHires.com, and check out this week's top Agriculture Jobs of the Week below.
A little about the business: Wellington Implement is a family-owned and operated company that has served Wellington and surrounding communities for over 90 years. As a Case IH "Pinnacle" dealership, Wellington Implement employs a team of professionals who have developed a customer-centric reputation, supporting farmers, property owners and businesses with innovative equipment and service.
What you would be doing:
Source the parts external customers need for their repair or upfit, with the goal of delivering the right parts the first time.
Pull on-hand parts from inventory using computer look-up and bin style location systems.
Order parts from vendors as required for all type of orders (daily stock, drop ship, unit down, emergency, etc.).
Make proactive phone calls to customers to follow up on parts purchases and to generate new sales.
Receive and process incoming part shipments in the absence of Shipping Clerk.
Qualifications:
Experience in a parts department preferably agriculture equipment dealership (Case IH or New Holland preferred).
High school diploma or GED minimum, Associates degree or higher preferred
Valid Driver's License.
Excellent communication skills.
Excellent computer skills, with extensive experience in CIH eParts, PartSmart, and Microsoft Excel.
Ability to multi-task in a fast-paced environment.
Search more Customer Service Jobs on AgHires now.
A little about the business: CHSInc. is a leading global agribusiness owned by farmers, ranchers and cooperatives across the United States. Diversified in energy, grains and foods, CHS is committed to helping its customers, farmer-owners and other stakeholders grow their businesses through its domestic and global operations. CHS supplies energy, crop nutrients, grain marketing services, animal feed, food and food ingredients, along with insurance, financial and risk management services. The company operates petroleum refineries/pipelines and manufactures, markets and distributes Cenex® brand refined fuels, lubricants, propane and renewable energy products.
What you would be doing:
Execute IT risk-based audit plans in accordance with Internal Audit's approach and methodology, aligning with IIA Standards.
Work closely with decision makers within Internal Audit along with other business unit leaders to identify, recommend, and support cost effective technology solutions for all aspects of CHS.
Perform IT audits and report findings to audit management.
Collaborate with the operational audit team to leverage resources and educate the internal audit team on current and emerging IT risks.
Qualifications:
Bachelor's degree in Information Technology, Accounting, Finance, or related field
1+ years of Internal or External Audit experience that may include:

Testing IT General Computer Controls and SOX 404 requirements.
Performing internal or external risk-based IT audits.
Performing IT Security, application, networking and database audits.

Ability to travel domestically and internationally
Search more Information Technology Jobs on AgHires now.
A little about the business: Conserv FS, Inc. is an agricultural cooperative Incorporated in 1928 that proudly provides agronomy, grain, fuels, lubricants, propane, agri-finance, turf, crop protection, crop nutrients, and other services. Conserv FS, Inc. serves patrons in southeastern Wisconsin and northern Illinois.
What you would be doing:
Applies crop production inputs to fields and growing crops according to recommended rates, procedures, and follows all pesticide labels. Records application data according to regulations and standards.
Sets up material handling, blending, storage, transport and application equipment for blending and delivery of products. Blends products according to recommended rates and procedures.
Demonstrates knowledge of and the ability to safely operate sprayers, floaters, single or tandem axle trucks and other equipment to meet company and DOT standards.
Performs and records daily safety checks of assigned vehicle(s) and associated equipment by conducting pre-trip inspections, such as checking fuel and oil levels, inspecting tires, lights, and brakes.
Loads and unloads containers, pallets, or materials and products, safely on/off trucks, trailers, or railcars.
Qualifications:
Responsible for maintaining, repairing, rebuilding, and/or servicing location equipment, vehicles, and structures as needed.
May be asked to collect/record soil sample information using proper procedures.
Follows Conserv FS's Code of Conduct and Corporate Compliance Program, Environmental Health and Safety, OSHA and DOT policies and procedures, as they apply.
Ability to work independently and in a team-oriented environment.
Performs all other duties as assigned.
Search more Equipment Operator Jobs on AgHires now.
A little about the business: At Lone Tree, we know every task contributes to our noble purpose of nourishing people around the world! We are a diversified family-owned company founded in 1961 that is deeply rooted in agriculture. Our dedicated team encompasses people from diverse backgrounds and experiences. We strive to create a supportive atmosphere with a spirit of comradery among team members as they tackle challenges together.
What you would be doing:
Help facilitate weekly farm meetings to engage team members

Train employees on day-to-day processes and procedures to develop a competent workforce

Supervise and schedule employees and act as manager when the supervisor is not present

Organize and participate in the daily production activities including implementation, follow up, and review of the execution of standard operating procedures

Help lead the unit in meeting production targets and strategize for making continuous improvement

Ensure daily care promotes humane animal handling, including the safeguard of animal health, providing access to water and feed, and the best possible environment

Maintain production records. Ensure all data is accurately completed and submitted in a timely manner for PigKnows reporting
Qualifications:
High School diploma required and additional schooling preferred, which could include a degree in animal science, animal health, livestock management

Minimum of 3 years' experience in the swine industry and one year's management experience in any field

Exemplary organizational, leadership, production, problem solving and communication skills

Requires dedication, leadership, positive attitude, and ability to effectively motivate others

Requires time-management skills, as well as the ability to adapt and function effectively in a fast-paced, changing environment

Basic computer skills required and experience in software specific to swine industry preferred

Bilingual English/Spanish preferred but not required
Search more Livestock Jobs on AgHires now.
A little about the business: Hagie Manufacturing is a leader in the agricultural industry in providing crop protection solutions to customers in the form of high clearance sprayers. For over 70 years Hagie Manufacturing has operated with integrity, putting the company and employees' best interests ahead of their own.
What you would be doing:
Supports ongoing business activities with assigned customers at both engineering and manufacturing levels.
Leads communication efforts between company and customer in order to build/maintain customer loyalty and satisfaction.
Supports the development of new product specifications that provides technological advances and cost effective solutions for customers
Works with sales and marketing management regarding overall relationship, pricing, margins, profitability, and business development strategies.
Qualifications:
Knowledge of the Product Development Process Light Touch (PDP-LT). and/or Customer Acquisitions Process (CAP). – Has a good understanding of the principles and can independently use the knowledge.
Understanding of market segmentation and retail distribution systems. – Has a general understanding of the principles and uses the knowledge with assistance.
Skill in interpersonal communications, negotiation, and conflict resolution. – Has a good understanding of the principles and can independently use the knowledge.
Knowledge of products, customers, markets and competitors. – Has a good understanding of the principles and can independently use the knowledge.
Preferred candidates would have direct experience in seed corn production practices, general agronomy experience and Precision Agriculture.
Willingness to travel up to 50% – some travel may be global
Search more Management Jobs on AgHires now.
The opportunities within the agriculture industry are endless. Whether you are looking to start your journey or take the next step in your agriculture career, there is a place for you. Go to AgHires.com to search thousands of current job openings, ranging from agronomy jobs to marketing jobs to service technician jobs. New jobs are uploaded to our website daily.
Follow us on Facebook and Twitter to see more featured jobs.