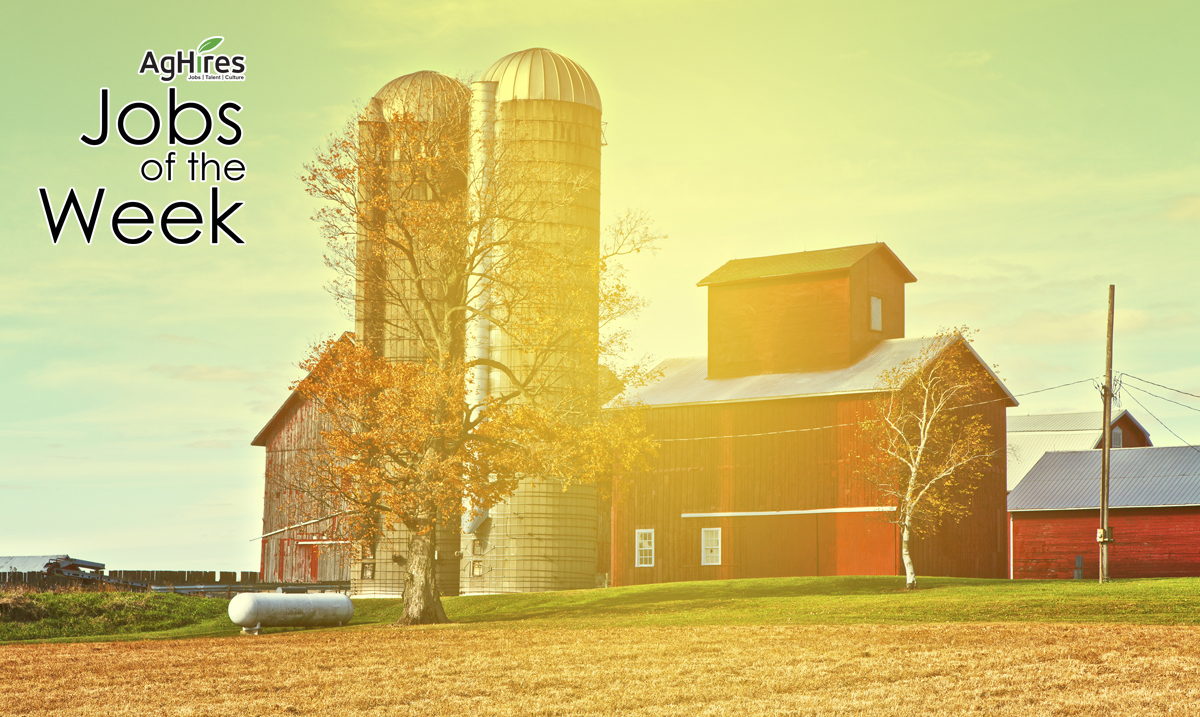 Top Agriculture Jobs of the Week
For the week of 3-22-21
AgHires works hard to be the number one resource for top jobs in agriculture. The agriculture industry provides a variety of job opportunities that range far and wide. Take a moment to search through the thousands of current job openings on AgHires.com, and check out this week's top Agriculture Jobs of the Week below.
A little about the business: AHW is a 16 location John Deere Dealership, selling tractors, combines, sprayers, riding mowers, commercial equipment in east central Illinois and western Indiana.
What you would be doing:
Develop strategies with Used Complete Goods Sales Manager to monitor regional market trends including pricing data, inventory data, and auction results.
Develop and apply consistent approach for Used Equipment allowances
Produce and monitor used equipment trade allowance guides for commodity items
Work with new and used sales managers annually to review and determine pricing strategies for the upcoming year.
Deliver consistent, data-based evaluations to all Sales Representatives
Qualifications:
Experience with agriculture and/or other heavy equipment
Ability to speak effectively one-on-one and within a group
In depth understanding of John Deere and competitive products
Familiar with online sources of used equipment market data
Familiar with statistical analytic applications and market research practices preferred
Bachelor's Degree in data analysis, business, marketing or equivalent experience
Search more Administrative Jobs on AgHires now.
A little about the business: Todd Greiner Farms Packing, LLC is a diversified fruit, vegetable and evergreen growing, packing, and shipping operation. We started out farming 120 acres in 1994 and have grown to over 2,000 acres. Our mission is: "Through our commitment to excellence and our dedication to food safety, we will always strive to grow, pack, and ship the highest quality fruits, vegetables, and evergreens possible for our deserving customers." As we continue to grow our business, we need to continue to add talented key members to our team to continue our success. If you have the desire to learn, and a passion for the agriculture industry, join us at Todd Greiner Farms.
What you would be doing:
Implement, organize, track and train employees on worker protection, worker safety and food safety standards
Manage all documentation necessary for inspections and audits to meet compliance standards
Develop new standard operating procedures (SOPs) as needed to ensure compliance
Implement new measures such as tools, templates and procedures to improve the ease of following protocols in the field and the packing house
Provide training to employees on all compliance, employee safety, and food safety protocols
Stay up to date with compliance changes
Assist Human Resources with employee questions and concerns
Work closely with the production and field supervisors on implementing protocols and being a technical resource on compliance questions
Qualifications:
Bring prior experience in quality, safety and/or compliance with the agriculture, farming and/or food production industries
Are a naturally detailed, organized individual who thrives on checking all the boxes
Are a strong communicator able to work across the organization to ensure compliance
Search more Food Safety Jobs on AgHires now.
A little about the business: Hartmann Farms located in Lodi, WI (20 miles from Madison) is a family business that has been in operation for 100 years. We farm 7500 acres of corn and soybeans and operate a commercial grain elevator with a two-million-bushel capacity in which 4 million bushels pass through in a year. We also operate a custom chemical and fertilizer application business and a trucking entity in which we transport ag products locally.
What you would be doing:
Manage data entry for general accounting/bookkeeping.
Oversee payroll/benefits administration.
Manage farm data recording and processes.
Continue your education to constantly learn in the role.
Qualifications:
A Bachelor's degree or Associate's degree with related experience.
A high drive and great a paying attention to details.
Ability to function as a part of a team and work well with others.
Browse more Accounting Jobs on AgHires now.
A little about the business: Hunter Nutrition, Inc. is a specialized feed manufacturer located in Brookston, IN, just north of West Lafayette. We manufacture top quality texturized, pelleted, and mineral/premix feeds at our 58,000-sq. ft. plant. Unlike other feed manufacturers, Hunter Nutrition places the emphasis on quality rather than quantity. Our feeds are set formula's, made with the best ingredients in our modern, efficient manufacturing plant. Better feed pays our customers back with improved health and livestock performance. We have a diverse group of both large and small customers, all of which come to us for high quality, better fortified feeds.
What you would be doing:
Oversee various operations including, but not limited to, efficiency, organization, purchasing, marketing, and customer relations.
Provide a high level of customer service to current and prospective customers.
Assist with ad development and creating our newsletter.
Occasional Trade Show Attendance.
Support of the Nutritionist's work.
Inventory tracking as well as ingredient purchasing.
Maintain current formula and feed tag information using MS Excel and MS Publisher. Communication with the State Chemist, FDA, and USDA.
Customer service such as answering the phone, completing and processing customer orders, greeting walk-in customers, dealer support and completing customer literature requests.
Qualifications:
Prior agriculture, farming, or agribusiness experience
2 years' full-time experience working in an office.
Enjoy working with livestock producers.
Good Computer Skills.
Microsoft Office experience with Word, Excel, and Publisher.
A positive attitude, accurate memory, good work ethic, and the ability to pay careful attention to details and accuracy.
Search more Customer Service Jobs on AgHires now.
A little about the business: Rooney Farms is a large-scale cash crop operation in west central Wisconsin. We are seeking a full-time agronomist. This person will work directly with Farm Manager in an effort to increase crop production and sales and assist in the day-to-day operations of a cash crop farm.
What you would be doing:
Works directly with Farm Manager & Office Manager in an effort to increase crop sales.
Put together crop plans, yearly budgets, chemical programs, and fertilizer and lime plans, conduct and analyze soil samples
Assists in managing costs and increasing profits
Communicates with Farm Manager regarding the timing of operations. Communicates with Applicators regarding field characteristics, product placement and other application concerns. Follow-ups with producers after applications regarding issues/incorrectness
Assist in yearly hybrid selection, harvest and planting data analytics, and suggests progressive farming tactics for performance improvement
Assists in FSA reporting and policy compliance
Strong communication and structure when dealing with fellow employees.
Crop health throughout the growing season: Scouting, spraying, fertilizing, irrigating, etc.
Qualifications:
Prior experience in an agriculture related field required
4 year BA Degree
Must have knowledge and experience with large late model John Deere Tractors & Equipment.
Late model John Deere AMS/GPS equipment familiarity is highly desired
Basic knowledge of fertilizers, chemicals and seeds.
Excellent verbal communication skills
Search more Agronomy Jobs on AgHires now.
The job opportunities within the agriculture industry are endless. Whether you are looking to start your journey or take the next step in your agriculture career, there is a place for you. Go to AgHires.com to search thousands of current job openings, ranging from agronomy jobs to marketing jobs to service technician jobs. New jobs are uploaded to our website daily.
Follow us on Facebook and Twitter to see more featured jobs.