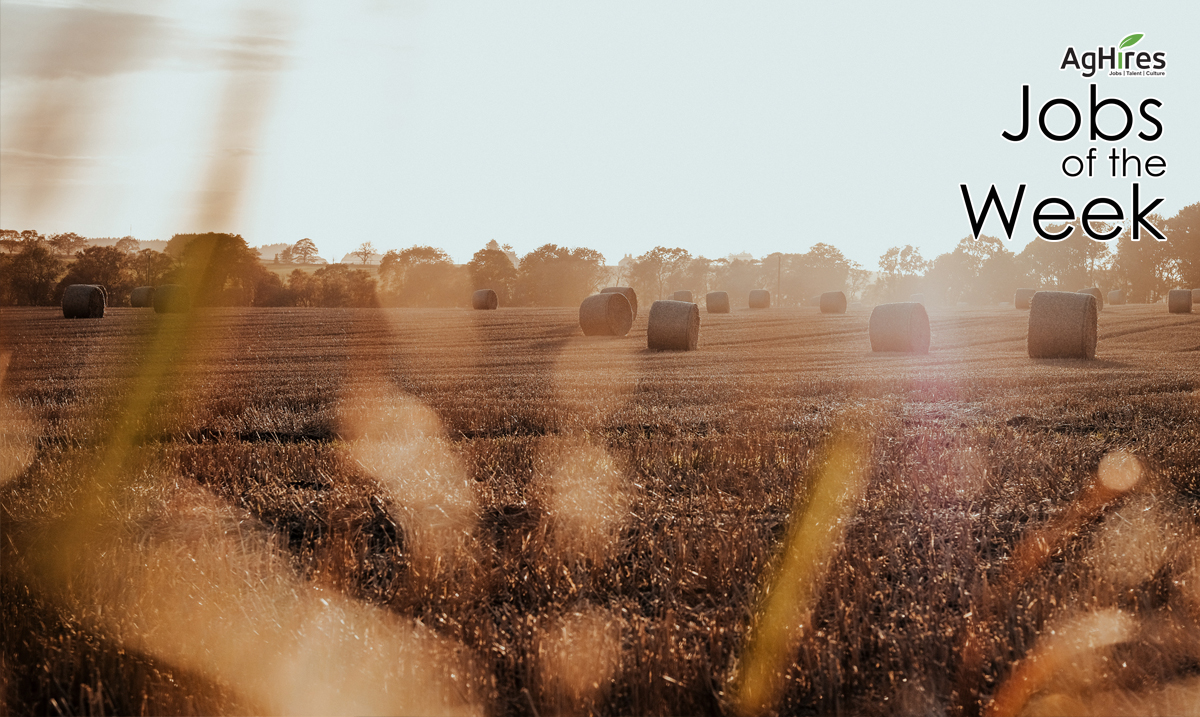 Top Agriculture Jobs of the Week
For the week of 3-15-21
AgHires works hard to be the number one resource for top jobs in agriculture. The agriculture industry provides a variety of job opportunities that range far and wide. Take a moment to search through the thousands of current job openings on AgHires.com, and check out this week's top Agriculture Jobs of the Week below.
A little about the business: BigIron is committed to providing honesty and integrity through our state-of-the-art online auction platform. We are continually focused on helping the agricultural community connect buyers and sellers. Through this commitment, we have grown to become the largest, unreserved online auction serving rural America, selling tens of thousands of items through weekly auctions to registered bidders worldwide.
What you would be doing:
Educate prospective customers on the buying and selling process
Encourage prospects to sell equipment within our premier online auction environment
Create quality equipment listings
Collaborate with BigIron's staff to assure a first-class experience for sellers
Market equipment locally
Set sales goals to ensure your future success
Qualifications:
What do you need to get started?
Transportation
Smartphone
Laptop or Tablet
Search more Sales Jobs on AgHires now.
A little about the business: CHS Inc. is a leading global agribusiness owned by farmers, ranchers and cooperatives across the United States. Diversified in energy, grains and foods, CHS is committed to helping its customers, farmer-owners and other stakeholders grow their businesses through its domestic and global operations. CHS supplies energy, crop nutrients, grain marketing services, animal feed, food and food ingredients, along with insurance, financial and risk management services. The company operates petroleum refineries/pipelines and manufactures, markets and distributes Cenex® brand refined fuels, lubricants, propane and renewable energy products. CHS is an equal opportunity employer/disability/veteran.
What you would be doing:
Manage the total operation of the feed production facility according to divisional objectives while maintaining the efficiency necessary to achieve a maximum margin of profit.
Evaluate the results of overall operations regularly and systematically and reports these results to the Director.
Develop and maintain the daily manufacturing schedule and logistics of feed operations.
Supervise and support training of all plant personal with emphasis on improving productivity, food safety, and developing a safe working environment.
Coordinate ingredient purchasing, formulation, pricing with Central Support office.
Coordinate and supervise ordering, receiving and positioning of ingredient inventories.
Qualifications:
Bachelor's degree (additional years of experience may offset education requirement)
5 years of operations & manufacturing experience
3 years of supervising experience
Working knowledge and experience with government regulations
Proficient computer skills
Search more Management Jobs on AgHires now.
A little about the business: Welcome to AgHires! We are dedicated to connecting top talent with employers in the agriculture and food production industry. Our clients are located across the U.S. and Canada and range from small organizations to Fortune 500. We provide our clients a wide range of services including full service recruiting, candidate sourcing services and job advertising packages. We're working hard to promote the agriculture industry, its culture, and showcasing what we have to offer in today's ag job market. Our clients love our differentiated approach to recruiting and our passion for the industry.
What you would be doing:
Assist with social media content for AgHires and/or clients utilizing HubSpot tools.
Assist with social media advertising for AgHires and/or clients.
Assist with the planning and honing of an overall social media strategy utilizing HubSpot tools.
Content writing/editing for AgHires and client website(s).
Research, create and maintain marketing lists and workflows within HubSpot.
Create and send marketing information to potential clients.
Develop, create and manage email campaigns.
Plan, produce and edit videos.
Qualifications:
1-2 years of marketing, sales, or similar experience or be working towards a degree in marketing, sales, and/or related field, preferably with 2+ years of college completed.
Strong writing skills and desire to write blogs and articles
Ability to prioritize and multi-task
Experience with Adobe Creative Suite (preferred)
Browse more Marketing Jobs on AgHires now.
A little about the business: AHW is a 16 location John Deere Dealership, selling tractors, combines, sprayers, riding mowers, commercial equipment in east central Illinois and western Indiana.
What you would be doing:
Develop strategies with Used Complete Goods Sales Manager to monitor regional market trends including pricing data, inventory data, and auction results.
Develop and apply consistent approach for Used Equipment allowances
Produce and monitor used equipment trade allowance guides for commodity items
Work with new and used sales managers annually to review and determine pricing strategies for the upcoming year.
Deliver consistent, data-based evaluations to all Sales Representatives
Qualifications:
5+ years sales experience
Ability to speak effectively one-on-one and within a group
In depth understanding of John Deere and competitive products
Familiar with online sources of used equipment market data
Familiar with statistical analytic applications and market research practices preferred
Bachelor's Degree in data analysis, business, marketing or equivalent experience
Search more Equipment Jobs on AgHires now.
A little about the business: Chad Gunter Farms is a 1600 acre cash crop farm located in Clara City, Minnesota; raising field corn, soybeans, and sugar beets. The business is a fourth generation family-farm and is located 2 hours west of the twin cities.
What you would be doing:
Work closely with the owner and other seasonal employees to ready equipment, operate machinery, and perform various tasks during the growing season.
When not in the field: cleaning, maintenance, and repairs are performed in the farm shop.
Spring work in the field includes field cultivation, rock picking, planting and/or spraying. Some longer hours to get the crop planted.
The summer season involves grain hauling, crop treatments, and harvest equipment repair and maintenance. Allowed time for vacation and extended weekends.
Fall includes operating harvest equipment and fall tillage and longer hours. (14-16 hr days)
Winter months offer flexible hours. Shop projects, maintenance, and grain hauling. Allow for scheduled time off.
Qualifications:
1 or more years of operating large farm equipment.
Able to lift 60 pounds
Must be able to speak English and have a valid driver's license.
Willing to perform a drug test and have a background check.
Search more Farming Jobs on AgHires now.
The job opportunities within the agriculture industry are endless. Whether you are looking to start your journey or take the next step in your agriculture career, there is a place for you. Go to AgHires.com to search thousands of current job openings, ranging from agronomy jobs to marketing jobs to service technician jobs. New jobs are uploaded to our website daily.
Follow us on Facebook and Twitter to see more featured jobs.