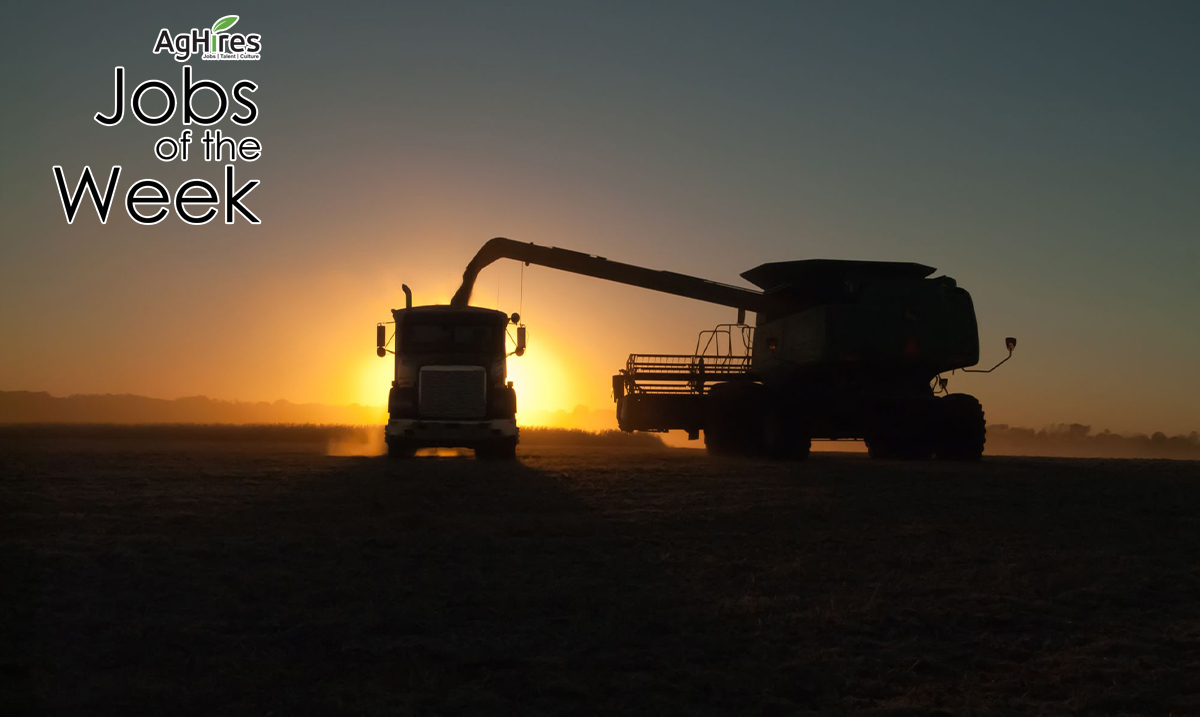 Top Agriculture Jobs of the Week
For the week of 11-21-22
AgHires works hard to be the number one resource for top jobs in agriculture. The agriculture industry provides a variety of job opportunities that range far and wide. Take a moment to search through the thousands of current job openings on AgHires.com, and check out this week's top Agriculture Jobs of the Week below.
A little about the business: BioWorks' pesticide products are EPA Registered (unless exempt), and most are OMRI-Listed for organic growing. As the sustainability movement and the demand for biocontrols continues, BioWorks will continue to provide tools and services to help growers achieve the highest levels of insect and disease control that are safer (both for the environment and for employees) and effective.
What you would be doing:
Drive brand recognition

Increase market presence

Develop and implement effective tactics for corporate and product communications

Create informative content to elevate web and social media presence

Write press releases

Implement both internal and external communication programs
Qualifications:
Bachelors degree desired, Associates Degree with equivalent job experience will be considered

Desire 2 or more years experience in marketing, communications, social media, digital marketing, website administration.

Experience developing communication and digital marketing campaigns requiring visuals, graphics, and multimedia using a variety of digital platforms.
Search more Marketing Jobs on AgHires now.
---
A little about the business: Welcome to Swanton Welding! Built on a legacy of experience since 1956, Swanton Welding has been providing customers with quality metal fabrication services from small parts to oversized structural towers for a wide variety of industries. We combine the latest in fabrication technology with our highly skilled teams for an unbeatable combination. We have certified welders and provide ongoing professional development and training to help the team stay up to date on the latest technologies.

What you would be doing:
Partner with the leadership team to understand the organizational needs to develop and execute the organization's human resource and talent strategies particularly as it relates to talent acquisition, retention, safety, training, and succession planning
Provide support and guidance to an internal HR Manager and guide department managers on human resource compliance
Manage the talent acquisition process and develop the value proposition to attract candidates; adjust interviewing process and collaborate with departmental managers to understand skills and competencies required for openings
Analyze trends in compensation and benefits; research and propose competitive base and incentive pay programs to ensure the organization attracts and retains top talent
Qualifications:
Preference to a Degree in Human /resources, Business Administration, or experience in an HR role
SHRM-CP or SHRM-SCP desired, but not required
Excellent interpersonal, negotiation, and conflict-resolution skills
Strong analytical and problem-solving skills
Thorough knowledge of employment-related laws and regulations
Proficiency with or the ability to quickly learn the organization's HRIS and talent management systems
Search more Human Resource Jobs on AgHires now.
---
A little about the business: Heritage Cooperative is always looking for friendly, outgoing, customer-service-driven employees. Our people are our greatest asset, and we are constantly thinking outside of the box for new ways to make working at Heritage Cooperative attractive to our current and prospective employees.
What you would be doing:
Serve as a positive representation of Heritage Cooperative's Core Values




Assist with preventative maintenance on all plant equipment to obtain maximum efficiency and ensure the longevity of all fixed assets




Calculate fertilizer application rates per acre to determine the quantity of fertilizer required

Complete required records and reports

Demonstrate safe operation of both liquid and dry fertilizer application equipment including controller setup and proper speed, nozzle size, and pressure required to apply the desired rate
Qualifications:
Ability to thrive in a fast-paced environment

Outstanding organizational and time-management skills

Excellent communication skills

Fundamental mechanical skills
Browse more Cooperative Jobs on AgHires now.
---
A little about the business: Mac Edwards Produce is a family owned and operated business located in Miami, Florida, USA. We have been serving our customers fine fresh fruits and vegetables since the 1940's. We serve fresh, wholesale produce to our foodservice customers of all sizes. We provide a full line of fresh fruits and vegetables, dairy and eggs, while also offering custom "fresh cut" produce from our in-house processor. We also have a fleet of over 40 modern, refrigerated and maintained delivery vehicles.
What you would be doing:
Source directly from growers and shippers with some purchasing through brokers
Coordinate purchases daily/weekly and continually adjust
Understand market trends, pricing and conditions of produce
Understand inventory and work with sales to push items to reduce shrink
Manage purchase orders and ensure appropriate volume received
Collaborate cross-functionally with sales, packing operations, transportation and quality control team
Assess current inventory, market conditions, availability, and promotional impact to forecast order quantities
Qualifications:
Prior experience as a buyer, in procurement required; produce experience strongly preferred
Exceptional customer service and communication skills
Proven ability to effectively negotiate and build strong partnerships
Proficiency in Microsoft Office software (specifically Excel)
Financial analysis skills and understanding of how purchase price impacts gross profit margins
We offer a strong salary along with benefits, paid time off and the perks of working for a produce operation.
Search more Dairy Jobs on AgHires now.
---
A little about the business: University of Arkansas Community College Rich Mountain
The University of Arkansas Rich Mountain's main campus in Mena is situated on a pristine 40-acre campus at the foot of Arkansas' second highest peak, Rich Mountain, with satellite campuses located in Waldron and Mount Ida.
What you would be doing:
Coordinate and implement competitive team travel, and practice/ work/chore schedules

Conduct competitive and/or recruitment activities for the division

Travel to various high schools, conferences, events, and other sites for recruitment

Cultivate and develop relationships with alumni groups, business, industry, and community partners

Oversee and maintain budgets related to the livestock judging program

Lead divisional events, clubs and teams

Oversee program website updates and program's social media
Qualifications:
Experience in competitive livestock judging, collegiate experience preferred




Experience with livestock herds, livestock industry and livestock evaluation




Computer proficiency, including use of Microsoft Office




Demonstrated willingness and ability to act ethically and socially responsible




Minimum Bachelor's degree in Agriculture, Animal Science ore related field with the ability to complete a Master's degree within three years to continue employment




Teaching experience in a blended format and/or distance education preferred
Search more Livestock Jobs on AgHires now.
---
The job opportunities within the agriculture industry are endless. Whether you are looking to start your journey or take the next step in your agriculture career, there is a place for you. Go to AgHires.com to search thousands of current job openings, ranging from agronomy jobs to marketing jobs to service technician jobs. New jobs are uploaded to our website daily.
Follow us on Facebook and Twitter to see more featured jobs.