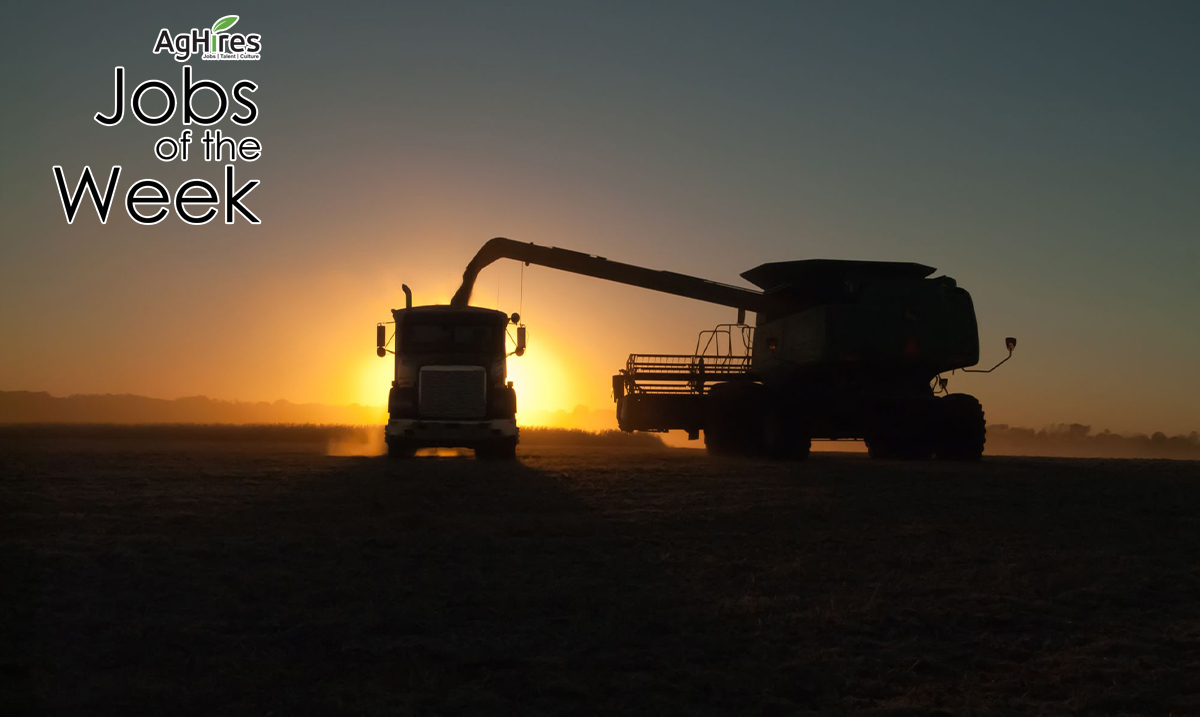 Top Agriculture Jobs of the Week
For the week of 1-23-23
AgHires works hard to be the number one resource for top jobs in agriculture. The agriculture industry provides a variety of job opportunities that range far and wide. Take a moment to search through the thousands of current job openings on AgHires.com, and check out this week's top Agriculture Jobs of the Week below.
A little about the business: Eden Valley Farms is a large-scale dairy and crop operation in Western New York with conventional and organic dairy facilities. We harvest the highest quality crops on 3,600 acres growing corn, soybeans, small grains, and hay.
What you would be doing:
Work alongside the current crop manager and owners to collectively make decisions regarding the input of crops based on the needs of the dairy.
Strategic planning of seasonal crop mix and rotations with the advisement of the crop manager.
Proactively identifying opportunities for process improvement.
Lead teams engaging in a variety of crop and maintenance practices assigned by the manager.
Coordinate with managers and owners to prioritize daily tasks.
Qualifications:
2 or 4+ year degree in agriculture, agronomy, crop or soil sciences, or related field (preferred, but not required if the candidate has strong agricultural background).
Basic crop management knowledge.
Basic equipment operation and maintenance knowledge.
Excellent written and verbal communication skills.
Offers competitive compensation based on experience. Housing is available and included for the right candidate.
Search more Farming Jobs on AgHires now.
---
A little about the business: Dairy One Cooperative, Inc is a not-for-profit cooperative based in Ithaca, New York. We work primarily throughout the Northeast and mid-Atlantic region providing a full range of services to the agricultural industry including DHI testing, milk, forage, and soil analyses, software support, on-farm technology, and agronomy services.

What you would be doing:
Creating and updating standard operating procedures for all financial activities that adhere to GAAP standards and best practices,
Overseeing daily activities and performing accounting work as needed,
Hiring, training, and coaching team members
Qualifications:
Bachelor degree in Accounting or Finance and at least 8 years of corporate level accounting, At least 3 years of experience leading a team.
Preference will be given to CPA candidates and/or those with a background in the agricultural industry.
Search more Finance Jobs on AgHires now.
---
A little about the business: Our corporate office is located in Monticello, Iowa with 30 additional locations scattered throughout Iowa and southwest Wisconsin. We employ 250 full-time people in Operations, Transportation, Sales, Grain Merchandising, Management, Customer Service, Accounting, IT, Human Resources, and Communications. We also hire an additional 120 seasonal employees and interns throughout the year.
What you would be doing:
Promote the sales of all IAS products and programs with a primary emphasis on crop protection products, plant food, seed, and agronomy programs and services.
Increase unit sales, gross margins, and market share by aggressively contacting and selling current and potential customers within an assigned area.
Provide necessary information to current and prospective customers to support products and programs, and assist customers in making production and business decisions.
Qualifications:
Possess sufficient knowledge of crop production science to advise producers on agronomy plans, products, and services to secure efficient production, higher yield, and improved quality.
Computer skills including Word and Excel.
Browse more Agronomy Jobs on AgHires now.
---
A little about the business: Attune Agriculture, LLC with headquarters in Boca Raton, Florida, was born from a company with over 100 years of history selling hydrocolloids into the finished foods industry. Combining deep roots in food and agriculture science, we have applied our intimate understanding of hydrocolloids, and wealth of knowledge harnessed from decades of research to the agriculture industry. Our mission is to create functionally superior crop inputs that are performance-driven, but also safe for the planet and the people who use them. Please find more information about us at www.attuneag.com.
What you would be doing:
The primary point of contact for customers, the Sales team, and management regarding customer data and orders

Assist with customer order logistics to ensure customer orders are effectively fulfilled and shipped

Responsible for general office administration duties and will provide Sales, Operations, Marketing, and R&D support, as needed
Qualifications:
2 to 5 years of customer service experience
Knowledge of the fundamental concepts, principles, and practices of customer service and logistics
Outstanding communication and interpersonal skills
Proven customer acumen and relationship-building skills
Ability to problem-solve to resolve customer issues
Search more Customer Service Jobs on AgHires now.
---
A little about the business: Welcome to J.L. Farmakis, Inc.! We're a trusted, family-owned national advertising sales firm, serving some of the nation's best agricultural, consumer and B2B media companies. We serve as both a valued partner for our media clients, as well as our advertiser and agency partners, providing enhanced advertising solutions. We take our business seriously, but we don't take ourselves too seriously.
What you would be doing:
Establish relationships and sell media solutions (broadcast, digital, print, etc.) to an assigned group of accounts.

Plan and implement a sales strategy within your region.

Qualify and pair customers to the right packages and solutions to meet their needs.

Collaborate with our team to create new innovative campaigns.
Qualifications:
Have experience in advertising and digital selling, preferably in the agricultural

industry.

Are a self-starter who has an advertising sales background.

Consider yourself to be disciplined, self-motivated, and able to juggle multiple situations.

Live somewhere in the Midwest.
We offer a competitive salary based on experience, along with bonus, medical, and 401K and the opportunity to join one of the best sales staff in the US. We will provide admin support, office tools, and transportation expenses for you to run your office.
Search more Marketing Jobs on AgHires now.
---
The job opportunities within the agriculture industry are endless. Whether you are looking to start your journey or take the next step in your agriculture career, there is a place for you. Go to AgHires.com to search thousands of current job openings, ranging from agronomy jobs to marketing jobs to service technician jobs. New jobs are uploaded to our website daily.
Follow us on Facebook and Twitter to see more featured jobs.