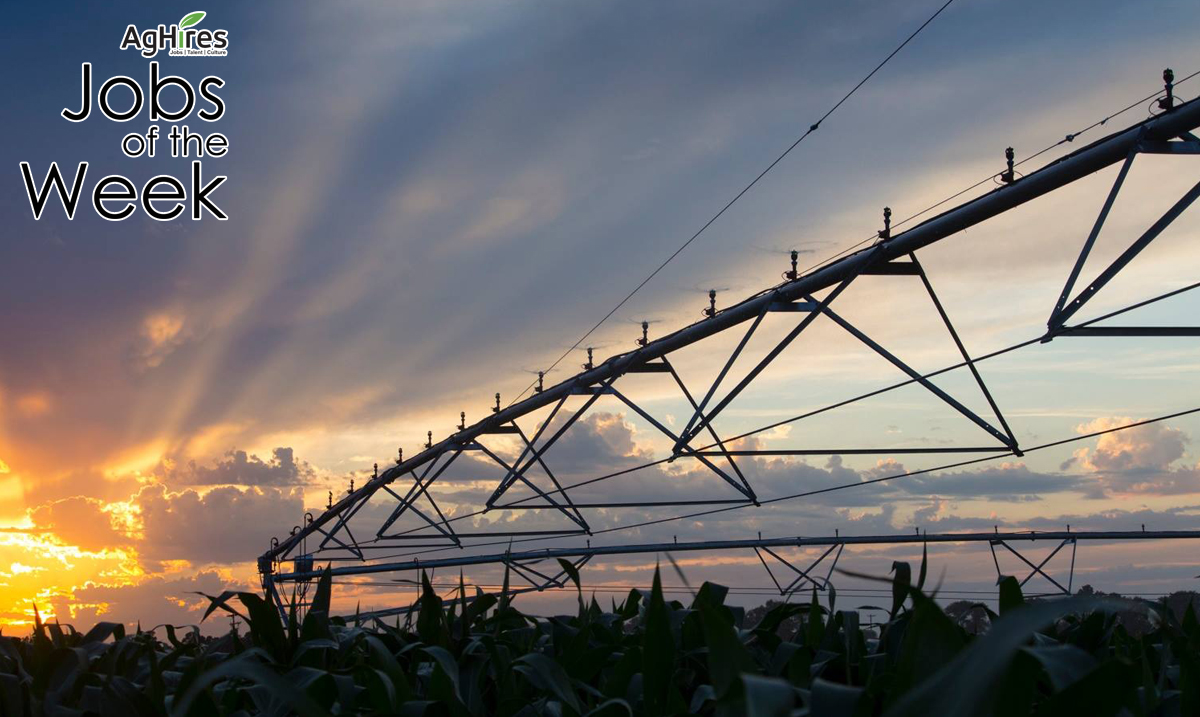 Top Agriculture Jobs of the Week
For the week of 6-28-21
AgHires works hard to be the number one resource for top jobs in agriculture. The agriculture industry provides a variety of job opportunities that range far and wide. Take a moment to search through the thousands of current job openings on AgHires.com, and check out this week's top Agriculture Jobs of the Week below.
A little about the business: Central Valley Ag - CVA is a member-owned farmers' cooperative headquartered in York, NE, with locations throughout Nebraska, Kansas and Iowa. Established in 2003, CVA has over 900 employees and is an innovative leader providing products and services in grain, agronomy, feed, and energy. You can find more information about Central Valley Ag by visiting www.cvacoop.com.
What you would be doing:
Assists patrons at the location in a professional and courteous manner with agronomic purchasing decisions.

Coordinates services and operational needs for agronomy sales.

Coordinates with custom applicators and tanks on the spreading, spraying and delivery of bulk fertilizer to assure the most cost effective use of equipment.

Creates and recommends specific agronomy programs that utilize seed services, precision farming technology, financial services and other marketing tools with the goal of increasing agronomy business.

Partners with and understands the functional roles of the other Central Valley Ag team members to improve the efficiency and profitability of the assigned location.




Delivers timely and accurate communication to targeted producers, based on intimate customer and Central Valley Ag brand knowledge to drive value added sales.
Qualifications:
Integrity and good judgment skills required in order to handle the confidential nature of duties, tasks and information.

Excellent customer service and public relations skills required.

Must have a high level of proficiency with the internet, email and Microsoft Office programs.

Must possess excellent interpersonal skills and effective negotiation skills.

Excellent planning and organization skills required.

Ability to speak effectively before groups of customers or employees of organization.

Ability to read and interpret documents required.

Must have the ability to develop content for customer/patron and prospect correspondence.
Search more Agronomy Jobs on AgHires now.
---
A little about the business: Welcome to Surface Nursery! We are a wholesale nursery located in Gresham, OR just outside of Portland. We specialize in growing quality bare root nursery stock, flowering trees, and wholesale shade trees. We take personal pride in everything we do. From ground preparation to liner selection, our attention to detail and planning is apparent in the plant material we present for sale. We consider our customers & our employees valued members of our team and integral to our success.
What you would be doing:
Implement and update the field management plan as directed by the manager. This includes maintenance and reporting of all chemical applications and evaluations.
Stay up to date on compliance with all state and federal regulations, compliance standards and company policies and procedures.
Follow and update field management plan annually.
Assist in overseeing temporary and hourly employees as needed.
Inventory and order supplies needed for field management.
Ensure and perform timely soil preparation, assist in shipping, and planting.
Maintain records of chemical applications, as well as reports including descriptive, analytical, and evaluative content.
Oversee and manage timely application of chemicals, fertilizers, and treatments according to procedures and protocols.
Assist with various duties as assigned by the General Manager.
Qualifications:
Have 2+ years of farm work experience with knowledge of chemicals, fertilizers, and equipment used on a farm.
Have ability to work as part of a team and independently.
Have ability to work overtime hours, as necessary.
Bilingual – Spanish – preferred, not required.
Search more Farming Jobs on AgHires now.
---
A little about the business: At Cargill, everything begins with our purpose to nourish the world in a safe, responsible and sustainable way. Customers choose us for our world of expertise, delivered locally, quickly and reliably in a way that creates value together for them and us. Every day, we connect customers and suppliers to the world by developing personal relationships and setting the standard high on the way we work.
What you would be doing:
Performing facility operations such as loading and unloading trucks/barge/vessels/rail cars, filling/reclaiming grain ground piles, and various other grain handling tasks.

Basic maintenance and operator care of equipment to ensure ongoing facility operations.

Providing excellent customer service and engaging with team members.

Understanding and adhering to all safety rules and regulations.

Maintaining a safe and clean work environment.

Other duties as assigned
Qualifications:
Must be eligible to work in the US without visa sponsorship.
Must be 18 years or older.
Ability to perform physical job duties which may include bending may be required to lift up to 50lbs occasionally, kneeling, climbing, crawling, and twisting safely, with or without reasonable accommodation.
Ability to understand and communicate in English (verbal/written).
Basic use of a computer.
Must be able to work in various weather, industrial, and agricultural settings.
Ability to work in elevated areas (4 feet and above).
Ability to work overtime, weekends, and holidays with advance notice.
Browse more Food Processing Jobs on AgHires now.
---
A little about the business: Donovan Farmers Co-op Elevator Inc. is a full-service agriculture supplier dedicated to providing high-quality products and services for the purpose of improving customer profitability. Headquartered in Donovan, IL. with 4 grain locations and Fertilizer/Agronomy location in the heart of prime agriculture farmland. Donovan Farmers Co-op Elevator Inc. employs specialists in crop, seed, custom application, grain marketing and precision farming techniques. Donovan Farmers Co-op Elevator Inc. was founded in 1908 and has a strong presence in the local community. Working relationships with Growmark, CHS, LandoLakes, Winfield, Helena and other Local suppliers.
What you would be doing:
Oversee various operations including, but not limited to, efficiency, organization, purchasing, marketing, and customer relations.
Provide a high level of customer service to current and prospective customers.
Assist with ad development and creating our newsletter.
Occasional Trade Show Attendance.
Support of the Nutritionist's work.
Inventory tracking as well as ingredient purchasing.
Maintain current formula and feed tag information using MS Excel and MS Publisher. Communication with the State Chemist, FDA, and USDA.
Customer service such as answering the phone, completing and processing customer orders, greeting walk-in customers, dealer support and completing customer literature requests.
Qualifications:
Experience in agriculture such as ag cooperative, fertilizer, seed, chemical, crop & soil, agronomy, agribusiness or other relatable experience.
Supervisory or management related work experience to demonstrate knowledge and effectively manage the assigned facilities and personnel.
Must have or ability to obtain a Commercial Applicator's License.
Certified Crop Specialist (CCS) would be a benefit, if currently not completed work to obtain with 18 months of employment.
Ability to obtain and maintain the appropriate driver's license and satisfactory driving record for appropriate vehicle type in order to perform all the duties assigned prior to employment.
Must be able to obtain and maintain all applicable certifications, licenses, and permits.
Search more Management Jobs on AgHires now.
---
A little about the business: Woerner Turf is a family-owned agribusiness company headquartered in Foley, Alabama. With over 100 years of farming experience, and 40 of those years specializing in the production of premium turf grasses, Woerner Turf has become a turf industry leader with numerous sod farms and landscape supply stores. Our landscape supply outlets provide premium landscape materials such as Sod (pallet, piece, & truckload), Grass Seed, Brick Pavers, Natural Stone, Mulches, Gravels, & more!
What you would be doing:
Responsible for all operations of the store.
Supervises yard laborers, drivers, and sales associates.
Enforces the Company's policies and procedures.
Assists and implements employee training activities.
Provides exceptional customer service to clientele.
Responsible for maintaining the store at an optimal level which includes maintenance, cleaning, inventory, and store appearance.
Maintains store-level compliance with Woerner Turf & Landscape Supply's standards of safety, security, facility maintenance, sanitation, postings/notifications, and other administrative duties.
Qualifications:
Management experience in the green industry is preferred: sod, turf, landscape, and other related fields.
Proven experience in exceptional customer service and communication skills.
Experience with Point-of-Sale computer systems.
Ability to do basic mathematical calculations: square footage, pounds, etc.
Self-motivated and willing step-in and perform tasks as assigned necessary to the company's success.
Inventory Management experience.
Forklift/Equipment operator experience.
Ability to work varied hours / days including weekends, and holidays as needed.
Search more Operations Jobs on AgHires now.
---
The job opportunities within the agriculture industry are endless. Whether you are looking to start your journey or take the next step in your agriculture career, there is a place for you. Go to AgHires.com to search thousands of current job openings, ranging from agronomy jobs to marketing jobs to service technician jobs. New jobs are uploaded to our website daily.
Follow us on Facebook and Twitter to see more featured jobs.