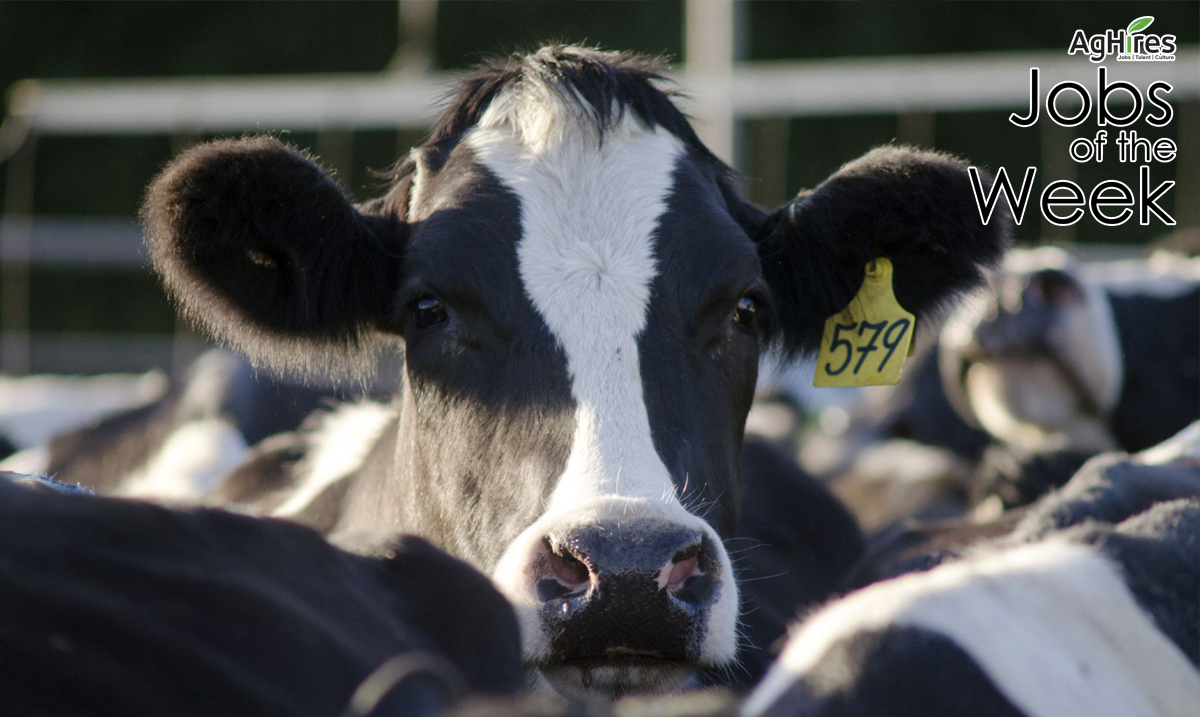 Top Agriculture Jobs of the Week
For the week of 8-30-21
AgHires works hard to be the number one resource for top jobs in agriculture. The agriculture industry provides a variety of job opportunities that range far and wide. Take a moment to search through the thousands of current job openings on AgHires.com, and check out this week's top Agriculture Jobs of the Week below.
A little about the business: Goodthyme Farm is a rapidly growing, organic, farm-to-table operation located in Bellville, TX – just an hour west of Houston. We are a 350 acre farm specializing in vegetable, herb, and livestock production for surrounding restaurants and their customers. Additionally, we have plans for public facing agritourism facilities that will serve to educate the public on sustainable agriculture practices that we hope to open by 2023. We pride ourselves on our high-quality of products and look to provide the best sources of meat and vegetables to local vendors. We grow an ever-changing variety of crops for our local farm-to-table restaurants, including heirloom tomatoes, peppers, cucumbers, squash, lettuces and herbs.
What you would be doing:
Communicating with the owners, cross-functional on-farm team, and outside vendors
Coordination of farm operations – including planting and harvest plans
Managing a skilled team with focuses on livestock and crop production
Translating customer needs to production goals on the farm
Implementing innovative process improvements on the farm
Qualifications:
At least 5-10 years of experience in sustainable agriculture, regenerative agriculture, organic farming, farm-to-table, or agritourism.
A continuous improvement mindset
The ability to lead and collaborate with a team
The ability to plan and forecast production targets
The ability to integrate educational aspects into public facing facilities
Search more Executive Jobs on AgHires now.
---
A little about the business: Welcome to Glynn Farms! We are a trucking business that picks up milk at area farms and transports it to various dairies in the area. We are a small business that wants to serve our farmers to the best of our capabilities. We are team-oriented and strive to help each other as needed.
What you would be doing:
Transporting milk from area farms to local dairies.

Loading and assisting in milk transfer.

Fueling and general upkeep of rig after every shift.

Occasional pick up/drop off for maintenance repairs.
Qualifications:
Driving, hauling, trucking, experience preferred but we are willing to train.

Dependable and team-oriented mindset.

Ability to provide excellent customer service with area farmers and dairy plant personnel.

Valid Class A CDL license with tank (N) endorsement.

Willingness to obtain Sampling license.
Search more Trucking Jobs on AgHires now.
---
A little about the business: Sub-Zero, Wolf, and Cove wants and needs employees that take pride in their work no matter what job is being performed. We are here to help our employees be successful which in turn will ensure good quality products with on-time delivery to our customers.
What you would be doing:
Operates press brake equipment to fabricate sheet metal as well as form products as per engineering drawings and control plans.
May operate stamping operations including multistage and single hit jobs
May assist in and/or operate automatic and/or progressive dies.
Operates various spot welders or robotic welders as needed.
Performs loading and unloading of sheet metal into manufacturing equipment.
Sets up equipment and machinery for precision forming or punching
Inspects and maintain fabrication equipment for conformance and safety requirements.
Visually and physically inspects product for accuracy and flaws
Constantly works toward improving efficiency, and ultimately, productivity.
Qualifications:
Prior experience working in a manufacturing or related setting
Maintains good work area housekeeping including tools and equipment.
Should have good dexterity and body flexibility
Must be able to use a computer to view work instructions, enter production data and operate test equipment
Must be able to lift up to 40 lbs. and stand for up to 10 hours while performing work at waist level
Browse more Manufacturing Jobs on AgHires now.
---
A little about the business: At AgroFresh, we're proud to be a global leader in food preservation and waste reduction with a strong track record of product innovation and customer satisfaction. AgroFresh is a leader in ethylene management and storage processes to the global horticultural and postharvest segment.
What you would be doing:
Focus efforts on expanding Harvista™, pre-harvest ripening and crop-life extension products, strategies as outlined by the North American Commercial Director. Support the interface of sales and research with our customers, helping the organization understand specific customer needs from a technical perspective and expanding this to new crops.
Continue to maintain the present SmartFresh℠, post-harvest storage and shelf-life application, business while growing opportunities for other products offering fruit and vegetable growers and packers new options to manage crop loss.
Interface with key researchers, influencers and associations to maintain contact between AgroFresh and associated industries.
Qualifications:
Bachelor's degree in agriculture, horticulture, crop and soil science, agronomy, or related degree
Minimum 2 years' experience in ag sales, fruit or vegetable farming industry, or related ag field
Ability to work effectively both with corporate, internal stakeholders and informal, family run businesses
Strong interpersonal skills and high degree of integrity and ethical conduct
Travel (20-30%)
Exceptional time management skills
Highly effective communication skills
Ability to understand and assist in implementation of scientific/technical solutions.
Search more Sales Jobs on AgHires now.
---
A little about the business: Kalcevic Farms Inc is a multi-generational innovative and forward-thinking farm/ranch operation located in eastern Colorado. We produce dry land wheat, corn, milo, millet and forage. We have a 150 cow/calf operation specializing in registered Red Angus all-natural stock.
What you would be doing:
Management of field crop production processes. Planning of production resources such as manpower, machinery, equipment and tools, facilities, and raw materials, needed to implement and execute plans for dryland crop production and ongoing soil health improvement.
Manage internal and external relationships between departments and outside vendors.
Provide leadership and decisions to employees regarding operational and maintenance related questions.
Serve as a primary contact for all crop production and facilities maintenance, which includes management and support of acreage planning, crop quality control, elevator and shop upkeep, production programs with the Crop Production Manager.
Qualifications:
Passion for agronomy and row crop management and facility maintenance.
Bachelor's degree in agronomy, agribusiness, or related discipline.
3+ years of experience in agronomy, field science, agribusiness, or other related field.
Possess product knowledge around large scale farming practices with equipment and storage needs.
Mechanical skills and large equipment maintenance experience. Welding and vehicle maintenance a plus.
Ability to operate with a solutions approach and identify existing/emerging farm and employee needs.
Demonstrates strong organizational, interpersonal, analytical business management and communication skills. Works well under pressure to meet deadlines.
Search more Agronomy Jobs on AgHires now.
---
The job opportunities within the agriculture industry are endless. Whether you are looking to start your journey or take the next step in your agriculture career, there is a place for you. Go to AgHires.com to search thousands of current job openings, ranging from agronomy jobs to marketing jobs to service technician jobs. New jobs are uploaded to our website daily.
Follow us on Facebook and Twitter to see more featured jobs.