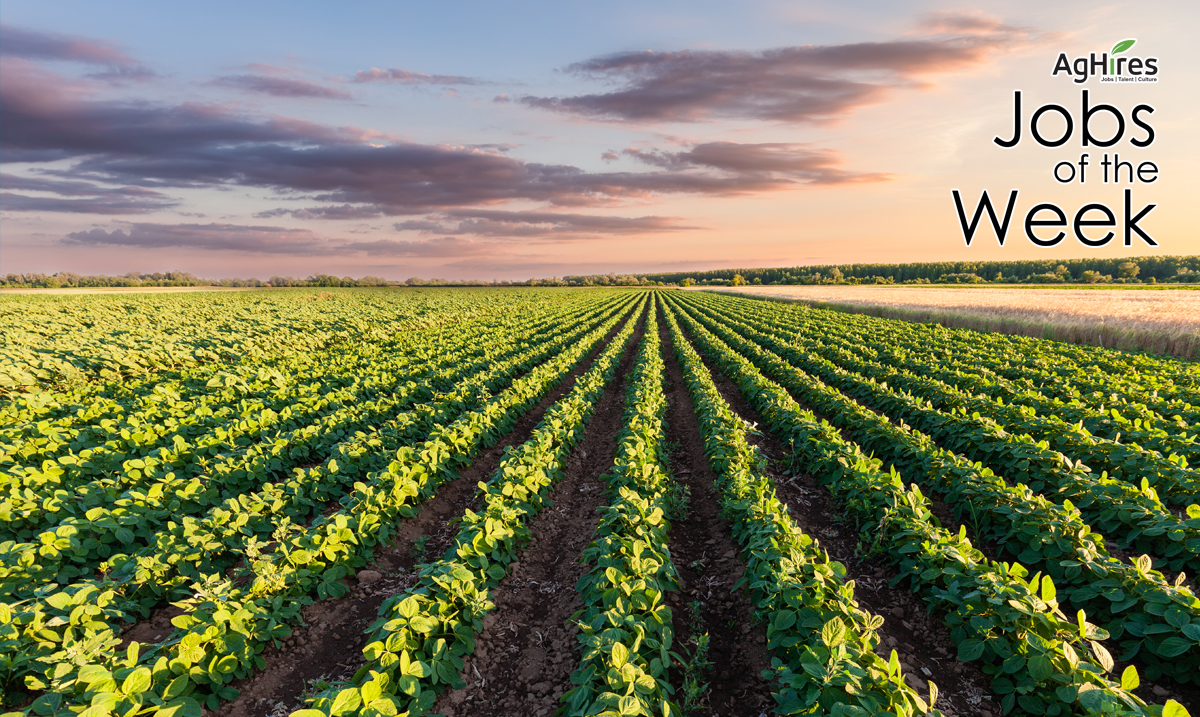 Top Agriculture Jobs of the Week
For the week of 11-1-21
AgHires works hard to be the number one resource for top jobs in agriculture. The agriculture industry provides a variety of job opportunities that range far and wide. Take a moment to search through the thousands of current job openings on AgHires.com, and check out this week's top Agriculture Jobs of the Week below.
A little about the business: Hunter Nutrition, Inc. is a specialized feed manufacturer located in Brookston, IN, just north of West Lafayette. We manufacture top-quality texturized, pelleted, and mineral/premix feeds at our 58,000-sq. ft. plant. Unlike other feed manufacturers, Hunter Nutrition places an emphasis on quality rather than quantity. Our feeds are set formulas, made with the best ingredients in our modern, efficient manufacturing plant. Better feed pays our customers back with improved health and livestock performance. We have a diverse group of both large and small customers, all of which come to us for high-quality, better-fortified feeds.
What you would be doing:
Oversee various operations including, but not limited to, efficiency, organization, purchasing, marketing, and customer relations.
Provide a high level of customer service to current and prospective customers.
Assist with ad development and creating our newsletter.
Occasional Trade Show Attendance.
Support of the Nutritionist's work.
Inventory tracking as well as ingredient purchasing.
Maintain current formula and feed tag information using MS Excel and MS Publisher. Communication with the State Chemist, FDA, and USDA.
Qualifications:
Prior agriculture, farming, or agribusiness experience.
2 years full-time experience working in an office.
Enjoy working with livestock producers.
Good Computer Skills.
Microsoft Office experience with Word, Excel, and Publisher.
Search more Administrative Jobs on AgHires now.
---
A little about the business: Michigan Milk Producers Association (MMPA), established in 1916, is a member-owned and operated dairy cooperative. MMPA serves approximately 1,600 dairy farmer members in Michigan, Indiana, Wisconsin and Ohio. The dairy cooperative, the 10th largest in the U.S., employs approximately 320 people in four states.

MMPA markets nearly 5 billion pounds of milk annually to fluid milk customers and food ingredient manufacturers. MMPA operates two manufacturing plants in Ovid and Constantine, Michigan and a cheese plant in Middlebury, Indiana. Products made at the Michigan plants include butter, ultra-filtered milk, powdered milk, cream and condensed skim milk. These products are sold to a wide range of food manufacturers who make end-use products such as candy, ice cream, pudding, baked goods, cheese and yogurt.

What you would be doing:
Takes initiative to work with business user and technical team members on system requirement gathering, analysis, design, configuration, testing, and implementation.
Gather end-user requirements, develop functional design documents, and collaborate with technical team to develop and test solutions.
Evaluate current end-user Standard Operating Procedure (SOP) for accuracy and update as needed.
Assist in creating and maintaining new end-user SOPs and update as processes are refined or system upgrades dictate.
Experience in conducting and validating user acceptance testing.
Qualifications:
Bachelor's degree required.
Minimum of 4 years business analyst work experience.
Preferred demonstrated skill and experience in supporting the Microsoft Dynamics 365 ERP system.
Experience with Visio, SharePoint, or other collaboration tools.
Excellent written and oral communication skills.
Excellent interpersonal and customer service skills.
Search more Customer Service Jobs on AgHires now.
---
A little about the business: For over 20 years, BioWorks has been a leader providing environmentally responsible, safe, and effective solutions for pest control and plant nutrition.
BioWorks' pesticide products are EPA Registered (unless exempt), and most are OMRI-Listed for organic growing. As the sustainability movement and the demand for biocontrols continues, BioWorks will continue to provide tools and services to help growers achieve the highest levels of insect and disease control that are safer (both for the environment and for employees) and effective.
What you would be doing:
Developing and executing a planned approach by creating a sales plan for accounts and contacts to target, activities, and milestones leading to the generation of sales.
Communicating the risks, assumptions, and dependencies associated with the sales plan.
Managing and progressing a qualified pipeline of opportunities by prioritizing assigned accounts and contacts and advancing opportunities with a disciplined and organized approach.
Effectively qualifying and prioritizing opportunities to pursue.
Utilizing multiple communication avenues (phone, in-person meetings, video conference, etc.) to build relationships.
Effectively researching companies to spark valuable conversation with key stakeholders.
Qualifications:
Bachelor's degree in agriculture, horticulture, or equivalent in a related field.

5 years of field sales experience or equivalent.

Well-developed sales skills.
Self-directed and the ability to work and solve problems independently.
Ability to make decisions and evaluations to determine the needs of the customers.
Ability to travel at least 50-60% of the time.
Browse more Sales Jobs on AgHires now.
---
A little about the business: Stony Creek Essential Oils is a family-owned progressive company that has been producing mint oils for over 50 years. We strive to be leaders in our industry in quality and efficiency.
What you would be doing:
Maintain a line of diesel tractors ranging from 15 horsepower to 420 horsepower.

Change fluids at prescribed intervals.

Perform general maintenance (typically excluding engine overhauls and transmission work).

Troubleshoot Electrical, Hydraulic, and Mechanical systems.

Replace worn or broken parts.

Fabricating new mint equipment.
Qualifications:
Basic Hydraulic systems and troubleshooting skills.

Basic Electrical systems and troubleshooting skills.

Basic Engine and transmission troubleshooting skills.

General layout and construction knowledge.
Search more Maintenance Jobs on AgHires now.
---
A little about the business: Central Valley Ag - CVA is a member-owned farmers' cooperative headquartered in York, NE with locations throughout Nebraska, Kansas, and Iowa. Established in 2003, CVA has over 900 employees and is an innovative leader providing products and services in grain, agronomy, feed, and energy. You can find more information about Central Valley Ag by visiting www.cvacoop.com.
What you would be doing:
Help with unloading of grain products for company-owned and customer-owned trucks.
Assists in the delivery of agronomy products such as fertilizer, chemicals, and seed to customers.
Assists in the loading of agronomy products to customer trucks.
Assists in the receiving of dry/liquid fertilizer, chemicals, and seed.
Provides assistance in the operations of the liquid and dry plant.
Provides assistance in the scheduling, mixing, and loading of liquid/dry fertilizer and chemicals.
Helps in ensuring the accuracy of mixing chemicals and fertilizers and assists with blender operations.
Drives company-owned trucks for the purpose of transferring grain.
Qualifications:
High School Diploma or equivalent (GED) required.

One to three months related experience and/or training or equivalent combination of education and experience preferred.

General mechanical ability required.

Integrity and good judgment skills required.

Excellent customer service skills required.

Search more Operations Jobs on AgHires now.
---
The job opportunities within the agriculture industry are endless. Whether you are looking to start your journey or take the next step in your agriculture career, there is a place for you. Go to AgHires.com to search thousands of current job openings, ranging from agronomy jobs to marketing jobs to service technician jobs. New jobs are uploaded to our website daily.
Follow us on Facebook and Twitter to see more featured jobs.