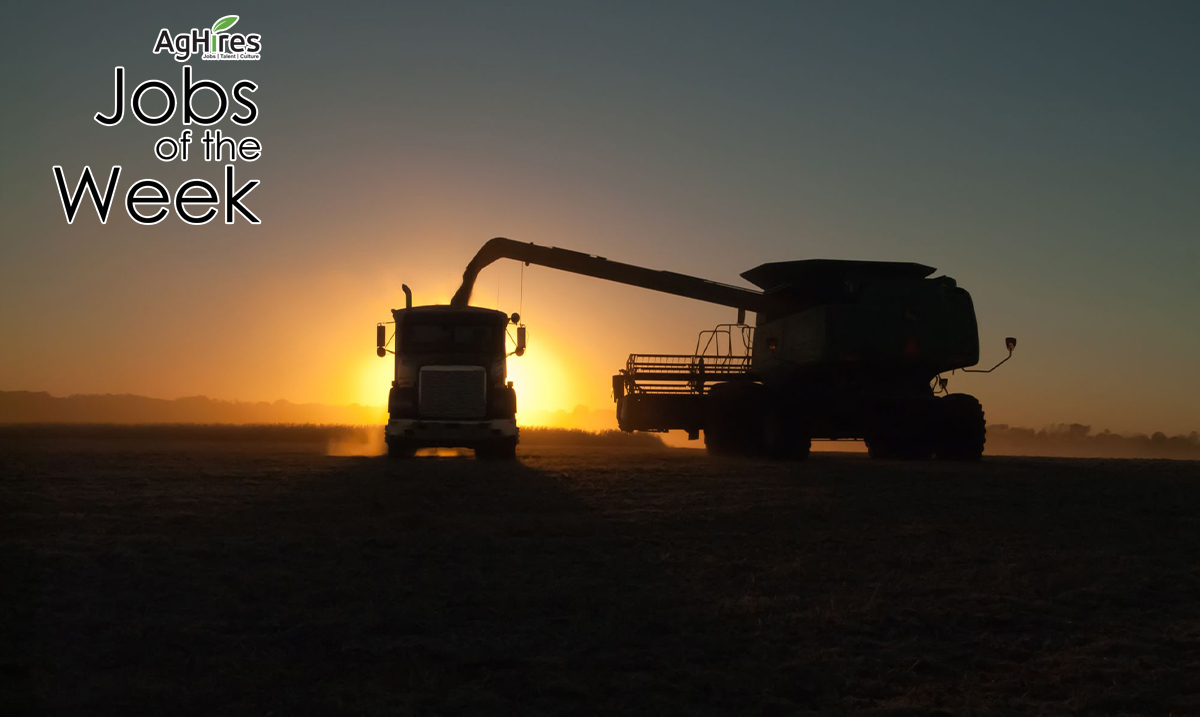 Top Agriculture Jobs of the Week
For the week of 5-16-22
AgHires works hard to be the number one resource for top jobs in agriculture. The agriculture industry provides a variety of job opportunities that range far and wide. Take a moment to search through the thousands of current job openings on AgHires.com, and check out this week's top Agriculture Jobs of the Week below.
A little about the business: Corbet Scientific, an agrochemical manufacturer dedicated to pursuing groundbreaking science to discover and develop solutions that enhance crop production while limiting environmental impact, is seeking a highly skilled and passionate sales professional to join their team and their vision to build their brand and extend their global reach.
What you would be doing:
Qualify leads from research, marketing campaigns, trade shows, and networking.
Contact potential clients through cold calls, emails, and in-person meetings.
Identify client needs and prescribe appropriate usage.
Customize product solutions to increase customer satisfaction.
Build long-term trusting relationships with clients.
Proactively seek new business opportunities in the market.
Report to managing partners on (weekly/monthly/quarterly) sales results.
Stay up-to-date with new products/services and new pricing/payment plans.
Qualifications:
Proven work experience as a Business Development Representative, Sales Account Executive, or similar role.
Minimum of 3-5 years selling Agricultural Products or Services.
Track record of achieving sales quotas and a history of meeting sales performance metrics.
Experience with CRM software (e.g. HubSpot).
Familiarity with MS Excel (analyzing spreadsheets and charts).
Must be highly organized, disciplined with time management, and must be able to work independently, while also being able to work in a team setting.
Search more Sales Jobs on AgHires now.
---
A little about the business: Joe's Fertilizer Supply is a small privately-owned company located in Southeast North Dakota. We sell and apply fertilizer, haul grain, custom ditching, and work closely with farming customers. We pride ourselves on being great community members, having a great working culture, and non-corporate structure.

What you would be doing:
Deliver Fertilizer to customers or one of the fertilizer spreaders.
Haul grain from field/bin to elevator.
Perform general maintenance of equipment.
Help the team whenever needed.

Qualifications:

Valid Class A CDL or willing to obtain.
Prior experience driving semi and trailer (manual transmission and air brakes).
Mechanical skills are preferred.
Good communication skills and a positive attitude.
Outstanding work ethic. Great team player.
Ability to work long hours during peak season.
Search more Trucking Jobs on AgHires now.
---
A little about the business: Ort Farms, based in Long Valley, New Jersey, is a 500-acre diverse fruit and vegetable farm. We have a retail farm market and an agritourism operation that is open annually from March-December. We are a 5 generation family business offering a unique opportunity for any motivated farmer to join our team.
What you would be doing:
Responsible for inspection/maintenance of crops and reporting status/problems to the Field Operation Manager.
Responsible for development of resolution/continuous improvement of field problems.
Responsible for planning, cultivation and harvesting of crops. This includes fruit, vegetables, grain, and pumpkins.
Responsible for the management and implementation of a crop protection program and creating spray schedules.
Responsible for planting/picking quantity and schedule in collaboration with the Field Operation Manager.
Responsible for the generation and distribution of daily/weekly activity lists and accomplishment reports including, but not limited to picking schedule, herbicide application, insecticide application, water use log, etc.
Qualifications:
High school diploma.
Must obtain NJ Pesticide Applicator license if not already in possession.
At least 2 years of experience on a fruit and vegetable farm is preferred.
Flexibility with schedule and ability to work at least one weekend day per week.
Browse more Field Operations Jobs on AgHires now.
---
A little about the business: CHS Inc. is a leading global agribusiness owned by farmers, ranchers, and cooperatives across the United States that provides grain, food, and energy resources to businesses and consumers around the world. We serve agriculture customers and consumers across the United States and around the world. Most of our 10,000 employees are in the United States, but today we have employees in 19 countries. At CHS, we are creating connections to empower agriculture.
What you would be doing:
Customize feeding programs that precisely meet the producer's practices, pastures, and preferences.
Make recommendations and develop formulations unique to the customer's needs, using the latest technology.
Ensure water, forage, grains, and feeds are tested regularly in order to provide the most accurate ration balancing and performance projections.
Provide nutrition consultation and sales to key accounts in trade area.
Provide salesmanship to selected dealers and direct accounts assigned by sales management.
Quoting prices, credit terms, and preparing sales contracts for orders obtained.
Meet the needs and resolve the problems of current customers.
Prospect new accounts.
Attend periodic trade shows and nutritional or livestock industry meetings to promote the company image.
Qualifications:
High School diploma or GED.
4+ years of experience in Sales, Business Development, and/or Sales Business Operations.
3-5 years of dairy sales consultant experience.
Prior feed and/or livestock experience.
Search more Sales Jobs on AgHires now.
---
A little about the business: Fueled by an innovative drive and a deep understanding of the soil microbiome, Pivot Bio is pioneering game-changing advances in agriculture. Our first commercial product harnesses the power of naturally-occurring microbes to provide nutrients to crops. We are dedicated to providing new sustainable ways for farmers to improve yield as they work to help feed the world's growing population. Read/Hear more about Pivot Bio on OneZero or CNN.
What you would be doing:
Serve as a key player in a high-volume talent acquisition unit, representing Pivot Bio's brand in sourcing, assessing, and interviewing. Maintains a constant engagement with candidates, hiring managers, and interviewing team.

Collaborate with hiring managers and other People Operations leaders on talent acquisition projects.

Takes the lead in sourcing and identifying high-potential candidates by assessing their qualifications through review of resumes, phone screening, and other forms of communication.

Maintains contact with candidates to keep them apprised of the status of their applications; keeps a strong pulse on interest levels and/or concerns of top candidates.

Mentors and guides hiring managers on Pivot Bio's recruitment process and industry best practices.
Qualifications:
BS degree in Human Resources, Business, Psychology, or related field or have relevant equivalent experience.

Ability to develop and maintain effective relationships with hiring managers and interview teams.

At least 2 years of experience recruiting for research, scientific, computing, data science, bioprocessing, agriculture sales, agronomy, communications, and administrative roles.

Must have excellent written and communication skills.
Search more Human Resources Jobs on AgHires now.
---
The job opportunities within the agriculture industry are endless. Whether you are looking to start your journey or take the next step in your agriculture career, there is a place for you. Go to AgHires.com to search thousands of current job openings, ranging from agronomy jobs to marketing jobs to service technician jobs. New jobs are uploaded to our website daily.
Follow us on Facebook and Twitter to see more featured jobs.