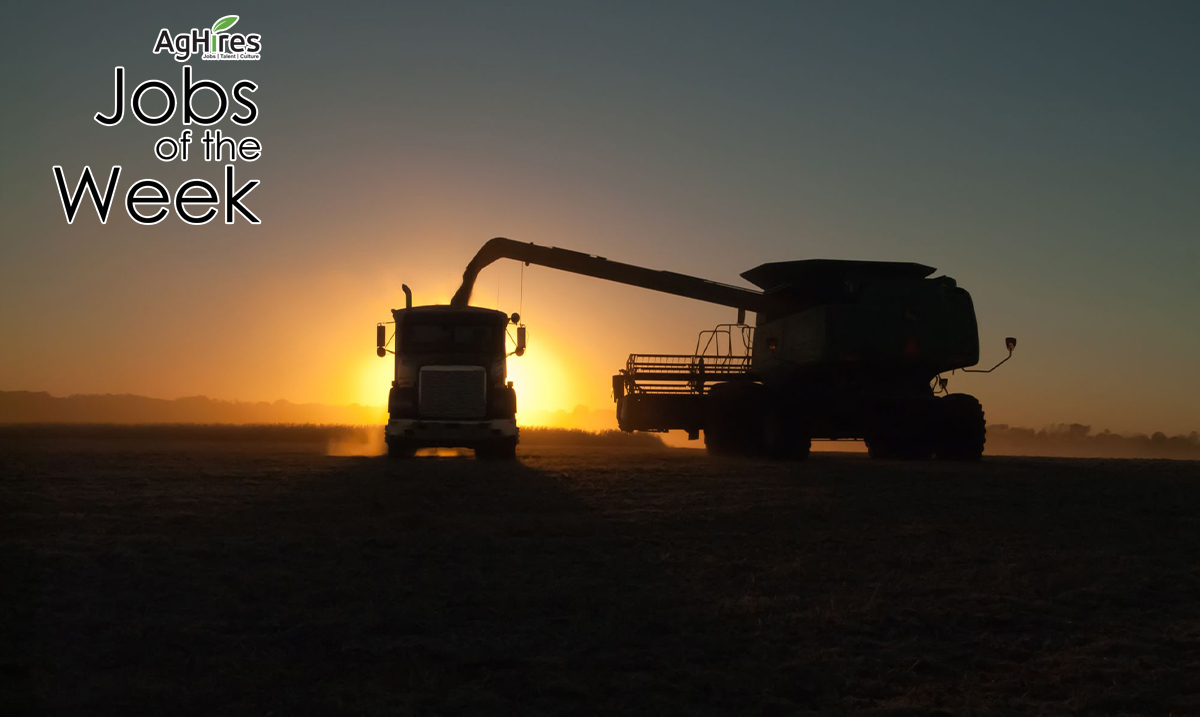 Top Agriculture Jobs of the Week
For the week of 7-25-22
AgHires works hard to be the number one resource for top jobs in agriculture. The agriculture industry provides a variety of job opportunities that range far and wide. Take a moment to search through the thousands of current job openings on AgHires.com, and check out this week's top Agriculture Jobs of the Week below.
A little about the business: Silver Creek Precision Ag is an agricultural service provider located in Treynor, Iowa (About 20 minutes east of Omaha, NE). We sell products for Ag Leader Technology and Precision Planting and provide custom application services for farms and cooperatives across Southwest Iowa. Our goal is to help farmers succeed through supplying superior products and services including chemicals, fertilizer, spraying, soil sampling, and crop consulting.
What you would be doing:
Collect soil samples and record sampling locations with GPS equipment.
Perform regular maintenance to provide UTV and soil sampler.
Navigate to designated sampling locations.
Maintain accurate records.
Qualifications:
Agricultural background is preferred but not required.
Valid Driver's License.
Prior experience operating ATV/UTV.
Basic mechanical abilities and technical skills.
Ability to solve problems and think cognitively.
Willingness to learn and work hard.
Search more Field Operation Jobs on AgHires now.
---
A little about the business:

What you would be doing:
Analyze brand positioning and consumer insights.

Translate brand elements into plans and go-to-market strategies.
Lead creative development to motivate the target audience to "take action".
Establish performance specifications, cost and price parameters, market applications, and sales estimates.
Maintain and monitor brand budgets.
Measure and report performance of all marketing campaigns and assess ROI and KPIs.
Monitor product distribution and consumer reactions.
Devise innovative growth strategies.
Launch new products and/or services as needed.
Reports to the Director of Marketing, North America.
Qualifications:
4+ years of experience in brand management or brand marketing.
Bachelor's degree in Marketing, Business, or related field.
Proven ability to develop brand and marketing strategies and communicate recommendations.
Experience in identifying target audiences and devising effective campaigns.
Excellent understanding of the full marketing mix.
Search more Marketing Jobs on AgHires now.
---
A little about the business: American AgCredit offers a unique opportunity to be a part of a national financial system supporting those who feed, clothe and fuel the world. We are a growing organization embracing collaboration and innovation while delivering transformative solutions. American AgCredit provides a cultivating environment where you truly make a difference for our customers and teams.
What you would be doing:
Oversee day-to-day operational functions and coverage of duties. Coordinate and monitor workloads and queues to ensure accuracy and timeliness.
Work in partnership with credit leadership to monitor and prioritize new loans and servicing actions, ensuring timely credit delivery in order to meet and exceed customer expectations.
Process new loans and servicing actions, complete due diligence throughout the loan origination process, including review of loan approvals, title reports, appraisals, entity documents, applications, and supporting information. Prepare requests and/or correspondence to obtain information or required documentation. Input all required data into the loan origination and related systems. Ensure loans are properly completed, secured, and documented.
Perform quality control audits on loan actions and servicing actions to ensure accuracy and compliance.
Forecast and schedule staffing based on business needs and ensure appropriate coverage and service levels are obtained at all times.
Qualifications:
BA/BS degree in agribusiness, business administration, finance or equivalent preferred
At least seven years related office experience documenting credits, processing credits, or a combination of related experience
Must possess a strong ability to build customer relationships, leadership, and supervisory skills
2-3 years experience of people management preferred
Ability to motivate, coach, develop and train staff within a team environment including staff in remote locations
Browse more Finance Jobs on AgHires now.
---
A little about the business: Braum's Dairy in Tuttle, Oklahoma, is looking to hire an experienced Dairy Farm Supervisor. We have a 50-year reputation for the highest quality milk and dairy products. We have approximately 10,000 milking cows that are milked twice a day in our milk parlor. This position works with the owners, dairy manager, and other members of the management team to manage dairy herd health, feeding and treating of animals, cleaning and maintenance of animal quarters, equipment maintenance, and other animal husbandry duties.
What you would be doing:
Supervise and coordinate activities of health technicians, feeders, bedders, maternity, nursery, milkers, and other supporting staff
Promote safety and professionalism at all times
Qualifications:
Must have experience managing a successful dairy with a track record of producing the highest quality milk
Trained in artificial insemination techniques
Knowledgeable in disease control, have the ability to identify illness, injury treatment, pregnancy checking, and other animal health activities
Knowledgeable in dairy nutrition
Able to manage and motivate employees through positive leadership
Able to communicate successfully with a broad spectrum of individuals to maximize safety, quality, and production
Benefits:
Medical insurance
Dental insurance
Vision insurance
401k retirement planning with company match
Short-Term Disability insurance
Paid vacations
Product discounts and MORE!
Search more Dairy Jobs on AgHires now.
---
A little about the business: Welcome to Bane-Welker Equipment, one of the largest Case IH equipment dealerships in the United States! Our rich histories span more than 50 years of servicing the needs of customers across Indiana, Ohio, and beyond. We take pride in the measurable and meaningful difference we make in our customer's businesses and are 100% employee-owned.
What you would be doing:
Supervise and control the workload of service technicians.

Schedules service work according to priority and maintains an orderly flow of work.

Supervises the training of service technicians with in-house training programs.

Maintains in good condition all service tools and service vehicles.

Responsible for keeping shop area clean.

Responsible for the safety of service technicians and maintaining a safe working environment in the shop area and reporting all accidents to Human Resources.

Assists sales manager, in evaluating trade-ins.
Qualifications:
2-year degree plus 3 years of experience or equivalent years of experience.

A customer-focused and "be of service" attitude.

Organizational ability and systematic timing.

Adequate knowledge of work processes and requirements for both physical labor and shop equipment.

Proven knowledge of methods, materials, tools, and techniques used in the repair of agricultural equipment.

Leadership, tact, and knowledge in assigning and instructing personnel in the proper performance of mechanical operations safely and without damage to materials or persons.
Search more Maintenance Jobs on AgHires now.
---
The job opportunities within the agriculture industry are endless. Whether you are looking to start your journey or take the next step in your agriculture career, there is a place for you. Go to AgHires.com to search thousands of current job openings, ranging from agronomy jobs to marketing jobs to service technician jobs. New jobs are uploaded to our website daily.
Follow us on Facebook and Twitter to see more featured jobs.