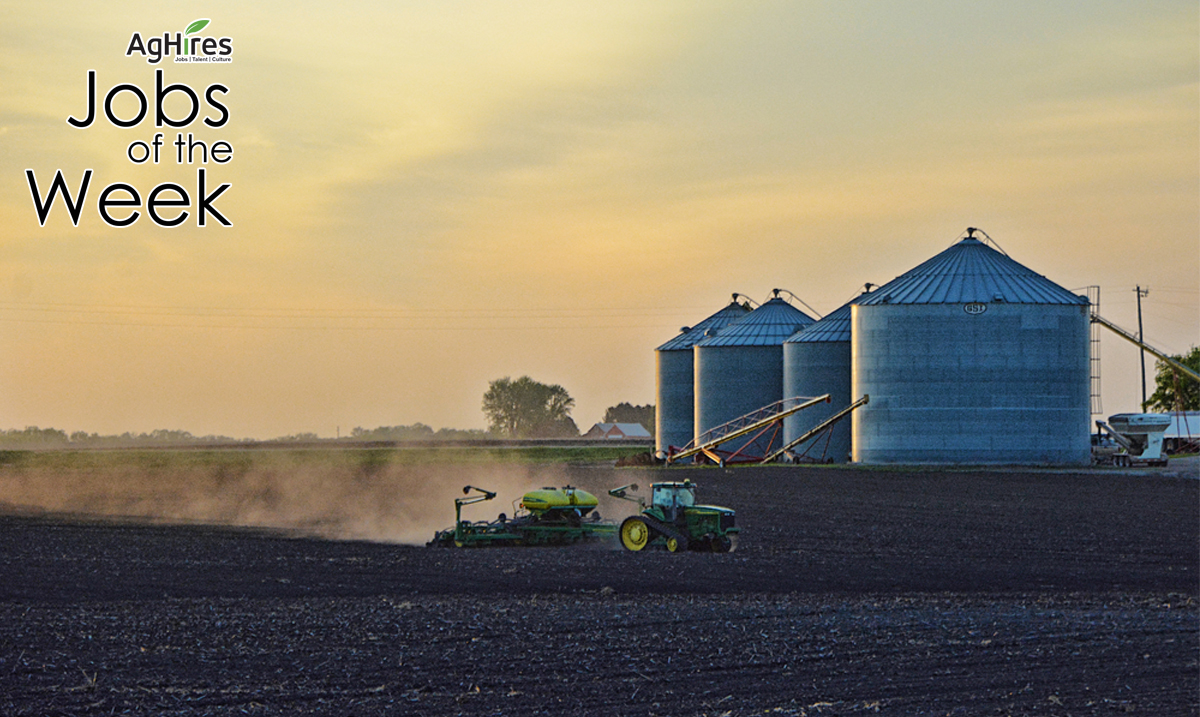 Top Agriculture Jobs of the Week
For the week of 2-8-21
AgHires works hard to be the number one resource for top jobs in agriculture. The agriculture industry provides a variety of job opportunities that range far and wide. Take a moment to search through the thousands of current job openings on AgHires.com, and check out this week's top Agriculture Jobs of the Week below.
A little about the business: Integrity Tree Services has been serving both residential and utility companies since 1998. Our team members work on multiple job sites throughout the midwest, including Indiana, Kentucky, Michigan, Ohio, Virginia, West Virginia, and more. If you prefer to stay local, we may have openings within an easy commuting distance, depending on where you're located. For those looking for a culture where you are respected, challenged, and play an integral role, join us!
What you would be doing:
A team member in this class is responsible for all record keeping necessary for the evaluation of subordinate team members and proper administrative reporting of crew activities.
Assignments are received verbally or in the form of work orders and carry relatively detailed instructions regarding the work to be performed. The work is inspected in progress and is subject to final review by a supervisor or utility forester for conformance with instructions.
Supervision is exercised over subordinate arborists and lower level team members engaged in tree clearing & maintenance work.
Readily accept accountability for crew availability, as well as assist in on-the-job training for less experienced climbers and bucket operators.
Possess and utilize sufficient communication skills to ensure that crew members have proper understanding of work directives and the ability to effectively communicate with our customers/property owners about work practices to obtain their concurrence with the necessary work.
Qualifications:
Must have 2 or more years of professional experience managing documentation, processes, and people within tree service industry.
Have a thorough knowledge of proper pruning techniques (natural and directional pruning).
Operation of specialized tree care equipment; and some experience supervising a work crew; or any equivalent combination of training and experience which provides the desirable knowledge, abilities and skills.
Have a broad knowledge of all climbing skills and all other technical aspects (mechanical and manual) of electrical line clearance operations.
A Foreman will obtain or possess considerable knowledge of tree care and the methods, techniques and specialized equipment used in the pruning and removal of trees.
Search more Forestry Jobs on AgHires now.
A little about the business: At Cow Pleasant Dairy, we aim to produce milk, beef and crops of the highest quality with respect for the people, animals and the land that help produce it. We are a family owned 3,400 head dairy located in Weidman, MI.
What you would be doing:
Diagnosing and treating mastitis according to farm protocol
Vaccinating and following T.A.I. protocols
Assist with calvings and fresh cow care
Sorting cows for treatment, group changes and/or hoof trimming
Accurately record all treatments and communicate with Herd Manager
Manage Cow Manager system-replace tags when needed
Check for mixed cows; be sure cows are in correct pen
Move cows to and from hospital-assist in keeping hospital inventory
Prepare cows to be sold
Input daily information into PC- Dart and make lists when necessary
Qualifications:
Have experience working with dairy cattle and are passionate about cows, livestock, and agriculture.
Are looking to be a part of a progressive operation focused on continuous improvement.
Are considered a team player having strong communication skills and abilities.
Ability to work 50- 60 hours per week.
Search more Dairy Jobs on AgHires now.
A little about the business: Welcome to Bane-Welker Equipment! Our rich histories span more than 50 years servicing the needs of customers across Indiana, Ohio and beyond. We take pride in the measurable and meaningful difference we make in our customer' businesses and are 100% employee owned.
What you would be doing:
Performs repair and maintenance work on equipment, in accordance with time schedules as assigned by service manager.
Makes certain that work assignment is correct, ask for clarification if there are questions.
Maintains tools and equipment, and notify the service manager if tools need replacement, or new tools are needed.
Maintains cleanliness of the working area and presents a neat and professional appearance.
Maintains cleanliness of the customer's equipment.
Qualifications:
2-year degree plus 3 years of experience OR equivalent years of experience.

A customer centric and "be of service" attitude.
Proven knowledge of methods, materials, tools, and techniques used in the repair of agricultural equipment.
Outstanding knowledge of mechanical, electrical, and hydraulic systems.
Mechanical ability and familiarization with testing equipment and diagnostic procedures.
Excellent skills in operating vehicles and equipment used for diagnostic purposes.
Valid driver's license.
Browse more Equipment Jobs on AgHires now.
A little about the business: Central Valley Ag (CVA) is a member-owned farmers' cooperative headquartered in York, NE with locations throughout Nebraska, Kansas and Iowa. Established in 2003, CVA has over 900 employees and is an innovative leader providing products and services in grain, agronomy, feed, and energy. You can find more information about Central Valley Ag by visiting www.cvacoop.com.
What you would be doing:
Batch, mix and route feed according to specified formulas, procedures and schedule to fully utilize batching controller, mixing equipment, and routing equipment.
Follow GMP's, Quality Control, HACCP, FSMA and established plant procedures.
Ensure team safety by adhering to CVA's high safety standards.
Accurately complete and maintain assigned reports and documents.
Monitor product quality through visual inspection and onsite testing equipment.
Qualifications:
Ability to sit/stand/walk/ for long periods of time.
Capable of working in confined spaces, heights, bending and kneeling.
Ability to lift and carry a minimum of 55 pounds repeatedly.
Ability to think on your feet in a team manufacturing setting and provide feedback related to the manufacturing process.
Ability to work in dust and varying temperature conditions.
Search more Operations Jobs on AgHires now.
A little about the business: Farmward Cooperative™ was formed with the merger of two strong, long-standing local cooperatives: Harvest Land and Co-op Country Farmers Elevator. Together, Farmward is a very diversified and forward-thinking company. Headquartered in Morgan, MN, we have outlet locations in Clements, Comfrey, Danube, Morton, Olivia, Renville, Sacred Heart, Springfield, and Wabasso. We offer a full range of agricultural products and services, including grain handling and marketing, crop protection, crop nutrients, seed, precision ag, bulk feed manufacturing and delivery, and bulk delivery of energy products, including refined fuels, propane, and lubricants. Farmward also provides producer financing, leasing, crop insurance, and property & casualty insurance through our subsidiary companies, AgQuest Financial and Northland Capital.
What you would be doing:
Farmward Cooperative is seeking a Propane & Fuel Delivery Driver to deliver bulk propane and refined fuel within a 50 mile radius of Springfield. This position is ideal for anyone who likes to organize their own time and workload and work independently. The ability to be professional and customer service driven is a must. Being a safe and alert Driver is critical.
Qualifications:
At least 21 years old with a valid Class A CDL with HazMat, Tanker, and a minimum of a verifiable two-year driving record.
Proficient verbal and written communication skills.
Willingness to work outdoors in all weather and driving conditions.
Ability to climb steps/ladders and carry multiple propane cylinders weighing up to 75 lbs each.
Bending and climbing in and out of the truck.
Search more Transportation Jobs on AgHires now.
The opportunities within the agriculture industry are endless. Whether you are looking to start your journey or take the next step in your agriculture career, there is a place for you. Go to AgHires.com to search thousands of current job openings, ranging from agronomy jobs to marketing jobs to service technician jobs. New jobs are uploaded to our website daily.
Follow us on Facebook and Twitter to see more featured jobs.