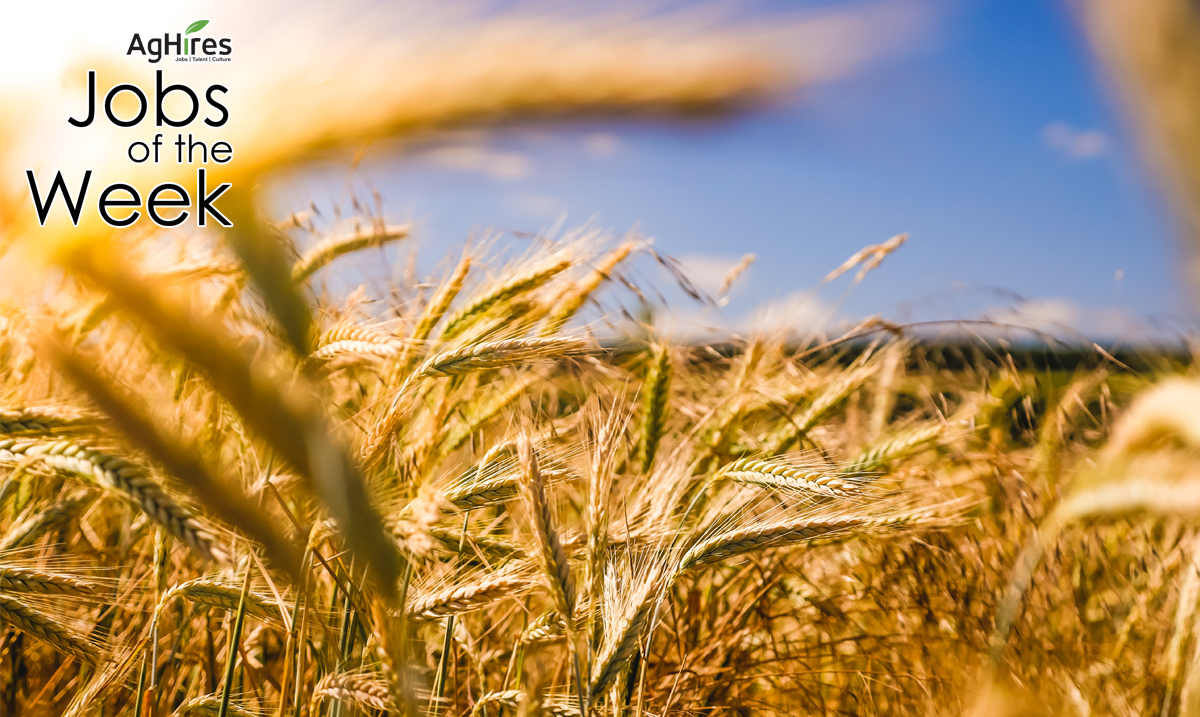 Top Agriculture Jobs of the Week
For the week of 2-22-21
AgHires works hard to be the number one resource for top jobs in agriculture. The agriculture industry provides a variety of job opportunities that range far and wide. Take a moment to search through the thousands of current job openings on AgHires.com, and check out this week's top Agriculture Jobs of the Week below.
A little about the business: Quality Irrigation founded in 1986 has a deep-rooted history of providing customers quality products backed by quality service. With three locations covering Yuma & Wray, Colorado and McCook, Nebraska and surrounding areas, we install and service center pivot irrigation systems, well pumps and submersible pumps. We are a qualified Valley Irrigation dealer and are committed to Valley products. Whether it's a large multi-system pivot and irrigation pump project, an electrical conversion on a 30-year-old pivot, or packing a used center pivot to be delivered halfway around the world, Quality Irrigation is continually striving to meet and exceed customer expectations in all of our business dealings. With Quality Irrigation you will enjoy the strength of our industry, meaning job security through bad economic times. We are growing as a company and plan to continue providing more opportunities for advancement in the future.
What you would be doing:
Troubleshoot, diagnose, and repair irrigation systems and provide guidance to other technicians.
Work directly with farm growers to understand problems and communicate steps taken to repair the issues.
Work with installation crews on the erection of new equipment.
Welding – fabrication of equipment (if you have this skill).
Demonstrate to growers how to use the control panels and operate equipment; be an ongoing resource for the customer.
Communicate to grower's available products and services that would meet their farm's needs.
Maintain clear customer records.
Qualifications:
Experience in maintenance and repair of irrigation systems with strong electrical and mechanical skills and preferably welding experience.
Ability to work year-round, work outdoors in the elements, walking fields of growing crops and lifting 75lbs.
Ability to use service-related technology and basic computer functions.
Valid driver's license, clean driving record and preferably a CDL.
Willingness to travel within the territory.
Search more Irrigation Jobs on AgHires now.
What you would be doing:
Oversee daily grow operations including quality control, productivity, and efficiency
Monitor all parameters including but not limited to nutrient management and climate management, etc.
Manage production schedules and priorities for production of mushrooms, including resource requirements based on volume
Properly document grow activities
Train, coach, and evaluate the performance of the grow team
Provide direct management of key functional personnel on the farm
Qualifications:
Bachelor's degree in horticulture, plant pathology, biology, controlled environment agriculture (CEA), or equivalent years in indoor growing experience
Must have mushroom experience as a grower or mycologist
Experience with grower plans, integrated pest management, disease management, fertigation strategies, and plant nutrient management in a controlled environment
Proven ability to build and lead a team with an entrepreneurial mindset
Search more Farming Jobs on AgHires now.
A little about the business: Rice Lake Farms is a second generation family owned business since 1950. Located in the fertile and famous muck fields of Grant Michigan.
What you would be doing:
Must be hands-on with employees in a labor-intensive environment.
Ability to direct, train and delegate work to personnel.
Oversight of line supervisors in charge of packers, graders and general labor employees for the packing of fresh produce, operating sorting equipment, and time based production management.
Completes documentation of time cards, shipping & receiving documents and reports in timely, efficient manner. Documents employee attendance & disciplinary actions.
Qualifications:
Must have at least 3 years experience as a Plant/Operations Manager running fresh produce packing facility or related field.
High School diploma or equivalent.
Bachelor's degree preferred OR equivalent combination of related education and/or experience may be considered.
Clean driving record and Valid Driver's License required.
Browse more Management Jobs on AgHires now.
A little about the business: Michigan Freeze Pack is a produce processing facility that runs and freezes 40 million pounds of fruit and vegetables per year. Our 100,000 square foot facility is in Hart, Michigan which is central to one of the country's premier locations for growing select fruits and vegetables.
What you would be doing:
Preparation of monthly financial statements and management reports.
Performs additional analysis of financial information.
Run Product and Labor Cost analysis to reduce manufacturing variances and improve Profit Margins.
Assist Managers in identifying profit improvement opportunities and cost savings.
Assist Managers in ROI Analysis for major investments.
Cash Flow Projections.
Develops risk management accounting policies and procedures relative to operations and monitors for compliance.
Qualifications:
Bachelor's degree in Accounting, Financial, or Business Administration with a minimum of 3-5 years of related experience in accounting; or equivalent combination of education and experience.
In-depth knowledge of cost accounting beneficial. Excellent communication skills. Excellent problem solving and analytical skills.
Proficient in Microsoft Office (M.S. Word, Excel and PowerPoint)
Experience with advanced ERP software preferred.
Search more Finance Jobs on AgHires now.
A little about the business: CEMML is a research, education and service unit within the Warner College of Natural Resources at CSU. CEMML applies the latest and most appropriate science to promote the sustainable management of natural and cultural resources on Department of Defense (DoD) and other public lands. We provide technical support, conduct applied research, and offer career development and learning opportunities to support resource stewardship. We collaborate with our sponsors and within CSU to resolve complex environmental issues, leaving a legacy of science-based decisions that sustain our resources for future generations.
What you would be doing:
Assist the Land Rehabilitation and Maintenance (LRAM) component of the Integrated Training Area Management (ITAM) program to sustain realistic training land conditions and the support of mission requirements for units at the installation.

Execute rehabilitation and maintenance projects, and will monitor the effectiveness of various methodologies.

Conduct field work, collect data, will survey and assist with land rehabilitation projects by clearing debris, mowing, removing invasive species, and conducting other assigned duties.

Use and operate light and heavy equipment to help maintain trails, roads and training lands.
Qualifications:
Must have at least 6 months' experience with the use and maintenance of light and heavy equipment typically associated with land rehabilitation projects (e.g., trucks, trailers, hydro-seeders, tractors, and light equipment such as chainsaws, string trimmers and associated motorized equipment).
Must have experience with vegetation rehabilitation techniques and applications.
Must have or be able to obtain and maintain a valid California driver's license.
Must be able to work in field conditions that includes rugged terrain and extreme weather (low humidity, extreme heat) as well as be able to repeatedly lift 50 pounds.
The successful candidate must be eligible to work in the United States by the proposed start date; CEMML will not provide visa sponsorship for this position.
A Commercial Driver's License (CDL) Class 1 or 2 is preferred.
Search more Equipment Operator Jobs on AgHires now.
The job opportunities within the agriculture industry are endless. Whether you are looking to start your journey or take the next step in your agriculture career, there is a place for you. Go to AgHires.com to search thousands of current job openings, ranging from agronomy jobs to marketing jobs to service technician jobs. New jobs are uploaded to our website daily.
Follow us on Facebook and Twitter to see more featured jobs.