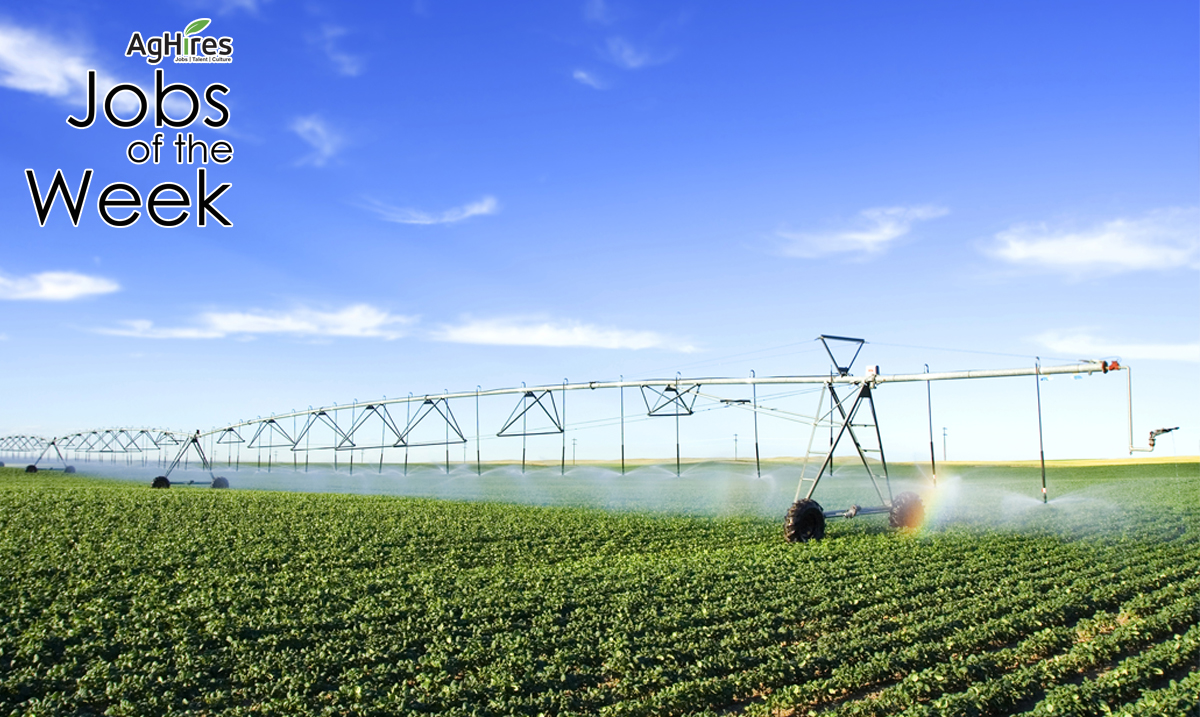 Top Agriculture Jobs of the Week
For the week of 2-15-21
AgHires works hard to be the number one resource for top jobs in agriculture. The agriculture industry provides a variety of job opportunities that range far and wide. Take a moment to search through the thousands of current job openings on AgHires.com, and check out this week's top Agriculture Jobs of the Week below.
A little about the business: Central Valley Ag (CVA) is a member-owned farmers' cooperative headquartered in York, NE with locations throughout Nebraska, Kansas and Iowa. Established in 2003, CVA has over 900 employees and is an innovative leader providing products and services in grain, agronomy, feed, and energy. You can find more information about Central Valley Ag by visiting www.cvacoop.com.
What you would be doing:
Ensures that equipment meets all federal, state and OSHA regulations.
Upholds all Central Valley Ag policies.
Assures safety compliance and attends safety related job trainings when they become available.
Performs billing of agronomy products and services.
Weighs and grades inbound and outbound grain.
Balances accounts payable statements.
Runs miscellaneous daily reports.
Qualifications:
Must possess good problem solving skills by using logic and reasoning to identify solutions to problems.
Has a good understanding of basic computer skills and the ability to learn how to use software quickly.
Possesses the ability to communicate effectively in person, over the phone and via text.
Has the ability to work with others to resolve customer complaints.
Exhibits self-motivation, the ability to multitask and pay close attention to small details.
Exhibits the ability to prioritize tasks and complete them in a high-pressure environment.
Search more Customer Service Jobs on AgHires now.
A little about the business: CHS Inc. is a leading global agribusiness owned by farmers, ranchers and cooperatives across the United States. Diversified in energy, grains and foods, CHS is committed to helping its customers, farmer-owners and other stakeholders grow their businesses through its domestic and global operations. CHS supplies energy, crop nutrients, grain marketing services, animal feed, food and food ingredients, along with insurance, financial and risk management services. The company operates petroleum refineries/pipelines and manufactures, markets and distributes Cenex® brand refined fuels, lubricants, propane and renewable energy products.
What you would be doing:
Provide leadership and vision for our feed business. Be a part of planning and coordinating feed products offered by the cooperative to area producers through a team effort.
Manage the locations workforce in the areas of ingredient receiving, feed manufacturing and delivery through responsible training, clear job assignment definition and explanation, and regular employee reviews.
Formulate annual operation budgets and manage profit and loss performance relative to budget expectations.
Manage an annual capital budget. Identify and submit annual capital appropriations request, and oversee projects through completion in conjunction with vendors and Maintenance Supervisor.
Be a part of a team that develops and establishes growth strategies to support sales and revenue objectives for the cooperatives feed business.
Qualifications:
Bachelor's degree in Business Management, Animal Science or related program (additional years of experience my offset education requirement)
5 years feed industry experience to include:

Managing staff of ten (10) plus employees at single location in multiple shifts
Developing & managing operating budgets of $65 million plus
Understanding of feed manufacturing processes, manufacturing equipment, and ingredient quality in a multi-species feed manufacturing environment
Working knowledge and experience with government regulation requirements regarding feed manufacturing and transportation.
Search more Cooperative Jobs on AgHires now.
A little about the business: Welcome to AgHires! We are a leader in recruiting and job advertising for the agriculture, agribusiness, food production, produce, and horticulture industries. We pride ourselves on deep partnerships, open communication, and integrity above all to deliver top talent. Our clients are within the United States as well as Canada and support businesses of all sizes from small to Fortune 500. We have a differentiated approach to recruiting and share the same passion our clients have for the food and ag industry.
What you would be doing:
Manage accounting on an accrual basis for two entities
Record and process AP, AR and other bank entries
Perform month-end closing and final bank reconciliations
Manage vendor relations and conduct vendor analysis to ensure the right partnerships
Work with the owner on ways to control costs and expenses
Develop and produce monthly financial reporting and actual-to-budgets
Develop and monitor weekly business performance reporting for sales, recruiters and other key KPIs
Work closely with the Owner to lead continuous improvement efforts
Qualifications:
Hold a bachelor's degree or higher
5+ years of managerial accounting and financial analysis experience
Enjoy a high variety of work and can work successfully remotely
Proven ability to maximize the use of technology to improve efficiency and provide meaningful data
Browse more Accounting Jobs on AgHires now.
A little about the business: Northern Partners Cooperative is the premier full service Cooperative serving North Central Illinois. As a full service cooperative we strive to maintain quality staff, equipment, locations and information across our offerings.
What you would be doing:
Sales Expertise:

Recommend fertilizers, chemicals, and seed producing the greatest yield and profitability for members. Write up product orders and verify price to maintain margins. Submit orders for processing and follow up with procurement. Help coordinate product delivery or application with Location Manager. Grows the current market share. Assists in developing competitive marketing strategies. Agronomy Sales and Marketing Director (ASMD) will establish annual goals for AAM. AAM will complete a business plan for the ASMD for approval and execution. Identify opportunities to cross-sell for other areas of the business.
Prevention:

Develop plans for pest infestations and other crop related issues. Scouts fields to monitor crop progress. Communicates with producers on crop development. Makes recommendations for additional treatments or applications to improve crop production. Conduct testing and communicate the results to the supplier.
Communication:

Communicates with Location Manager regarding the timing of producers' applications. Communicates with Agronomy Operations regarding field locations, provides application maps and instructions for product placement, and any other application concerns. Follows up with producers after application and resolves any application issues. Communicates with Office Administrator to ensure accurate records and billing in a timely manner.
Qualifications:
Associates Degree in agriculture or related field preferred.
Bachelor's Degree in in agriculture or related field is a plus.
Knowledge of farming practices.
Knowledge of technical skills and abilities necessary to perform required job to establish standards.
Remains current on industry developments and trends in area of expertise.
Strong computer and technology skills.
Excellent written and verbal and communication.
Approachable; puts others at ease, give full attention, shows interest, responds appropriately. Builds relationships both internally and externally through professional and highly developed verbal and written communications.
Search more Sales Jobs on AgHires now.
A little about the business: Northtree Ranch is a 1,600-acre, private, rice farming operation located in Northern California. We take pride in caring for the land. We diligently maintain our equipment and communicate openly and with integrity throughout the company. Our company culture is one that values teamwork, transparency, and conscientious work ethic. Join a small team that is passionate about working together, taking pride in what they do, and operating top of the line, well-maintained equipment.
What you would be doing:
Working in shop servicing and maintaining equipment
Planting, cultivating, spraying, and harvesting row crops
Operating all equipment associated with row crops
Other general duties around the farm as necessary
Qualifications:
Have experience with farm equipment.
Have a willingness to learn rice farming.
Consider yourself a hard worker that is self-motivated.
Are looking for a long-term opportunity to grow your career.
Are willing to work extended hours during peak seasons.
Search more Maintenance Jobs on AgHires now.
The job opportunities within the agriculture industry are endless. Whether you are looking to start your journey or take the next step in your agriculture career, there is a place for you. Go to AgHires.com to search thousands of current job openings, ranging from agronomy jobs to marketing jobs to service technician jobs. New jobs are uploaded to our website daily.
Follow us on Facebook and Twitter to see more featured jobs.