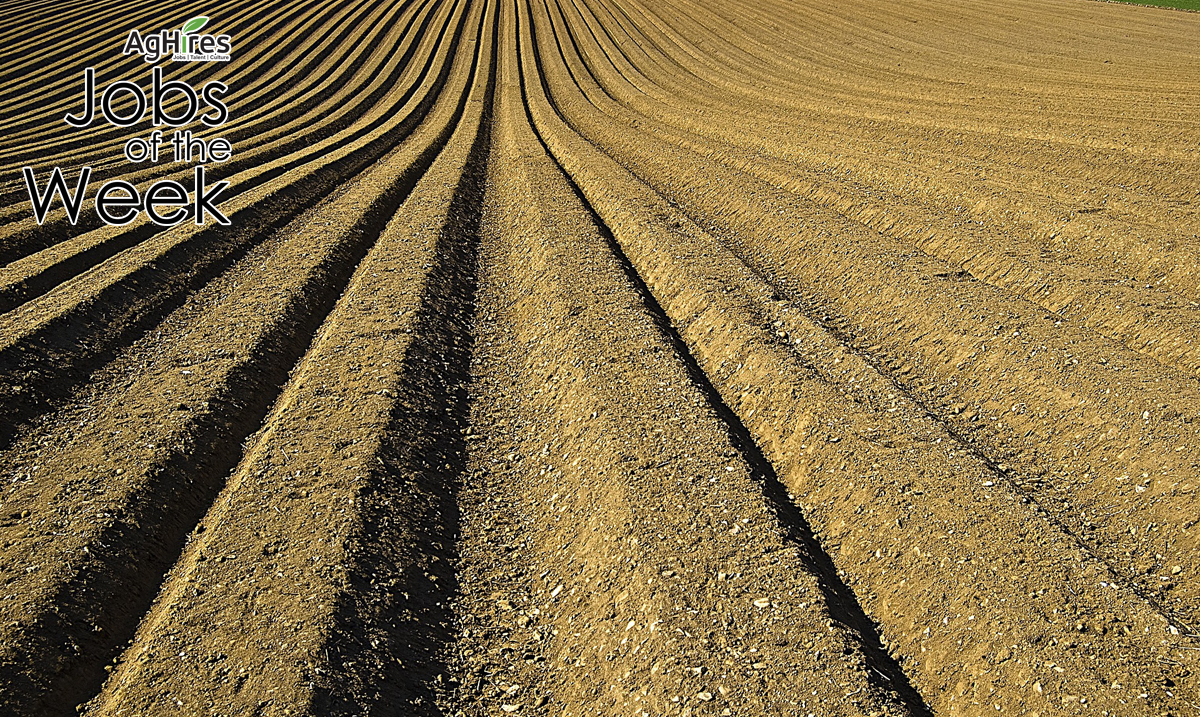 Top Agriculture Jobs of the Week
For the week of 2-1-21
AgHires works hard to be the number one resource for top jobs in agriculture. The agriculture industry provides a variety of job opportunities that range far and wide. Take a moment to search through the thousands of current job openings on AgHires.com, and check out this week's top Agriculture Jobs of the Week below.
A little about the business: Rodkey New Holland, Inc., is a full-service agricultural farm equipment dealership part of a group of 6 locations in northern Indiana.
What you would be doing:
Cold calling on customers, able to follow up on leads
Flexible work schedule to be in office, out selling, demoing equipment as needed
Work with other store/complex employees well, team player
Preparation of proper and accurate invoices.
Qualifications:
Experience with agriculture equipment recommended
Able to use computer programs such as Microsoft Office, windows (to save files) etc.
Comfortable to operate farm equipment
Can understand financing and leasing
Search more Sales Jobs on AgHires now.
A little about the business: The CISCO Companies, based in Indianapolis, Indiana, is a 50-year-old, family-owned distributor to seed, lawn & garden, greenhouse, farm supply, pet, and feed ingredient dealers throughout the Midwest. CISCO offers a wide range of products from nearly 400 vendors, plus seven company-owned house brands.
What you would be doing:
Oversee the production of seed mixing and ensure its quality and accuracy
Lead a department of 6 to 12 employees and monitor performance of team members
Train new employees in the mixing department
Maintain organization and cleanliness
Oversee daily routines and plan the daily mixing schedule
Keep flow of workload moving efficiently
Communicate verbally and in writing with office staff
Enforce safety
Qualifications:
Experience in agricultural mixing or a related field preferred
Experience in a prior leadership role preferred
Detail-oriented, organized, and efficient
Excellent organizational and communication skills, including experience using email and Microsoft Excel
Upbeat attitude
Ability to multi-task
Self-motivated
Search more Manufacturing Jobs on AgHires now.
A little about the business: Central Valley Ag (CVA)is a member-owned farmers cooperative headquartered in York, NE with locations throughout Nebraska, Kansas and Iowa. Established in 2003, CVA has over 900 employees and is an innovative leader providing products and services in grain, agronomy, feed, and energy. You can find more information about Central Valley Ag by visiting www.cvacoop.com.
What you would be doing:
Champion CVA's culture of quality agronomy service initiatives.
Assist and investigate all product & agronomy claims by customers.
Assist in supervising the day to day operations of the location.
Assist in managing employees at the individual location.
Assist in interviews, hiring, training and motivating employees.
Assist in planning, assigning and directing work of employees.
Browse more Management Jobs on AgHires now.
A little about the business: Northtree Ranch is a 1,600-acre, private, rice farming operation located in Northern California. We take pride in caring for the land. We diligently maintain our equipment and communicate openly and with integrity throughout the company. Our company culture is one that values teamwork, transparency, and conscientious work ethic. Join a small team that is passionate about working together, taking pride in what they do, and operating top of the line, well-maintained equipment.
What you would be doing:
Planting, cultivating, spraying, and harvesting row crops
Operating all equipment associated with row crops
Other general duties around the farm as necessary
Qualifications:
Have experience with planting to harvesting row crops.
Have a willingness to learn rice farming.
Consider yourself a hard worker that is self-motivated.
Are looking for a long-term opportunity to grow your career.
Are willing to work extended hours during peak seasons.
Search more Operations Jobs on AgHires now.
A little about the business: Lakeshore Feed LLC is a growing small business that is family-friendly. Located in West Michigan this company has been built on excellent customer service and quality products which we strive to maintain.
What you would be doing:
Delivering feed throughout Michigan

Assist in some mill operations

Ex/loading trucks
Qualifications:
Class A CDL and a good driving record.

Experience with agriculture is helpful.

Individuals should be self-motivated with good time management skills and be able to work well as a team.
Search more Trucking Jobs on AgHires now.
The opportunities within the agriculture industry are endless. Whether you are looking to start your journey or take the next step in your agriculture career, there is a place for you. Go to AgHires.com to search thousands of current job openings, ranging from agronomy jobs to marketing jobs to service technician jobs. New jobs are uploaded to our website daily.
Follow us on Facebook and Twitter to see more featured jobs.