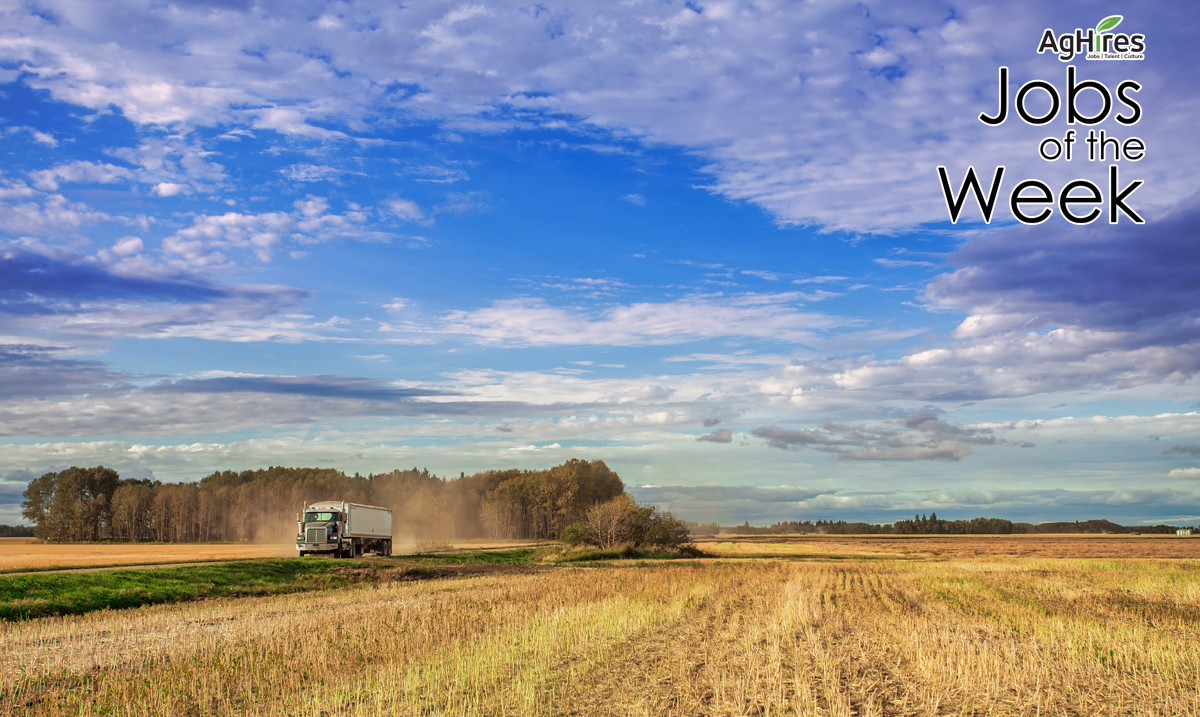 Top Agriculture Jobs of the Week
For the week of 11-16-23
AgHires works hard to be the number one resource for top jobs in agriculture. The agriculture industry provides a variety of job opportunities that range far and wide. Take a moment to search through the thousands of current job openings on AgHires.com, and check out this week's top Agriculture Jobs of the Week below.
A little about the business: N-Drip is on a mission to save water resources while supporting agriculture around the world with the first and only irrigation-micro solution powered by gravity. N-Drip's disruptive technology provides precise irrigation, producing higher yields while saving water, without adding energy or needing water filtration.
What you would be doing:
Ensuring a pleasant working environment and smooth ongoing operation of all administrative needs in the office.
Monitoring planning versus execution of task decisions and work plans of the business development and sales team.
Coordinating appointments, and meetings, managing staff calendars, and schedules.
Coordinating domestic and international travel including flights, hotels, and car rental reservations.
Supporting Marketing and Sales department's needs.
Qualifications:
Experience as an Office Coordinator, Office Administration, or Personal Assistant
Experience in coordinating day-to-day operations calendars, expenses, and planning
Accurate note-taking, record-keeping, and data entry
Search more Administrative Jobs on AgHires now.
---
A little about the business: KTM FARM is a family-owned and operated farm located in the Red River Valley of North Dakota since 1975. We are committed to producing quality products such as wheat, corn, soybeans, and sugar beets. We strive to keep up with recent technology, and equipment and use the most optimal farming practices that enhance productivity and preservation of the land.
What you would be doing:
Operate farm equipment; tillage, sugar beets, combine, etc.

Work with GPS and precision ag equipment.

Truck Driving.
Qualifications:
You have prior experience operating heavy equipment such as farm tractors, construction, or military

You pay attention to the details; keep accurate records, take care of equipment

You have some mechanical understanding and can identify problems and assist with light maintenance

You love the autonomy of operating

modern/late-model

equipment and are comfortable with the longer hours involved in farming
We offer competitive compensation based on experience 55,000+, 401K with Company Match, health care benefits, and PTO. Overtime over 40 hours for those who qualify. We care about our family of employees and offer a great working environment that promotes growth and longevity.
Search more Farming Jobs on AgHires now.
---
A little about the business: Taggares Fruit Company is an agribusiness company growing high-quality permanent orchard fruits including apples, cherries, wine grapes, and Concord grapes. The Taggares farm offers outstanding long-term performance based on the carefully curated varietal mix and superior growing conditions along the Snake River. Leveraging new technologies both in the fields and in the office, and with a sustained focus on stewardship, Taggares is poised to become one of the largest growers in Washington State.
What you would be doing:
Maintaining financial reports, records, and general ledger accounts.
Preparing journal entries, analyses, and account reconciliations and performing the monthly close processes.
Perform financial reporting analysis as requested by the executive team.
Contributes to the development and review of annual operating budgets and performance projections.
Qualifications:
Bachelor's degree in accounting, economics, or finance is required
CPA or CPA candidate is strongly preferred.
5+ years of accounting experience.
Excellent communication skills, both written and verbal.
Strong numeracy and analytical skills.
Benefits:
Healthcare
Vacation/Paid Time Off
Browse more Finance Jobs on AgHires now.
---
A little about the business: Central Valley Ag is a farmer-owned cooperative headquartered in York, Neb. CVA has locations in Iowa, Kansas, and Nebraska. CVA is an innovative leader providing products and services in grain, agronomy, feed, and energy.
What you would be doing:
Sell and deliver fuel, gasoline, propane, oil, and bulk oil to CVA customers.
Strive for the most efficient delivery process for all CVA products to customers.
Complete sales tickets on customer sales for all products sold.
Assist in keeping track of all fuel, propane, and oil tanks that were taken out to CVA customers.
Aid in monitoring and taking physical inventories of propane, gas, and diesel bulk tanks.
Aids with sales efforts and provides good customer service.
Comply with credit policies.
Qualifications:
3 to 5 years of driving experience.
High School or GED diploma.
Class B CDL with HazMat and Tanker endorsement, CETP Propane Certificate, and training in OSHA and DOT requirements.
Search more Trucking Jobs on AgHires now.
---
A little about the business: Welcome to 2K Feeders! We're a family-oriented, diversified farming operation in Burns, KS covering row crops, and our feed yard is a major part of the operation. We are located about 45 miles northeast of Wichita. We're committed to providing excellent service to each one of our customers, employees, and the numerous consultants we work closely with. We uphold the value of honesty, integrity, and grit throughout our agricultural operation and we are looking for someone who shares the passion we have for agriculture and doing things the right way.
What you would be doing:
Coordinate with the team on operational tasks, logistics, livestock health management, planning, and day-to-day execution of feed yard practices.

Lead day-to-day operations maximizing efficient use of labor, equipment, and time.

Maintain the cleanliness, organization, and appearance of the feed yard and machinery.
Qualifications:
Farming, pen rider, or ranch experience

Proven ability to work with a team along with leadership skills

High level of honesty, integrity, and dedication
Search more Livestock Jobs on AgHires now.
---
The job opportunities within the agriculture industry are endless. Whether you are looking to start your journey or take the next step in your agriculture career, there is a place for you. Go to AgHires.com to search for thousands of current job openings, ranging from agronomy jobs to marketing jobs to service technician jobs. New jobs are uploaded to our website daily.
Follow us on Facebook and Twitter to see more featured jobs.