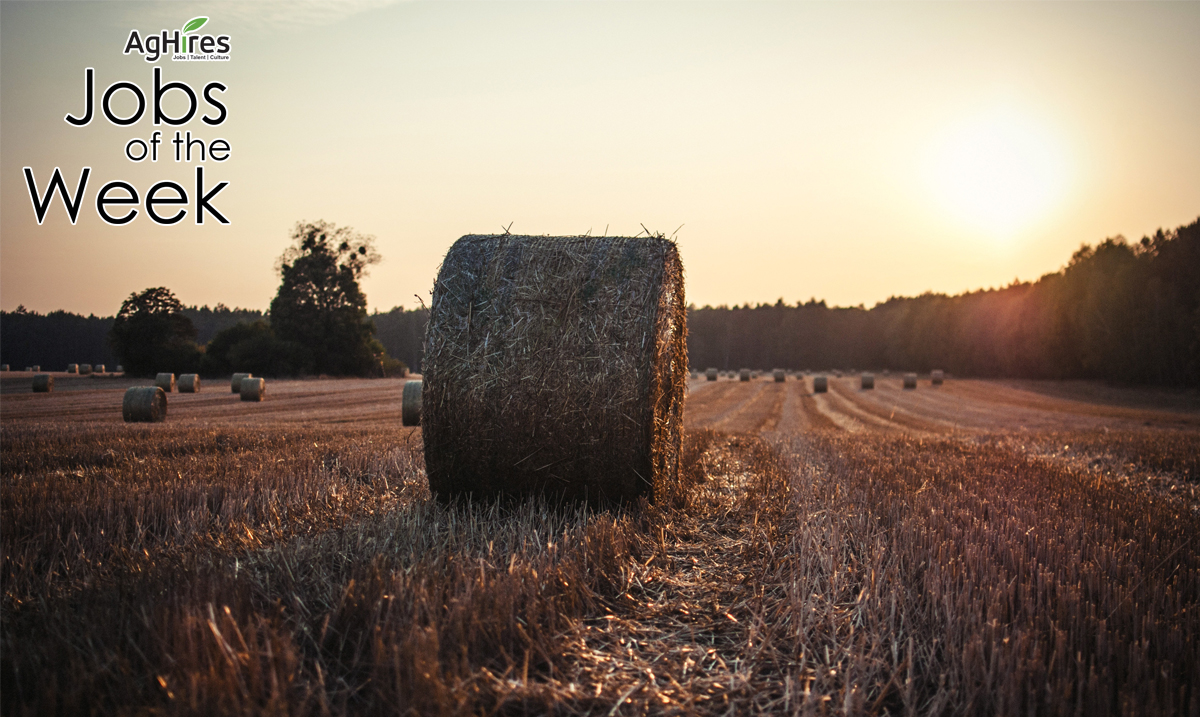 Top Agriculture Jobs of the Week
For the week of 10-25-21
AgHires works hard to be the number one resource for top jobs in agriculture. The agriculture industry provides a variety of job opportunities that range far and wide. Take a moment to search through the thousands of current job openings on AgHires.com, and check out this week's top Agriculture Jobs of the Week below.
A little about the business: BioMatrix International specializes in agricultural feed additives including organic products. Built on a foundation of fundamental values, BioMatrix is dedicated to unearthing natural solutions that enhance life.
Driven by innovation in natural technologies and flexible enough to customize formulations based off specific needs, BioMatrix uses expertise in coated essential oils, prebiotics, patented beta-glucan/vitamin C combinations, and Omega 3 products to allow livestock and poultry to reach their genetic potential. BioMatrix is passionate about excellence and committed to the people we work alongside.
What you would be doing:
Develops annual company sales goals and projections for each major product line.
Develops and recommends policies and procedures to ensure the sales force provides proper and effective treatment of customers in compliance with all related governmental regulations.
Represents and promotes the company's existing brand and drives strategies to increase product awareness by observing the market, competitors, and industry trends.
Participates in the new product development process to provide insight from the sales standpoint into product design and pricing.
Engages in advertisements, emails, and promotional literature, develops pricing strategies, and meets marketing objectives.
Qualifications:
Master's degree in Animal Science, veterinary Science and/or marketing and business administration is required.

Minimum seven (7) years professional experience in sales, marketing and product management in the animal science industry is required.

Have knowledge of Microsoft Office Word, Excel, Outlook; Power Point, Access, OneNote; Feed Management System.

Excellent people skills with ability and willingness to provide exceptional customer service to internal and external customers.

Knowledge of data analysis and report writing.
Search more Sales Jobs on AgHires now.
---
A little about the business: At Green Our Planet, we know every big idea, big movement, big change starts with a single small seed. From an accidental school garden program in Las Vegas, we bloomed into a national non-profit organization, dedicated to igniting curiosity, creating connections to the natural world, and positively impacting the futures of kids, communities, and the globe.
What you would be doing:
Visit each school once per week for approximately 1 hour in order to monitor

and maintain optimal conditions for school gardens (normally from 5-10raised garden beds, with average dimensions of 8' x 4').
Take notes on the activities and results of each garden visit and upload those notes online so that they can be shared with other members of the Green Our Planet team.

Make sure that the school garden's irrigation system is working, beds are

being watered properly, soils are properly fertilized and maintained, and that the beds are planted with vegetables appropriate for the season.

Make sure that all of the garden beds are fully planted and that the plants are

flourishing. Inspect plants weekly for any pest problems and come up with an action plan to deal with them.

Conduct short workshops during the weekly garden visits with classes that

have been organized by the teachers, so that students can learn experientially in the garden. The workshops will only occur at the teachers' request.
Qualifications:
2+ years of experience in landscape or farming management.

A bachelor's degree in agronomy, horticulture, agriculture, botany, crop

science, plant science, or related field a plus but not required.

Good people, communication skills, and excellent customer service skills.

Have own transportation and also have a basic laptop computer.

Proficient with G-Suite and Microsoft
Search more Horticulture Jobs on AgHires now.
---
A little about the business: Welcome to Wildman Farms located in Clayton, IN (just east of Indianapolis). We are a family-owned, farm operation growing corn and soybeans on 2500 acres. We are passionate about agriculture where we embrace a family-atmosphere and want you to feel part of the operation.
What you would be doing:
Operate farm machinery and construction equipment such as excavators & backhoes.
Haul grain and drive semi when needed.
Perform light maintenance and repairs on implements, equipment and tractors.
Perform general labor on the farm such as ground maintenance and cleaning equipment.
Work with precision ag equipment – GPS in all our John Deere tractors.
Work additional hours during peak season.
Lift up to 75lbs and be able to work on your feet throughout the day.
Qualifications:
Experience on a farm or background in agriculture; open to candidates with heavy equipment operation, military and/or construction with relatable experience.
Truck driving experience, preferred CDL or willingness to obtain.
Mechanical ability to work on equipment.
Driven personality, willing to do what it takes to get the job done right.
Understanding of farming/agriculture knowing there are some longer days in spring and fall.
Browse more Field Operations Jobs on AgHires now.
---
A little about the business: The U.S. Department of Agriculture (USDA) is made up of 29 agencies and offices with nearly 100,000 employees who serve the American people at more than 4,500 locations across the country and abroad. We provide leadership on food, agriculture, natural resources, rural development, nutrition, and related issues based on public policy, the best available science, and effective management.
What you would be doing:
Designated contact with plant management to coordinate the grading/inspection activities.
Examine product to determine adherence with contracts, such as grade, weight, packing and quantity.
Prepares and maintains a variety of reports related to production data and grading results.
Trains selected plant personnel to grade according to U.S. standards.
Grades different types of poultry and eggs, by applying official standards and regulations.
Qualifications:
Applicants must have one year of specialized experience.

You must be a US Citizen or US National.
Individuals who were born male after 12/31/1959 must be Selective Service registered or exempt.
Successfully pass the E-Verify employment verification check. To learn more about E-Verify, including your rights and responsibilities, visit E-Verify at https://www.e-verify.gov/
Search more Food Processing Jobs on AgHires now.
---
A little about the business: Conserv FS, Inc. serves patrons in southeastern Wisconsin and northern Illinois. Incorporated in 1928, Conserv FS is a cooperative, owned and democratically controlled by our members. Our products and services are backed by sound recommendations that will help businesses thrive.
What you would be doing:
Delivers products to customers or Service Centers according to company standards.
Under appropriate supervision, applies crop production inputs to fields and growing crops according to recommended rates, procedures and following all pesticide labels.
Mixes or blends products according to recommended rates, procedures and following all pesticide labels.
Records application data according to regulations and standards.
Responsible for the control of inventory and appropriate record-keeping by following set procedures.
Sets up material handling, blending, storages, transport, and application equipment for blending and delivery of products.
Qualifications:
Demonstrated essential abilities including business knowledge, collaboration, communication, customer focus, decision making and skill development.
Must have and maintain a valid driver's license and clean driving record. Normally requires as a minimum Class B Commercial Driver's License (CDL) Class A and Hazmat endorsement preferred.
Must hold and maintain, or can obtain, all required pesticide or fertilizer licenses or certifications in states where crop production inputs are applied. If applicable, responsible for renewing licenses or certifications as required and reporting status of licenses or certifications to the Service Center Manager.
Search more Agronomy Jobs on AgHires now.
---
The job opportunities within the agriculture industry are endless. Whether you are looking to start your journey or take the next step in your agriculture career, there is a place for you. Go to AgHires.com to search thousands of current job openings, ranging from agronomy jobs to marketing jobs to service technician jobs. New jobs are uploaded to our website daily.
Follow us on Facebook and Twitter to see more featured jobs.