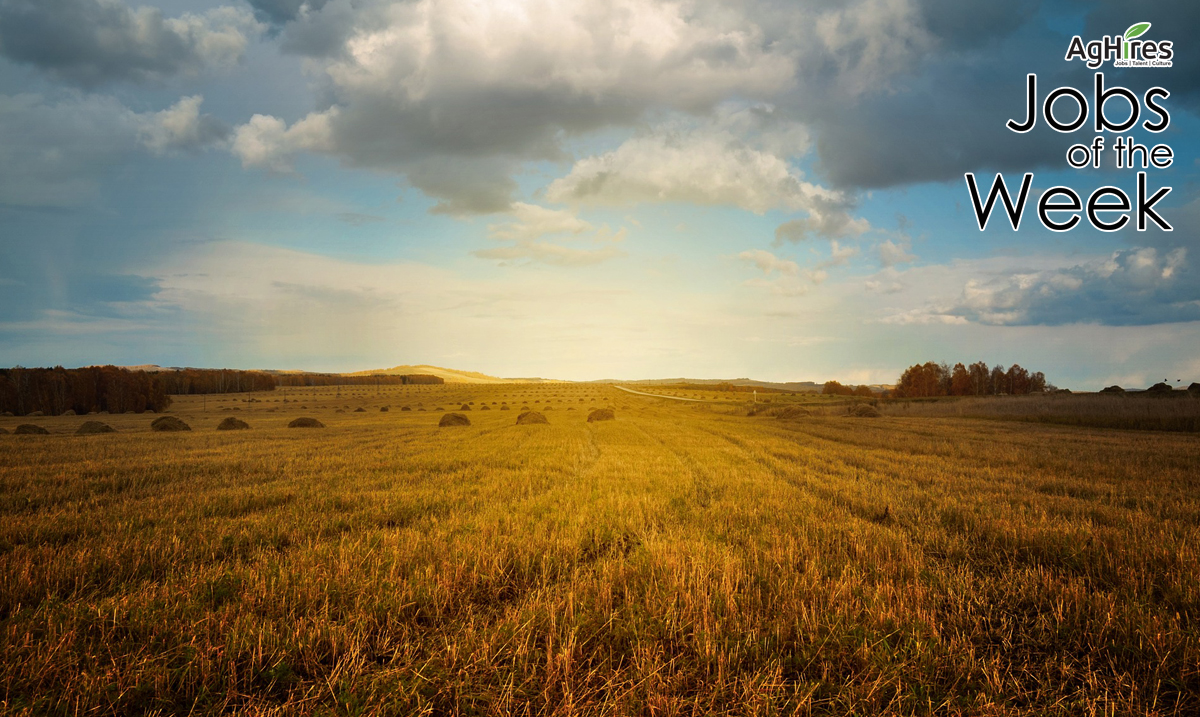 Top Agriculture Jobs of the Week
For the week of 6-21-21
AgHires works hard to be the number one resource for top jobs in agriculture. The agriculture industry provides a variety of job opportunities that range far and wide. Take a moment to search through the thousands of current job openings on AgHires.com, and check out this week's top Agriculture Jobs of the Week below.
A little about the business: With global sales of over $40 billion, Tyson Foods is one of the world's largest food companies. Its portfolio includes $1 billion brands such as Tyson®, Jimmy Dean®, and Hillshire Farm®, and leading brands such as Ball Park®, Wright®, Aidells® and State Fair®. Our purpose "Raise the world's expectations for how much good food can do". Our work environment, as well as our focus on people and innovation, makes Tyson Foods a great place to work.
What you would be doing:
Manage daily operations in our plant facility to achieve annual business plans
Ensure safety and efficiency of the facility
Control costs to achieve annual budget goals
In partnership with Human Resources, develop strategy, programs and tools to drive a high performing, effective organizational culture. As the key driver of the plant's culture and retention efforts, this role will be responsible to implement programs that achieve these outcomes in a way that creates inclusion and embraces Tyson's 5C's.
Test and monitor plant processes
Analyze and issue production and performance reports
Qualifications:
BS in engineering or technical field strongly preferred
8+ years proven leadership in manufacturing operations. Applicable Experience in Food Processing Industry Preferred.
Experience within high volume, high mix manufacturing operations
Proven Lean Manufacturing skills (Daily Management, Kaizen, Gemba, 5s, etc.)
Familiarity with regulatory requirements for operating plants
Search more Food Production Jobs on AgHires now.
---
A little about the business: Pure Line Seeds is a family-owned global leader in English pea and snap bean research and production. We're located in Warden, WA (about 15 miles southeast of Moses Lake). We have maintained a foundation of strong business relationships built on trust, reliability, quality products, and flexibility. Whether it's providing interpersonal connections or competitive varieties, we strive to go the extra mile in meeting the needs of our customers.
What you would be doing:
Set up and follow through with incoming and outgoing shipments.
Invoicing customers.
Verifying quotes provided by freight vendors.
Find additional freight options or vendors to improve logistics.
Communicate with staff, customers, and vendors to ensure the order is accurately and efficiently completed.
Stay up to date with both domestic and international shipping and USDA regulations.
Create and edit contact information, customer history and training documents.
Review country requirements, submit or edit field inspection applications as necessary and ensure accuracy.
Collaborate, learn, and have fun!
Qualifications:
Minimum of B.Sc.
Experience in the seed and/or agricultural industry with international and domestic shipping preferred.
Proficient in Microsoft Office 365.
Bilingual in Spanish and English (preferred but not required).
Must be able to work in a fast-paced, busy environment.
Detail oriented – from data collection to equipment cleaning.
Skill Set – Team Player, Self-Starter, Solution Oriented, Honest, Professional, Organized, Prompt, and Friendly.
Search more Administrative Jobs on AgHires now.
---
A little about the business: Pro-Ag farms in northeast Colorado and southwest Nebraska. We operate under farm plates and do not use eLogs.
What you would be doing:
Enjoy driving 'owner operator' equipment, W900L trucks and newer walking floor and belt trailers hauling a variety of agricultural commodities.
Qualifications:
Driver must be able to operate loader equipment to self-load trucks.

Requires a Class A CDL, a clean MVR, and at least two years of recent experience, the position is subject to pre-employment and quarterly random pool drug testing.
Browse more Trucking Jobs on AgHires now.
---
A little about the business: Binkley & Hurst is your agriculture equipment and technology source since 1939, serving the mid-Atlantic region with equipment, parts, sales, and service. We cultivate a family/team atmosphere in the workplace and pursue serving our Creator, our Clients, and community with integrity and diligence. For more about us visit www.binkleyhurst.com serving in various locations including Richland, PA, Lititz, PA, Kennedyville, MD, Harrisonburg VA, and Seaford, DE.
What you would be doing:
Set-up, service, and repair agriculture equipment.
Any other task assigned by the Service Team Leader.
Qualifications:
Have experience in ag or mechanical field
Enjoy the challenges of a fast-paced environment
Are dependable & Reliable
Have a current, valid driver's license
Search more Equipment Jobs on AgHires now.
---
A little about the business: CHS Inc. is a leading global agribusiness owned by farmers, ranchers and cooperatives across the United States that provides grain, food and energy resources to businesses and consumers around the world. We serve agriculture customers and consumers across the United States and around the world. Most of our 11,000 employees are in the United States, but today we have employees in 19 countries. At CHS, we are creating connections to empower agriculture.
What you would be doing:
Function as a collaborative member of the CHS marketing and communications team to execute and develop Energy content strategy and editorial development for internal and external communications channels.
Own and oversee all content creation related to CHS Energy businesses.
Partner with CHS Energy business units to support key business objectives with , effective storytelling across internal and external channels.
Develop internal communications for CHS Energy employees. This includes partnering with corporate functions and business units to create a quarterly print and digital edition of the CHS Energy employee newsletter.
Assist CHS Energy leaders with executive communications, including internal communications.
Assist with planning, preparing and repurposing presentations related to CHS Energy topics and initiatives.
Qualifications:
Minimum of 5-7+ years of content development and leading content projects (brand or agency).
Excellent communication, collaboration, and planning skills with meticulous attention to detail.
Familiarity creating and managing content across multiple (web, mobile, social, print) platforms.
Broad knowledge of web content development, digital publishing, e-mail and social media best practices.
Experience leveraging content management strategies and systems that enable the effective development and distribution of diverse content for a wide scope of audiences.
Search more Marketing Jobs on AgHires now.
---
The job opportunities within the agriculture industry are endless. Whether you are looking to start your journey or take the next step in your agriculture career, there is a place for you. Go to AgHires.com to search thousands of current job openings, ranging from agronomy jobs to marketing jobs to service technician jobs. New jobs are uploaded to our website daily.
Follow us on Facebook and Twitter to see more featured jobs.