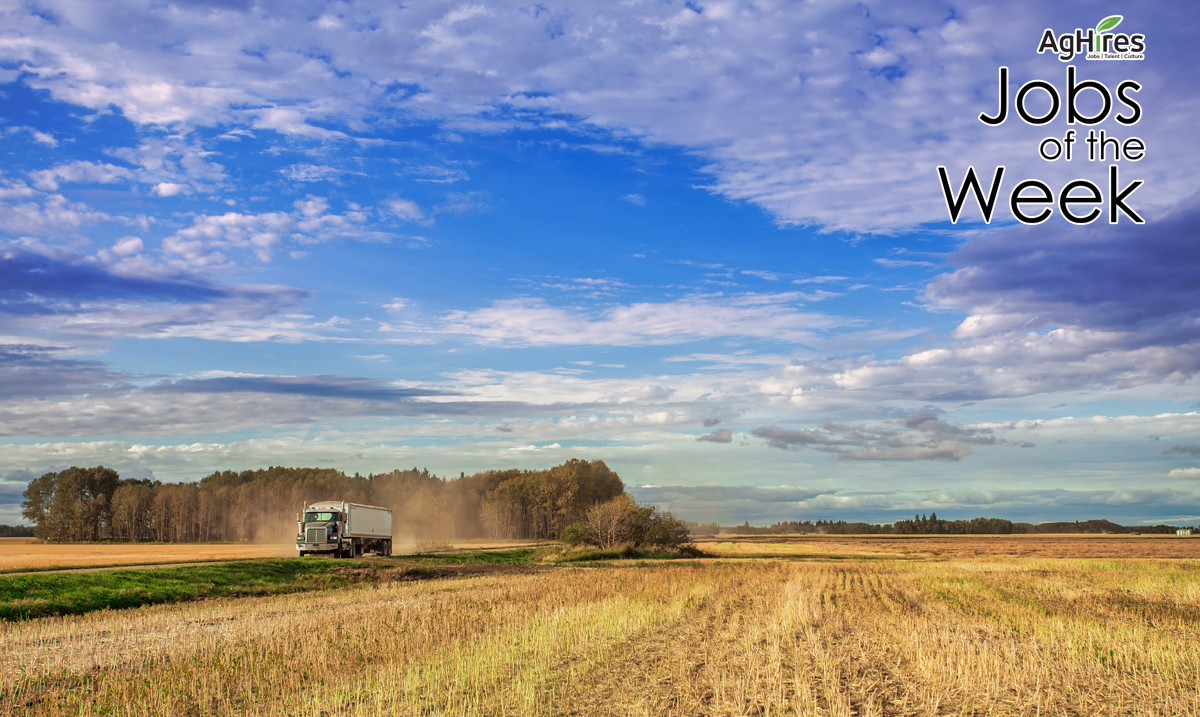 Top Agriculture Jobs of the Week
For the week of 11-14-22
AgHires works hard to be the number one resource for top jobs in agriculture. The agriculture industry provides a variety of job opportunities that range far and wide. Take a moment to search through the thousands of current job openings on AgHires.com, and check out this week's top Agriculture Jobs of the Week below.
A little about the business: AHW is a 16-location John Deere Dealership, selling tractors, combines, sprayers, riding mowers, and commercial equipment in east central Illinois and western Indiana.
What you would be doing:
Promotes and sells products and/or services to meet customer needs
Supplies Service Technicians with parts as required
Assists with preparing and maintaining merchandise displays
Verifies receipting-in of shipments and assists with placing Machine Down and Stock Orders in their proper inventory locations
Assists in keeping the parts department clean and orderly
Qualifications:
Basic data entry/keyboarding skills
Basic parts and machinery knowledge
Ability to use the John Deere Parts Catalog computer application
Ability to work in a team environment
Search more Customer Service Jobs on AgHires now.
---
A little about the business: JBS USA is a leading global provider of diversified, high-quality food products, including a portfolio of well-recognized brands and innovative, easy-to-use food solutions. We process, prepare, package and deliver fresh and value-added premium meat, poultry, and retail-ready food products for customers in approximately 100 countries on six continents.
What you would be doing:
Conduct intake meetings with hiring managers and HR Leaders to determine the best practices for recruitment by specific job requirements.
Customize job descriptions to help identify the best talent and keywords for sourcing.
Have a solid knowledge of the complete recruitment function, including researching, sourcing, networking, behavior-based interviewing, and understanding company values.
Become an "expert" in your market, building knowledge and insight of hiring trends, competitor landscape, and resources unique to your area.
Execute sourcing, screening, interviewing, and engagement strategies to grow the pipeline of potential candidates.
Demonstrate diversity awareness and utilizes sourcing techniques that reach a diverse population.
Qualifications:
Bachelor's Degree Preferred or equivalent experience
3+ years of full lifecycle recruiting experience required
Exposure to managing large requisition loads required
Experience with ATS; Jobvite, ICIMS, Hiretual etc...
Thrives in an incredibly fast pace environment
Benefits & Perks:
Medical, Dental & Vision Insurance
401k Retirement Plan
Culinary Training
Higher Education Programs
Vacation Time, Sick Days, Paid Holiday & Birthday PTO
Yearly Bonus Potential
WF Unlimited- Free Shipping
Chew On This- One giveaway product a month
Search more Human Resource Jobs on AgHires now.
---
What you would be doing:
Oversee operation of the maintenance department and work with operations to ensure work is prioritized and completed in a timely manner

Work with contractors, obtain quotes, write purchase requisitions, develop, write, implement, and oversee projects for the location

Work with location management and hourly personnel to develop projects; Assist with plant audits and sanitation processes

Develop procedures and work instructions pertaining to completed projects for operators.
Qualifications:
Must have three (3) years of experience with/in each of the following:
Supervising and leading a team in a manufacturing facility;
Developing processes and procedures for plant personnel in a manufacturing environment; and
Troubleshooting, repairing and programming PLCs and HAZMON panels.
Must have one (1) year of experience with/in each of the following:
Project scope and budgeting in an industrial setting;
Cause mapping and pre-mortem analysis;
Leading projects for conception to completion in an industrial setting;
Interacting, obtaining bids, and supervising contractors in a project role; and
Evaluating equipment and hardware prior to selection and learning vendor and contractor processes prior to commissioning.
Browse more Maintenance Jobs on AgHires now.
---
A little about the business: McDonnall Harvester and Parts, Inc., based in northwest Ohio, is a full-service vegetable harvesting equipment dealership carrying harvesting equipment and parts that fit most applications in the vegetable harvesting industry. We are committed to providing the most efficient delivery of quality parts and services in the agriculture industry uncompromised by geographic location. We are a family-owned operation that is entrenched in the ag industry and has been growing rapidly over the past few years.
What you would be doing:
Inspect, diagnose, repair, and set-up tomato and other vegetable harvesters/equipment
Maintain and set up electronic field sorters
Repair and wet-up Implements – transplanters, cultivators, etc.
Perform basic welding and fabrication
Conduct in-season work on-site at our customers' and most winter work/overhauls are completed in our shop, Delta, OH
Run machinery as needed (tractor, forklift, etc.)
Qualifications:
Strong mechanical experience performing maintenance on various heavy equipment or relatable experience with hydraulic, electrical and electronics background preferred (no engine work required)
Willingness and want to learn to become an expert in our line of equipment
Ability to travel to Ohio, Indiana and Michigan regularly along with some overnight travel for extensive repairs
A clean driving record
Search more Machinery Jobs on AgHires now.
---
A little about the business: CSS Farms is a multi-state agricultural business with a mission of Growing Great Together. We achieve our vision by leading the way in stewardship and solutions for every field, every load, every day.

At CSS Farms we take great pride in doing the job right and believe our best work is achieved when we work together. Farming is our way of life, we have a deep passion for the land, our families, and our communities. Our legacy is rooted in solving hard problems and tackling new business ventures.
What you would be doing:
Coordinates delivery of potato freight to our customer base.

Supports the successful delivery of internal potato seed to CSS locations.
Verifies prices with contracted carriers and shipping companies to ensure alignment with contract terms.
Coordinates backhaul opportunities to minimize inefficiencies experienced by our carrier partners.
Ensures accuracy of data entry related to freight procurement in all software.
Identifies and solves unexpected, unscheduled, or last-minute changes with shipping and freight with a customer service mindset.
Qualifications:
Bachelor's Degree in Supply Chain Management, Transportation Management, or a related business field.
1+ years experience in the freight brokerage industry, preferably in an agricultural capacity.
1+ years experience in logistics, distribution, and crop/produce storage.
Strong negotiation skills with the ability to resolve conflict with a proven history of designing solutions for freight and shipping disruptions.
Demonstrated initiative and independence of action in performing the responsibilities of the position to identify and implement solutions with team input.
Search more Farming Jobs on AgHires now.
---
The job opportunities within the agriculture industry are endless. Whether you are looking to start your journey or take the next step in your agriculture career, there is a place for you. Go to AgHires.com to search for thousands of current job openings, ranging from agronomy jobs to marketing jobs to service technician jobs. New jobs are uploaded to our website daily.
Follow us on Facebook and Twitter to see more featured jobs.