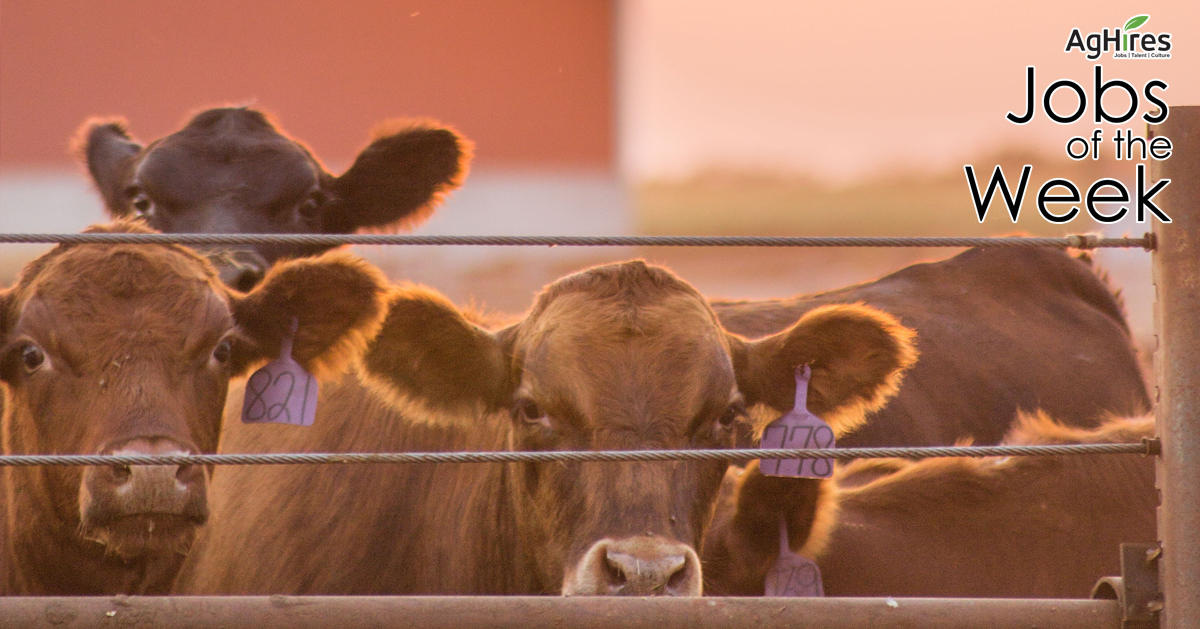 Top Agriculture Jobs of the Week
For the week of 5-9-22
AgHires works hard to be the number one resource for top jobs in agriculture. The agriculture industry provides a variety of job opportunities that range far and wide. Take a moment to search through the thousands of current job openings on AgHires.com, and check out this week's top Agriculture Jobs of the Week below.
A little about the business: eGenesis is a biotechnology company that utilizes multiplex gene editing and genome engineering platform to transform solid organ and therapeutic cell transplantation for the treatment of serious disease. The company is committed to ending the global transplant shortage and transforming the treatment of organ failure. eGenesis is bringing that vision closer to reality with lead programs in kidney and islet cell transplantation.
What you would be doing:
Manage all activities and processes related to farm management and operations, including managing staff.
Assist in the planning of animal housing expansion related to R&D requirements.
Develop leadership and technical skills of team leaders and/or Animal Care Technicians.
Participate in the development of annual operating goals, human resource needs, and farm operational plans including the review of costs and performance.
Monitor, review, and analyze performance issues, develop effective countermeasures and propose plans to restore performance if needed.
Participate in recruiting, hiring, on-boarding, and development of new team members, in alignment with company policies for hiring, staffing, discipline, and terminations.
Qualifications:
Bachelor's Degree in Animal Science or related field.
Experience with swine production in an SPF and/or DPF bio-secure environment
Experience with environmental controls specific to swine production.
Experience working on USDA and FDA-regulated Animal Research Farm is preferred.
Experience with farm work, hand, and power tools.
Search more Operations Jobs on AgHires now.
---
A little about the business: CHS Inc. is a leading global agribusiness owned by farmers, ranchers, and cooperatives across the United States that provides grain, food, and energy resources to businesses and consumers around the world. We serve agriculture customers and consumers across the United States and around the world. Most of our 10,000 employees are in the United States, but today we have employees in 19 countries. At CHS, we are creating connections to empower agriculture.
What you would be doing:
Customize feeding programs that precisely meet the producer's practices, pastures, and preferences.
Make recommendations and develop formulations unique to the customer's needs, using the latest technology.
Ensure water, forage, grains, and feeds are tested regularly in order to provide the most accurate ration balancing and performance projections.
Provide nutrition consultation and sales to key accounts in the trade area.
Provide salesmanship to selected dealers and direct accounts assigned by sales management.
Quoting prices, credit terms, and preparing sales contracts for orders obtained.
Meet the needs and resolve the problems of current customers.
Qualifications:
High School diploma or GED
4+ years of experience in Sales, Business Development, and/or Sales Business Operations.
3-5 years of dairy sales consultant experience.
Prior feed and/or livestock experience.
Valid driver's license with a clean driving record.
Search more Dairy Jobs on AgHires now.
---
A little about the business: Welcome to Nebraska-Iowa Helicopter! We are an aerial crop spraying business throughout Eastern Nebraska and Western Iowa. We utilize state-of-the-art application technology, including DGPS guidance systems, Flow Control devices, and GIS data, all of which ensure the consistently precise, accurate, and on-target applications we are known for. We're a family-owned and operated business where we take pride in working hard and treating all employees like family.
What you would be doing:
You have some prior driving experience (trucks, semis, agriculture, construction, or military) and a clean DMV, CDL with hazmat and tanker endorsement is a plus or willingness to obtain.
You enjoy being around farming and agriculture.
You are mechanically inclined and comfortable performing light maintenance.
You enjoy working independently while functioning as part of a team.
You are self-motivated, high-paced, and willing to work the long hours if need be.
You are comfortable utilizing a smartphone/google maps to coordinate getting from field to field.
Qualifications:
Driving semi-trucks from field to field hauling chemicals and water to helicopters.
Mixing chemicals – we will teach you how to do this.
Fixing and making minor repairs to equipment.
Maintaining cleanliness, neatness, and safety of work areas and trucks.
Browse more Trucking Jobs on AgHires now.
---
A little about the business: Ort Farms, based in Long Valley, New Jersey, is a 500-acre diverse fruit and vegetable farm. We have a retail farm market and an agritourism operation that is open annually from March-December. We are a 5 generation family business offering a unique opportunity for any motivated farmer to join our team.
What you would be doing:
Responsible for inspection/maintenance of crops and reporting status/problems to the Field Operation Manager.
Responsible for the development of resolution/continuous improvement of field problems.
Responsible for planning, cultivation, and harvesting of crops. This includes fruit, vegetables, grain, and pumpkins.
Responsible for the management and implementation of a crop protection program and creating spray schedules.
Responsible for planting/picking quantity and schedule in collaboration with the Field Operation Manager.
Responsible for the generation and distribution of daily/weekly activity lists and accomplishment reports including, but not limited to picking schedule, herbicide application, insecticide application, water use log, etc.
Qualifications:
High school diploma.
Must obtain NJ Pesticide Applicator license if not already in possession.
At least 2 years of experience on a fruit and vegetable farm is preferred.
Flexibility with schedule and ability to work at least one weekend day per week.
Available 40-50 hours per week, on average. Salaried pay would be based on a comp time system, winter hours would be less than 40, and the height of season hours would be around 50-60 hours, with November/ December being less.
Search more Field Operations Jobs on AgHires now.
---
A little about the business: J.J. Nichting Company is the longest-running farm equipment dealership in America. For over a century, we have been committed to our communities and customers' success by providing unmatched service, parts availability, and leading-edge technology in the tri-state area of Iowa, Illinois, and Missouri. The company has over 100 employees with locations in Pilot Grove, Mt. Pleasant, Sigourney, and West Liberty, Iowa. J.J. Nichting is seeking a dynamic individual to serve as the Service Manager of the West Liberty location.
What you would be doing:
Oversees the scheduling and assignment of jobs to employees in the Service Department according to their skill and knowledge.
Reviews work orders for completeness and accuracy prior to customer billing.
Responsible to follow through with the job to completion and maintains proactive communication with the customer relative to the work being performed.
Makes recommendations for additional work being performed and inspects completed work before it goes back to the customer.
Reviews completed work orders for accuracy in the areas of labor, parts, and miscellaneous charges prior to billing.
Works closely with the Technicians to develop their skill sets and technical knowledge base.
Qualifications:
3-5 years of management experience.
Management experience in a farm or agricultural-related setting.
Search more Equipment Jobs on AgHires now.
---
The job opportunities within the agriculture industry are endless. Whether you are looking to start your journey or take the next step in your agriculture career, there is a place for you. Go to AgHires.com to search thousands of current job openings, ranging from agronomy jobs to marketing jobs to service technician jobs. New jobs are uploaded to our website daily.
Follow us on Facebook and Twitter to see more featured jobs.