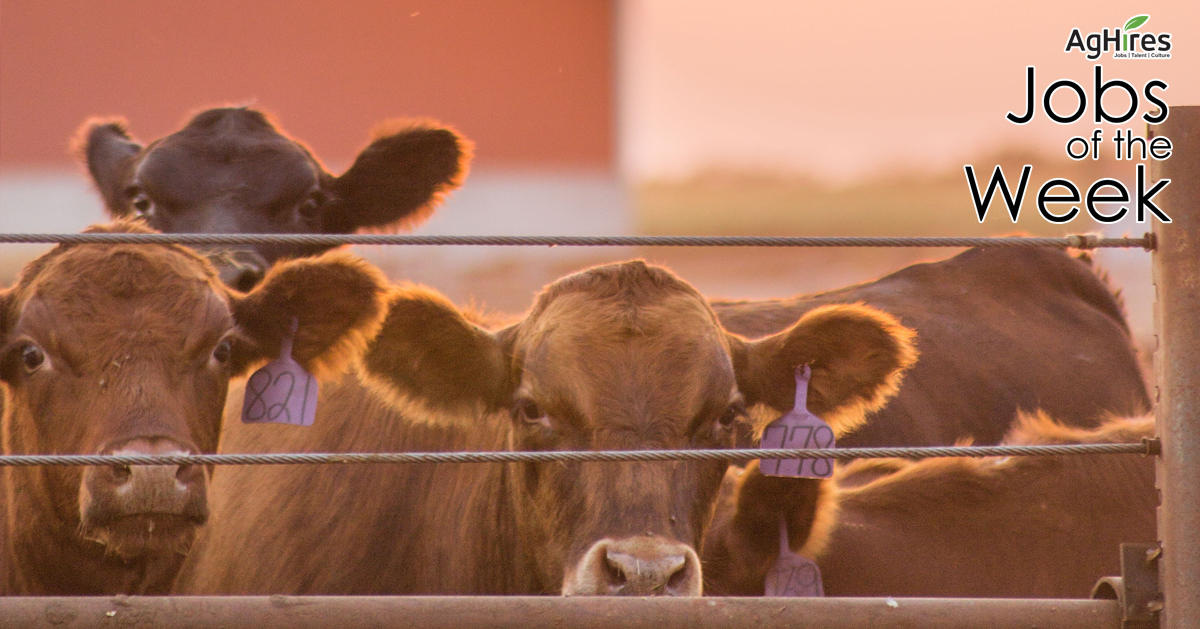 Top Agriculture Jobs of the Week
For the week of 9-12-22
AgHires works hard to be the number one resource for top jobs in agriculture. The agriculture industry provides a variety of job opportunities that range far and wide. Take a moment to search through the thousands of current job openings on AgHires.com, and check out this week's top Agriculture Jobs of the Week below.
A little about the business: Hayward and its people distribute top-quality goods and services to thousands of retailers in the Midwest and across the country. Our commitment to all of our customers is to provide prompt and accurate delivery with the full understanding that their reputation and livelihood depend on our performance. Our systems and functions are constantly improving to make conducting business easier. Our success is directly linked to our suppliers and customers as we strive for wholesale excellence.
What you would be doing:
Uncrating and assembling agricultural and construction equipment

Load and unload trucks, using special loading-related equipment or other equipment as necessary
Operate a forklift – will train if necessary
Examine incoming shipments, reject damaged items and appropriately report/record any discrepancies
Accurately place materials on shelves, in racks, or other designated storage areas in an orderly manner

Inspect loads to ensure the cargo is secure
Qualifications:
Basic knowledge of agricultural and construction equipment

Basic knowledge of hand and air-powered tools
Ability to lift 70lbs on a consistent basis
Knowledge of warehousing, storage, inventory, shipping, and receiving
Forklift experience

Must be accurate and able to read orders/match orders on shipping tickets to items picked

Basic knowledge of inventory management computer systems

Basic math and reasoning skills
Our benefits show we care about our employees and include health insurance, annual profit sharing bonus, immediately vested 401k matches, 14 days PTO initially with increases with tenure, holidays, and highly competitive compensation packages.
Search more General Labor Jobs on AgHires now.
---
A little about the business: The Idaho Youth Ranch is one of the oldest non-profit agencies in the state of Idaho. Our mission: We unite for Idaho's youth by providing accessible programs and services that nurture hope, healing, and resilience.
Why unite with us? Because we are better together! Our team members enjoy a workplace where relationships are the foundation, where we are all committed to the same mission, where growth is always possible, where we are treated with and show compassion, where trust guides us toTransparency, and above all, whereJoysustains us.
What you would be doing:
Cares for our equine/livestock herd, including feeding, watering, and exercising.
Performs or assists with routine animal care, observes horses for soundness or general health.
Qualifications:
1-2 years of experience working with horses and/or other livestock
High School Diploma
The Idaho Youth Ranch has a competitive Total Compensation Package.
Search more Livestock Jobs on AgHires now.
---
A little about the business: The Grossmont-Cuyamaca Community College District honors a diverse academic community and fosters equity mindedness across our institutions. As such, the District is committed to eliminating achievement gaps among different student groups by promoting a culture of appreciation for diversity, equity, inclusivity, and social justice, and continuously examining our processes and practices through an equity lens.
What you would be doing:
Planning, implementation, and evaluation of educational programs, courses and other experiences that will directly result in the educational growth of the students

Support advancement of the visions, missions, and values of the college and District.

This position may include a combination of day and evening assignments, large lectures, and small seminars, and is being offered by a college strongly committed to the "open door" concept serving a diverse student population.

Instructors will be expected to perform other duties consistent with their faculty job description as stated in the faculty contract.
Qualifications:
Bachelor's Degree and two years of experience in landscape horticulture, design, maintenance, landscape architecture, floristry, floral design, or related field; OR

Associate's Degree and six years of experience in landscape horticulture, design, maintenance, landscape architecture, floristry, floral design, or related field;

OR

A current California Community College Credential that permits full-time service as an instructor in Ornamental Horticulture
Application Deadline: Tuesday, October 18, 2022 at 11:59 p.m.
Browse more Customer Service Jobs on AgHires now.
---
A little about the business: Co-Alliance is a modern partnership of local agricultural and energy cooperatives with community roots established in the 1920s. We combine industry expertise, high-quality products, and leading-edge technology to deliver innovative solutions in energy, agronomy, grain marketing, and swine/animal nutrition to our customers – members and non-members.
What you would be doing:
Assist with full cycle recruiting process across Co-Alliance divisions
Screen inbound applicants to determine skill set and level of interest
Post job advertisements across various job boards, student and alumni portals, social media channels, and virtual career fairs
Proactively build relationships with potential candidates, creating a strong, diverse pipeline of quality talent for various positions and future needs
Source candidates through a variety of methods (job postings, employee referrals, social media channels, etc.) with the goal to provide qualified candidates
Develop strong relationships with and hiring managers working closely with them to maximize the effectiveness of the recruiting process
Maintain Applicant Tracking System and ensure all applicant data is updated timely for accurate reporting
Qualifications:
Bachelor's degree preferred with 1+ years of recruiting experience required
Knowledge of Agriculture or Skilled Trade industry preferred
Excellent communication skills are required as well as the ability to interface with all levels of the organization
Ability to maintain a high level of confidentiality
Effective oral and written communication skills
Ability to work independently as well as collaborate with team members required
Interpersonal and organizational savvy relates well to others, builds relationships with all levels, quick study with people
Search more Human Resources Jobs on AgHires now.
---
A little about the business: Welcome to Country Boys Custom Farming! We are a small family-owned and operated custom manure hauling service located in Farwell, MI (about 20 miles north of Mt. Pleasant). We treat each employee as a member of our own family and enjoy our Sundays off.
What you would be doing:
Operating farm equipment such as a tractor, manure tanker, and other heavy equipment.
General light maintenance work to equipment.
Manure hauling from storage pits to fields.
Qualifications:
Previous experience operating farm equipment.

Have the ability to work long hours.
Are dependable and hard working.
Works well independently as well as in a team
Respectful to clients and other team members.
Search more Farming Jobs on AgHires now.
---
The job opportunities within the agriculture industry are endless. Whether you are looking to start your journey or take the next step in your agriculture career, there is a place for you. Go to AgHires.com to search for thousands of current job openings, ranging from agronomy jobs to marketing jobs to service technician jobs. New jobs are uploaded to our website daily.
Follow us on Facebook and Twitter to see more featured jobs.