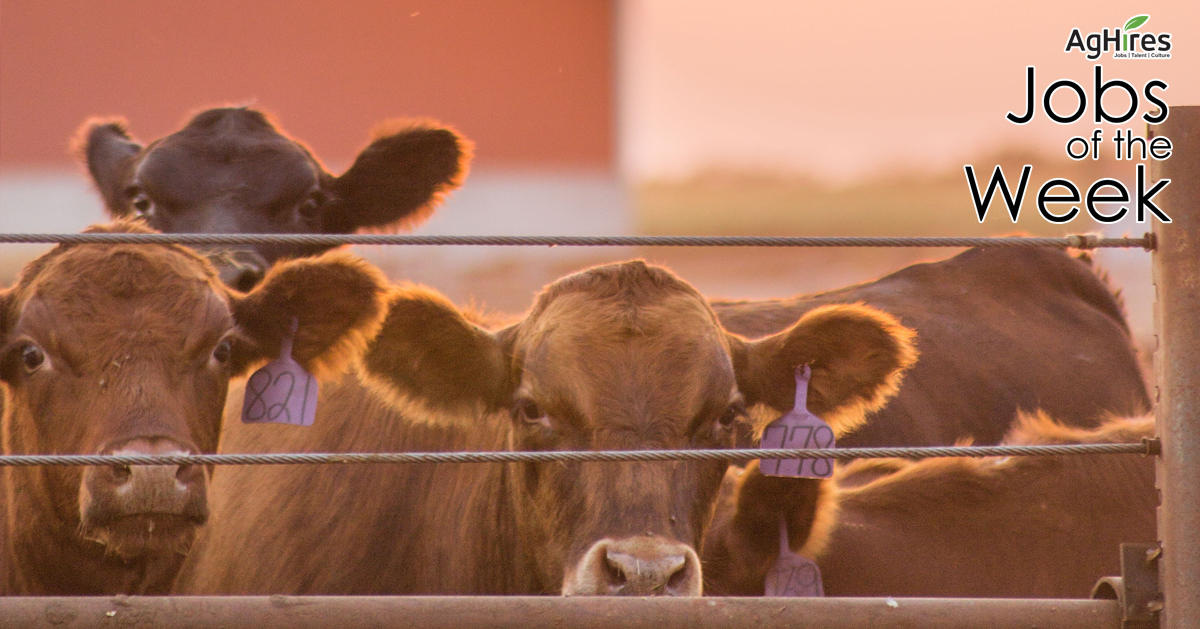 Top Agriculture Jobs of the Week
For the week of 7-18-22
AgHires works hard to be the number one resource for top jobs in agriculture. The agriculture industry provides a variety of job opportunities that range far and wide. Take a moment to search through the thousands of current job openings on AgHires.com, and check out this week's top Agriculture Jobs of the Week below.
A little about the business: Central Valley Ag is a farmer-owned cooperative headquartered in York, Neb. CVA has locations in Iowa, Kansas, and Nebraska. CVA is an innovative leader providing products and services in grain, agronomy, feed, and energy.
What you would be doing:
Internal Audits – Perform internal divisional audits at each location within your Region(s) at a minimum of once a year. Examine records and processes at locations to ensure timely recording of transactions and compliance with applicable standard operating procedures. Follow up audit as requested or required based upon scores. Document answers and sampling and communicate results to the applicable managers as outlined in the Internal Audit procedures.
Inventory Variances – Review inventory variance reports and request information on variances over $1K for month and $2k for year. Formulate and track regional variances to report to Location Managers, Regional Operations Manager, VP's of Operations, Controller and Internal Auditor.
Monitor location accounting activity - Review billing to ensure timely and accurate in reviewing sales activity report or Agronomy Controller's detailed billing report provided. Track the billing errors by location and user for a specific month, outlined in Auditing SOP. Monitor to ensure timely and accurate receipts of products and internal transfers.
Qualifications:
Associate degree in Accounting/Finance or two to four years of related experience.
Ability to multi-task several assignments simultaneously and establish job priorities.
Employ fundamental accounting skills: general ledger, accounts payable, accounts receivable and account reconciliations.
To consistently meet internal and external deadlines.
Strong competencies in computer applications including Microsoft products.
Must exhibit the ability to work in a collaborative and team environment.
Search more Accounting Jobs on AgHires now.
---
A little about the business: At Bayer we're visionaries, driven to solve the world's toughest challenges and striving for a world where 'Health for all, Hunger for none' is no longer a dream, but a real possibility. We're doing it with energy, curiosity and sheer dedication, always learning from unique perspectives of those around us, expanding our thinking, growing our capabilities and redefining 'impossible'. There are so many reasons to join us. If you're hungry to build a varied and meaningful career in a community of brilliant and diverse minds to make a real difference, there's only one choice.
What you would be doing:
Build and develops professional relationships with (but not limited to) endocrinology, primary care, pharmacy staff, within assigned customers.
Drive appropriate utilization of approved CV products. CSC works closely with other Bayer commercial associates to generate pull-through within local payers, community HCP's.
Be able to leverage expertise and knowledge of diabetes, nephrology and CVD, the marketplace, applicable competitors, industry and cross-functional activities/plans to anticipate and effectively manage business opportunities and challenges.
Provide relevant, thoughtful input to other commercial colleagues (e.g. sales leadership, regional account managers) in regard to strategic and tactical planning for territory, area, and region.
Develop and implements effective customer specific territory plans.
Communicate insights to internal stakeholders.
Qualifications:
Bachelor's degree required, advanced degree a plus.
At least five years of experience in pharmaceutical sales.
Demonstrated leadership and foster an environment that promotes ethical behavior and compliance with company policies and applicable laws.
Valid driver's license and clean driving record required.
Search more Sales Jobs on AgHires now.
---
A little about the business: The Montana Department of Agriculture is serving Montana Agriculture and growing prosperity under the Big Sky. The Agricultural Sciences Division provides agricultural, environmental, and public services and protection through program administration, cooperative agreements, enforcement, regulatory and compliance services, and laboratory services.
What you would be doing:
Educating licensed and those seeking their license for commercial, non-commercial, and government pesticide applicators and users about safe, proper, and legal use of pesticides including pest management alternatives.

Assess industry training needs and will be responsible for actively working to identify important educational learning objectives.

Develop curriculum for numerous trainings and educational materials

and will present at educational events to support these learning objectives throughout the state.
Qualifications:
Knowledge of customer service standards and techniques, applicator licensing techniques, applicable State and Federal laws on certification and recertification requirements, and thorough knowledge of pesticide certification methods, worker protection standards, pesticide application methods and pesticide usage.
Provides exceptional customer service with excellent communication skills and problem-solving abilities in response to inquiries and concerns with effective, professional, and prompt written and verbal formats.
Extensive experience with public speaking.
Effective and efficient organization skills. Ability to remain adaptable, collaborative, and versatile, approaching work with self-motivation and solution-oriented focus. Motivation, determination, and professionalism are essential to this position.
Browse more Customer Service Jobs on AgHires now.
---
A little about the business: The Meat and Poultry Division enforces state and federal laws designed to ensure meat and poultry products sold to consumers are wholesome, unadulterated, and properly labeled. The division inspects approximately 200 plants statewide for red meat slaughter/processing and poultry processing and operates a program "equal to" the USDA, Food Safety Inspection Service.
What you would be doing:
Conducting ante-mortem and post-mortem inspection of slaughtered livestock.

Observing the humane handling of said livestock; evaluating plant's sanitation procedures and practices; verifying the implementation of plant's Hazard Analysis Critical Control Point (HACCP) plans.

Collecting and submitting samples for microbiological analysis.

Verifying the accuracy of product labels; and other inspection activities as required.

Working conditions include a noisy industrial environment; varying environmental conditions within the facility ranging from sub-freezing to extreme humidity; and standing, climbing, and kneeling on elevated platforms for extended periods of time.
Qualifications:
Accurate color vision. Will be tested at the time of the interview.
A valid driver's license or must be obtained by date of employment.
Accurate and effective oral and written communication skills to communicate with supervisors and upper management in the food industry (will be given a writing test at the time of the interview).
Computer skills to create basic documents, communicate through email, and enter data into State and Federal systems (the writing test will be given on a computer).
Search more Field Operations Jobs on AgHires now.
---
A little about the business: Our Omakase Berry Grower role is a unique opportunity to learn the new vertical farming world while receiving training from experts in AgTech and support from our expert team members. So if you have a positive attitude and are ready to learn about innovative food growth and the agricultural tech industry, this is the job for you!
What you would be doing:
Grow the best tasting strawberries in the world.
Receive paid training in our expert cultivation operations with support from the Oishii team.
Work indoors in a state-of-the-art, climate-controlled, clean farm environment alongside a diverse team with decades of farming experience.
Play a crucial role throughout all the stages of strawberry plant cultivation- Maintaining plant health at all stages of the strawberry plant life cycle - from propagation to harvest.
Engage in data collection so that we can continually improve our strawberries.
Qualifications:
Possess great, can-do attitude, communication skills, ability to follow directions and attention to detail.
Must be able to work Saturday or Sunday.
Must be able to lift up to 30 lbs.
Authorized to work in the US.
HS or GED (Preferred).
Search more Farming Jobs on AgHires now.
---
The job opportunities within the agriculture industry are endless. Whether you are looking to start your journey or take the next step in your agriculture career, there is a place for you. Go to AgHires.com to search thousands of current job openings, ranging from agronomy jobs to marketing jobs to service technician jobs. New jobs are uploaded to our website daily.
Follow us on Facebook and Twitter to see more featured jobs.