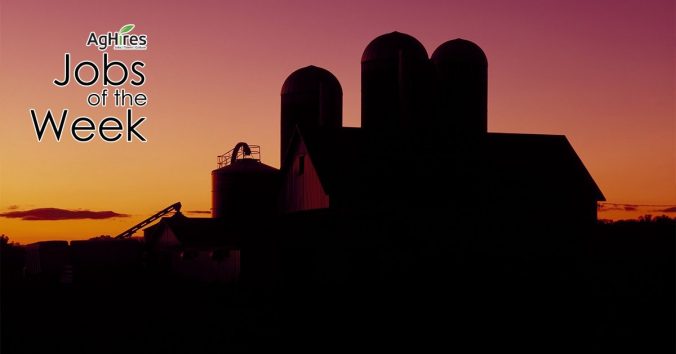 Top Agriculture Jobs of the Week
For the week of 11-2-2020
AgHires works hard to be the number one resource for top jobs in agriculture. The agriculture industry provides a variety of job opportunities that range far and wide. Take a moment to search through the thousands of current job openings on AgHires.com, and check out this week's top Agriculture Jobs of the Week below.
A little about the business: AgroThrive, Inc. is a family-owned operation specializing in organic bio-based fertilizers and soil amendments based in Gonzales, CA. Our products increase microbial activity in the soil causing young plants to experience vigorous root growth leading to larger foliage, improved disease resistance, and better yields. Our products are used by both certified organic and conventional growers of row crops, nursery stock, leafy greens, berries, grapevines, fruit trees, nut trees, etc. and other agricultural commodities. Our proprietary manufacturing process produces pathogen-free, fast-acting, highly digested, liquid and dry organic fertilizers and soil amendments that are delivered to customers under strict food safety rules.
What you would be doing:
Develop and implement a strategic plan and differentiated market approach to expand growth
Develop sales team in alignment with strategy; hire, train, and coach territory sales reps across
Participate as a key member of the sales team working on developing key accounts
Analyze the effectiveness of sales and marketing strategies; continuously research new go-to-market strategies and gather customer insights and industry trends
Establish sales targets, CRM tracking process, and forecasting
Contribute to the leadership team working closely with the Owner on overall business strategy and market approach
Work cross-functionally within the organization to streamline processes between sales, logistics, and purchasing
Qualifications:
Bachelor's degree in agriculture, Agribusiness, Plant Pathology, Agronomy, Marketing, or related fields
Agronomic knowledge in selling biologicals or organic fertilizers a plus; open to a fumigation background as well
5+ years of agricultural sales
The ability to be well-organized, highly motivated, and a self-starter, with high integrity and individual drive and motivation to succeed
Ability to travel as needed
Search more Sales Jobs on AgHires now.
A little about the business: Springworks is a rapidly growing sustainable agriculture company formed four years ago to have a positive impact on the way we grow and enjoy our food. By leveraging the power of aquaponics, our Farm produces tilapia and certified organic lettuce all year in Maine, while saving about 9 million gallons of water and producing around fifteen times more lettuce per acre than a traditional farm. We are the largest commercial aquaponics system in New England and recently finished a 12,000sqft greenhouse expansion to quadruple our production to almost one million heads of lettuce and 20,000 pounds of tilapia per year.
What you would be doing:
You will work closely with our Harvest Manager and other greenhouse staff to improve the efficiency of our greenhouses.

This position includes tasks like harvesting/ packaging lettuce, transferring plants, and general building maintenance.
Qualifications:
Applicants should be capable of comfortably working on their feet for 3+ hours at a time.

Have strong attention to detail

Have a competitive drive

Have an excellent work ethic
Search more General Labor Jobs on AgHires now.
A little about the business: Lanehaven Farms is a progressive seed corn, commercial corn, soybean, and hog farm based in Waterloo, IA. The farm has been an early adopter of leading-edge technologies that improve the efficiency, quality, and overall effectiveness of processes. Our core values of efficiency, integrity, stewardship and customer service set the tone for how we live and conduct business.
What you would be doing:
Maintain and adhere to a preventive maintenance schedule for all vehicles and machines.
Work with Operations Manager to keep the shop schedule and farm schedule on target.
Perform fieldwork and other general farm work, as necessary.
Qualifications:
2-year degree preferably in Agriculture Power and Equipment (Ag Power), Diesel Truck Technology, Agricultural Equipment Technology
Valid driver's license and no SR-22 insurance
Previous experience operating farm equipment, preferably including a Class A CDL
Previous experience working on diesel trucks, which could include time spent in the following roles: Diesel Mechanic, Maintenance Technician, Field Service Technician, Ag Equipment Tech, Agricultural Equipment Mechanic
Browse more Maintenance & Repair Jobs on AgHires now.
A little about the business: CHS Inc. is a leading global agribusiness owned by farmers, ranchers and cooperatives across the United States. Diversified in energy, grains and foods, CHS is committed to helping its customers, farmer-owners and other stakeholders grow their businesses through its domestic and global operations. CHS supplies energy, crop nutrients, grain marketing services, animal feed, food and food ingredients, along with insurance, financial and risk management services. The company operates petroleum refineries/pipelines and manufactures, markets and distributes Cenex® brand refined fuels, lubricants, propane and renewable energy products. CHS is an equal opportunity employer/disability/veteran.
What you would be doing:
Manage an ongoing queue of requests from Country Operations and other business units for Customer and Vendor accounts ensuring that all requests are valid, accurate and completed within service level agreements.
Investigate and resolve data incidents in a timely manner that supports service level agreements.
Manage and execute data cleansing projects in coordination with enterprise data stewards and data specialists to ensure the highest quality data is maintained
Identify process inefficiencies and the underlying root causes and recommend solutions to management.
Effectively communicate with enterprise data stewards, data specialists, and IT System support teams to resolve data management conflicts and escalate issues to management on a timely basis.
Qualifications:
Bachelor's degree or equivalent experience may offset degree requirement
2 plus years of experience to include master data process & technology, data governance principles, or business-related process experience
Intermediate to advanced proficiency in Microsoft Office (Excel, Word, Access, Visio, PowerPoint and Outlook)
Search more IT Jobs on AgHires now.
A little about the business: At Ag Partners, our mission is simple: Help Producers Prosper. Whether that's through tried and true agronomic advice, solutions and services, through our high-quality feed, or through our innovative risk management products for grain. We operate 16 facilities throughout Iowa. Our strong employee roster matches our commitment to service at each of these grain facilities, retail agronomy outlets, and feed mills.
What you would be doing:
Work in a safe and efficient manner, according to Ag Partners' Safety Policy.
Utilize good customer service skills at all times, when servicing and greeting customers, and when working with co-workers and other departments within the company.
Listen to and resolve the more complicated/complex customer complaints and concerns and assist employees in resolving customer complaints or requests. May consult with customers on their product quality/standards and applications needed in their operation.
Establish and communicate department goals for the feed team.
Demonstrate work habits that develop, build, and support the team concept within the organization.
Qualifications:
Bachelor's degree (B. A.) from four-year college or university; or five to six years related experience and/or training; or equivalent combination of education and experience.

Additional training in supervisory skills, staff management and budgeting.
Search more Management Jobs on AgHires now.
The opportunities within the agriculture industry are endless. Whether you are looking to start your journey or take the next step in your agriculture career, there is a place for you. Go to AgHires.com to search thousands of current job openings, ranging from agronomy jobs to marketing jobs to service technician jobs. New jobs are uploaded to our website daily.
Follow us on Facebook and Twitter to see more featured jobs.