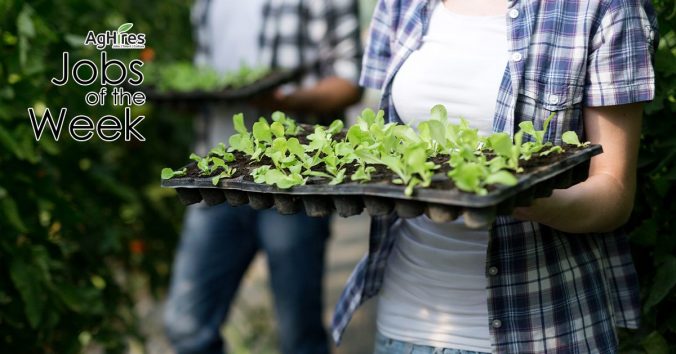 Top Agriculture Jobs of the Week
For the week of 10-19-2020
AgHires works hard to be the number one resource for top jobs in agriculture. The agriculture industry provides a variety of job opportunities that range far and wide. Take a moment to search through the thousands of current job openings on AgHires.com, and check out this week's top Agriculture Jobs of the Week below.
A little about the business: For over 20 years, BioWorks has been a leader providing environmentally responsible, safe, and effective solutions for pest control and plant nutrition. BioWorks' pesticide products are EPA Registered (unless exempt), and most are OMRI-Listed for organic growing. As the sustainability movement and the demand for biocontrols continues, BioWorks will continue to provide tools and services to help growers achieve the highest levels of insect and disease control that are safer (both for the environment and for employees) and effective.
What you would be doing:
Provide leadership direction and accountability for regional sales territory and sales development activities, in alignment with the strategic company direction.

Advocating and communicating an understanding of the features, advantages and benefits of BioWorks' biological products.

Responsible for retaining current customers as well as developing and attracting new customers and uncovering new opportunities for additional business.

Responsible for learning and selling current products and new products, keeping abreast of new technologies, competitors, recommending/sharing changes and trends seen in the field and meeting sales goals in targeted markets.

Directly responsible for supporting and accomplishing personal, team, department, and company goals.
Qualifications:
A degree in a horticulture field, which may include: botany, plant science, horticultural science, agronomy
5+ years of sales experience in the greenhouse or nursery industry
Search more Sales Jobs on AgHires now.
A little about the business: We are an innovative specialty fertilizer company, developing and manufacturing both mineral-based nutrients and organic-based bio stimulants for use in our extensive, crop specific agronomy programs. Foundational to our three step philosophy – Grow Roots, Pump Nutrients, and Drive Photosynthesis – these products help farms around the US and the world produce high quality, high yielding crops while reducing their risk and increasing their profits.
We currently have 3 manufacturing facilities in the US and our aggressive growth plans include expansion of existing sites and establishment of a fertilizer granulation site.
What you would be doing:
Take the lead on initial setup and installation of pilot equipment at the Pasco, WA facility.

Adapt pilot facility to accommodate product testing and experimentation.

Provide input and support to other production sites on areas of personal expertise.
Within areas of expertise, evaluate equipment for other manufacturing sites, provide support on setup and operation.
Serve as site safety representative on company safety committee
Qualifications:
Electrical and mechanical competency – knowledge and experience with mechanical equipment, PLC (programmable logic controller), hydraulics, and pneumatics
Strong ability to work independently without supervision.
Organizational skills – ability to schedule work, coordinate with contractors, manage multiple tasks in a fast paced environment.
Ability to perform physical work – bending, kneeling, squatting, standing for long periods, lifting (up to 50 lbs)
Search more Maintenance Jobs on AgHires now.
A little about the business:Matt's Greenhousewas established in 1977 and just celebrated 43 years in the greenhouse industry! We are "growing" and now have over 8 acres of greenhouses, specializing in the production of high performing, quality plants for wholesale distribution. We are looking for a motivated, happy person to work and be a part of our team!
What you would be doing:
Assistant Grower position is responsible for assisting in the management of crop growing operations for the greenhouse.
Crop production – planting, watering, fertilizing, identifying plant disease, pest control and soil nutrition. Monitor plant development & quality standards.
Ensure that plant and greenhouse environments are being properly maintained.
Qualifications:
Ability to use a computer – Microsoft Office.

Ability to work in a fast-paced environment.

Possess a strong attention to detail & accuracy.

Ability to calculate figures, amounts and portions in relation to the application of fertilizers, chemicals and water.

Willingness to learn various plant materials and applications.

Communicate clearly with employees and management.
Browse more Greenhouse Operator Jobs on AgHires now.
A little about the business: Ag Partners provides products, services and market access in the areas of grain, agronomy, feed and petroleum. Formed in 1997, the company represents a joint venture between Alceco, an Iowa cooperative, and Cargill. The company's locations include retail and wholesale agronomy outlets, grain facilities and feed mills throughout Iowa.
What you would be doing:
Act as a leader and manage the grain accounting side of the business by:

Preparing accurate and timely producer grain settlements for the company as well as warehouse receipts as needed.
Act as a resource for the grain staff and bookkeepers by maintaining knowledge of the grain scale, scale tickets, posting grain transfer, and all grain contracts offered by the company.
Oversees the recording of rail/truck shipments of grain and reconciles accordingly.

Be a resource to others and exhibit leadership by:

Working with Grain VP to generate various sales reports, implement new sales contracts, etc.
Motivating self and others by exhibiting pride and taking ownership in the tasks assigned.
Effectively prioritizing projects and tasks, efficiently delegates, coordinates, and utilizes the resources within the company and within the company's budget.
Qualifications:
Bachelor's degree from four-year college or university and four to five years related experience and/or training; or equivalent combination of education and experience.
CPA strongly desired, but not required.
Ability to work overtime as required
Great computer skills
Strong desire to take on challenges and provide solutions
Search more Accounting – Finance Jobs on AgHires now.
A little about the business:Keyis a member-owned, rural Iowa cooperative serving agriculture producers. With locations in 13 communities and 6 counties, Key Cooperative provides Agronomy, Energy, Feed, and Grain with a small-town, yet professional feel. Our employees take pride in our identity and they're committed to the success of our owners by delivering innovation, leadership, and performance. If you're looking for a place where you can grow and be proud of what you do each day – you can find this kind of career at Key Cooperative.
What you would be doing:
Educates customers of K-factors and Degree Days and why auto schedule is the best for the customer.
Be able to communicate and solve differences of opinion with the customer.
Projects a positive attitude to customers and employees at all times; exhibits good customer relations skills.
Maintain and grow customer base by communicating potential leads to Key Cooperative sales teams.
Maintain the truck to stay in good working order which would include but not limited to keeping the truck clean and presentable
Report all discrepancies of the truck, (repair the ones that you can).
Perform pre trip and post trip inspections.
Fill out and turn in paper work, and notify maintenance of needed repairs.
Qualifications:
Education and/or Experience: High School diploma or GED; or five years related experience and/or training; or equivalent combination of education and experience.
Certificates, Licenses, Registrations

Prefer one year of experience (or the ability to obtain ASAP)
Class A Commerical Drivers License with HAZMAT Endorsement and any other necessary endorsements: Air brakes Tanker
CETP Certified (we will train).
Search more Transportation Jobs on AgHires now.
The opportunities within the agriculture industry are endless. Whether you are looking to start your journey or take the next step in your agriculture career, there is a place for you. Go to AgHires.com to search thousands of current job openings, ranging from agronomy jobs to marketing jobs to service technician jobs. New jobs are uploaded to our website daily.
Follow us on Facebook and Twitter to see more featured jobs.