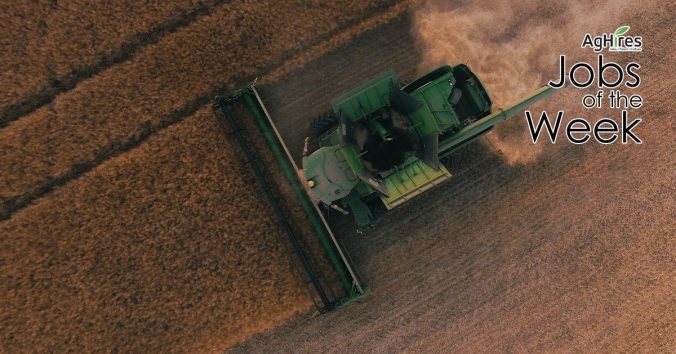 Top Agriculture Jobs of the Week
For the week of 10-12-2020
AgHires works hard to be the number one resource for top jobs in agriculture. The agriculture industry provides a variety of job opportunities that range far and wide. Take a moment to search through the thousands of current job openings on AgHires.com, and check out this week's top Agriculture Jobs of the Week below.
A little about the business: Plevna Implement Company Inc. is a family-owned, full-line AGCO-Massey Ferguson farm equipment dealership providing superior farm – agriculture machinery sales and service support. We are headquartered just outside of Kokomo in the town of Plevna, Indiana. Learn more about us at www.plevnaimplement.com
What you would be doing:
Preform in-shop diagnostics, service repairs, and maintenance work on customer farm machinery
Work directly with farming customers to communicate repairs made, share available products and services to meet their needs, and provide instruction on Ag equipment and technology
Pre-deliver/set-up newly retailed farm machinery as suggested in each service sales requisition and or direction from the Service Manager
Pursue and perform preventative maintenance services on customer-owned machinery
Maintain company vehicle, tools, and equipment
Qualifications:
Experience in servicing agricultural equipment, farming equipment, heavy equipment, etc.
Ability to work flexible hours during peak seasons
Ability to work independently and is a dedicated self-starter and drive position productivity without the need for direct, constant supervision
Excellent communication skills with the ability to facilitate coordination among multiple parties often under specific timeframes and deadlines
Search more Equipment Jobs on AgHires now.
A little about the business: Welcome to SeaAgri Solutions! We are a small and growing family-owned company based in Atlanta, GA. We have an amazing opportunity for the right individual to sell SEA-90, a Sea Solid trace mineral supplement used by farmers and ranchers worldwide to improve the health and productivity of their land and livestock.
What you would be doing:
Present, promote, and sell products/services using solid arguments to existing and prospective customers.
Perform cost-benefit and needs analysis of existing/potential customers to meet their needs.
Establish, develop, and maintain positive business and customer relationships.
Reach out to customer leads through cold calling.
Expedite the resolution of customer problems and complaints to maximize satisfaction.
Qualifications:
Proven work experience as a sales representative, territory sales manager, or account manager in the agricultural industry.
Excellent knowledge of MS Office.
Familiarity with BRM and CRM practices along with the ability to build productive business professional relationships.
High motivation and are target driven with a proven track record in sales.
Search more Sales Jobs on AgHires now.
A little about the business: Welcome to Oomen Farms in Hart, Michigan! We're a family-owned, diversified farming operation. We're n our fourth generation, we pride ourselves on growing quality organic and conventionally grown vegetables and row crops. We are continually expanding our operation and looking for someone who shares our passion for the industry and focus on continuous improvement.
What you would be doing:
Operating farm equipment such as tillage, sprayers, harvesters, and other farm equipment.
Hauling seed, fertilizer, fuel to and from the main location to fields.
Assisting with light equipment maintenance in the shop and in the field.
Assisting with irrigation including applying fertilizer through pivots, putting in and taking out pumps each season, and helping with basic repairs.
Performing general farm labor such as building upkeep, grounds maintenance, etc.
Qualifications:
Prior agricultural experience preferred
CDL A license or willingness to obtain within the first 6 months of hire
Ability to perform basic preventative maintenance of equipment and repairs
Physically be able to lift 50-75lbs, work outside in the elements and be on your feet on/off throughout the day.
Browse more Equipment Operator Jobs on AgHires now.
A little about the business: Welcome to GreenMark Equipment Inc.We are a 17 location John Deere dealership network in South Western Michigan and Northern Indiana. We have been providing sales and service to farmers, commercial businesses, large property owners, and homeowners.
What you would be doing:
Manages customer relationships and sales performance for assigned accounts.
Collaborates with sales team and aftermarket managers to achieve established goals.
Provide support and guidance to the sales team on customer financing options and assist in the close of larger sales
Drive and monitor the performance of the location to help achieve all financial, expense control, and focus goals.
Qualifications:
Have strong knowledge in sales and store operations ideally in either agriculture, construction, lawn & garden equipment, or heavy equipment
Are a strong communicator that enforces and monitors effective processes to ensure customer satisfaction
Have experience in project management, vendor management, and working closely with cross-functional teams/projects
Search more Management Jobs on AgHires now.
A little about the business: Welcome to AgHires! We are a leader in recruiting and job advertising for the agriculture, agribusiness, food production, produce, and horticulture industries. We pride ourselves on deep partnerships, open communication, and integrity to deliver top talent. Our clients are within the United States as well as Canada and range from mid-size to Fortune 100 companies. We have a differentiated approach to recruiting and share the same passion our clients have for the food and ag industry.
What you would be doing:
Acquire an understanding of the job requirements, company, competencies, skills, and knowledge
Strategically source candidates utilizing full tools and resources available
Maintain strong relationships with candidates and clients; clear communication & expectations
Conduct behavioral-based interviews and competency evaluations
Continue to build our pipeline of candidates
Serve as subject matter expert on market trends, target industries, and roles.
Openly express your ideas and opinions while working on team projects
Continuously expand your knowledge of the food and agriculture industry
Maintain accurate ATS
Utilize your own unique skillset and interests outside of recruiting, through writing articles, leading special topic discussions, or creating informational videos
Qualifications:
5+ years of recruitment/ talent acquisition of mid- to executive candidates; strong preference for individuals with agriculture industry recruiting or strong understanding of the ag industry
Proven ability to manage client expectations and flexibility to adjust to various client needs
A naturally competitive nature determined to work through difficult to fill positions
Bachelor's degree preferred
Search more Human Resource Jobs on AgHires now.
The opportunities within the agriculture industry are endless. Whether you are looking to start your journey or take the next step in your agriculture career, there is a place for you. Go to AgHires.com to search thousands of current job openings, ranging from agronomy jobs to marketing jobs to service technician jobs. New jobs are uploaded to our website daily.
Follow us on Facebook and Twitter to see more featured jobs.