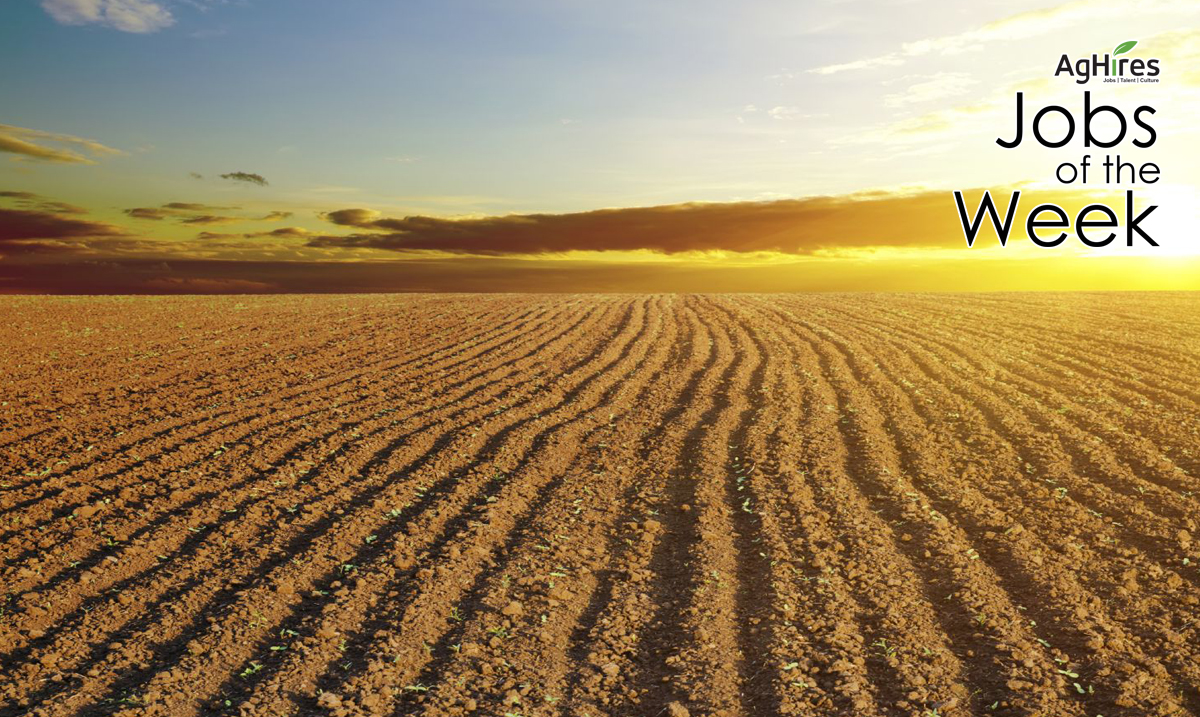 Top Agriculture Jobs of the Week
For the week of 1-25-21
AgHires works hard to be the number one resource for top jobs in agriculture. The agriculture industry provides a variety of job opportunities that range far and wide. Take a moment to search through the thousands of current job openings on AgHires.com, and check out this week's top Agriculture Jobs of the Week below.
A little about the business: Tessenderlo Kerley Inc. (TKI) is a company of diverse businesses unified by shared values and vision. We serve the agriculture, mining, industrial and water reclamation markets with a broad range of products and technologies, worldwide. Serving these customers well is a passion and a commitment-one which the people of TKI find rewarding, empowering and meaningful.
What you would be doing:
Collaborate with TKI Executive Vice President and Senior Management Team to develop an annual marketing, communication and brand strategy ensuring all aspects of the product or companies marketing activities align with the spirit and goals of the brand
Prepare budget to support the marketing and communications plan
Development of superior communications programs or our brands that build short term business and long-term equity
Strengthen the Company's leadership standing by conducting analyses which identify the principles of effective integrated communications
Qualifications:
Accomplished marketing and communications career with a minimum of 5-7 years' experience in similar role
University degree in marketing, communications, business, journalism or relevant field
Solid project management skills and ability lead projects from start to finish
At least 5 years strategic marketing experience; Agriculture and/or Industrial markets is a plus
Outstanding oral and written communications skills
Strong interpersonal skills, with the ability to supervise, motivate and develop employees
Strong e-media, electronic marketing, and digital platform skills
Proven experience creating targeted content is advantageous
Excellent organizational and leadership abilities
Search more Marketing Jobs on AgHires now.
A little about the business: Dairy Grazing Apprenticeship (DGA) is a National Apprenticeship under the U.S. Department of Labor-Employment and Training Administration covering all aspects of operating a managed grazing dairy farm.
What you would be doing:
Work in all aspects of the farm operation including working with herd health, pasture management, crops, feed and milking
Engage daily with the Farm Manager on prioritization of tasks and any herd health concerns
Maintain accurate record keeping for herd and crops
Maintain herd health and productivity including giving vaccinations and managing sick cows
Daily milking with attention to quality and procedure
Perform heat detection and AI
Assist with spring calving and calf health
Perform general daily farm work including feeding, scraping, cleaning and basic maintenance of equipment and facilities
Maintain general upkeep and cleanliness of house, lawn, farmstead, buildings, fencing and land
Qualifications:
Have prior livestock and/or farming experience and are looking to advance your career; or you are a highly motivated individual looking to get into farming
Enjoy working outside and being in the elements and are comfortable working closely with large livestock
Are a natural problem-solver and want to advance your career
Search more General Labor Jobs on AgHires now.
A little about the business: Wellington Implement is a family-owned and operated company that has served Wellington and surrounding communities through 3 locations for over 90 years. As a Case IH "Pinnacle" dealership, Wellington Implement employs a team of professionals who have developed a customer-centric reputation, supporting farmers, property owners and businesses with innovative equipment and service.
What you would be doing:
Work as a technician approximately 75% of the time spending the balance assisting other technicians, working with customers, and helping the service office operate efficiently.
Analyze and understand a customer's concern and to provide a solution at the time of need or work to head off a potential failure.
Be the voice of the shop team, lead with passion and enthusiasm, empower those that are ready and hold team members accountable when required.
Share your knowledge and assist with coworkers continues training to build our team.
Qualifications:
High school diploma or equivalent, associate degree, or higher, preferred.
Experience as an ag technician, mechanic, servicing agricultural equipment, diesel trucks, construction and/or heavy equipment.
Computer knowledge, proficient with the internet and the ability to type work orders.
Valid driver's license, & insurable
Experience with DC Electrical Systems as well as electronics.
Browse more Maintenance Jobs on AgHires now.
A little about the business: We are Sackett Potatoes!! A sixth-generation family farm operating in three states, Michigan, North Carolina and our new location in St. Anne, Illinois. We have continually grown through the years and pride ourselves on not only quality crops but leading our business with honesty and integrity. We are passionate about agriculture and passionate about the driven team we get to work next to every day. Sackett Potatoes is hiring a full-time, Shop Supervisor for our 6,500-acre farm in St. Anne. You must be self-motivated, hardworking, have good time management & organizational skills, able to make decisions, work independently and as a part of a team, and have excellent communication skills.
What you would be doing:
Maintain the inventory of on-farm equipment and ensure accuracy, this includes ordering parts from vendors.
Establish and keep good communications with equipment dealership service technicians and parts salespersons.
Keep the shop and parts room clean and organized.
Maintain and adhere to a preventive maintenance schedule for all vehicles and machines.
Work with and guide farm team to prepare all equipment for future seasonal work to minimize in-season repairs.
Qualifications:
Strong mechanical ability to perform basic mechanical repairs and maintenance.
Self-motivated, hardworking, honest, and able to work without direct supervision.
Valid driver's license and ability to drive tractors and trucks.
Own tools is strongly preferred.
Team player and possess strong written and verbal communication skills.
Search more Specialty Crops Jobs on AgHires now.
A little about the business: Wend Consulting came together over the idea of servicing an industry that is behind on technology but wants to be leading edge. We saw a gap and want to make sure that every company, no matter the size, can compete and deliver excellence to their customer. We pride ourselves in going above and beyond to assist our clients in the agricultural and petroleum industries with the biggest decisions and changes in their businesses, including technology/ERP implementation, mergers & acquisitions, and project management.
What you would be doing:
Develop and execute the company's business strategies in order to attain the goals of the board and shareholders
Provide strategic advice to clients so that they will have accurate view of the market and the company's future, technology, and business process
Maintain a strong relationship with vendors who Wend has strategic partnerships with
Prepare and implement comprehensive business plans to facilitate achievement by planning cost-effective operations and market development activities to obtain new clients
Ensure company policies and legal guidelines are communicated all the way from the top down in the company and that they are followed at all times
Qualifications:
5+ years in the agriculture industry in any facet – row crops, specialty crops, livestock, farm marketing, etc.
5+ years as a consultant or similar advisory role focused on customer success and consulting
Proven experience managing a team and/or delegating projects
ERP or Agriculture Specific Software knowledge is a plus but not required if you possess other consulting experience
Demonstrable experience in developing strategic and business plans
Search more Executive Jobs on AgHires now.
The opportunities within the agriculture industry are endless. Whether you are looking to start your journey or take the next step in your agriculture career, there is a place for you. Go to AgHires.com to search thousands of current job openings, ranging from agronomy jobs to marketing jobs to service technician jobs. New jobs are uploaded to our website daily.
Follow us on Facebook and Twitter to see more featured jobs.