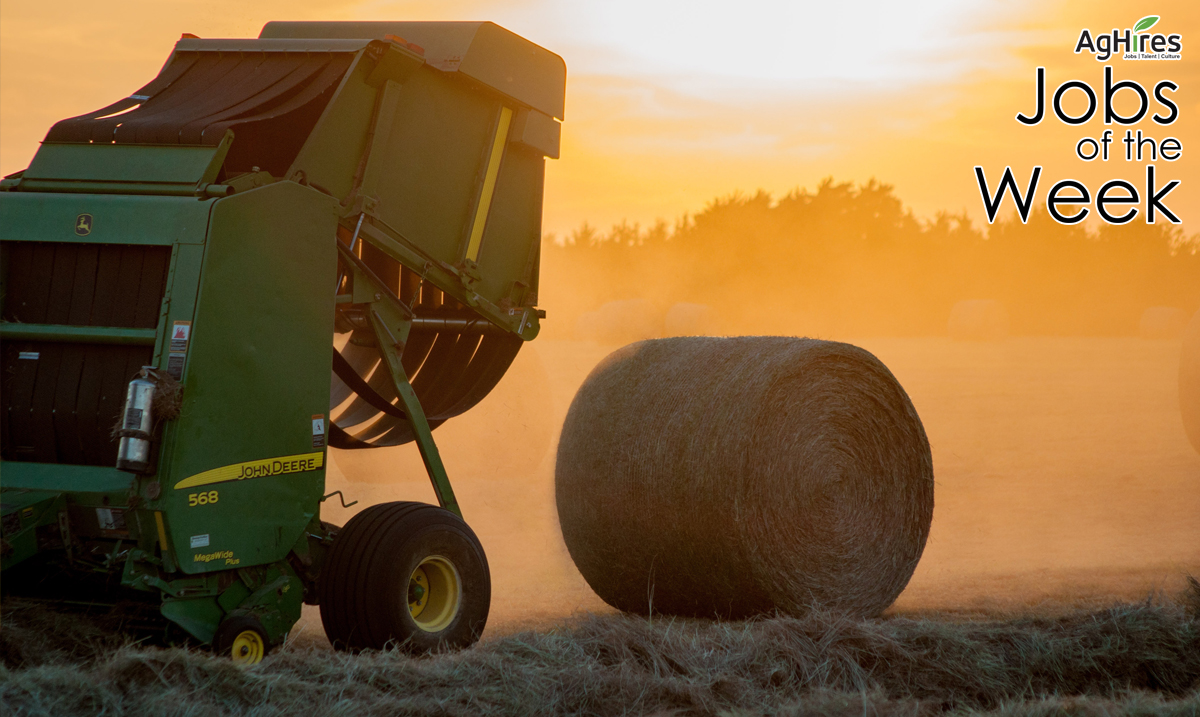 Top Agriculture Jobs of the Week
For the week of 1-18-21
AgHires works hard to be the number one resource for top jobs in agriculture. The agriculture industry provides a variety of job opportunities that range far and wide. Take a moment to search through the thousands of current job openings on AgHires.com, and check out this week's top Agriculture Jobs of the Week below.
A little about the business: Anna Evergreen, located in Cobden, IL, specializes in the highest quality evergreen production and provides 225 species of trees, plants, and shrubs to wholesalers located on 400 acres. As a progressive green nursery, we are committed to practicing sustainable agriculture.
What you would be doing:
Planning: Develop plans for herbicide, pesticide, cover crop/companion crop, soil fertility, field preparation, and tillage.
Pesticides and Fertility: Implement and maintain pesticide and fertility programs.
Field Plan: Manage cover crop, companion crop, and field preparation.
Management: Train and lead the crew to promote high quality work while maintaining high levels of productivity.
Qualifications:
Farm experience required
Experience with farm equipment operation and maintenance
Current Private Applicator's License
Bi-lingual English/Spanish candidates are preferred
Search more Production Jobs on AgHires now.
A little about the business: Yerks Seed is a family-owned Seed Company located North East of Ft. Wayne, IN. Yerks Seed specializes in small lot seed production of soybeans and wheat.
What you would be doing:
Operation of Seed Cleaning Equipment
Bagging, & Palletizing of Packaged Seed
Forklift Operation & Warehousing
Loading/Unloading bulk & van trucks
Operation of farm equipment & trucks
Attention to details & self-motivation required
Work area cleanliness & organization desired
Qualifications:
Ability to lift 40-60 lb. bags
Ability to climb ladders & stairs
Search more General Labor Jobs on AgHires now.
A little about the business: At Cow Pleasant Dairy, we aim to produce milk, beef and crops of the highest quality with respect for the people, animals and the land that help produce it. We are a family owned 3,400 head dairy located in Weidman, MI.
What you would be doing:
Diagnosing and treating mastitis according to farm protocol
Vaccinating and following T.A.I. protocols
Assist with calvings and fresh cow care
Sorting cows for treatment, group changes and/or hoof trimming
Accurately record all treatments and communicate with Herd Manager
Manage Cow Manager system-replace tags when needed
Check for mixed cows; be sure cows are in correct pen
Move cows to and from hospital-assist in keeping hospital inventory
Prepare cows to be sold
Input daily information into PC- Dart and make lists when necessary
Qualifications:
Have experience working with dairy cattle and are passionate about cows, livestock, and agriculture.
Are looking to be a part of a progressive operation focused on continuous improvement.
Are considered a team player having strong communication skills and abilities.
Ability to work 50- 60 hours per week.
Browse more Dairy Jobs on AgHires now.
A little about the business: Viafieldis a member-owned ag cooperative in northern Iowa and southern Minnesota with over a century of rich tradition. A team oriented organization, we understand what it takes to be successful and we believe growth for our organization and our members leads to opportunities. Our team of employees is specialized to meet the needs of our customer's businesses and provide expert advice on products, services and trends within Agronomy, Energy, Feed and Grain. As a local business, Viafield employs over 150 individuals who are rooted in their cooperative and community.
What you would be doing:
Create an environment and culture that focuses on fulfilling the mission and core values of Viafield.
Lead, hire, onboard, and manage employees.
Lead the business planning process with the feed team.
Develop and implement cost saving initiatives to improve operational performance.
Ensure that performance and financial targets of feed department and overall Viafield are met.
Take overall responsibility for the safe and efficient daily operation of production.
Provide leadership on issues facing the organization, working collectively with managers, and understanding all aspects of the business.
Search more Management Jobs on AgHires now.
A little about the business: North Valley Farms is a family-owned dairy farm located in Central Michigan.
What you would be doing:
Operating trucks and hauling forage during harvest season
Operating tractors while hauling manure and general field work
Operating skid steers to clean barns and complete various tasks
Light maintenance of equipment such as greasing and checking fluid levels
Mixing of feed and delivery of feed to cattle
Operating windrowers and mergers
Qualifications:
Farming background is preferred
Must have a valid driver's license and ability to obtain an F-endorsement
Experience driving trucks, tractors and general farm equipment
Work long hours and weekends during seasonal work
Work well with others
Work efficiently and effectively
Work outside in all weather conditions
Search more Farming Jobs on AgHires now.
The opportunities within the agriculture industry are endless. Whether you are looking to start your journey or take the next step in your agriculture career, there is a place for you. Go to AgHires.com to search thousands of current job openings, ranging from agronomy jobs to marketing jobs to service technician jobs. New jobs are uploaded to our website daily.
Follow us on Facebook and Twitter to see more featured jobs.