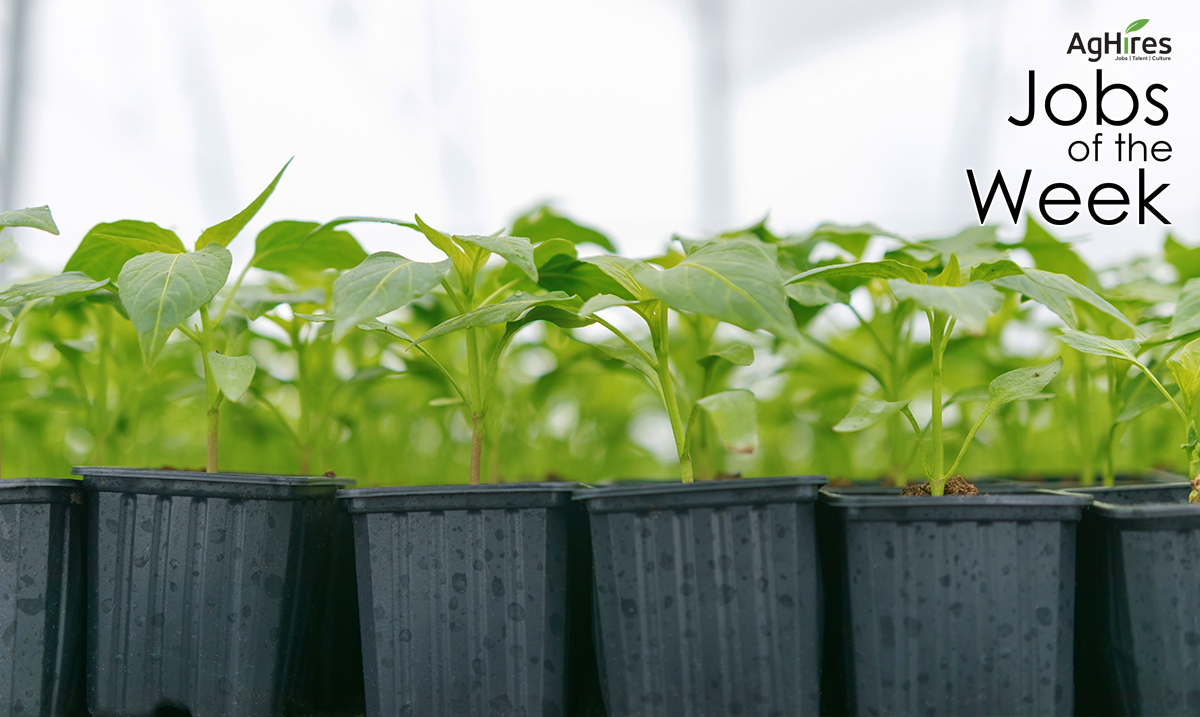 Top Agriculture Jobs of the Week
For the week of 1-11-21
AgHires works hard to be the number one resource for top jobs in agriculture. The agriculture industry provides a variety of job opportunities that range far and wide. Take a moment to search through the thousands of current job openings on AgHires.com, and check out this week's top Agriculture Jobs of the Week below.
A little about the business: Founded in 1994, SIGNET continues to lead the way in providing ag confinement construction services for projects of all sizes. From erecting half a million square foot buildings in the heartland to simply injecting our workforce to an existing project, SIGNET has the resources & the expertise to bring the builder's vision to life. The back-bone of any company is the folks that make the workforce. We pride ourselves in working with the very best labor force in the country.
What you would be doing:
Ag equipment installation in livestock confinement buildings
Unload materials, lay out lumber, tin sheets, trusses, and other components for building livestock confinement structures.
Build and erect walls and trusses. Lift tin sheets to roof and sheet walls, install doors, and caulk structure.
Clean up job sites.
Must be able to lift and carry 50 pounds up to 75 yards.
Crew members may be certified to safely operate skid loaders, forklifts, boomlifts, aerial lifts, scissor lifts, etc.
Qualifications:
Must be able to commute to designated meet up site near Ames, IA to get to various farm project sites
Previous experience working in construction or in agriculture is strongly preferred
On occasion, must be able to travel with crew to out-of-state projects
Search more Skilled Labor Trade Jobs on AgHires now.
A little about the business: Stateline Precision Farms, located just East of Fort Wayne, Indiana, is a progressive, large, grain crop operation that uses some of the newest technologies and practices available to Agriculture. We take great pride in the quality of work we do, and our equipment.
What you would be doing:
Operate Equipment including excavating, tillage, planters, sprayers, nutrient application liquid and dry, and harvesting equipment
Utilize technology in farming practices including Variable Rate Technology on every trip across our farm
Perform light maintenance of equipment including oil changes, changing wear points, light welding, and working on implements
Maintain clean working area in shop, on grounds and in tractors
Assist in working in and around grain bins
Qualifications:
Prior operation of heavy equipment
General mechanic skills and light welding/fabrication
Strong computer skills with ability to work with changing technology
Driven personality, desire to succeed and a team player with a positive attitude
Ability to work required extended hours and some Saturdays in the busy season
Valid Driver's License- with expectation of employee to get a class A CDL
All applicants must be able to pass a pre-employment drug screen
Search more Equipment Operator Jobs on AgHires now.
A little about the business: The U.S. Department of Agriculture's (USDA) Marketing and Regulatory Programs (MRP) needs bright, energetic and committed professionals to facilitate the domestic and international marketing of U.S. agricultural products and to protect the health and care of animals and plants in the United States. MRP offers an array of occupations and is committed to diversity in the workplace. We operate in domestic and global markets. Be part of an organization that protects the health and agriculture of the American people. Join our team!
What you would be doing:
The duties described are for the full-performance level. At developmental grade levels, assignments will be of more limited scope, performed with less independence and limited complexity.
The duties may include, but are not limited to:
Examines meat to evaluate factors related to product quality.
Selects samples and meat products within specifications.
Explains evaluation determinations to plant management.
Prepares and issues certificates based on quality standards.
Assists supervisors with on-the-job training of meat graders and other employees.
Qualifications:
4-year course of study leading to a bachelor's degree. Equivalent combinations of education and experience are qualifying for this grade level.

Or three years of progressively responsible experience, one year of which was equivalent in level of difficulty and responsibility to the next lower level in the Federal Service (equivalent to the GS-04 level) (experience may have been obtained in private or public sectors), that demonstrates the ability to:

Analyze problems to identify significant factors, gather pertinent data, and recognize solutions.
Plan and organize work.
Communicate effectively orally and in writing.
Browse more Food Safety Jobs on AgHires now.
A little about the business: Gernaat Dairy is a family-owned, 3,000-head dairy located in Falmouth, MI (20 miles east of Cadillac, MI). We pride ourselves on operating a progressive dairy farm offering high quality milk to our customers. Our team prides itself on working together to be a solid, efficient, positive, and well-organized team.
What you would be doing:
Walk pens to monitor pre-fresh cows to identify cows calving
Move cows to maternity pens following procedure on when to do so.
Clean feeding and processing equipment
Administer oral treatments.
Record all necessary information on the calving process
Milk fresh and treated cows
Processing new born calves.
Assistance with delivery when necessary.
Recording all necessary information on new born calves and the delivery process.
Cleaning of freshening pens when needed.
Scraping dry cow barns
Qualifications:
Have dairy farming, livestock, and/or agriculture background or experience. This is a plus but not necessary as will train the right person.
Have a willingness to learn and handle cattle in a quiet, calm non-abusive manner.
Are detail oriented, have strong time management skills, work well under pressure, and able to multi-task.
Are able to work well independently and as a team player.
Search more Livestock Jobs on AgHires now.
A little about the business: Welcome to Nebraska-Iowa Helicopter! We are an aerial crop spraying business throughout Eastern Nebraska and Western Iowa. We utilize state-of-the art application technology, including DGPS guidance systems, Flow Control devices and GIS data, all of which ensure the consistently precise, accurate and on-target applications we are known for. We're a family owned and operated business where we take pride in working hard and treating all employees as family.
What you would be doing:
Driving semi-trucks from field to field hauling chemicals and water to helicopters.
Mixing chemicals – we will teach you how to do this.
Fixing and making minor repairs to equipment.
Maintaining cleanliness, neatness and safety of work areas and trucks.
Qualifications:
You have some prior driving experience (trucks, semis, agriculture, construction, or military) and a clean DMV, Class A CDL with hazmat is a plus or willingness to obtain.
You enjoy being around farming and agriculture.
You are mechanically inclined and comfortable performing light maintenance.
You enjoy working independently while functioning as part of a team.
You are self-motivated, high paced, and willing to work the longer hours.
You are comfortable utilizing a smart phone / google maps to coordinate getting from field to field.
Search more Trucking Jobs on AgHires now.
The opportunities within the agriculture industry are endless. Whether you are looking to start your journey or take the next step in your agriculture career, there is a place for you. Go to AgHires.com to search thousands of current job openings, ranging from agronomy jobs to marketing jobs to service technician jobs. New jobs are uploaded to our website daily.
Follow us on Facebook and Twitter to see more featured jobs.