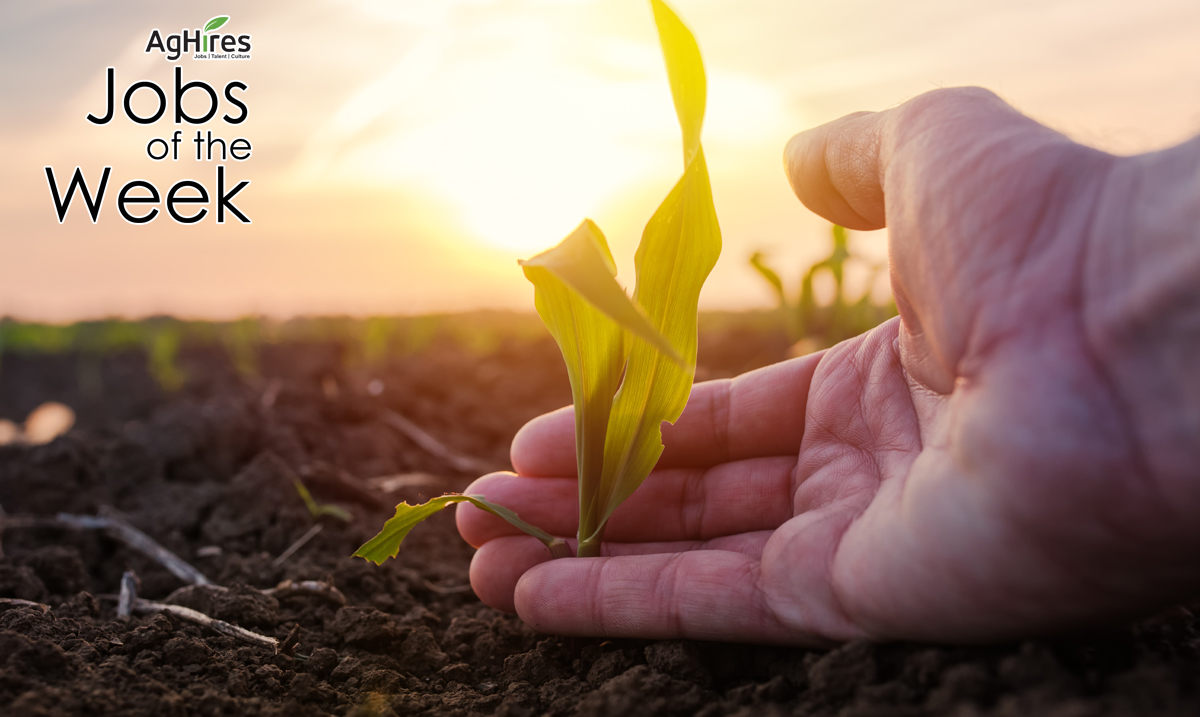 Top Agriculture Jobs of the Week
For the week of 7-11-22
AgHires works hard to be the number one resource for top jobs in agriculture. The agriculture industry provides a variety of job opportunities that range far and wide. Take a moment to search through the thousands of current job openings on AgHires.com, and check out this week's top Agriculture Jobs of the Week below.
A little about the business: Welcome to Farm Equipment USA! We are an authorized Versatile, Deutz-Fahr, Yanmar, Krone, Hyundai Construction, Pottinger, Norwood Qwil-Till, Rhino Ag dealership serving the Fruitland, ID area. We are proud to carry a large selection of new and pre-owned inventory. We value the opportunity to create a long-term relationship with our customers, and we do that by giving them the best customer service available.

What you would be doing:
Diagnosing, maintaining, repairing, and supporting customer equipment in the field and by phone.
Providing quality customer service at all times.
Road-Testing equipment to ensure quality of repair work.
Completing all work according to the applicable safety requirements.
Providing and maintaining an inventory of normal mechanics tools.
Qualifications:
Experience diagnosing, maintaining, and repairing agriculture, farm, or other heavy equipment.
Passion for equipment, agriculture, and working out in the field.
Ability to work extended hours during peak seasons.
Offers competitive compensation, Health Reimbursement Account, 401K, Paid holidays and sick time.
Search more Equipment Jobs on AgHires now.
---
A little about the business: At Saputo, our best comes from our people. We're a talented and caring team with a longstanding history of excellence. Since our first days delivering cheese on a bicycle, we've grown into a leading global dairy processor by staying true to the culture that defines us. Each of our employees is committed to uphold our tradition of care, quality, and passion through food, and together, we foster an environment where we can all make contributions that matter-from our manufacturing plants to our office locations and everywhere in-between.

What you would be doing:
Perform all jobs included in the Brine room and in the General packaging room on Phase I, Phase II and the Box Maker areas. Jobs include: Brine In, Brine Out, singulator, loading bulk totes, working at the RapidPak, sealer, in loader (liners), boxer, box maker and break relief.
Initiate rotation on packaging line every hour.
Manage associates break schedule in timely manner.
Regularly rotating position through department from Brine In, Brine Out, Singlulating, Rapid Pack, Bulking, Boxing, In-loading and Sealing and Break Relief duties.
Search more Dairy Jobs on AgHires now.
---
A little about the business: GPAC is currently partnered with a progressive and large farming operation that is looking for an experienced Farm Hand. This is a diverse operation that raises corn, soybeans, and cattle. They are in need of an individual who has experience in operating various farming equipment. This farm takes pride in their equipment and runs all new to late model equipment.

What you would be doing:
Operation of large agricultural equipment and implements.
Maintenance and repair of equipment as necessary.
Operating semi truck and trailer for hauling cattle, commodities, and crop inputs.
Assisting with cattle production.
Feeding, vaccinating, doctoring, calving, etc.
Qualifications:
Prior experience operating Ag equipment.
Ability to safely operate semi.
Class A CDL preferred.
Strong mechanical aptitude.
Browse more Livestock Jobs on AgHires now.
---
A little about the business: At Bayer we're visionaries, driven to solve the world's toughest challenges and striving for a world where ,Health for all, Hunger for none' is no longer a dream, but a real possibility. We're doing it with energy, curiosity and sheer dedication, always learning from unique perspectives of those around us, expanding our thinking, growing our capabilities and redefining 'impossible'. There are so many reasons to join us. If you're hungry to build a varied and meaningful career in a community of brilliant and diverse minds to make a real difference, there's only one choice.
What you would be doing:
Be responsible for the Product Supply relationship with Retail, Seedsman & Grower customers for assigned accounts and strengthening relationships in a proactive, intentional way.
Analyze account history & build annual operational plans with accounts to create mutually beneficial approaches that support the achievement of account & Bayer business targets.
Influence account behavior in support of Sales and Operational business plans including influence-to-take in non-optimal scenarios, adopting new processes, tools, and systems.
Implement continuous improvements in operational efficiency and customer experience.
Provide value-added services that enhance the customer experience & induce loyalty.
Utilize basic agronomic knowledge to support product upsell or substitutions.
Qualifications:
Bachelor's degree.
At least five years of professional experience preferably in customer service, commercial, logistics, operational or agricultural fields.
Self-motivated, results-oriented with a process improvements mindset.
Able to work independently with minimal supervision.
Search more Agronomy Jobs on AgHires now.
---
A little about the business: Farmers Cooperative strives to create a supportive, caring and safe environment for our team. We employ people who value our customers and their fellow employees, and who will go out of their way to help the team succeed.
What you would be doing:
Your main duty is the safe operation of company semi tractor-trailers and/or straight trucks.

Delivering bag and bulk feeds to patrons and company branches in an accurate, efficient, and timely manner.

Pick up and deliver feed products from serving mills and warehouses and assist with organizing and scheduling feed deliveries.

Observe proper feed sequencing and delivery procedures and complete, organize, and file required logs, flushing procedures and recorded documents with accuracy.

Assist with warehousing and customer service duties as needed. You will need to follow all DOT regulations, do daily pre-trip inspections and maintenance of your vehicle, safely transport daily freight, and communicate efficiently with the dispatcher.
Qualifications:
High School Diploma and/or equivalent.
Proper CDL for designated truck.
Farming or agriculture background/knowledge preferred.
Highly motivated self-starter.
Excellent written and oral communication.
Basic computer skills.
Excellent customer service skills.
Search more Cooperative Jobs on AgHires now.
---
The job opportunities within the agriculture industry are endless. Whether you are looking to start your journey or take the next step in your agriculture career, there is a place for you. Go to AgHires.com to search thousands of current job openings, ranging from agronomy jobs to marketing jobs to service technician jobs. New jobs are uploaded to our website daily.
Follow us on Facebook and Twitter to see more featured jobs.