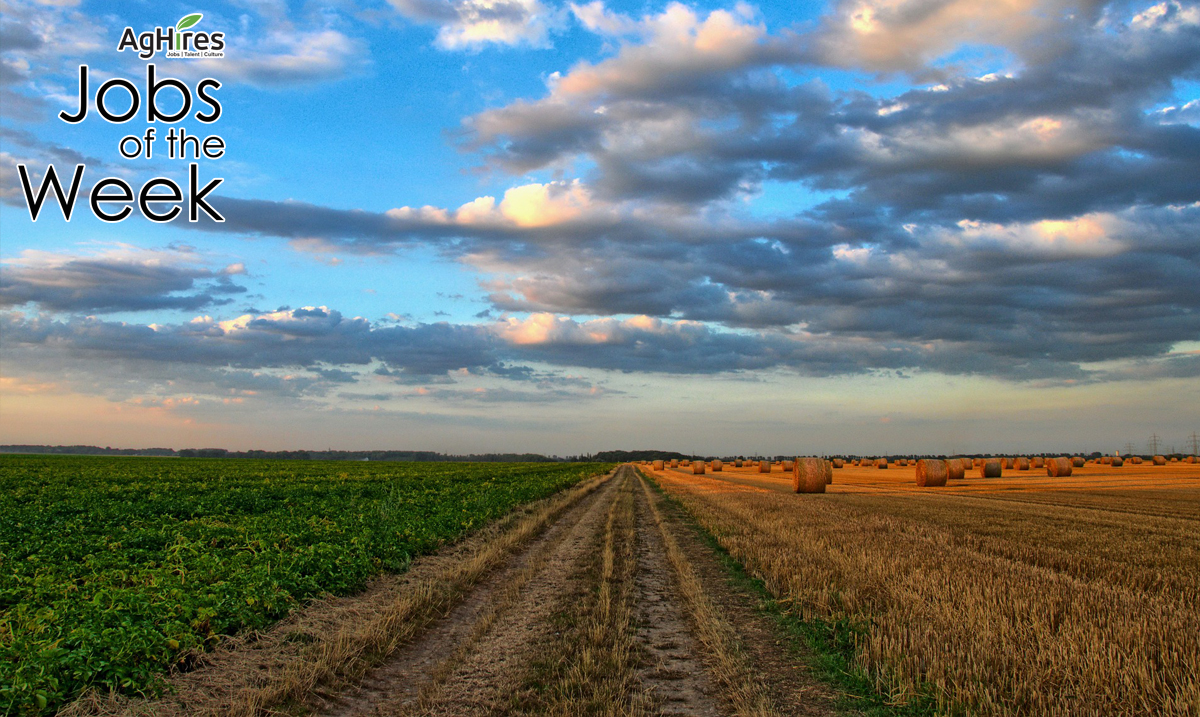 Top Agriculture Jobs of the Week
For the week of 6-14-21
AgHires works hard to be the number one resource for top jobs in agriculture. The agriculture industry provides a variety of job opportunities that range far and wide. Take a moment to search through the thousands of current job openings on AgHires.com, and check out this week's top Agriculture Jobs of the Week below.
A little about the business: Welcome to Ostergard Farms! We are a family owned, diversified operation farming white corn, yellow corn, and soybeans. We also have an excavation and material hauling business (dirt/manure). Our team shares a passion for agriculture and takes great pride in the work we do.
What you would be doing:
Operate farm equipment including tractors, planters, sprayers, trucks and other farm equipment.
Perform preventative maintenance and light repairs on equipment and trucks.
Assist with hauling – driving trucks during the slow farming season.
Assisting with irrigation and other general farm duties as necessary.
Qualifications:
Have prior agriculture/farming experience and are comfortable operating heavy equipment.
Have basic maintenance ability and willing to jump in to assist with repairs where needed.
Ability to work extended hours during peak seasons.
CDL is a plus, not required.
Search more Farming Jobs on AgHires now.
---
A little about the business: Redline Equipment is a team of people with a passion for farmers and their equipment. We are dedicated to serving farmers, ranchers, ag producers, construction and commercial lawn service providers to provide cutting-edge equipment, technology and parts and provide 24/7/365 service from highly qualified. Any Season. Any Reason. Any Time. Redliners take this motto very seriously and provide top performance and equipment through our twelve dealer locations throughout Ohio, Michigan and Indiana.
What you would be doing:
Interact with prospects and customers to ensure a positive experience with our dealership.
Work closely with prospects and customers to develop a relationship to ensure
complete understanding of agricultural equipment needs.
Conduct equipment demonstrations.
Analyze sales opportunities, solve customer problems, and participate in sales promotions.
Prepare all sales quotes ensuring that all proposals are complete, accurate and provides a complete description.
Maintain acceptable levels of sales volume, gross profit and attain sales unit targets.
Keep accurate and up-to-date call logs, prospects lists and mileage information.
Stay current with agricultural product knowledge and features and benefits of all agricultural equipment.
Maintain current knowledge of financing options for new and used agricultural equipment.
Attend sales training, sales meetings, events, and seminars.
Perform other related duties as assigned.
Qualifications:
College degree preferred, with coursework in Agribusiness, finance, or related field.
Agricultural equipment sales experience or equivalent experience
Highly self-motivated, strong interpersonal skills and communication skills required.
Excellent attention to details.
Ability to use standard desktop or laptop computer and related programs, Microsoft Office platform, plus ability to effectively research and navigate the internet.
Search more Sales Jobs on AgHires now.
---
A little about the business: Central Valley Ag - CVA is a member-owned farmers' cooperative headquartered in York, NE, with locations throughout Nebraska, Kansas and Iowa. Established in 2003, CVA has over 900 employees and is an innovative leader providing products and services in grain, agronomy, feed, and energy. You can find more information about Central Valley Ag by visiting www.cvacoop.com.
What you would be doing:
Responsible for answering, evaluating and prioritizing incoming telephone calls, voice mail and in-person requests for assistance from users experiencing problems with hardware, software, networking and other computer related technologies.

Responsible for escalating hardware and niche software related issues to the correct specialized unit.

Collaborates with Network Administrators, Helpdesk and other IT staff to ensure efficient operation of the company's overall computing environment, including assistance with troubleshooting, installation and upgrades of LAN, WAN, VPN, phone and server systems.

Maintains inventory records of all IT related resources.

Must be willing to take part in the, rotating, weekly on call schedule

Other duties as assigned.
Qualifications:
College or technical degree in a related field preferred. Related experience and/or equivalent combination of education and experience can substitute for the degree.

Minimum one plus years of demonstrated experience supporting a corporate environment preferred.
Browse more Information Technology Jobs on AgHires now.
---
A little about the business: Ecovative Design uses innovative biology to solve fundamental human needs at industrial scales and in consumer applications. Ecovative uses fungal mycelium to grow products ranging from vegan bacon to textiles to sustainable packaging. Mycelium materials will biodegrade over time after their intended product life cycle- in contrast to plastic-based materials that hang around for thousands of years. This highly sustainable material can be custom-tailored to virtually any need - so the sky is the limit for potential products they can create.
What you would be doing:
Lead the team responsible for high-throughput laboratory research in support of the most advanced mycelium biomaterials in the world
Lead the continued integration of top-end laboratory automation tools with custom incubation and characterization equipment developed at Ecovative
Management responsibilities including interview and selection, hiring, training and development, performance management, employee relations, etc. This includes but is not limited to regularly scheduled individual contributor meetings, talent acquisition lead for the team, on-boarding program development, fostering continuous development of individuals through goal setting and performance reviews, and continuously seeking out and making accessible education and training opportunities for the team
Qualifications:
Bachelor's degree in science, preferably microbiology, cell biology or related field
5+ years in industrial research in a biological or biotechnology industry
3+ years of direct people management, including hiring, performance management, team and individual contributor goal setting and development
Demonstrated ability to grow and develop a high performance team
Strong scientific background with industrial research and development experience
High emotional intelligence matched with professionalism
Motivating, empowering, concise, and persuasive
Invested in the career development of others
Positive encouraging attitude coupled with ability to give direct constructive feedback
Search more Research Jobs on AgHires now.
---
A little about the business: Welcome to Stine Seed Company! We are the country's largest privately-owned seed company, specializing in soybean and corn genetics, headquartered in Adel, Iowa. The Stine name has a proud history dating to the 1940s when Bill Stine began cleaning public variety of soybean seed with a portable cleaner. Since then, Stine has grown and expanded, becoming one of the most recognized and respected names in the corn and soybean industry, owning more than 800 patents.
What you would be doing:
Learn and understand day-to-day needs and issues of assigned ISRs through regular communication and by spending a minimum of 3 days a month in the territory with the ISR.
Develop and maintain a thorough agronomic and technical knowledge of Stine seed products and services applicable to the assigned territory
Assist ISRs in the development and management of key prospect lists, new dealers, direct grower recruitment, and monitor their progress toward stated goals.
Organize and lead regional meetings
Assist with development, design, planting and harvest of Yield in the Field (YIF) plots.
Understand and implement marketing initiatives while driving key products and services in key target farming areas
Communicate and implement Stine's sales programs and policies within the assigned territory in order to meet sales goals for the district
Qualifications:
Strong agriculture knowledge with three or more years of sales experience as an agronomist, crop advisor and/or seed sales
Prior success leading a sales team
Demonstrated knowledge of proven sales techniques and an ability to coach
Demonstrated initiative and the ability to work with multiple team members to meet established goals.
Search more Management Jobs on AgHires now.
---
The job opportunities within the agriculture industry are endless. Whether you are looking to start your journey or take the next step in your agriculture career, there is a place for you. Go to AgHires.com to search thousands of current job openings, ranging from agronomy jobs to marketing jobs to service technician jobs. New jobs are uploaded to our website daily.
Follow us on Facebook and Twitter to see more featured jobs.