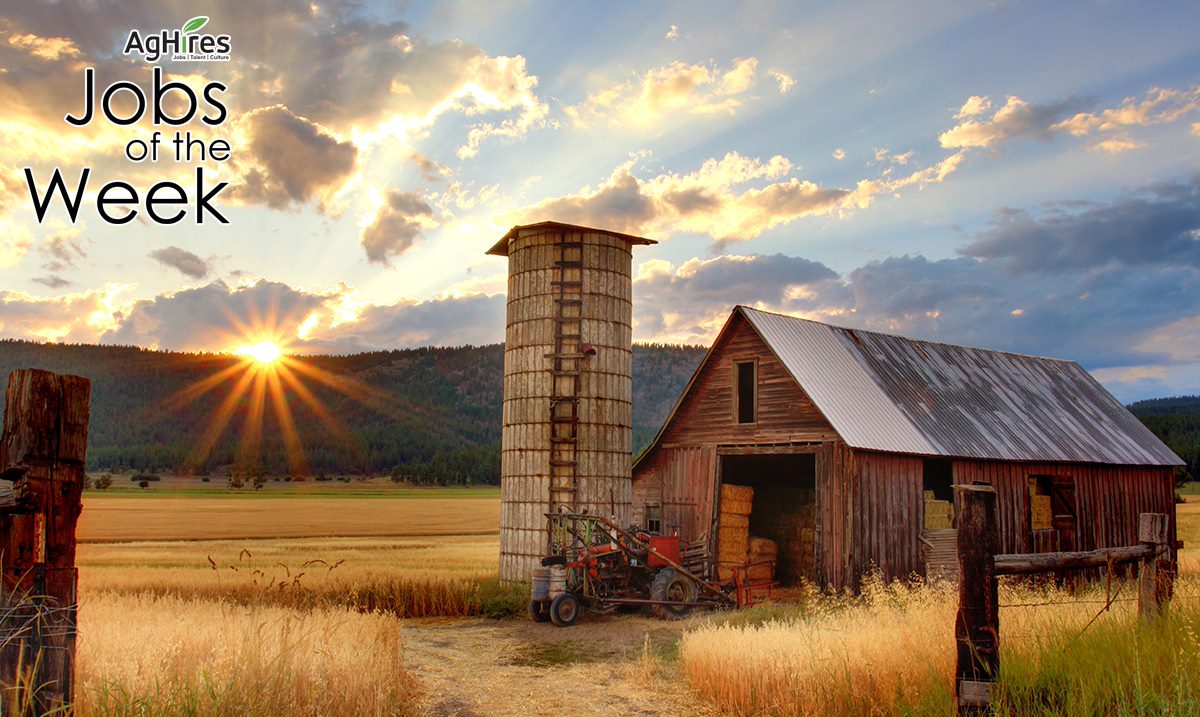 Top Agriculture Jobs of the Week
For the week of 10-18-21
AgHires works hard to be the number one resource for top jobs in agriculture. The agriculture industry provides a variety of job opportunities that range far and wide. Take a moment to search through the thousands of current job openings on AgHires.com, and check out this week's top Agriculture Jobs of the Week below.
A little about the business: Welcome to Holden Farms! The Holden family has been farming in Northfield, Minnesota since our great-grandfather John Holden and his family moved here in 1876. From John Holden to our grandparents William and Mathilda Holden, to our parents Howard and Evelyn Holden, to our family today, one thing has remained constant: a dedication to hard work, honesty, and respect for the people, land, and animals with which we work.

What you would be doing:
Coordinate and execute repair requests for HFI divisions that have employees and our company-owned assets, including but not limited to Sow, gilt, nursery, finishing, research farms, employee housing, office, trucking division, Market Turkey division, shop, sheds, and any other physical property owned and operated by HFI.
Responsible for Manure nutrient management plan, follow state, local, and federal regulations for manure management. Responsible for application and removal of all manure in HFI owned facilities.
Responsible for Yearly NPDES and other state MPCA permits
Work collaboratively with Farm Managers, Supervisors, and Employees to maintain and repair HFI owned facilities.
Help coordinate and provide cost estimates of project materials to divisions requesting work repairs.
Qualifications:
High School Diploma, or equivalent
Repair and maintenance experience required
Management Experience
Microsoft Office Suite Experience
Search more Maintenance Jobs on AgHires now.
---
A little about the business: The Medford Cooperative is among the oldest cooperatives in the state of Wisconsin. During its history, new divisions have consistently developed, including a supermarket, hardware store, and convenience store. The Medford Cooperative currently employs over 200 people and has annual sales in excess of $75,000,000. The Medford Cooperative is proud of the staff for their product knowledge, willingness to "go the extra mile" and friendly service.
What you would be doing:
Prospect for larger, progressive new clients.

Conduct service work such as forage samples, blood work on dry cows, calf audit and weighing, walking cows to monitor body condition and health.

Ration balancing and record audits are also primary responsibilities.

Build relationships with dairy farmers, evaluate their needs, and provide outstanding on-farm service and servicing feed products.
Qualifications:
Must be detail orientated.
Complete goals and weekly reports in an organized and timely manner.
Dairy production experience.
Be able to work with limited supervision.
Maintain a positive attitude.
Able to learn new concepts and apply knowledge in a manner that benefits our customers and prospects.
Search more Sales Jobs on AgHires now.
---
A little about the business: KMR is the innovator for agronomy research services for seed and technology companies and non-profits. We research the newest corn hybrids, soybean varieties, biotechnology traits, and pesticides across various environments. We use the latest technology to generate accurate and precise data so our clients with unbiased, reliable data for making their product advancement & selection decisions. We provide additional services to our clients for training and decision-making. In addition to our research program, watch for our research-based breeding program's exciting new releases over the next few years. To learn more about KMR, visit our website at www.kmrinc.net.
What you would be doing:
Safely transport research equipment to and from research sites.
Plant trial locations with a crew while ensuring proper planting conditions and seed placement.
Perform and lead small crews in in-season data collection and field maintenance.
Complete specific protocols at certain locations in an accurate and timely manner.
Hand pollinate in the breeding nursery and supervise the pollination and detasseling crews.
Process nursery seed and prepare for the winter nursery and spring planting.
Assist with inventory control, organized shared workspaces, and facility maintenance.
Qualifications:
Class A CDL with airbrake endorsement, or willingness to obtain within 120 days of hire.
Understanding of basic crop production practices.
Farm equipment operator experience.
Bachelor OR Master's degree with 2 years of production agriculture or research experience.
Ability to travel overnight 10% and work seasonally long hours (no Sundays).
Iowa Pesticide Applicator's license or ability to obtain.
Browse more Farming Jobs on AgHires now.
---
A little about the business: BioWorks Inc. With headquarters in Victor, New York, BioWorks has been a leader in providing environmentally responsible, safe, and effective biologically-based pest control and plant nutrition products for the horticulture, turf, and specialty agriculture markets for more than 20 years. Together, with our team of experts, our customers are enhancing conventional programs as well as developing leading edge pest control and plant health programs.
What you would be doing:
Provides support in recruiting and interviewing of potential new team members.

Assist in scheduling of interviews and communications.

Provides support in onboarding new team members.

Generates ideas to further enhance the onboarding process.

Assist with internal BWe Organizational development training.

Works with departments to identify companywide training opportunities.

Provides support in administering company benefits and payroll activities.
Qualifications:
Bachelor's Degree preferred, Associates Degree with experience will be considered.

Minimum of 1 year administrative/clerical training or experience desired.

Proficient in MS Office products Word, Excel and Power Point.

Excellent communication skills, both verbal and written.

Excellent telephone skills.

Good interpersonal skills.
Search more Human Resources Jobs on AgHires now.
---
A little about the business: Welcome to Bane-Welker Equipment! Our rich histories span more than 50 years servicing the needs of customers across Indiana, Ohio, and beyond. We take pride in the measurable and meaningful difference we make in our customer' businesses and are 100% employee-owned.
What you would be doing:
Performs repair and maintenance work on equipment, in accordance with time schedules as assigned by service manager.
Makes certain that work assignment is correct, ask for clarification if there are questions.
Maintains tools and equipment, and notify the service manager if tools need replacement, or new tools are needed.
Maintains cleanliness of the working area and presents a neat and professional appearance.
Maintains cleanliness of the customer's equipment.
Assists in expediting of parts orders to avoid wasting time.
Notifies the service manager, dispatcher, and/or service salesman if delays are expected, or if a part needs to be ordered.
Qualifications:
2-year degree plus experience with heavy equipment OR relevant farm/ag/heavy equipment experience.

A customer-centric and "be of service" attitude.
Proven knowledge of methods, materials, tools, and techniques used in the repair of agricultural equipment.
Outstanding knowledge of mechanical, electrical, and hydraulic systems.
Mechanical ability and familiarization with testing equipment and diagnostic procedures.
Excellent skills in operating vehicles and equipment used for diagnostic purposes.
Search more Maintenance Jobs on AgHires now.
---
The job opportunities within the agriculture industry are endless. Whether you are looking to start your journey or take the next step in your agriculture career, there is a place for you. Go to AgHires.com to search thousands of current job openings, ranging from agronomy jobs to marketing jobs to service technician jobs. New jobs are uploaded to our website daily.
Follow us on Facebook and Twitter to see more featured jobs.