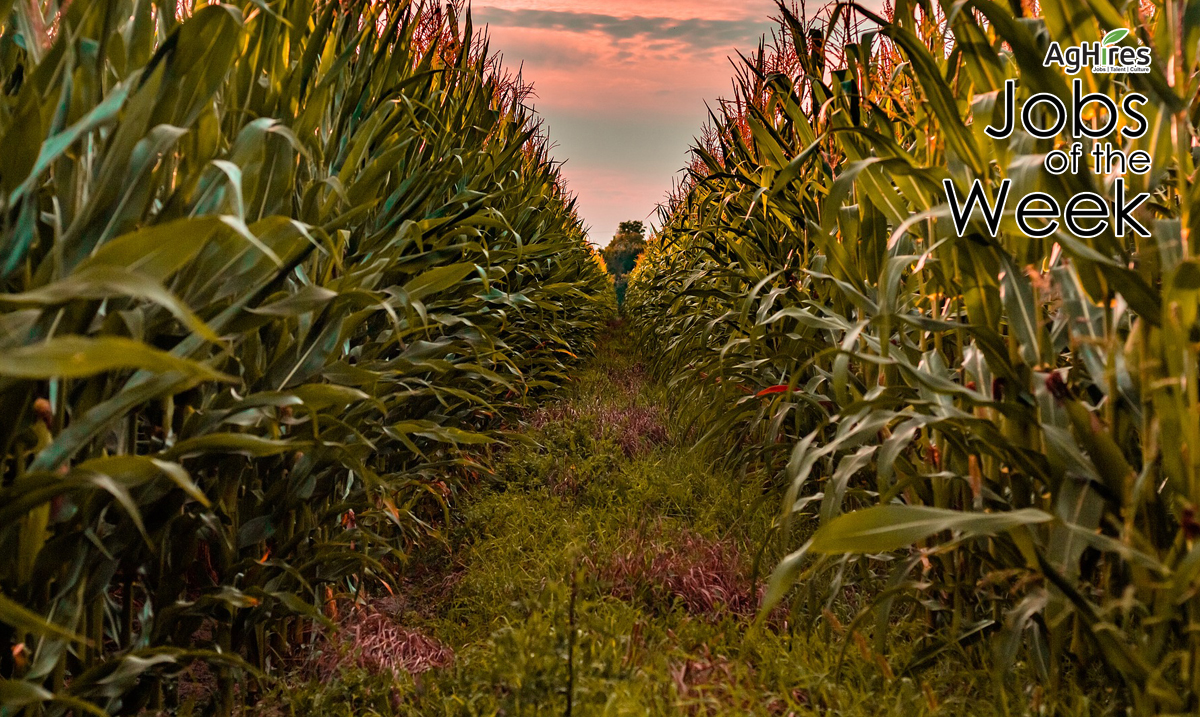 Top Agriculture Jobs of the Week
For the week of 12-20-21
AgHires works hard to be the number one resource for top jobs in agriculture. The agriculture industry provides a variety of job opportunities that range far and wide. Take a moment to search through the thousands of current job openings on AgHires.com, and check out this week's top Agriculture Jobs of the Week below.
A little about the business: Welcome to Bridgewater Dairy LLC! We are a family-owned, diversified farm operation growing grain crops and forage and producing over 26,000 gallons of milk per day across our 3 locations. We're headquartered in Montpelier, OH with current operations of 6,000 dairy cows and 5,500 acres of cropland. We've been growing over the past decade and look to continue to expand our farm.

What you would be doing:
Perform preventative maintenance on a structured schedule on all aspects of the dairy.
Work with urgency on breakdowns to reduce downtime of the parlor.
Perform both electrical, pneumatic, and mechanical repairs such as filters, vacuum pumps, condensers, compressors, hoses, liners, etc.
Maintain communication with farm managers to share timing of repairs and any delays.
Identify areas for improvement focused on maximizing efficiency and reducing downtime.
Assist with inventory management, parts ordering, and vendor management.
Adhere to all safety compliance and food safety regulations.
Qualifications:
Have an overall maintenance understanding in both mechanical and electrical repair with the willingness to gain knowledge in the other areas.
Preferably have worked with dairy equipment, but open to an individual that has worked with similar experience with industrial maintenance, HVAC, and pneumatics.
Are able to not only multi-task but prioritize projects and ensure they are complete in the order that impacts that business the most.
Prefer to work in a fast-paced environment, can work physically on your feet most of the day, and are willing to jump in to assist any project.
Hold a higher education either in technical school or bachelor's degree.
Search more Maintenance Jobs on AgHires now.
---
A little about the business: CHS Inc. is a leading global agribusiness owned by farmers, ranchers, and cooperatives across the United States that provides grain, food, and energy resources to businesses and consumers around the world. We serve agriculture customers and consumers across the United States and around the world. Most of our 10,000 employees are in the United States, but today we have employees in 19 countries. At CHS, we are creating connections to empower agriculture.
What you would be doing:
Manage an ongoing queue of requests for customer and vendor master data ensuring that all requests are valid, accurate, and completed within service level agreements.
Lead Enterprise Information Management Master Data working group and analyze the impact of process change requests to master data definition, existing system data, and alignment to the enterprise data governance strategy.
Effectively communicate with business data stewards and specialists to resolve data management conflicts and train on master data standards, definitions, processes, and tools.
Monitor and analyze metrics to ensure master data requests are completed according to service level agreements.
Collaborate with IT ERP teams on technology enhancements to improve the data governance and data quality monitoring processes and to resolve technical issues with data governance tools.
Qualifications:
Bachelor's degree in accounting, Finance, Business, or related degree.
3+ years relevant working experience in data management, accounts payable/receivables, procurement or accounting, and finance.
Knowledge and direct application of data governance or data management practices.
Experience leading continuous improvement projects and tasks.
Previous experience effectively using multiple ERP systems.
Search more Finance Jobs on AgHires now.
---
A little about the business: Central Valley Ag - CVA is a member-owned farmers' cooperative headquartered in York, NE with locations throughout Nebraska, Kansas and Iowa. Established in 2003, CVA has over 900 employees and is an innovative leader providing products and services in grain, agronomy, feed, and energy. You can find more information about Central Valley Ag by visiting www.cvacoop.com.
What you would be doing:
Creates and develops intimate relationships with targeted and assigned customers focusing on top business and relationship accounts.

Works with patrons in a courteous and professional manner, soliciting new business as opportunities are presented.

Develops an intimate knowledge of Central Valley Ag brands and delivers timely and accurate communication to targeted producers to drive value-added sales.

Creates delivers and implements agronomic solutions for producers with the goal of improving customers' ROI and increasing the agronomy bottom line.

Utilizes seed, precision farming technology, finance, and other marketing tools to grow market share.

Manages customer accounts to include developing whole farm plans, forecasting agronomy inputs, price negotiations, technical coordination, contract preparations, contract closures, complaint resolution, and contract collections.
Qualifications:
Bachelor's degree (B.S.) in Agronomy or Agriculture or equivalent combination of education and experience required.
A minimum of 3 years of experience in an agronomy sales role is required.
Proven history of delivery of results required.
Must be proficient with the Internet, Email, and Microsoft Office products.
Browse more Agronomy Jobs on AgHires now.
---
A little about the business: Arden, an agrihood community in Loxahatchee, Florida, is seeking a dedicated, full-time Farm Director for its award-winning farm. This is a unique opportunity for you to be a leader in the agrihood community movement and part of a friendly, hardworking team. We pride ourselves in creating a positive, enjoyable work environment and favorable work-life balance. The farmers are hired by CCMC, the company that manages the HOA and Farm.
We grow organic vegetables for a 200 share CSA that will eventually become a 600 share CSA once all of the homes are built. In addition to overseeing the CSA, we also maintain a Childrens' Garden, two You-Pick Gardens, a Butterfly Garden, a Community Garden, Orchard, and General Store.
What you would be doing:
Manage farm crew and all aspects of vegetable, fruit, and herb production, including but not limited to seeding, planting, pest, disease and fertility management, field cultivation, irrigation, installation and repairs, harvesting and post-harvest handling, record keeping, upholding product, food safety standards, etc.
Manage CSA pick-ups on-site in the Barn on Wednesday evenings and Saturday mornings from November to May.
Maintain farm infrastructure and landscape with support from contracted vendors, including the cleanliness and orderliness of the store, barn, and its surroundings.
Weave the farm into residents' lifestyles by leading workshops and presentations, providing tours of the General Store and Farm, and hosting unique farm-to-table events.
Provide friendly customer service both in person and by phone.
Practice and foster team spirit and positive, productive working relations with HOA, Developer staff, and resident volunteers.
Qualifications:
Experience growing and managing production in a tropical/subtropical climate.
Proven experience writing and maintaining food safety plans and procedures.
Knowledge of tropical fruit production.
Bilingual English/Spanish.
At least 2 years of organic vegetable production and farm management experience on a similar or larger scale.
Search more Farming Jobs on AgHires now.
---
A little about the business: AHW LLC strives to create a work environment that promotes innovation. Innovating new ways to support our customers by creating Tomorrow's Solutions Today. Encouraging current and new employees to share and take pride in the products and support that we all provide to each other and our customers. Ensuring that AHW is always here when our customers rely on us.
What you would be doing:
Performs complex on-site diagnostics and repairs on agricultural and/or turf equipment and established Ag Management Solutions (AMS) products.
Participates in required Service EDUCATE Training programs.
Supports customer clinics.
Reviews and explains any maintenance, repair, or other service concerns directly with the customer and documents on work order.
May promote and sell dealer service programs directly to customers.
May establish and implement effective stocking processes with the Parts Department to maintain the proper seasonal parts inventory in the vehicle.
Maintains current knowledge of John Deere and competitive products.
Qualifications:
3+ years of experience performing on-site service repairs.
Outstanding interpersonal and customer service skills.
Ability to perform complex repairs and required maintenance using special tools and equipment following Technical Manual procedures.
Expert knowledge of mechanical, electrical, and hydraulic systems used in the repair of agricultural and turf equipment.
Ability to use Service Advisor and basic computer functions.
Ability to operate vehicles and equipment used for diagnostic purposes.
Search more Maintenance Jobs on AgHires now.
---
The job opportunities within the agriculture industry are endless. Whether you are looking to start your journey or take the next step in your agriculture career, there is a place for you. Go to AgHires.com to search thousands of current job openings, ranging from agronomy jobs to marketing jobs to service technician jobs. New jobs are uploaded to our website daily.
Follow us on Facebook and Twitter to see more featured jobs.