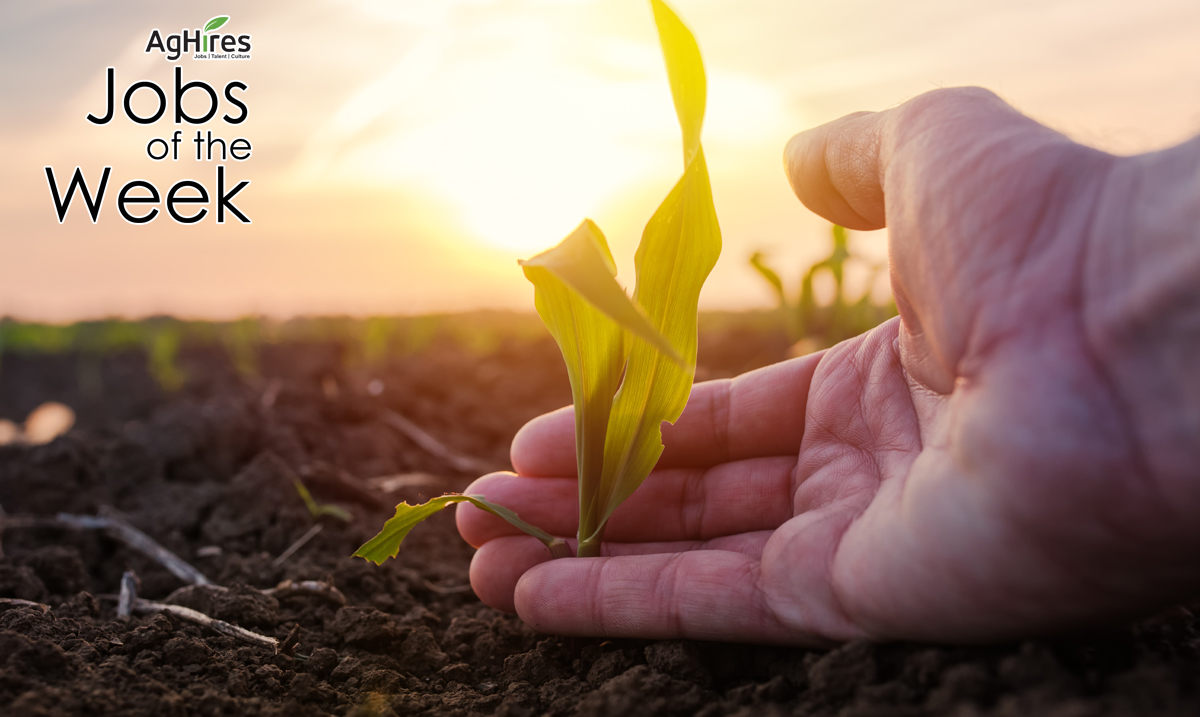 Top Agriculture Jobs of the Week
For the week of 5-2-22
AgHires works hard to be the number one resource for top jobs in agriculture. The agriculture industry provides a variety of job opportunities that range far and wide. Take a moment to search through the thousands of current job openings on AgHires.com, and check out this week's top Agriculture Jobs of the Week below.
A little about the business: Welcome to Bane-Welker Equipment! Our rich histories span more than 50 years servicing the needs of customers across Indiana, Ohio, and beyond. We take pride in the measurable and meaningful difference we make in our customer's businesses and are 100% employee-owned.

What you would be doing:
Performs repair and maintenance work on equipment, in accordance with time schedules as assigned by service manager.

Suggests additional needed work to the service salesman or service manager so the customer may be notified.

Makes certain that work assignment is correct, ask for clarification if there are questions.

Maintains tools and equipment, and notify the service manager if tools need replacement, or new tools are needed.

Maintains cleanliness of the working area and presents a neat and professional appearance.
Qualifications:
Proven knowledge of methods, materials, tools, and techniques used in the repair of agriculture, construction, or other heavy equipment.

A customer-centric and "be of service" attitude.

Knowledge of mechanical, electrical, and hydraulic systems.

Mechanical ability and familiarization with testing equipment and diagnostic procedures.

Excellent skills in operating vehicles and equipment used for diagnostic purposes.

Valid driver's license.
Search more Equipment Jobs on AgHires now.
---
A little about the business: Gold Leaf is a hybrid farming company and investment firm – we own and operate almond, pistachio, and date farms in California and Arizona. In addition to owning and farming the properties, we also oversee our equity partners' long-term investments in our farms. We currently own and farm ~11,000 acres, making us a top ~25 tree nut grower globally.
What you would be doing:
The farm manager/operator will manage the farm operations of GLF properties by overseeing the farm staff, evaluating farm performance, agronomic indicators, and ultimately being responsible for property-level budgets and financial performance.
Reviewing overall tree health and identifying areas of concern
Reaching out to local vendors for supplies and services will be necessary
Periodic communications and site visits by Gold Leaf management
Weekly staff meeting
Qualifications:
5-10 years of experience working in one of:

Agronomy/PCA with emphasis on pistachios/almonds
Direct farming or management of pistachios/almonds

Strong verbal and written communications skills
Strong management and leadership skills
Experience in orchard development and building company processes, systems, and infrastructure to enable growth
Strong relationship-building and networking skills
Search more Farming Jobs on AgHires now.
---
A little about the business: N-Drip is on a mission to save water resources while supporting agriculture around the world. Our disruptive gravity-powered micro-irrigation solution and our decision support system, N-Drip Connect™, enable sustainable farming and an efficient water-energy-food cycle.
What you would be doing:
Coordinate between New and existing clients to Corporate.
Research collects data and information to assist in developing a new client base.
Build and maintain close relationships with clients.
Administrative duties: Project management and event coordination (All within the scoop of BD ) are some administrative duties an Outreach Coordinator may do in addition to supervising staff and office work that benefits the organization.
Executing a marketing campaigns
Qualifications:
3+ years of experience in Client management in agriculture.
Experience with analytics & CRM systems.
Excellent verbal and written communication skills.
Experience in a B2C company
Browse more Customer Service Jobs on AgHires now.
---
A little about the business: Welcome to Irritec! For over 40 years we have been designing, manufacturing, and selling innovative irrigation products guaranteeing maximum water efficiency. With over 11 manufacturing sites across the globe and over 700 employees strong, we specialize in selling drip irrigation, sprinkler irrigation, fittings and valves, filtration systems, and polyethylene hose to agriculture and mining industries.
What you would be doing:
Increase the overall success by maximizing the total potential product sales in the region
Be the primary contact for all dealers and distributors within the territory
Be the technical, go-to resource troubleshooting for dealers
Maximize the opportunity for sales by gaining market share; execute pull-through marketing by identifying and building relationships with new growers
Qualifications:
Proven track record in agricultural / agronomy sales and account management within the region
Basic understanding of irrigation, pumps, fertigation, precision ag and/or pump controls
Bachelor's degree in agri-business, agriculture, water management, crop and soil sciences, irrigation design, mechanical engineering or relatable field is a plus
Search more Sales Jobs on AgHires now.
---
A little about the business: At Cow Pleasant Dairy, we aim to produce milk, beef, and crops of the highest quality with respect for the people, animals, and the land that help produce it. We are a family-owned 3,400 head dairy located in Weidman, MI.
What you would be doing:
Inspect machines, engines, transmissions, equipment, and barn fixtures, etc.
Conduct repairs aiming for maximum reliability
Order needed parts
Troubleshoot reported problems and resolve them in a timely manner
Perform thorough maintenance on machinery, equipment, and systems
Qualifications:
Proven experience as a Mechanic and Farm Equipment Operator
Excellent knowledge of machinery and hydraulic, electrical, and other systems and their components
Aptitude in using various hand tools
Ability to follow established procedures and practices and read instructions, etc.
Search more Dairy Jobs on AgHires now.
---
The job opportunities within the agriculture industry are endless. Whether you are looking to start your journey or take the next step in your agriculture career, there is a place for you. Go to AgHires.com to search thousands of current job openings, ranging from agronomy jobs to marketing jobs to service technician jobs. New jobs are uploaded to our website daily.
Follow us on Facebook and Twitter to see more featured jobs.