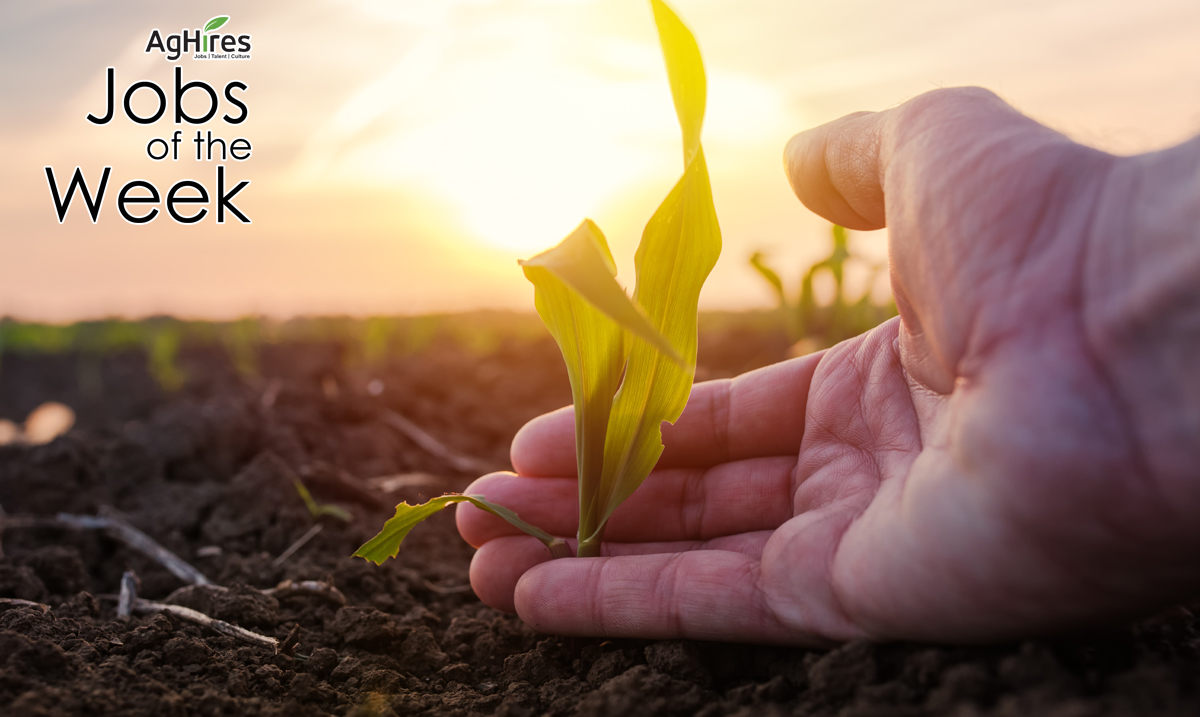 Top Agriculture Jobs of the Week
For the week of 11-8-22
AgHires works hard to be the number one resource for top jobs in agriculture. The agriculture industry provides a variety of job opportunities that range far and wide. Take a moment to search through the thousands of current job openings on AgHires.com, and check out this week's top Agriculture Jobs of the Week below.
A little about the business: Florida Crystals is a leading domestic sugar producer and North America's first fully integrated cane sugar company, guiding our sugar from farm to table. Florida Crystals owns 155,000 acres of land, two sugar mills, a sugar refinery, a biomass renewable power plant, and a rice mill in Palm Beach County. These facilities farm and harvest sugarcane and rice for processing at the local mills. We are America's first and only producer of certified organic sugar, grown and harvested in the United States. Our renewable energy facility is the largest of its kind in North America and provides clean energy that powers our sugar operations, which helps us reduce our use of fossil fuels. Florida Crystals also sustainably farms rice, sweet corn and other vegetables in rotation with our sugarcane.

What you would be doing:
2 year program leading to endless career opportunities
Planting, seeding, cultivation, fertilization and harvesting
Work on organic production
Rotation of crops
Qualifications:
Bachelor's Degree in Agriculture, Agronomy, Plant & Soil Science or a related field
Be able to physically work in an industrial/farming environment
Be legally eligible for employment in the United States without sponsorship
Search more Farming Jobs on AgHires now.
---
A little about the business: AgHires is a leader in recruiting and job advertising within the agriculture, agribusiness, food production, produce, food processing, and horticulture industries. We constantly analyze job seeker behavioral trends and align recruitment strategies to the current market. We develop deep partnerships with our clients where we are an extension of their company or HR department to deliver top talent.

What you would be doing:
Acquire an understanding of the job requirements, company, competencies, skills, and knowledge
Strategically source candidates utilizing full tools and resources available
Maintain strong relationships with candidates and clients; clear communication & expectations
Conduct behavioral-based interviews and competency evaluations
Continue to build our pipeline of candidates
Serve as subject matter expert on market trends, target industries, and roles.
Openly express your ideas and opinions while working on team projects
Continuously expand your knowledge of the food and agriculture industry
Qualifications:
5+ years in the agriculture (either production ag or agribusiness) or horticulture industry required
Proven ability to manage client expectations and flexibility to adjust to various client needs
A naturally competitive nature determined to work through difficult to fill positions
Bachelor's degree

required
We offer a base compensation highly dependent on the individual along with an incentive program with unlimited earning potential. We offer health, dental and vision insurance along with a 401K program with 4% company match, three weeks of vacation and holiday pay.
Search more Human Resource Jobs on AgHires now.
---
A little about the business: PEAK Genetics is hiring a Production Site Manager to join their Shawano, WI team. PEAK, a subsidiary of URUS, is the world's premier cattle genetics supplier. PEAK leads the industry in developing the most profitable genetics and produces the largest amount of bovine semen in the world. This role oversees a 1,000 bull production facility. PEAK is seeking a strong leader for their team of 5 direct reports and 35 indirect reports. You'll work with this team to ensure key performance indicators in livestock management and high quality semen production are met. Production or warehouse leadership background from other industries is welcomed. PEAK will teach you all you need to know about animal genetics and care.

What you would be doing:
Lead staff in order to efficiently and effectively carry out all activities of livestock management and semen collection.

Responsible and accountable for the day-to-day management and operation of the production center.

Assist the Director of Production in budgeting and business activities for the PEAK Production Location.

Promote and adhere to safety in the workplace.
Qualifications:
Strong leadership, organizational and planning skills (operational and financial)
Motivated and able to influence others to achieve high level goals
Previous experience in building and managing a work team of 15 or more people. Work experience can be in any facet of operations, production, manufacturing, or warehousing. Relevant roles include Production Lead, Production Supervisor, Floor Manager, Production Manager, Operations Manager, and other similar roles. Animal production is not required.
Excellent interpersonal communication skills
Analytical, decision-making and time management skills
Browse more Livestock Jobs on AgHires now.
---
A little about the business: The Department of Agricultural and Resource Economics (ARE) embodies excellence in research, teaching, and extension in agricultural economics and the economics of natural resources and the environment. Within the Department, dedicated, student-focused faculty teach diverse courses and nurture industry connections to help students pursue rewarding careers. Researchers engage students in relevant, applied research. Extension Associates conduct research-based outreach activities that benefit local and national communities. Faculty members enrich our Extension programs with research and teaching activities that contribute to the relevance and quality of our outreach programs.
What you would be doing:
Collection of farm production cost data

Budgeting responsibilities

Serve as a resource and support to ARE, the Cooperative Extension network, and other stakeholders concerning production costs and practices, availability and quality of relevant data, and other related items
Travel to meet with stakeholders, attend meetings and conferences, etc. to collect and to present information about these enterprise budgets and other programs offered by ARE, NC State Extension and USDA

Qualifications:

Bachelor's degree in agricultural economics, agribusiness management, agronomy, animal science, economics, business administration, finance or another closely related field, with at least 3 years of relevant professional experience.
Strong organizational and communication skills (oral and written).
Experience with farm-level budgeting and analysis of production costs.
Proficiency with the Microsoft Office software with proficiency in using Excel or the willingness to complete training as needed.


See Full Job Description
Search more Accounting Jobs on AgHires now.
---
A little about the business: Farmers Cooperative strives to create a supportive, caring and safe environment for our team. We employ people who value our customers and their fellow employees, and who will go out of their way to help the team succeed.

We are a growing cooperative with locations in communities throughout southeast Nebraska and northeast Kansas. We're always searching for top-quality people and local talent to help take our business to the next level.

While we are owned by our farmer members, we offer equal employment opportunities that extend beyond the reach of agriculture. Look to us for positions in almost all career sectors.
What you would be doing:
As a Commercial Truck Driver, your main duty is the safe operation of company semi tractor-trailers.

You are responsible for delivering grain, dry and liquid fertilizer, and other freight to various terminals and/or company facilities.

You will also be expected to do daily pre-trip inspections and maintenance of your vehicle, safely transport daily freight, and communicate efficiently with the dispatcher.

You must be able to represent Farmers Cooperative in a positive light at end user facilities, as you are the face of the company and have a substantial effect on how the customer views our company.
Qualifications:
A high school diploma and/or equivalent
Class A CDL preferred with a Hazmat
Excellent driving record
Tanker Endorsement and Airbrake Endorsement
A basic understanding of agricultural commodities
Know proper semi-tractor/trailer maintenance and understanding of equipment
Excellent organizational skills
We offer our employees excellent benefits, competitive wages, experience at a successful, growing company and a family friendly culture.
Benefits include, but are not limited to:
Defined Benefit Pension Plan
401k plan with company match
Medical and dental insurance coverage
Flex Dependent Care
Health Savings Account
Vision insurance
Holiday pay
Paid time off
Search more Trucking Jobs on AgHires now.
---
The job opportunities within the agriculture industry are endless. Whether you are looking to start your journey or take the next step in your agriculture career, there is a place for you. Go to AgHires.com to search thousands of current job openings, ranging from agronomy jobs to marketing jobs to service technician jobs. New jobs are uploaded to our website daily.
Follow us on Facebook and Twitter to see more featured jobs.