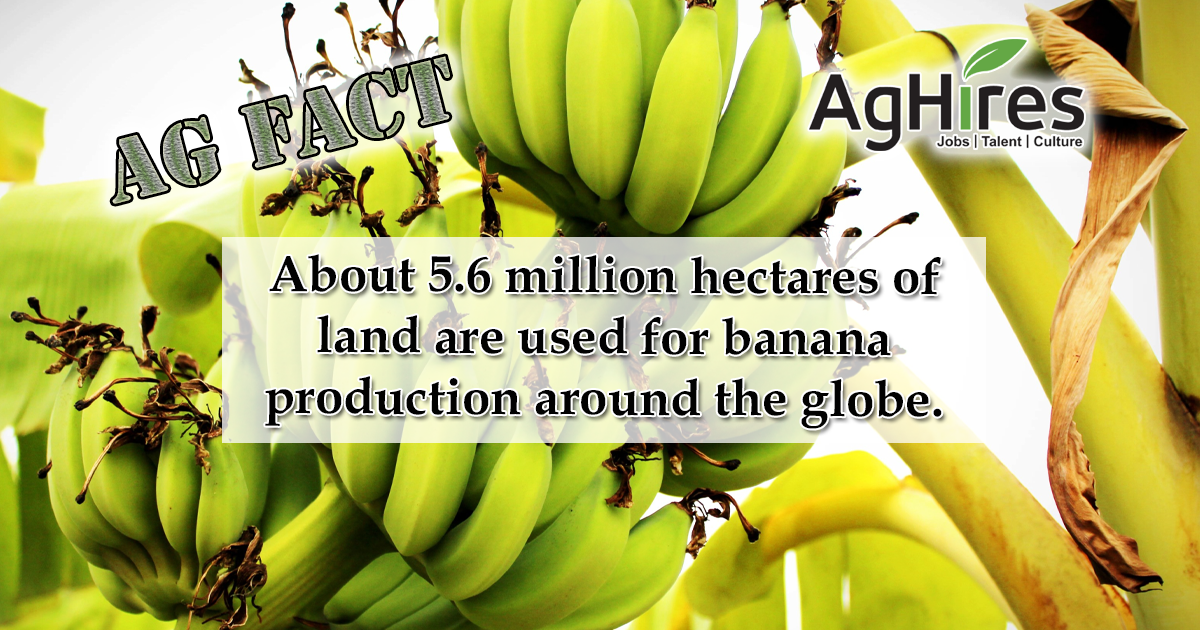 Did you know National Banana Day is April 17th? Why not, there is a day for everything else. So grab a banana, and check out these 20 banana facts.
There are more than 1,000 varieties of bananas grown in over 150 countries. Cavendish is the most commercialized variety, accounting for about 47% of global production.
About 50 billion tones of Cavendish bananas are produced globally each year.
Nearly all the bananas supplied to the United States are Cavendish bananas since they more resilient to the effects of traveling.
The biggest producers of bananas are India and China. India produces about 29 million tonnes on average per year, while China produces about 11 million tonnes. The Philippines, Ecuador, and Brazil are also larger producers.
The exact number of bananas produced globally is hard to track since production is commonly done by smallholder farms and are traded in the informal sector. For example, about 70 to 80 percent of production in Africa are local farms that have been growing for over 1,000 years, which are mostly cooking bananas.
Cooking bananas are usually starchy and need to be boiled, fried, or roasted to make them more palatable.
Dessert bananas, such as Cavendish bananas, are sweeter and usually eaten raw.
About 5.6 million hectares of land are used for banana production around the globe.
About 20 to 40 metric tons of bananas can be harvested from 1 hectare, or 2.47 acres.
The European Union (32%) and the United States (25%) are the largest importers of bananas.
Philippines has the highest per capita consumption, about 132 per year, followed by Brazil. About 100 billion bananas are consumed globally each year.
It is believed bananas originated about 10,000 years ago and may have been the world's first fruit.
The yellow fruit is classified as a berry.
The original wild banana contained many large, hard seeds and much pulp.
Today's bananas began to be developed around 650 A.D. in Africa.
The fruit was first introduced to the Americas in the 16th century by Spanish missionaries.
The plant that produces bananas is commonly called a tree but is the largest herbaceous flowering plant. The trunk is actually a false stem.
When the plant is mature, it stops producing new leaves and forms flower spikes, also known as the "banana heart." Each plant usually only produces one. The fruit is produced from the banana heart and hang in a large cluster made of tiers.
Each bunch could have between 3 to 20 tiers and each tier could contain up to 20 bananas. A bunch could weigh between 66 and 110 pounds.
Bananas that are exported are picked green and ripened at the destination country.
Want more Agriculture Facts? Click here
Follow us on Facebook and Twitter to get your weekly dose of Ag Facts.
---
Sources:
Food and Agriculture Organization of the United Nations
That's It. Fruit
Just Fun Facts